Calais Campbell Has Used His Money From Football to Give Back
Calais Campbell was named the 2019 Walter Payton NFL Man of the Year at the NFL Honors Award Show in Miami as his mother and seven siblings stood beside him. Campbell, born in 1986, until now has been a defensive end for the Baltimore Ravens. He attended the University of Miami and played defensive lineman for the Hurricanes.
The outstanding athlete was also instrumental in assisting his brothers, who were interested in football. In March, the Baltimore Ravens and Jacksonville Jaguars agreed in principle to trade Campbell to Baltimore in a fifth-round pick. Some say this is a visible sign that the Ravens are revving up to win.
Campbell is an outstanding athlete and a man with a huge heart. Since he began his football career, he's found ways to give back to communities and families in need.
Calais Campbell, the altruist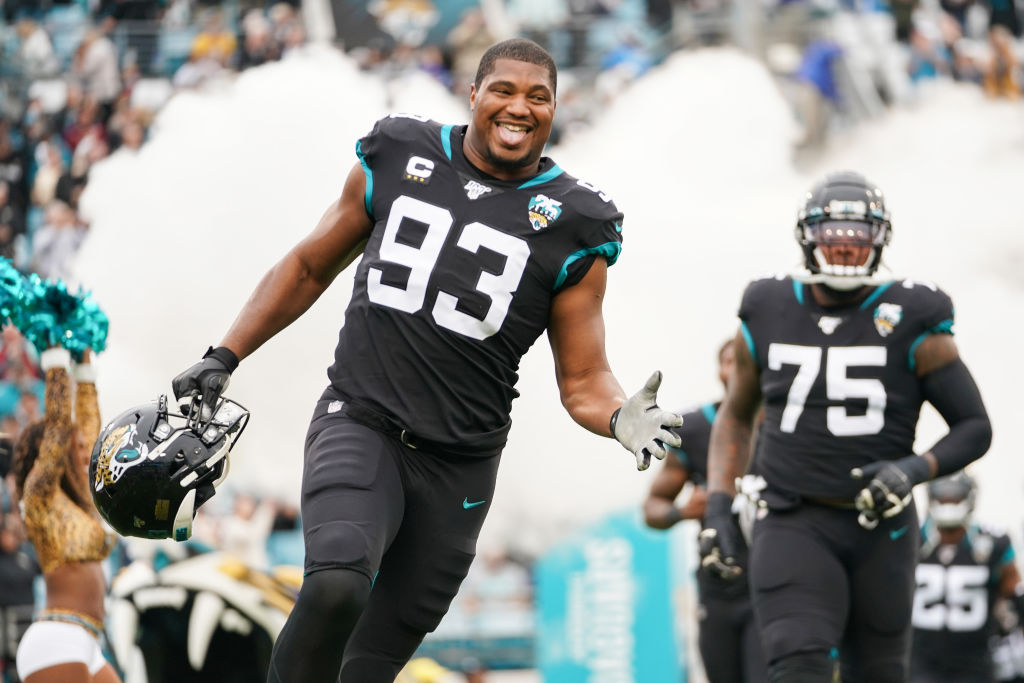 While playing for the Jaguars, Calais Campbell became a five-time Pro Bowl pass rusher. In 2018, he was the Bart Starr Award recipient, an award given to players who exemplify outstanding character and leadership at home, on the field, and in the community. While in Jacksonville, reports Jaguars.com, Campbell has:
Hosted two Christmas holiday shopping sprees for local children
Offered lessons for young people in financial literacy
Hosted 250 children at the Calais Campbell JaxPAL Youth Football STEM Camp
Implemented his CRC Book Club at the Northwestern Middle School where he mentors during semi-weekly visits
Made appearances at schools working with Kids Hope Alliance, offering encouragement and discussions concerning social justice
At NFL Honors, Campbell said, "My goal when I give back is to inspire people; to encourage people to believe that dreams are achievable if you put the work in. Everybody, and I mean everybody, can give back."
Campbell, the athlete
Calais Campbell created Campbell's Season of Giving in 2019, which included donating:
$1 thousand for every Jaguar win
$5 thousand for every sack he made
$2,500 for every half-sack
$2 thousand for every tackle for loss
During the 2019 season, Campbell made 6.5 sacks, 25 QB hits, and 10 tackles.
Campbell's football history
The 6-foot-8 athlete began his football journey at the University of Miami, where the Arizona Cardinals chose him in the second round of the 2008 NFL Draft. He was the sixth defensive end to join the Cardinals in that year. In his rookie year, the Cardinals signed him to a four-year, $3.40 million contract that included $1.68 million guaranteed and a signing bonus of $484, 500. He played for the Cardinals from 2008 to 2016.
In 2017, the Jacksonville Jaguars drafted Campbell, and he played in his predictably impressive manner for three years. Now, Campbell is moving to the Baltimore Ravens following a fifth-round pick. Many Campbell fans are dismayed about this decision. As Hunter Noll, writing for ClutchPoints wrote: "A fifth-round pick though? For the Walter Payton Man of the Year in 2019 and one of the most dominant defensive linemen in the game?"
According to Spotrac, the athlete is receiving a two-year contract worth $25,000,000, a $10,000,000 signing bonus, a $12,500,000 average salary — not a bad haul. This contract will undoubtedly allow Campbell to continue his fantastic giving campaigns. Still, fans on both sides are left with a bad taste in their mouths because of this trade.
Campbell's fantastic future with the Ravens
Fans and sportswriters are saying this change will give Calais Campbell a chance to win the Super Bowl ring he deserves. This two-time Pro Bowl defensive end will be a terrific loss for the Jaguars, say many.
What cannot be taken away from the Jaguars, however, is the fact that some of the best years in Campbell's career, he played with the Jaguars. As Campbell has said before, "They say you have to beat the best to be the best, so I can't wait to get out there and try."