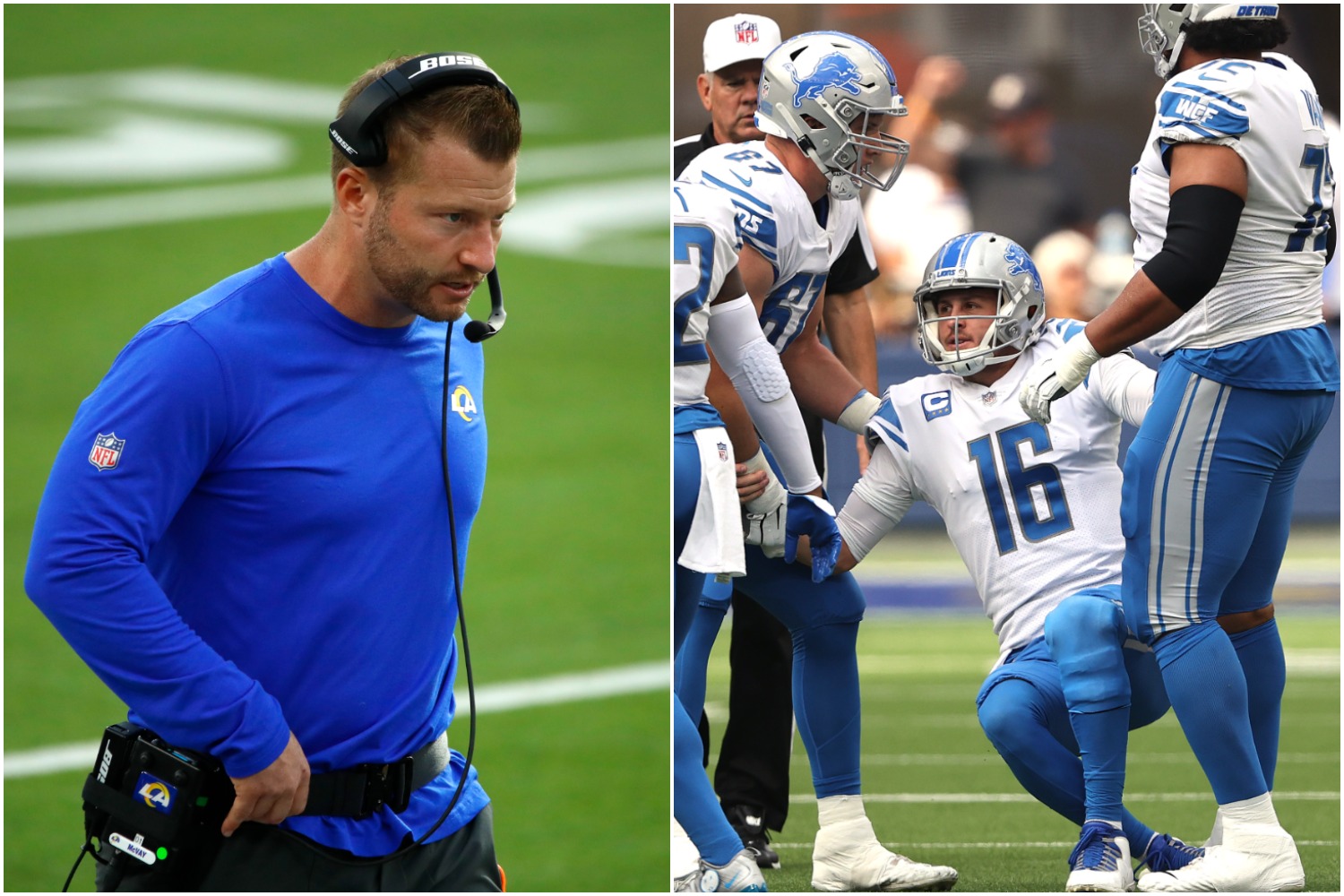 The Career-Altering Breakup Between Jared Goff and Sean McVay Was Almost as Ugly as the Struggling Quarterback's Failed Attempt to Exact Revenge Against His Former Employer
As if their breakup wasn't ugly enough, the showdown between Jared Goff and Sean McVay proven even worse. While the Lions look in line to land the No. 1 overall pick in the 2022 NFL Draft, the Rams could finally end their championship drought.
Think the Los Angeles Rams made the right call to go all-in on Matthew Stafford?
While the longtime Detroit Lions quarterback looks like an MVP candidate under Sean McVay, his replacement seems destined to start over in 2022. After all, even the incredibly optimistic Dan Campbell would have to admit Jared Goff has failed to live up to expectations thus far.
Of course, Sunday represented an opportunity for the oft-criticized quarterback to prove his doubters wrong. But on the same day we learned more about the breakup between Goff and his former head coach, he failed miserably to exact revenge against the organization that gave up on him.
A recent report provided more insight into the ugly breakup between Jared Goff and Sean McVay
Let's just say the Rams surprised quite a few people by pulling off a franchise-altering trade this offseason. Despite signing Jared Goff to a four-year, $134 million contract extension in September 2019, they officially pulled the plug on the inconsistent signal-caller, sending him to the Lions in a blockbuster deal that instantly crowned Matthew Stafford as the new king of LA.
Sean McVay's decision to overhaul the most important position in sports certainly captured plenty of attention. After all, he and Goff nearly won a Super Bowl together in 2018.
However, after seeing his highly paid quarterback fall short on too many occasions in subsequent years, McVay sought a new solution in the form of Stafford.
And like many breakups, things didn't go so smoothly during the separation process.
"When the trade went down, Sean McVay called Jared Goff. Jared Goff hung up on Sean McVay," Jay Glazer reported before kickoff.
Needless to say, the quarterback didn't take the news too well.
To make matters worse, Goff has watched his old team succeed with a new starter under center. But even though he had plenty of motivation to play at a high level against the Rams, he failed miserably in his attempt to get revenge against McVay and Co.
Goff flopped badly in his attempt to exact revenge against his former team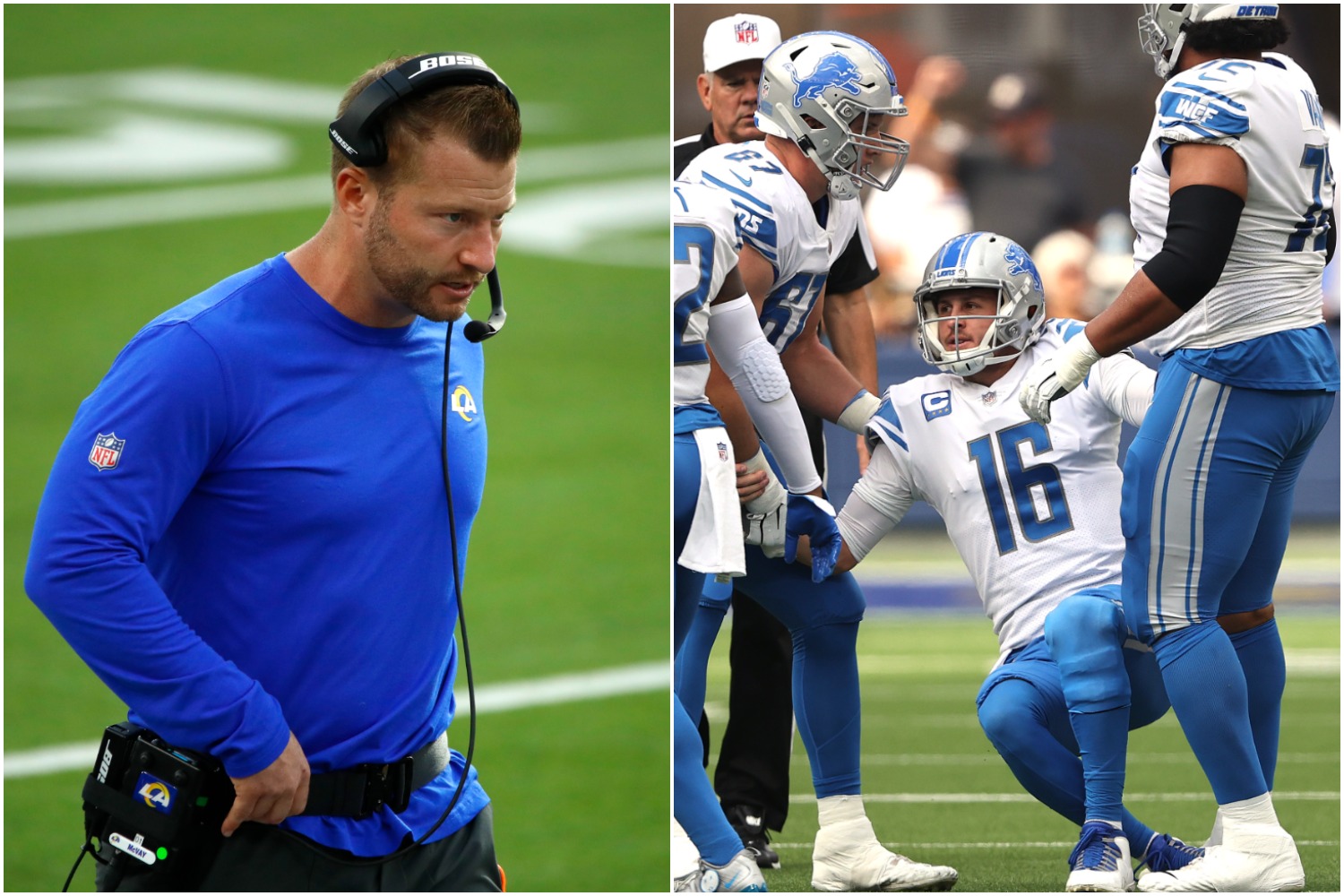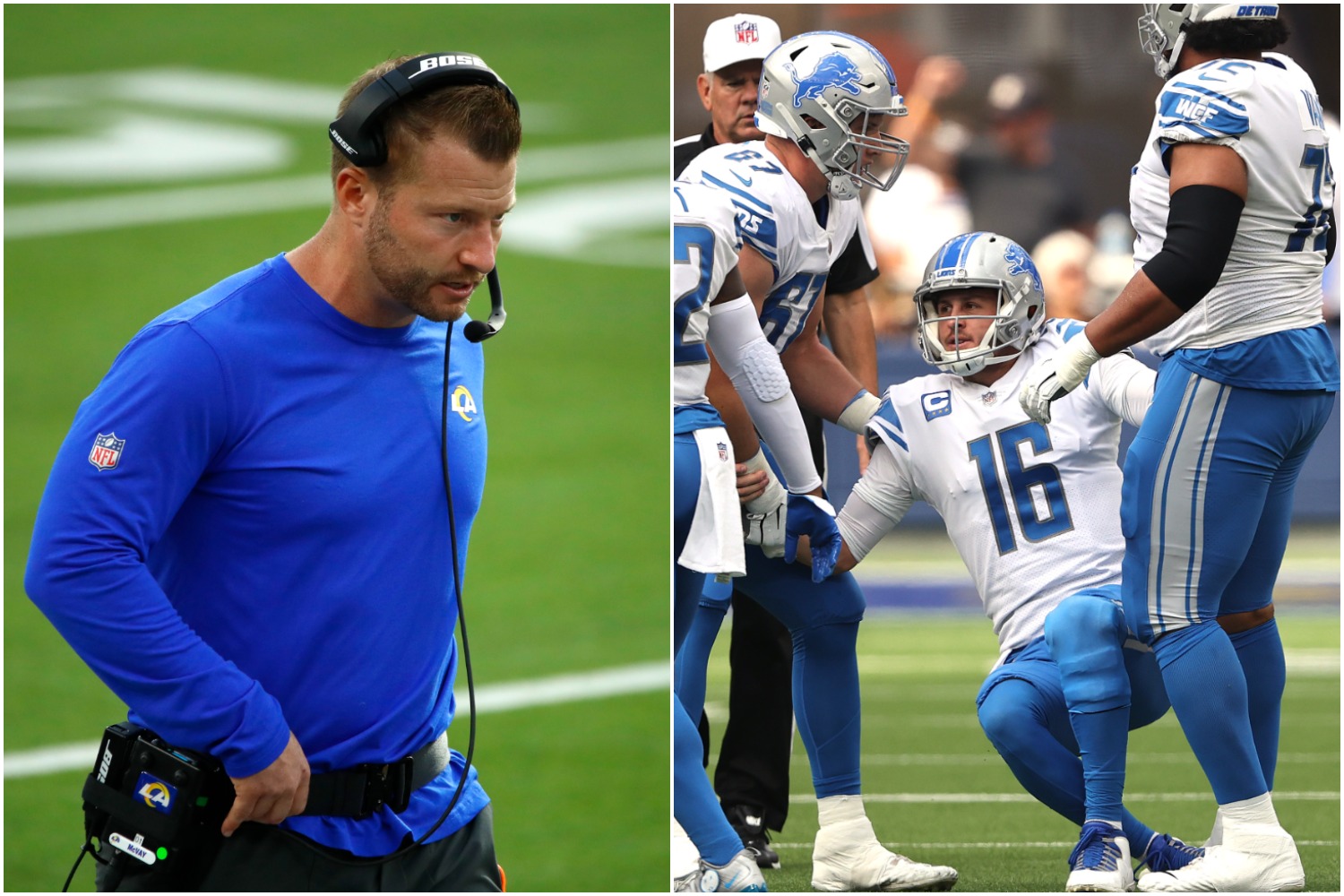 It hasn't taken long for Lions fans to discover why the Rams traded one former No. 1 overall pick for another. After all, Goff's first season in Detroit has featured more frustrating moments than applause-worthy ones.
Unfortunately for the sixth-year pro, he missed out on a chance to exact revenge against his former employer. In fact, Goff proved McVay correct for paying an expensive price to upgrade at quarterback.
While Stafford shined with 334 passing yards and three touchdowns, his adversary struggled for the third straight game. Coming off dismal outings against the Minnesota Vikings (203 passing yards, one interception) and Cincinnati Bengals (4.8 yards per completion, one interception), Goff delivered his first two-pick performance as a Lion.
The worst part?
Both of his turnovers occurred in the second half, including one with less than a minute remaining.
Goff doesn't deserve all of the blame for Detroit's 0-7 record, but there's no doubt he's been a major disappointment. With three fumbles, six interceptions, and a shockingly bad QBR of 33.0 (he posted a 63.6 mark in 2018), his stock continues to fall with each passing week. And by costing his team dearly against the Rams, he only reinforced why McVay admitted defeat on a failed experiment.
While the Lions look bound to land the No. 1 overall pick, the Rams continue to confirm all the preseason hype
Talk about two teams (and two quarterbacks) trending in opposite directions.
On one hand, the Lions face an uncertain future under the leadership of Campbell and first-year general manager Brad Holmes. In fact, the only guarantee is that they'll be picking early in the 2022 draft. It's scary to think an organization that went winless in 2008 may accomplish that unenviable feat again, but it could very well happen.
And even if Detroit pulls off a victory or two, it's hard to get excited about what lies ahead for a team that has major holes on both sides of the ball.
Luckily for McVay and the Rams, swapping Goff and draft picks for Stafford looks like a home-run move. LA finally boasts consistency at the quarterback position, and the team has ample talent to support its new leader.
Obviously, the Rams still have to prove it in the playoffs, but they clearly have a championship-caliber roster.
Most importantly, their brilliant head coach finally has a real quarterback.
All statistics courtesy of Pro Football Reference.