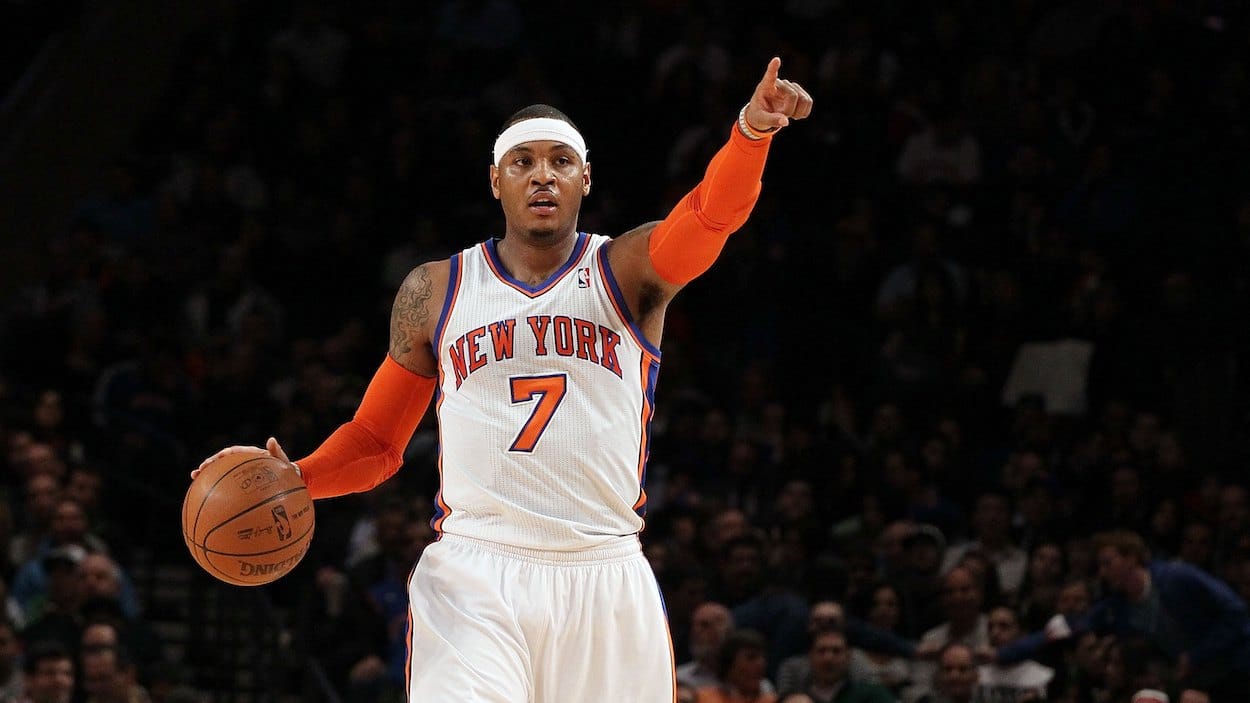 Carmelo Anthony Career Earnings: Retired Star Made Over $200M More Than Player Drafted Ahead of Him
The Carmelo Anthony career earnings dwarf the money made by the player taken before him in the 2003 NBA Draft, Darko Milicic.
Carmelo Anthony announced his retirement from the NBA on Monday, May 22, 2023. Anthony played 19 seasons for six different teams and scored 30,203 points to leave the league as the 12th-highest scorer in NBA history. He also made a lot of money in his career, and one stat he is surely aware of is that the Carmelo Anthony career earnings are way higher than the player drafted one spot ahead of him: Notorious NBA draft bust Darko Milicic.  
Carmelo Anthony career earnings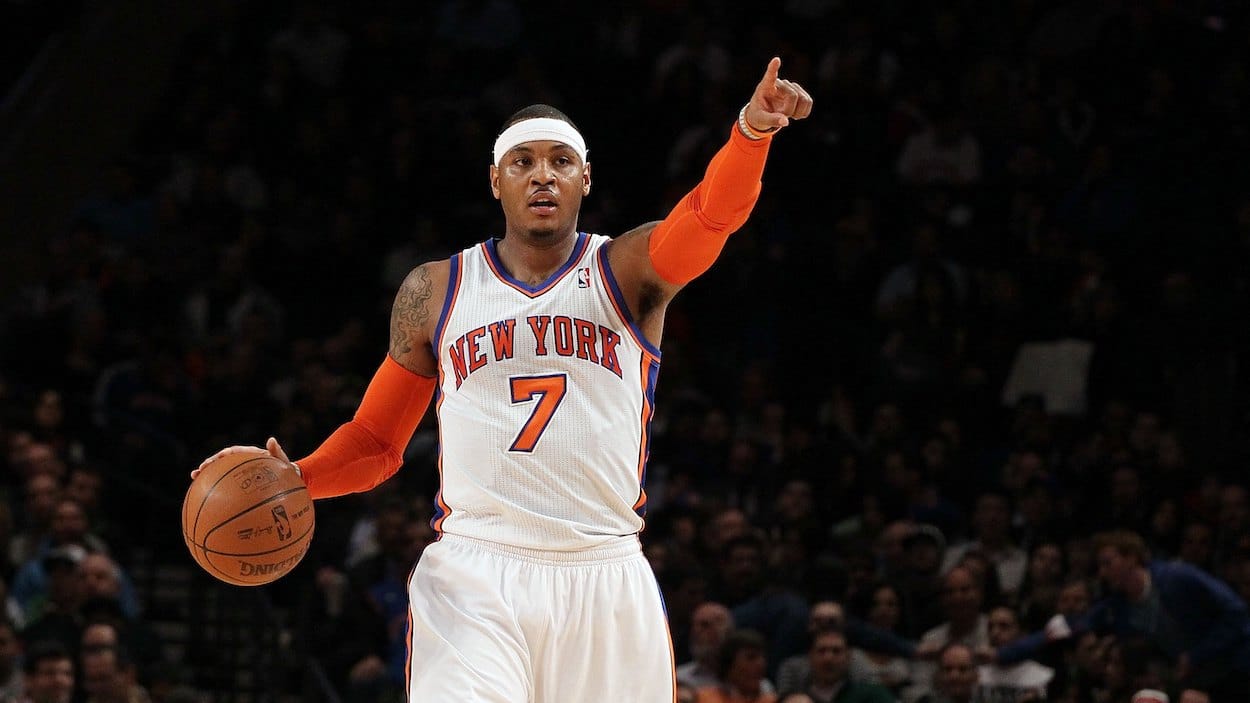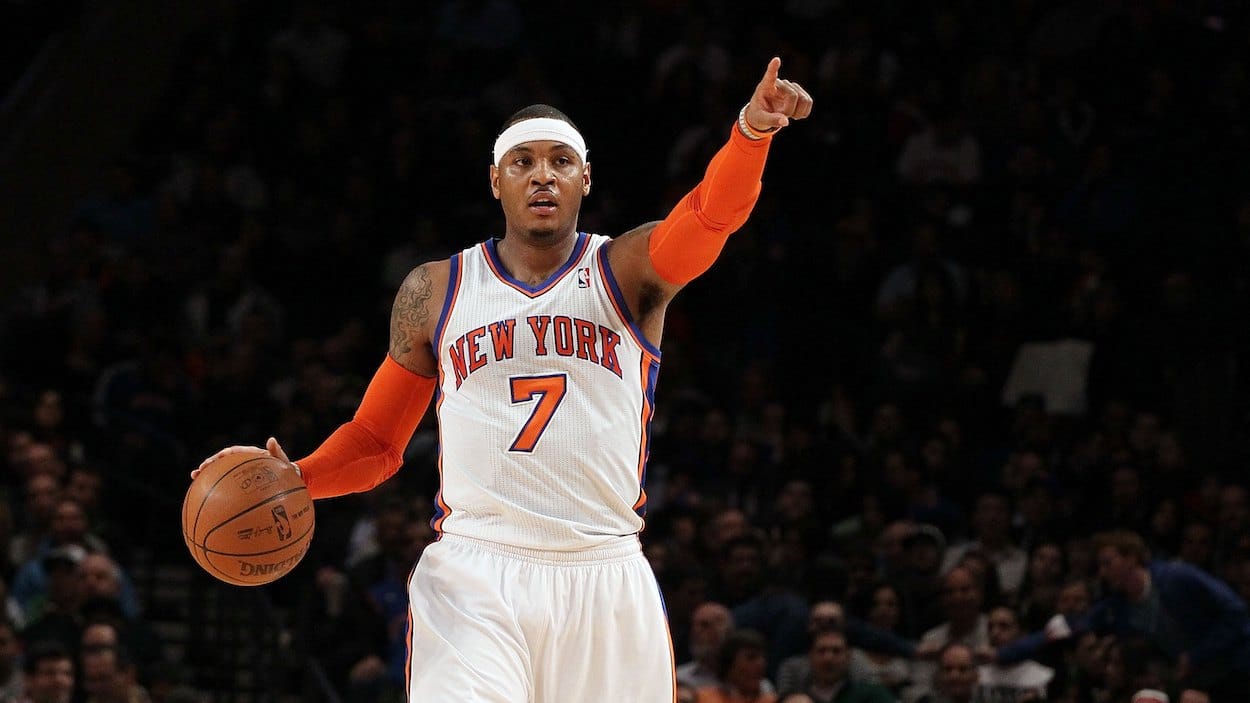 After nearly two decades in the NBA, the Carmelo Anthony career earnings are impressive. The 10-time NBA All-Star made $262,523,093 in salary during his time as a professional basketball player, per Spotrac.
The initial Carmelo Anthony contract for six-time All-NBA forward was a standard rookie deal with the team that drafted him, the Denver Nuggets, followed by a Rookie Maximum Extension with the same team and two veteran-level max deals with the New York Knicks.
All told, Anthony signed a rookie deal, had an option picked up, inked two extensions, and five free-agent deals. His contract history looks like this:
Dec. 2003: three-year $10.4 million contract with Nuggets
Oct. 2005: one-year $4.7 million option for 2006-07 picked up by Nuggets
Jul. 2006: five-year $80 million extension with Nuggets
Feb. 2011: three-year $64.2 million extension with Nuggets (as part of trade to Knicks)
July 2014: five-year $124.1 million contract with Knicks
Aug. 2018: one-year $2.4 million contract with Houston Rockets
Nov. 2019: one-year $2.16 million contract with Portland Trail Blazers
Nov. 2020: one-year $2.56 million contract with Trail Blazers
Aug. 2021: one-year $2.64 million contract with Los Angeles Lakers
Between fines, buyouts, and a partial-season paycheck in 2019-21 due to COVID-19, those are the contracts that led to the Carmelo Anthony career earnings of over $262 million.
Anthony vs. Darko Milicic
As a member of the 2003 NBA Draft class, Carmelo Anthony will always be linked to LeBron James, Dwyane Wade, and Chris Bosh. However, after taking the college basketball world by storm and winning a national championship at Syracuse, Anthony should have been the No. 2 pick in the draft behind James.
However, the Detroit Pistons were seduced by a Serbian teenager named Darko Milicic, and Anthony slipped to No. 3 before the Nuggets scooped him up.
As the No. 2 pick, Milicic got a nice four-year rookie contract and $16.81 million. After two-plus years averaging just 5.8 minutes, 1.6 points, and 1.2 rebounds per game in the Motor City, the Pistons traded Darko to the Orlando Magic.
Thanks to slightly better results on the floor (7.9 points, 5.1 rebounds) in Orlando, Milicic got a three-year, $21 million deal from the Memphis Grizzlies. After two-plus seasons, the Grizzlies saw enough, as well, and traded him to the Knicks. Then, in 2010 he got traded one more time to the Minnesota Timberwolves, and they gave him another four-year, $20 million contract.
The Timberwolves would ultimately amnesty Darko, and the Celtics gave him a final shot on a one-year, $1,229,255 contract. Boston released him less than three months later after just one game.
All told, the Darko Milicic career earnings are $53,078,335. That's nothing to scoff at, especially for a player who averaged just 6.0 points and 4.2 rebounds in his career. That said, Milicic's bank account pales in comparison to the player picked right after him, as the Carmelo Anthony career earnings are over $200 million higher at $262,523,093.