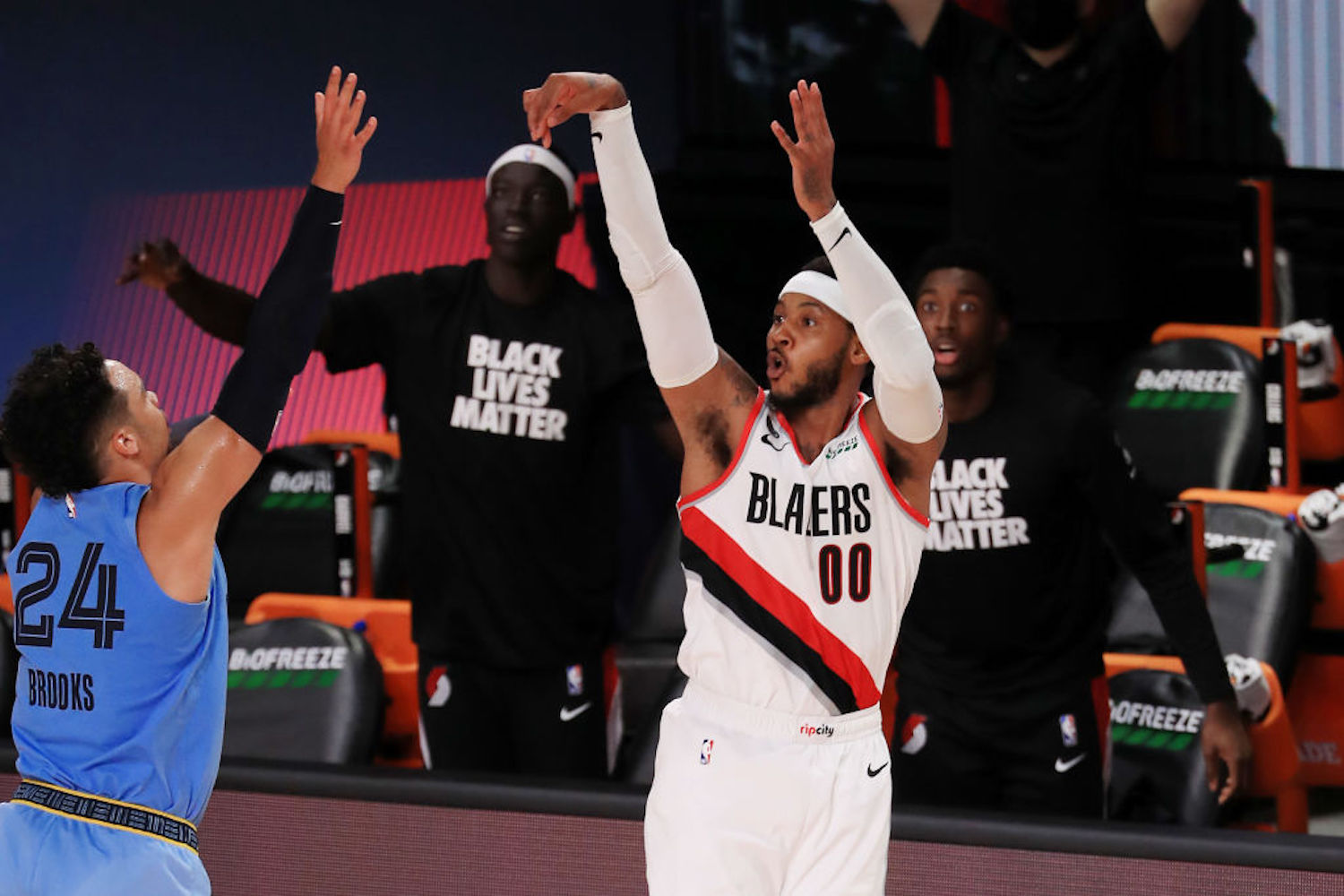 Carmelo Anthony Is Making Max Kellerman Eat His Words With His Stellar Play in the NBA Bubble
ESPN's Max Kellerman didn't believe Carmelo Anthony had anything left in the tank, but the Blazers' star is proving him wrong in the bubble.
Just two years ago, Carmelo Anthony was considered by many a has-been superstar who should just hang it up. No one was louder on that point than ESPN's Max Kellerman. Kellerman, who co-hosts First Take with Stephen A. Smith, called Anthony 'washed' and said no team should even take a look at signing him.
Kellerman stood firm in his opinion when Anthony signed with the Portland Trail Blazers, but Anthony found some magic in the black and red. Melo has been a revelation in the NBA bubble in Orlando, too. So much so that Kellerman had to eat his words and issue an apology to the future Hall of Famer, who is definitely not washed.
Max Kellerman called Carmelo Anthony 'washed' in 2018
The 2017-18 season was the first season Carmelo Anthony didn't make an All-Star team in 10 years. It was Anthony's first season in Oklahoma City, and he struggled mightily.
Anthony shot a career worst 40.4% from the field with the Thunder. It was clear Melo wasn't the elite scorer he was in years past, but he could still get you an isolation bucket in crunch time. It's not as if he fell off a cliff. Anthony still averaged 16.2 points per game with OKC, but that wasn't enough to impress Kellerman.
In a 2018 rant on First Take, Kellerman called Anthony 'washed,' saying he was no longer the iso scorer he once was. Kellerman also said Melo was a massive liability on defense and that his current game wasn't conducive to winning basketball.
After a few bumps in the road, Melo has found his groove again in a new home.
Carmelo Anthony has been a clutch player in the NBA bubble
After a few poor seasons in Oklahoma City and Houston, Kellerman was no longer the only one who believed Melo's career might be over. That belief even infected NBA front offices, as Anthony remained unsigned weeks into the 2019-20 season.
Eventually, Portland picked up the phone. Anthony made his debut for the Trail Blazers in November of last year with all the pressure in the world on his shoulders. If this stop didn't work out for Melo, he might be forced to hang it up.
Instead, Anthony started to look like his old self again in Portland. He raised all his shooting numbers from the past two seasons, and he's continued his stellar play into the NBA bubble.
Anthony is averaging 16.2 points per game in Orlando. He hasn't just been a good outside shooter in the bubble. He's been spectacular. Melo is shooting 47.8% from three since the season restart, and most of those shots have come in the fourth quarter. Anthony has been a huge part of Portland's crunch time lineup, and it's led to a 4-2 record and a shot at the playoffs.
Kellerman finally apologized to Anthony for his comments
Once Anthony started going off in the NBA bubble, Kellerman was under tremendous pressure from his colleagues to apologize. After watching Melo pour in clutch buckets at the end of games in a playoff race, it's asinine to believe he's washed.
Kellerman was recently forced to issue an apology to Melo, but it didn't come off as very genuine.
Absolutely not. I do not owe Carmelo Anthony an apology and people need to stop with this foolishness. I tell the truth as I see it. Carmelo Anthony though he still was a superstar when he was no longer, his ego took hits. If you needed a bucket in iso, could he get you a bucket? Yes, he could. So I mentioned, he's like a 15-minute player of someone's bench. What I will say is that Carmelo proved my prediction about him wrong. I certainly don't owe him an apology.

Max Kellerman
Kellerman did go on to apologize to Anthony for calling him washed, but it didn't impress him or his Blazers teammates. Keep adding more fuel to the fire, Max. Melo will just keep getting buckets.
All stats courtesy of Basketball Reference