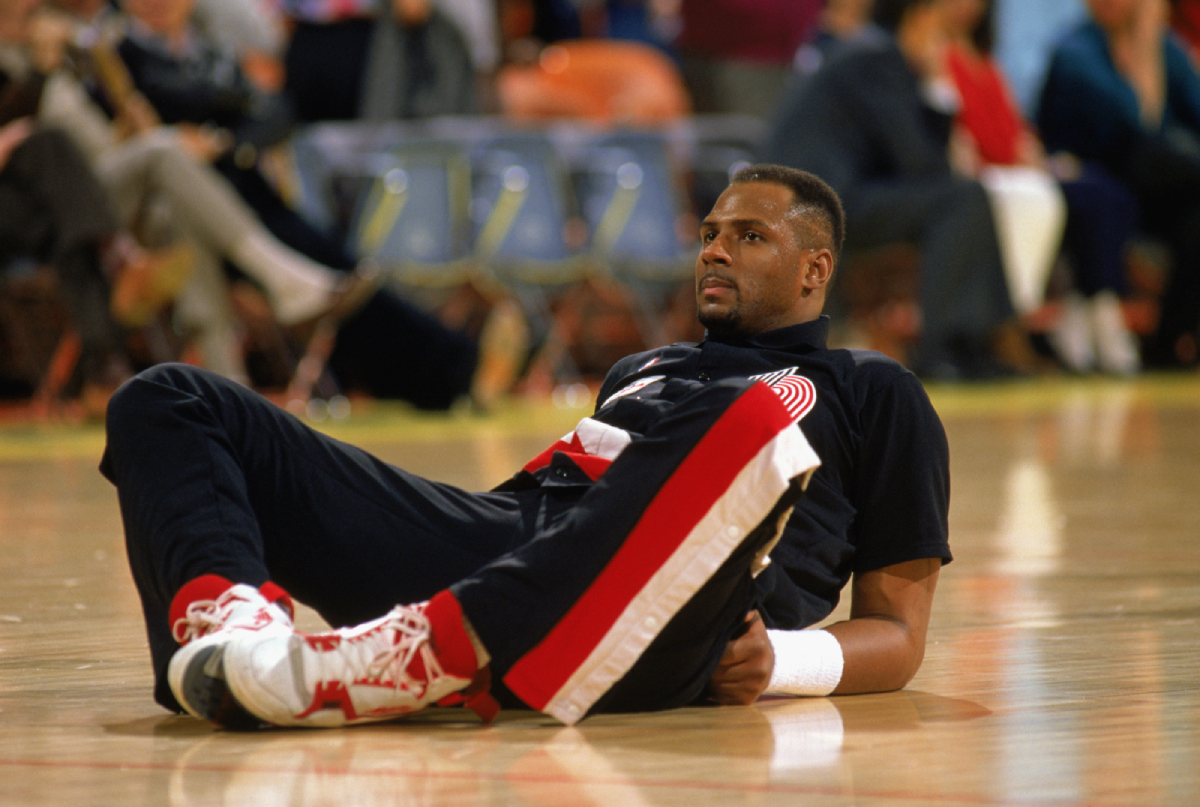 The Tragic Death of Former Trail Blazers Center Kevin Duckworth
Former Portland Trail Blazers center Kevin Duckworth was a second-round steal in the 1986 NBA draft who died too early at age 44.
Kevin Duckworth was a draft-day steal. He was selected by the San Antonio Spurs back in the 1986 NBA draft but spent most of his NBA career playing for the Portland Trail Blazers. The 7-foot, 275-pound center went on to play 11 years in the league, making two NBA All-Star appearances. While in town to help kids with a free basketball clinic after his playing days in 2008, Duckworth collapsed in his hotel room and never regained consciousness. He was pronounced dead after paramedics worked on him for 30 minutes. He was 44.
Kevin Duckworth's NBA career
Kevin Duckworth spent 11 years in the NBA after playing his college basketball at Eastern Illinois University. The seven-footer was drafted in the second round of the 1986 NBA draft by the San Antonio Spurs. Duckworth played just 14 games, starting one, for the Spurs before being traded to the Portland Trail Blazers in exchange for Walter Berry.
Duckworth began to blossom during the 1987-88 season when he started 50 of the 78 games in which he played. During that season, Duckworth averaged 15.8 points and 7.4 rebounds and things picked up from there. The following season, Duckworth made the first of his two NBA All-Star Games. He had his best season, averaging a career-high 18.1 points per game, while also pulling down eight rebounds per contest.
Duckworth followed that season by averaging 16.2 points in the 1989-90 season and then made a return trip to the NBA All-Star Game in 1990-91 when he averaged 15.8 points and 6.6 rebounds per game. Duckworth played seven seasons in Portland before being traded to the Washington Bullets for Harvey Grant. He spent two uneventful seasons in Washington and rounded out his career playing a season each for the Milwaukee Bucks and the Los Angeles Clippers.
Duckworth was a steal in the 1986 draft
Despite not being selected until the second round of the 1986 NBA draft with the 33rd overall pick, Duckworth was one of the better players to come out of that draft class. The 1986 draft was one of the most cursed classes in NBA history.
Two of the top seven picks, Chris Washburn and Roy Tarpley, were banned from the NBA for substance-abuse issues. No. 2 pick Len Bias died of a cocaine overdose two days after being drafted by the Boston Celtics. William Bedford, taken sixth overall, failed to live up to expectations and wound up spending many years in prison.
Duckworth, however, was one of the gems found in the second round. Duckworth was San Antonio's second pick of the draft after the Spurs had taken Duke guard Johnny Dawkins at No. 10. Other players selected in the second round of the 1986 NBA draft were Mark Price, Dennis Rodman, Johnny Newman, Otis Smith, Nate McMillan, and Jeff Hornacek.
Duckworth's sudden death
According to The Oregonian, Kevin Duckworth was in Lincoln City, Oregon to host a free basketball clinic for kids in August of 2008. Paramedics were called to a hotel around 10 p.m. that night regarding an unconscious man at Salishan Lodge. Duckworth had collapsed and responders worked on him for half an hour. Fire officials said he appeared to go into cardio arrest.
An autopsy later revealed Duckworth died of hypertrophic cardiomyopathy with congestive heart failure. Cardiomyopathy, combined with Duckworth's high blood pressure, had enlarged his heart which had been failing for some time.
"He was a big, loving teddy bear," former teammate Terry Porter told ESPN. "At times guys got frustrated because he didn't have a mean streak. He was just a great guy. He loved the team atmosphere, loved being a teammate in those successful Blazer teams."