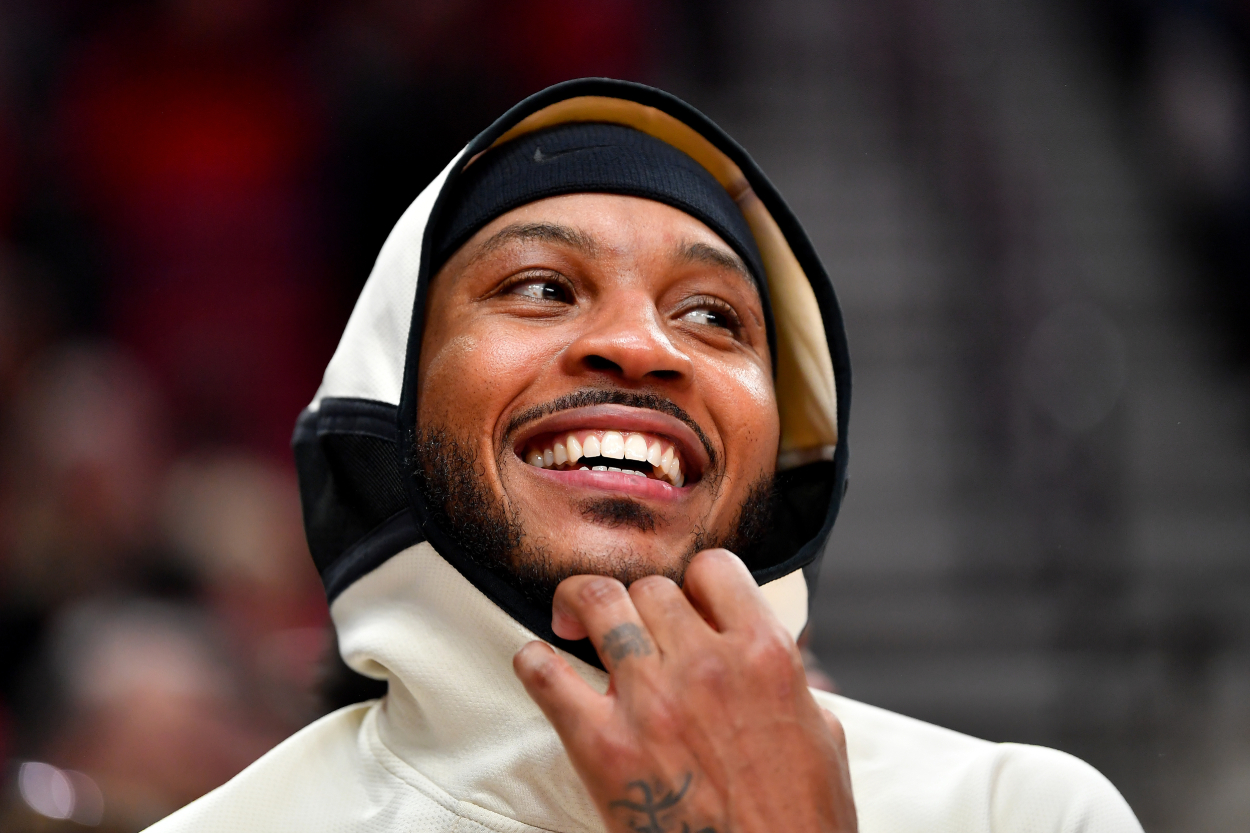 Carmelo Anthony Is Still Trying to 'Wrap' His 'Head Around the Fact That' He's Playing for the Lakers, Even After His 1st Workout in LA: 'That Purple and Gold Is Different'
After already cementing his Hall of Fame status, Carmelo Anthony is now officially on the Los Angeles Lakers. And while that's probably exciting for LA fans, he might be just as excited, as he said he can't wrap his head around the fact that he plays for the Purple and Gold, even after his first workout.
It probably seems like a weird (but great) dream for LA fans, as Carmelo Anthony is now officially on the Los Angeles Lakers.
Anthony moves to the Lake Show amid an already Hall of Fame career, and now looks to finally win his first NBA championship alongside his good friend, LeBron James. But while seeing Anthony in purple and gold is probably exciting for the Laker faithful, he's also still trying to "wrap" his "head around the fact that" he's playing for the franchise with 17 championships.
Carmelo Anthony joins the Lakers amid an already Hall of Fame career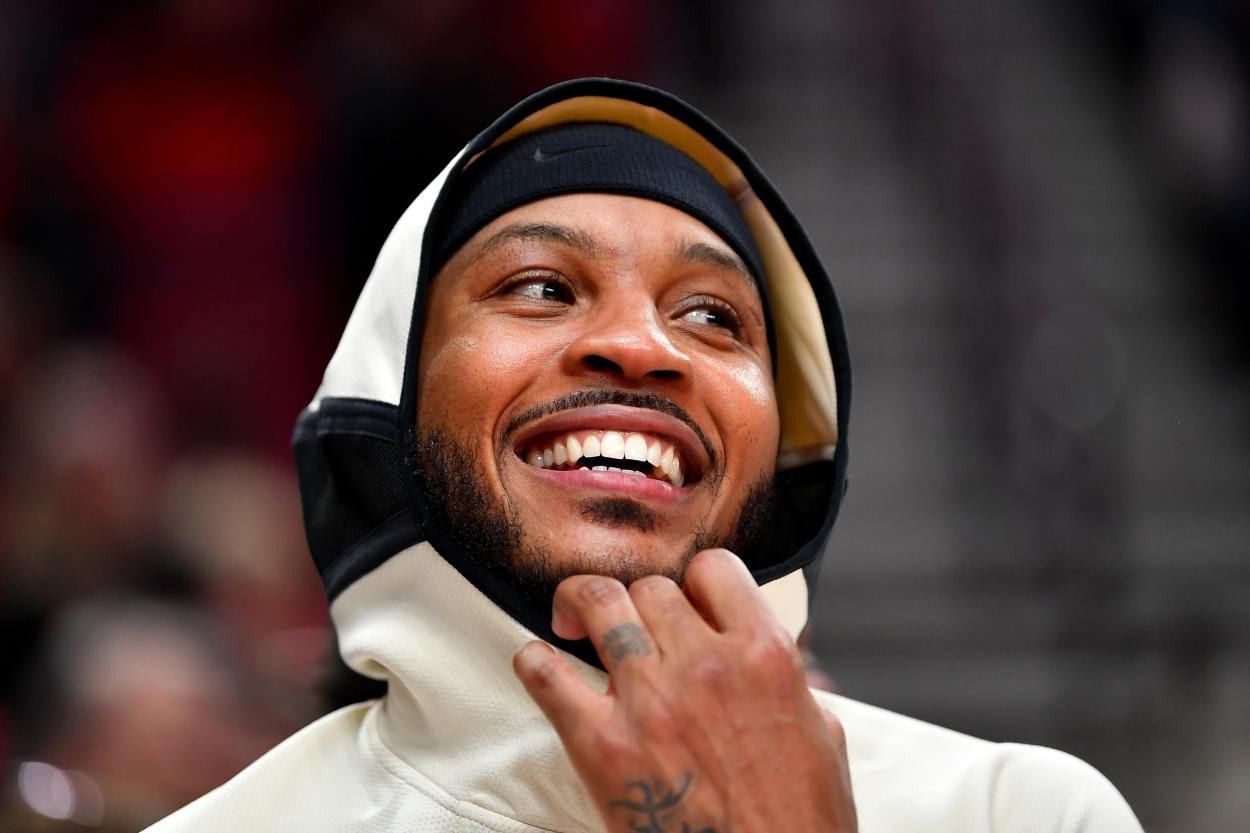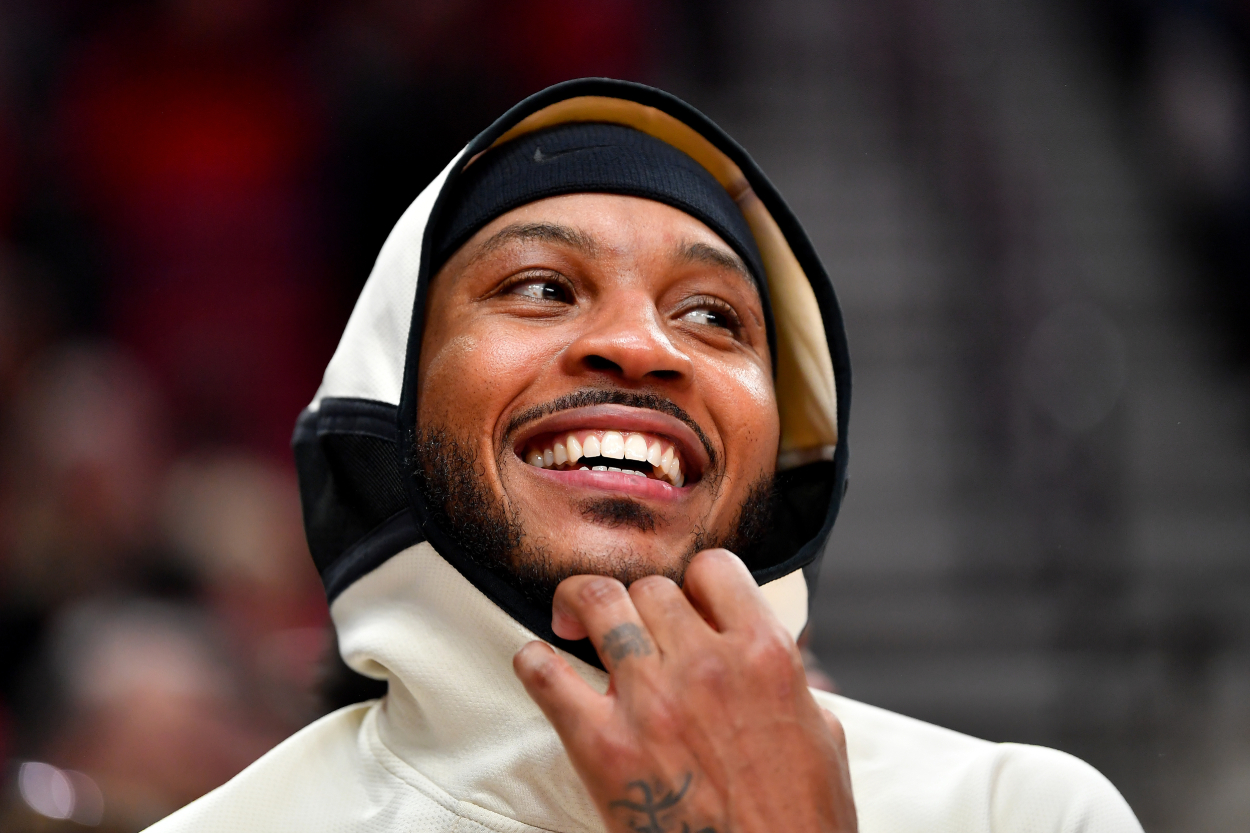 Anthony has nothing left to prove in his NBA career. He will be a Naismith Memorial Basketball Hall of Famer one day.
Melo has averaged 23.0 points over his 18 years in the league and even led the NBA in scoring in 2012-13 with 28.7 points per game. He has also earned spots on 10 All-Star and six All-NBA teams, and he ranks 12th in NBA/ABA history in total points with 27,370.
The Syracuse product is no longer a top scoring threat in the league, but he averaged 14.3 points during the last two years for the Portland Trail Blazers and shot a career-best 40.9% from 3-point range in 2020-21.
His ability to still shoot the ball at an effective rate is likely what led him to the Lakers this offseason, and he now joins a team that looks completely different than it did last year.
In addition to LeBron James, Anthony Davis, Talen Horton-Tucker, and Anthony, the Lakers now have former league MVP Russell Westbrook, Rajon Rondo, Dwight Howard, Kendrick Nunn, Trevor Ariza, Malik Monk, Wayne Ellington, and Kent Bazemore.
That roster may be just enough to help Anthony win his first title, and it appears he's excited about potentially getting the opportunity to win it in LA.
Carmelo Anthony is still trying to 'wrap' his 'head around the fact that' he's on the Lakers
Anthony participated in his first workout at the Lakers' training facility this week, and he spoke to the media afterward to discuss how he felt about it.
"My first time here in the building, at the facility, on the court," he said, per Spectrum SportsNet. "Still trying to get my bearings, wrap my head around the fact that I'm wearing this purple and gold."
He continued: "My first workout here went great today; it felt good in here today, felt good being in here. Again, it's just like any other court, but that purple and gold is different. It always has been, and it always will be, so I'm just happy to be a part of it. I wish my fans could see me in here working, but just know I'm in here working. I'm home now. … It's been a long time coming. So, I'm excited about it. The fans, you guys should be excited about it as well. Laker Nation should be excited about it as well."
It seems that Anthony is honored to don the same uniform guys like Kobe Bryant, Magic Johnson, Shaquille O'Neal, and Kareem Abdul-Jabbar wore.
But the biggest question will be whether he can follow their lead and win a championship for the Lakers.
Can the Los Angeles Lakers win a title in 2021-22?
The Lakers are nowhere near the same team they were last year, or even the year before when they won a championship.
They now have a Big Three in James, Davis, and Westbrook, combined with several talented shooters, and a couple of valuable role players who helped them win the 2020 title in Howard and Rondo.
Age, though, will be their biggest concern, as they have nine players who are 32 years of age or older, including Anthony, who is 37, and James, who turns 37 in December.
If their age, however, doesn't lead to injuries, the Lakers have a great chance to win a title. Their Big Three is just as, if not more, talented than the Brooklyn Nets' trio, and they have a deeper roster than anyone in the league. If James, Westbrook, or Davis find themselves double-teamed, they have an abundance of options to turn to, especially along the perimeter, as they can just kick it out to someone like Anthony for a 3-point attempt.
All in all, the Lakers have certainly taken a risk by completely turning over their roster and adding numerous aging stars. But if their evil plan works, Anthony, James, and company may win yet another title for LA.
Stats courtesy of Basketball Reference