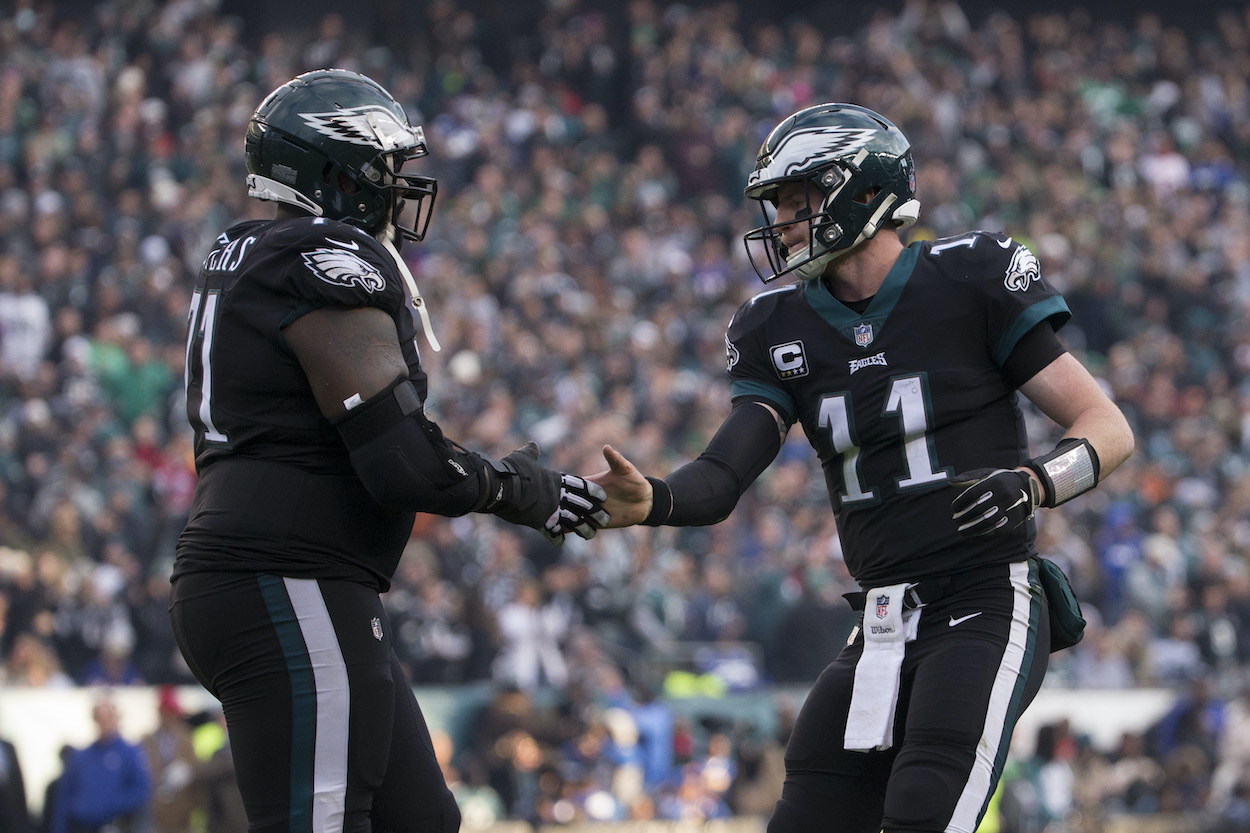 Carson Wentz's Former Eagles Teammate Sends a Strong, Confident Message About His Future With the Colts
Jason Peters protected Carson Wentz's blindside for five years, and he believes the QB will return to MVP form with the Indianapolis Colts.
After Carson Wentz had the worst season of his NFL career in 2020, many teams around the league (including the Philadelphia Eagles) believed he was a lost quarterback with no chance of regaining his MVP form from 2017. His mechanics were curiously poor, his confidence had plummeted, and his production fell off a cliff. It was a completely different Carson Wentz.
But now Wentz gets a fresh start with the Indianapolis Colts, and his former Eagles teammate, Jason Peters, believes he'll get back to an MVP level with his new team.
Carson Wentz had a nightmare of a 2020 season
Just three years removed from leading the Eagles to the No. 1 seed in the NFC and being an ACL injury away from winning the league MVP, Carson Wentz returned to the lineup in 2020 with hopes of leading Philadelphia to another NFC East title and a deep playoff run.
But that's not exactly how the season shook out.
Instead, Wentz had the worst season of his pro career in 2020. He threw for just 16 touchdowns and a league-high 15 interceptions in 12 starts for the Eagles. Wentz finished the season with career-worst numbers in completion percentage (57.4%), passing yards (2,620), QBR (49.6), and sacks taken (50). He was at or near the bottom of the list in all categories for NFL quarterbacks last year.
Wentz was benched for Jalen Hurts late in the season for his poor play, which all but guaranteed he wouldn't be returning to the Eagles in 2021.
Carson Wentz gets a fresh start with the Colts
After the 2020 season came to a close, the already fractured relationship between Wentz and the Eagles' front office started to deteriorate even more. Wentz started to pave his way out of town by distancing himself from the franchise, and general manager Howie Roseman had no choice but to let him go.
Last month, the Eagles traded Wentz to the Colts for a 2021 third-round pick and a conditional 2022 second-round pick that can become a first-rounder.
A fresh start might be exactly what the doctor ordered for a struggling Wentz. He gets to reunite with ex-offensive coordinator Frank Reich, who coached Wentz during his MVP-caliber season in 2017, and the pressure of living up to the hype Philadelphia created for him is finally off his back.
Jason Peters sends a strong, confident message about Wentz's future with the Colts
Jason Peters is a future Hall-of-Fame bodyguard who protected Wentz's blindside for five seasons. He knows what it takes for a quarterback to be great in the NFL, and he's confident Wentz will return to his 2017 form with his new team.
"I think Frank [Reich] is going to bring the best out of Carson because I've seen it when we were on the Super Bowl run. They were great together and that's a good fit for Carson, I think," Peters said on SiriusXM NFL Radio. "He's going to get back to his MVP caliber of play."
"One thing I do know about Frank, he's gonna put Carson in the best position," Peters continued. "He's not just going to let [Wentz] just go out there, have bad mechanics, or just go out there and throw bad balls. He's going to put him in the best spots, he's going to correct him when he's wrong, and vice versa. They're going to communicate with each other and all that good stuff.
"I believed in Carson the whole time. The city of Philly's just rough, man."
We'll find out soon if Philadelphia was causing Wentz's downfall or if this is just who he is now.
All stats courtesy of Pro Football Reference