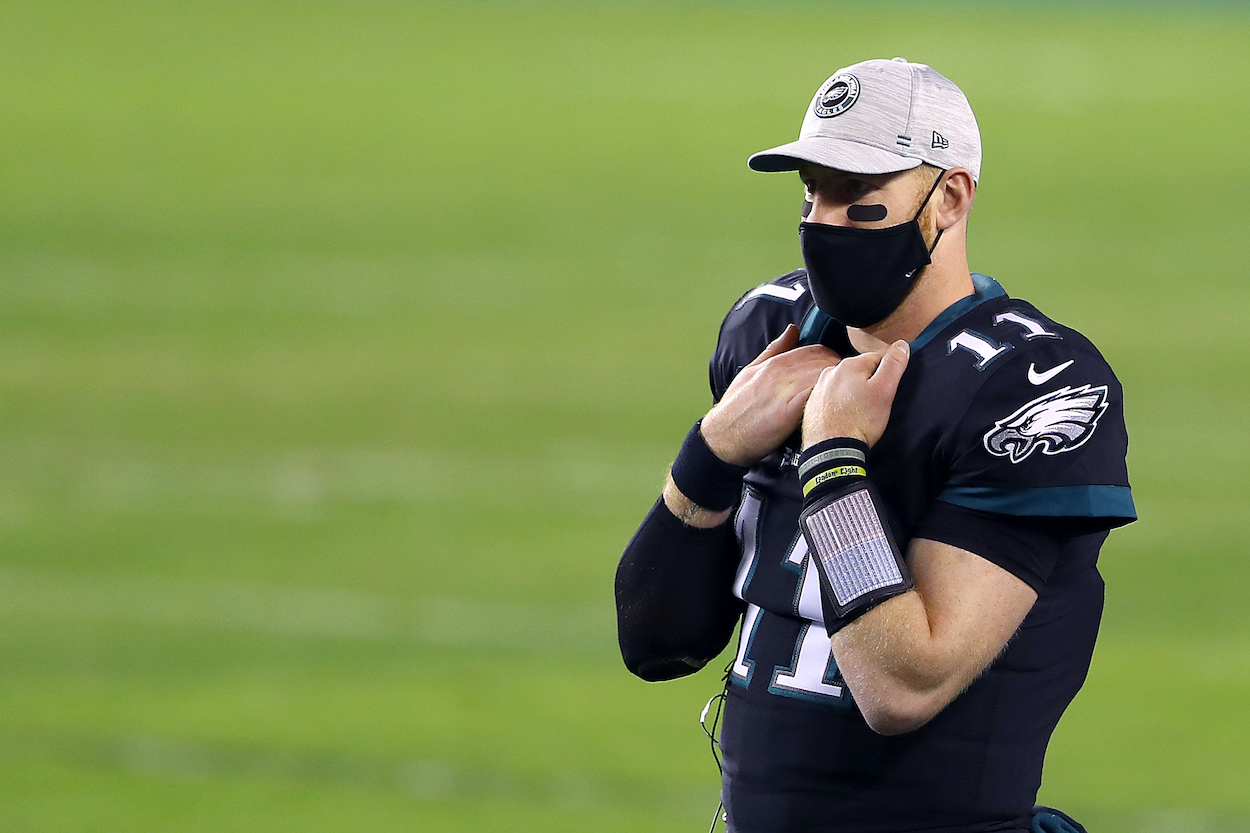 Carson Wentz Gets Real About His Tumultuous Divorce With the Philadelphia Eagles: 'It Wasn't Fun'
Carson Wentz has been fairly silent since he was traded by the Eagles to the Colts, but he just opened up about his tumultuous divorce.
It would be an understatement to say Carson Wentz is relieved to finally get out of Philadelphia. The former No. 2 overall pick went through extreme highs and lows during his career with the Eagles, but his relationship with the franchise eventually deteriorated to the point where it was simply unsalvageable.
Wentz has been fairly silent since being traded to the Indianapolis Colts, but he just revealed his honest feelings about his messy divorce with the Eagles.
Carson Wentz had a nightmare final season with the Eagles
Before the 2020 season, Philadelphia fans still believed Carson Wentz was the team's franchise quarterback moving forward. He had an MVP-level season in 2017 and led the Eagles to three straight playoff appearances despite the lack of weapons he was given over that span.
But the wheels completely fell off last season. Wentz threw an NFL-high 15 interceptions and led Philadelphia to a 3-8-1 record in his 12 starts. He was one of the worst statistical quarterbacks in the league all year, and he was eventually benched for Jalen Hurts late in the season.
The love Philly fans had for Wentz quickly morphed into hostility toward a quarterback who was clearly distancing himself from the franchise. The relationship eventually became strained beyond repair, and both sides knew they had to move on in the offseason.
On Thursday, Wentz spoke publicly for the first time since being traded to the Colts at his introductory press conference, and he spoke briefly about his departure from the team that drafted him.
"A lot of things in life we can't predict," Wentz said. "A lot of crazy circumstances where you expect things to unfold. When you're drafted in a place like Philly you have a lot of high expectations and everything, but obviously the year didn't go as planned. Excited for this opportunity in Indy and be a part of something special that has already been created here."
Wentz gets real about his tumultuous divorce with the Eagles
Everyone knew Wentz had some disdain for the Eagles organization following a brutal 2020 season, but he never explicitly explained how he felt. On Thursday, though, Wentz revealed what it was like to struggle through last season as everything crumbled around him.
"I'm not going to sugarcoat it — it wasn't fun," Wentz said. "It's not fun when things were going well for years and all those things. … As a man you have to look yourself in the mirror and learn from it and become a better man, better player. It wasn't fun, it was difficult, but I did everything I could to be supportive of Jalen [Hurts] and my teammates."
The Colts are confident Carson Wentz can return to his old form
Despite Wentz's struggles last season, the Colts believe they have the pieces in place to get their new QB back to his Pro Bowl ways.
"I can't emphasize how strongly I feel that Carson is the man for the job for the Colts at this time," Colts owner Jim Irsay said Thursday. "There's been a lot at the quarterback situation that has happened over the last three years. To get someone I really do believe after looking this game for 50 years, I really think that he can be that guy that's the centerpiece and the guy who will be around with these teams we put together for the next decade that gives the Colts a chance for greatness."
There's no question Wentz still has the tools to become a top quarterback in the NFL again, and with all the drama in Philadelphia finally behind him, he has a chance to prove all the doubters wrong and excel with his new team.