The Chargers' Dire Salary Cap Situation Could Open the Door For the Patriots to Finally Fix Their Flawed Offense
Could the Patriots take advantage of the Chargers' salary cap issues?
For a franchise that routinely found ways to plug holes and overcome adversity for two decades, the New England Patriots have failed miserably to find a true No. 1 receiver since they traded Randy Moss away. 
However, after seeing Bill Belichick swing and miss on early-round picks like Aaron Dobson and N'Keal Harry, Patriots fans could finally receive an answer to their prayers this offseason. 
Best of all? 
Unlike in years past, New England may not have to devote a single draft selection to try and secure a Pro Bowl-caliber pass catcher. Rather than taking a risk on an unknown commodity, Belichick may have a prime opportunity to take advantage of another team's misfortune and acquire a proven player at the position using the power of persuasion — and Robert Kraft's money.
The Chargers' cap woes could cost them one of their best players
Coming off another season that ended in bitter disappointment, the Chargers could look quite different in 2023. 
After all, their salary cap situation ranks as one of the most dire in the league.
According to The Athletic's Dan Popper, the Chargers' expensive 2022 offseason could force them to cut ties with several highly-paid players this offseason. Projected to be $20.38 million over the cap for 2023, the AFC West franchise will need to make some difficult decisions in the coming weeks to become compliant. 
One way Los Angeles can achieve more financial flexibility involves moving on from one of the most productive and respected players in team history: Keenan Allen. 
Despite having two years remaining on the four-year extension he signed in September 2020, the veteran receiver could be a cap casualty this offseason. 
"If the Chargers cut Allen, they will have a remaining dead-money charge of $6.9 million, which equates to the remaining prorated signing bonus of $5.4 million ($2.7 million in 2023 and $2.7 million in 2024) plus the $1.5 million in guaranteed salary," Popper wrote. 
The team could also explore trading Allen, but teams may not be willing to part ways with draft capital and take on his $15.5 million base salary and $3.5 million roster bonus for 2023. So, as much as it may hurt to say goodbye to a longtime leader and productive player, the idea of outright releasing Allen seems like a strong possibility, given the Chargers' cap situation.
Keenan Allen would be a picture-perfect fit for the Patriots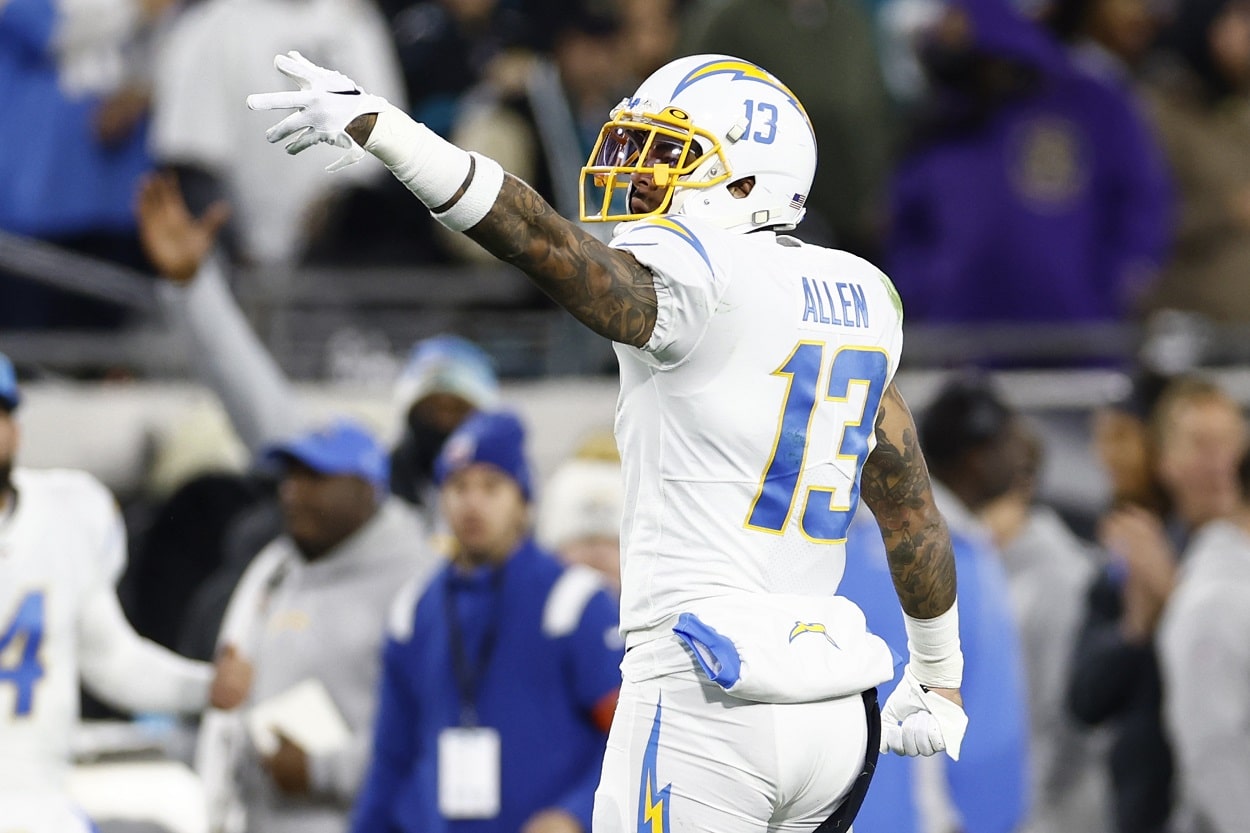 Although the Patriots still need to develop a young receiver (perhaps 2022 second-rounder Tyquan Thornton can accomplish that feat), they could instantly upgrade their anemic offense if the Chargers allow an accomplished wideout to hit the free-agent market. 
Sure, it's not ideal to throw millions of guaranteed dollars at a player who turns 31 in April, but after overpaying for Nelson Agholor and dealing with DeVante Parker's durability issues, why not give Mac Jones a weapon who's actually produced at a Pro Bowl level for most of the past decade? 
Allen has four 1,000-yard campaigns on his resume, and he finished eight yards shy of hitting that mark during an injury-shortened 2020 season. Known as one of the preeminent route-running technicians in the NFL, his skill set would fit perfectly in a New England offense that should look significantly better under the direction of Bill O'Brien. Plus, at 6-foot-2, 211 pounds, the five-time Pro Bowler has the size and catch radius the Patriots have desperately needed at the position for years. 
Of course, Allen would likely command interest from several receiver-needy teams if he becomes a free agent. Luckily for the Patriots, they project to have nearly $38 million in cap space heading into arguably the most pivotal offseason of Belichick's career. So, if a bidding war were to ensue, there's no reason New England should lose out on Allen because of a lack of financial flexibility.
Would Bill Belichick let a homegrown talent leave to land the longtime LA star?
There's no doubt the Patriots could use a player of Allen's caliber. However, signing him would certainly eat up a decent chunk of salary cap space.
And it could also cost the team a chance to retain one of the few receivers who's actually developed into a dependable contributor in New England. 
With Jakobi Meyers needing a new deal, his future in Foxborough hangs in the balance. A reliable but unspectacular player who's probably best utilized as a No. 2 or 3 option on a playoff-caliber team, it's fair to wonder whether Belichick will break the bank to keep the former undrafted free agent around. 
If a situation presents itself where the Patriots have to choose between signing the soon-to-be 31-year-old Allen or giving the 26-year-old Meyers a three- or four-year deal with an average annual salary of $12-15 million, which way would they go? 
An argument could be made that it would be a better investment to keep the younger player who's already a well-respected member of the organization. On the other hand, it wouldn't necessarily be wrong to view signing Allen as a surefire way to upgrade an offense that didn't scare anyone with Meyers as its top target.