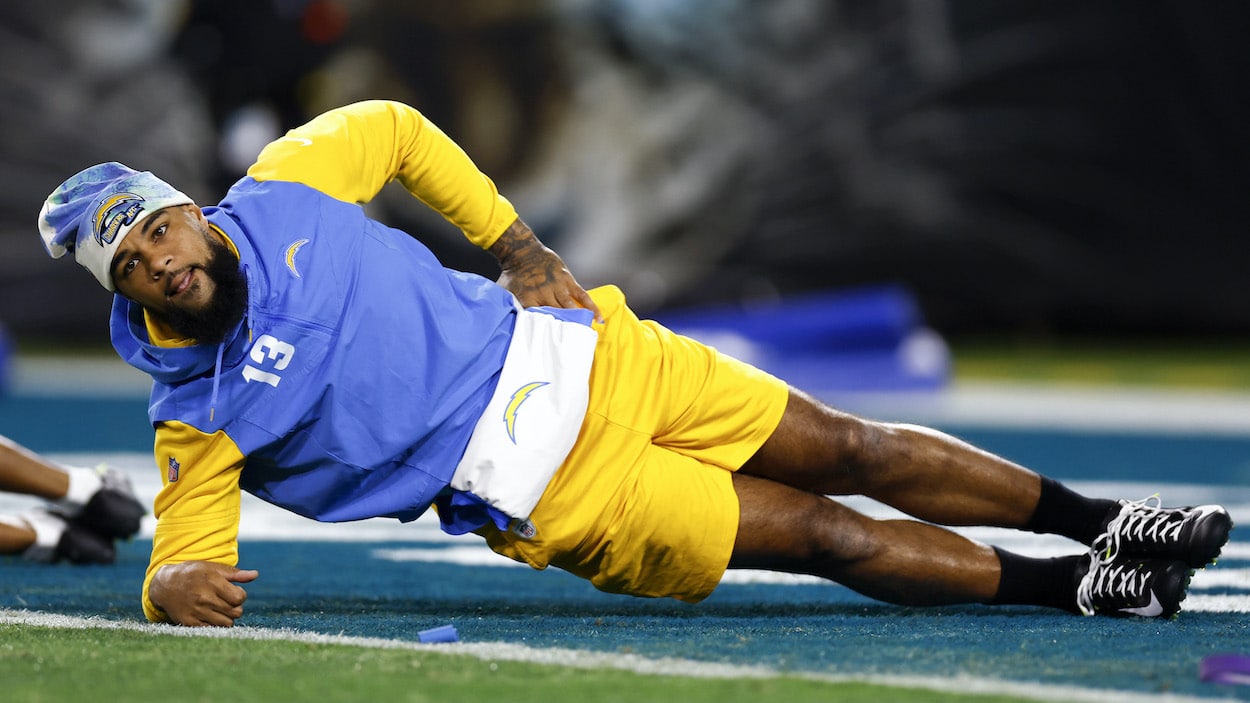 Keenan Allen Contract: Chargers Can't Bring WR Back on Current Deal
The Chargers can't afford to keep the Keenan Allen contract, and if they keep him or not, the Chargers' NFL draft plan has to include a WR.
After allowing one of the biggest comebacks in NFL playoff history, the Los Angeles Chargers have a lot of decisions to make this offseason. The loss has already cost offensive coordinator Joe Lombardi and pass game coordinator/quarterbacks coach Shane Day their jobs. On the field, one of the biggest questions to answer is what to do with the Keenan Allen contract. The one thing that is for sure is that the team can't bring him back on his current deal. And whether the team keeps him or not, the Chargers' NFL draft plan has to include picking another pass-catcher.
The Keenan Allen contract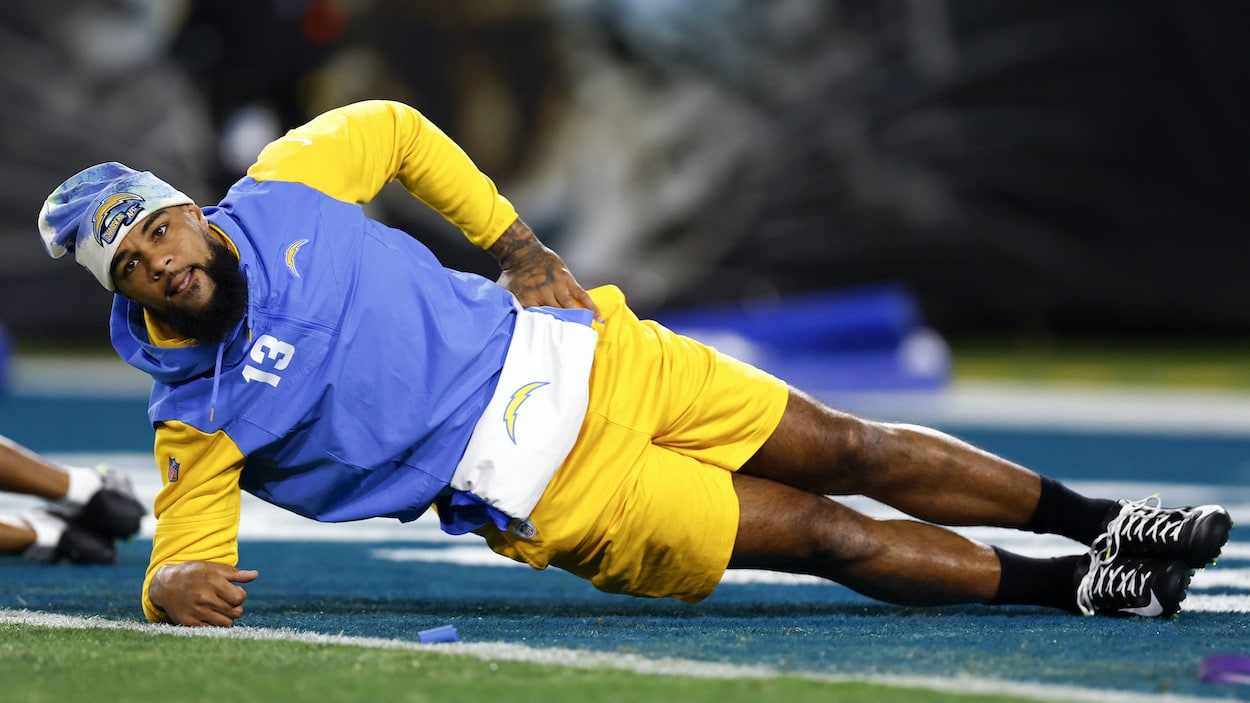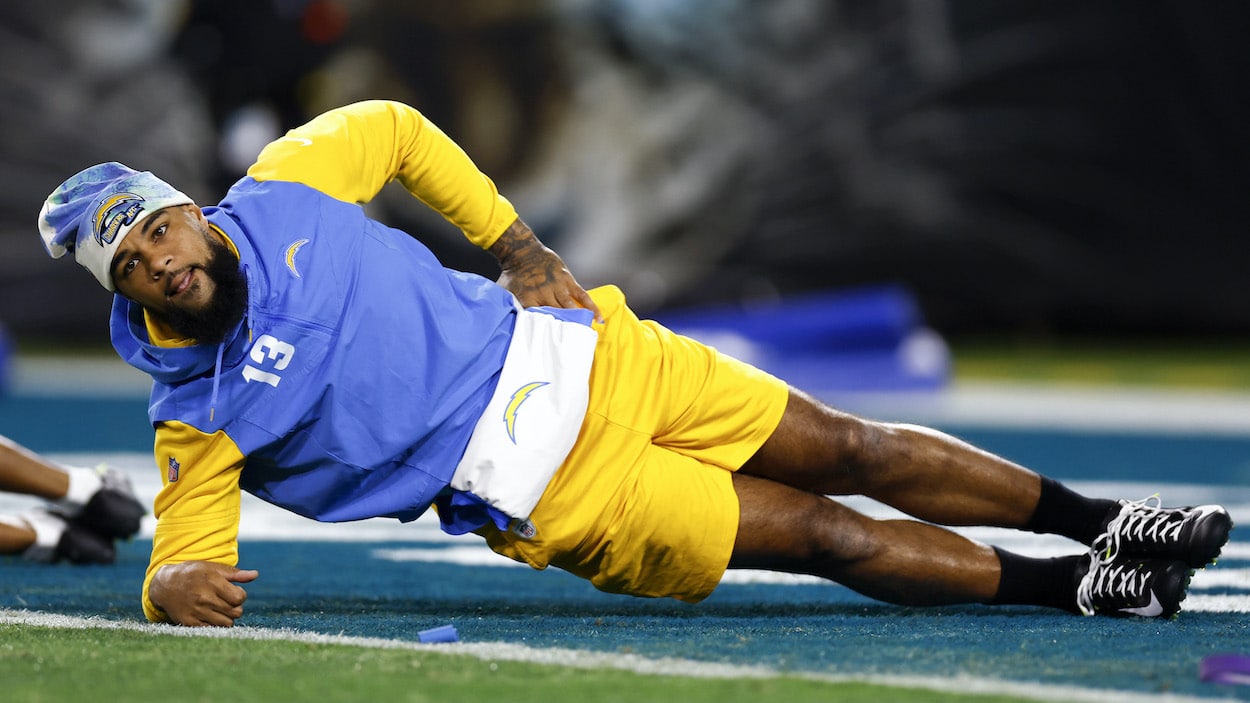 Keenan Allen has long been one of the most underrated WRs in the NFL. The 2013 third-round Chargers NFL Draft pick out of Cal has hugely exceeded expectations, playing 10 seasons for the franchise and making five consecutive Pro Bowls from 2017-21.  
The 6-foot-2 pass-catcher has racked-up 796 career catches for 9,287 yards and scored 52 receiving touchdowns. Allen has also led the Chargers in receiving yards in five of his 10 campaigns.  
Allen's issues are that he'll be 31 on April 27, and he's never been the healthiest wideout, to begin with. He's missed 36 games in his career, including seven this past season, and that number figures to go up as he gets into his 30s.
The current Keenan Allen contract has two seasons left on a four-year, $80,100,000 extension with $43,000,000 guaranteed that he signed in 2020. That's an average annual value (AAV) of $20,025,000, which makes him the 11th highest-paid wideout in the NFL.
Last season, Allen made $16,500,000 in base salary with $2,700,000 in prorated signing bonus for a $19,200,000 with $26,100,000 in dead cap. In 2023, his base drops a bit to $15,500,000, but he also has a $3,500,000 roster bonus that brings his cap number up to $21,700,000.
His dead cap is $6,900,000, though, so cutting him or restructuring (and likely adding years or guaranteeing 2024) could save the Chargers over $14 million. And that's no small number, especially considering the franchise has the fifth-worst cap situation in the NFL next season.
According to Spotrac, the team is already $-19,553,901 over the projected cap before making a single offseason move.
It would be irresponsible to bring Allen (or, more specifically, the Keenan Allen contract) back next season as is.
3 WRs that can help Justin Herbert and the Chargers in the 2023 NFL Draft
Whether the Chargers can restructure the Keenan Allen contract this offseason or not, one of the franchise's top priorities needs to be bringing in WRs to help Justin Herbert via the draft.
Here are three wideouts the team could look at with each of the first three Chargers NFL draft picks:
Round 1, Pick 21: Jaxon Smith-Njigba, Ohio State
If the Chargers make WR a priority after redoing or losing the Keenan Allen contract, they could go WR at pick No. 21 and take Allen 2.0 in Ohio State's Jaxon Smith-Njigba. The 6-foot-1, 200-pound pass catcher isn't the biggest, the fastest, or the best at almost anything except finding a way to make catches.
If you're looking for A.J. Brown or DK Metcalf, that's not Smith-Njigba. However, the fact that he was the Buckeyes' leading pass-catcher in 2021 on a team with Garrett Wilson and Chris Olave tells you everything you need to know about what Smith-Njigba can do once the whistle blows.
Round 2, Pick 54: Zay Flowers, Boston College
If the Chargers' NFL draft plan includes finding a WR to complement Keenan Allen and Mike Williams, they may look for a slot receiver to round out their unit. Boston College's 5-foot-10, 172-pound dynamo Zay Flowers would fit that bill.
Flowers put up 70 catches for 1,077 yards and 12 touchdowns for the Eagles this season and is a prototypical NFL slot receiver. He will also likely run a 4.3-second 40-yard dash at the combine, giving him the versatility to work underneath, stretch the defense, or even take handoffs or bubble screens to the house at the next level.  
Round 3, Pick 85: Xavier Hutchinson, Iowa State
The 6-foot-3, 205-pound Xavier Hutchinson has the size and the athleticism to become a true WR1 at the next level but is still a raw project. He put up 107 catches for 1,171 yards and six touchdowns in his final season for the Cyclones.        
Adding Hutchinson to Allen and Williams would give the Chargers one of the biggest and most intimidating WR groups in the NFL and give Justin Herbert another big pass-catcher to throw to. The best-case scenario for Hutchinson is doing what Christian Watson did for the Green Bay Packers this season.