Justin Herbert Told a Team He'd Punch His Oregon QB Coach in the Face Ahead of the 2020 NFL Draft
Los Angeles Chargers quarterback Justin Herbert is just about the most laid-back guy in the NFL. The Oregon native is well-known for his calm, understated demeanor. It's a trait that some believe will serve Herbert and the Chargers well when big games are on the line. Others think the lack of outward competitive drive could stop LA from making it to the Promised Land. Either way, it does sound like Herbert has some fire in him, as he told an NFL team leading up to the 2020 draft that, if he had to choose, he'd punch his Oregon QB coach in the face.
An NFL team asked Justin Herbert an odd question in the pre-draft process
Heading into the 2020 NFL Draft, Oregon QB Justin Herbert was one of the top signal-caller prospects, along with LSU's Joe Burrow, Alabama's Tua Tagovailoa, Utah State's Jordan Love, and Oklahoma's Jalen Hurts.
The first three — Burrow, Herbert, and Tagovailoa — were all considered high first-round prospects.
While trying to parse the difference between the three, some NFL teams asked some strange questions. During a 2020 appearance on the Pat McAfee Show, Herbert revealed the most outlandish question an NFL team asked him during the pre-draft interview process.
"I got asked which coach I would rather punch in the face. Head coach? Offensive coordinator? or QB coach? And that was really out of the blue," Herbert shared.
So, who did the QB select between his head coach, offensive coordinator, and quarterbacks coach?
"I said the quarterback coach. I had kind of a relationship with him, so I knew he'd understand."
Upon further review, it's not exactly clear who Herbert was talking about. In 2019, Mario Cristobal was the Oregon head coach, but Marcus Arroyo was both OC and QB coach. Herbert could have been talking about Arroyo or a lower-level assistant who he considered his QB coach.
The other nugget Herbert shared is that, while he didn't reveal the team, he did say it was a head coach who asked him that question.
Herbert and the Chargers are starting to come on in 2022 after a slow start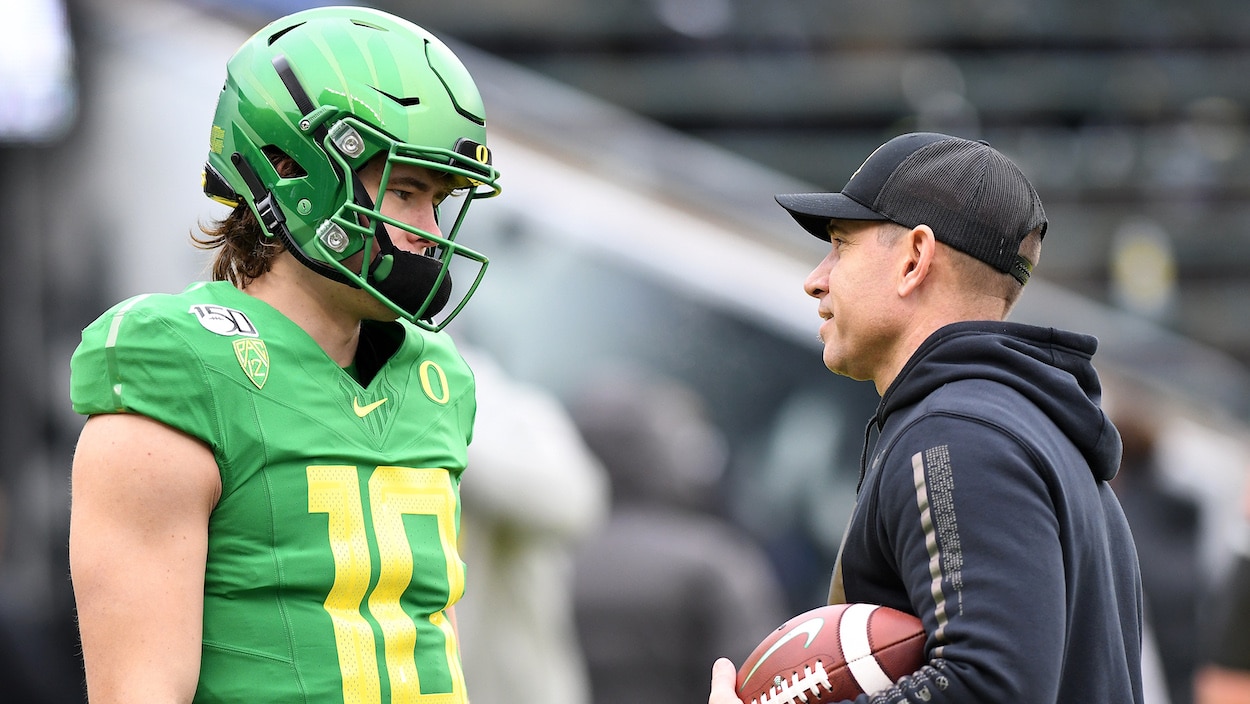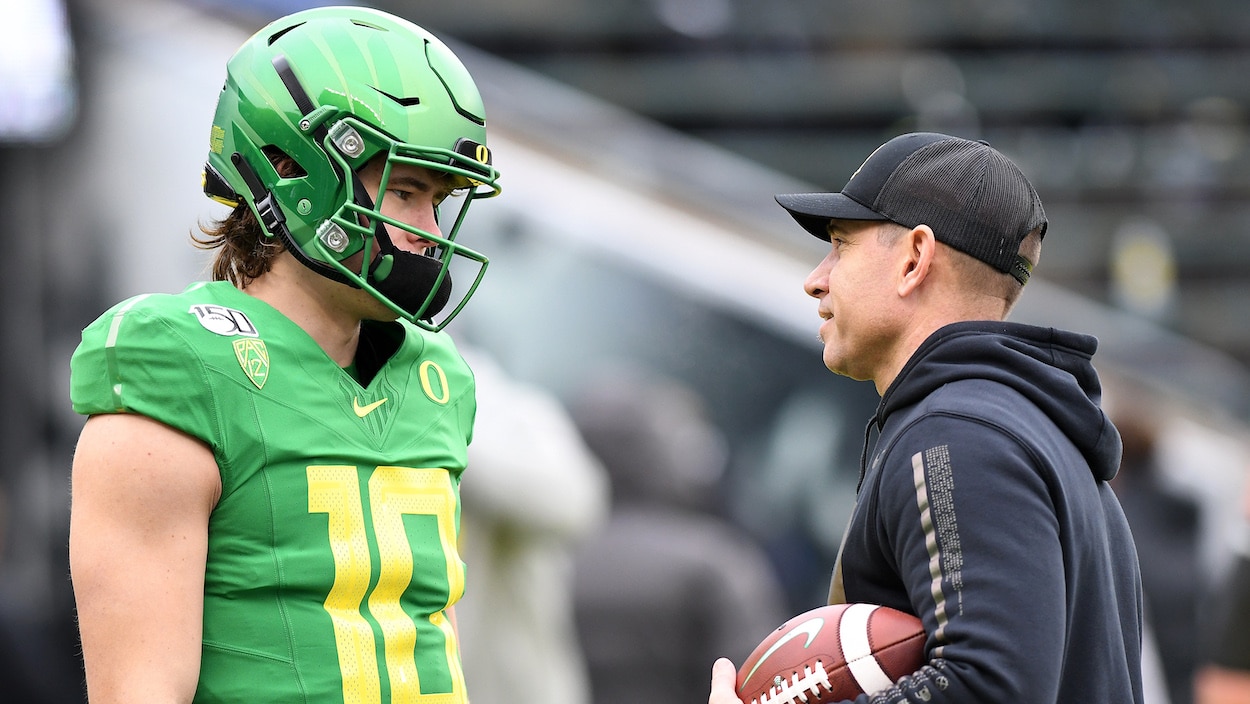 The Chargers ultimately selected Justin Herbert No. 6 overall. That was five spots behind Joe Burrow at No. 1, one spot behind Tua Tagovailoa at No. 5, and 20 spots ahead of Jordan Love.
Herbert took the NFL by storm in his first season. After the Chargers' training staff punctured starter Tyrod Taylor's lung with a needle, Herbert took over in Week 2 and nearly beat the defending Super Bowl champion Kansas City Chiefs.
With Burrow out with a knee injury and Tagovailoa unable to beat out journeyman Ryan Fitzpatrick, Herbert cruised to the 2022 Offensive Rookie of the Year Award. In 2021, Herbert was incredible again, throwing for over 5,000 yards with 38 touchdowns and 15 interceptions. However, the team could only manage a 9-8 record.
This season, Herbert took a big hit to the ribs in Week 2 vs. the Kansas City Chiefs. He struggled through the bulk of the season after that but seems to have healed up nicely in recent weeks. The Chargers are now 7-6, and depending on how Week 15 shakes out, they could be in the playoffs with three games to play.
Can Justin Herbert get the job done? He might need to channel some of that punch-your-quarterbacks-coach-in-the-face energy if he hopes to lead the Chargers to the postseason.