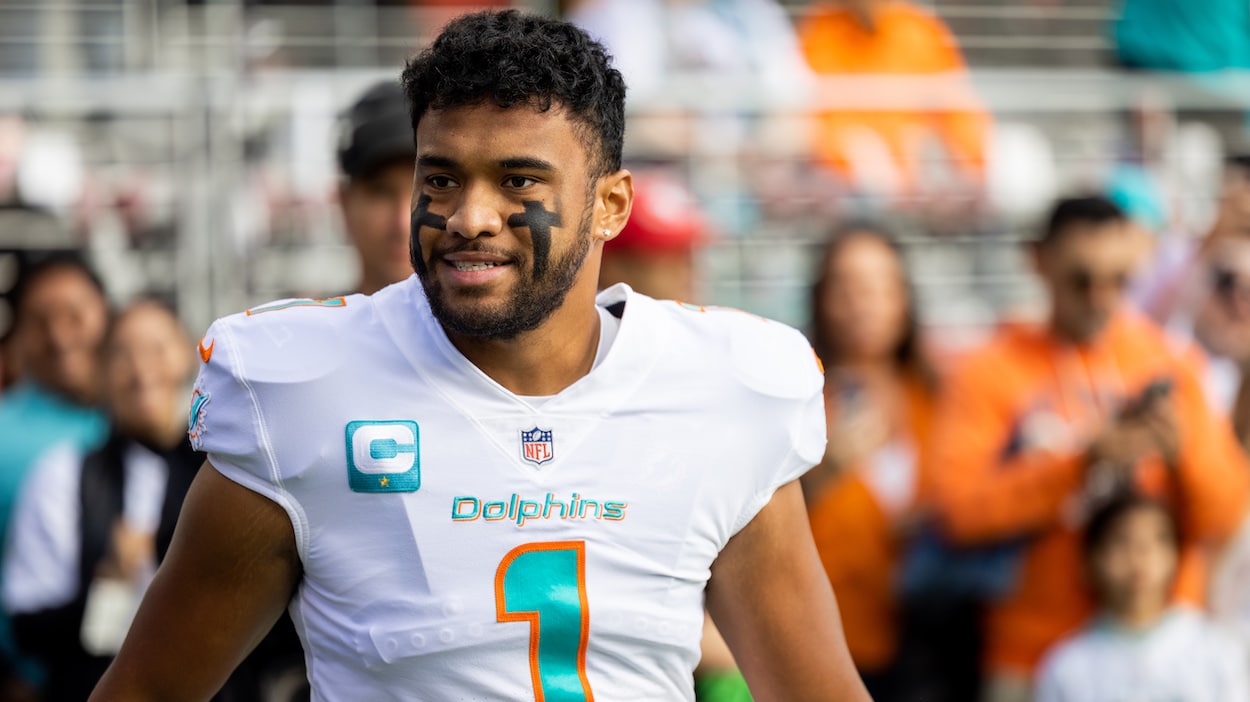 Tua Tagovailoa Contract: How Much Does the Dolphins QB Make and What Will the Next Tua Contract Look Like?
The Dolphins have to be in win-now mode with the current cheap Tua Tagovailoa contract, because the next Tua contract could be huge.
This year, the Miami Dolphins have gone all in, trading for superstar wide receiver Tyreek Hill and elite pass-rusher Bradley Chubb. How can the Dolphins afford these luxuries? Because they have the most valuable commodity in the NFL: A star QB on a rookie deal. The Tua Tagovailoa contract allows the Dolphins to make these moves in 2022. So, here we'll look at what that Tua contract looks like, when an extension is coming, and how much it will be for.
Tua Tagovailoa's rookie contract 
Alabama quarterback Tua Tagovailoa burst onto the scene when the true freshman replaced Jalen Hurts at halftime of the 2018 national championship game and led the Crimson Tide to the title.  
The Hawaii native started 24 more games for Nick Saban, producing a 22-2 record. However, a severe 2019 hip injury put his NFL draft status in jeopardy. Despite the injury, the Miami Dolphins took a chance on the QB, selecting him No. 5 overall in the 2022 draft.
Tagovailoa recovered from his hip injury quicker than expected and was ready for the 2020 season. However, the signal-caller struggled and couldn't truly beat out journeyman Ryan Fitzpatrick in his rookie year. In year two, he dealt with an early-season rib injury and was inconsistent throughout the campaign.
In 2022, new head coach Mike McDaniel fully committed to Tagovailoa, and the QB responded by leading his team to an 8-2 record as a starter and leading the league in touchdown percentage (6.6%), yards per attempt (9.0) and QB Rating (112.0) through 13 weeks.
And the best part is, the Dolphins aren't paying him all that much (relative to other NFL QBs) to do all this.
As the No. 5 pick, the initial Tua Tagovailoa contract is for four years and $30,275,438, all guaranteed.
This season, the Tua contract pays him an $895,000 base salary, $4,894,625 in prorated signing bonus, and a $2,467,313 roster bonus. That all adds up to an $8,256,938 cap hit in 2022. Next season, he'll make a $1,010,000 base salary, $4,894,625 again in prorated signing bonus, and a $3,728,469 roster bonus for a $9,633,094 cap hit.
Tagovailoa's rookie deal runs out after 2023, but there are several mechanisms in place for the Dolphins to keep him in 2024 and beyond, including what could be a lucrative contract extension.
Extending the Tua Tagovailoa contract beyond 2023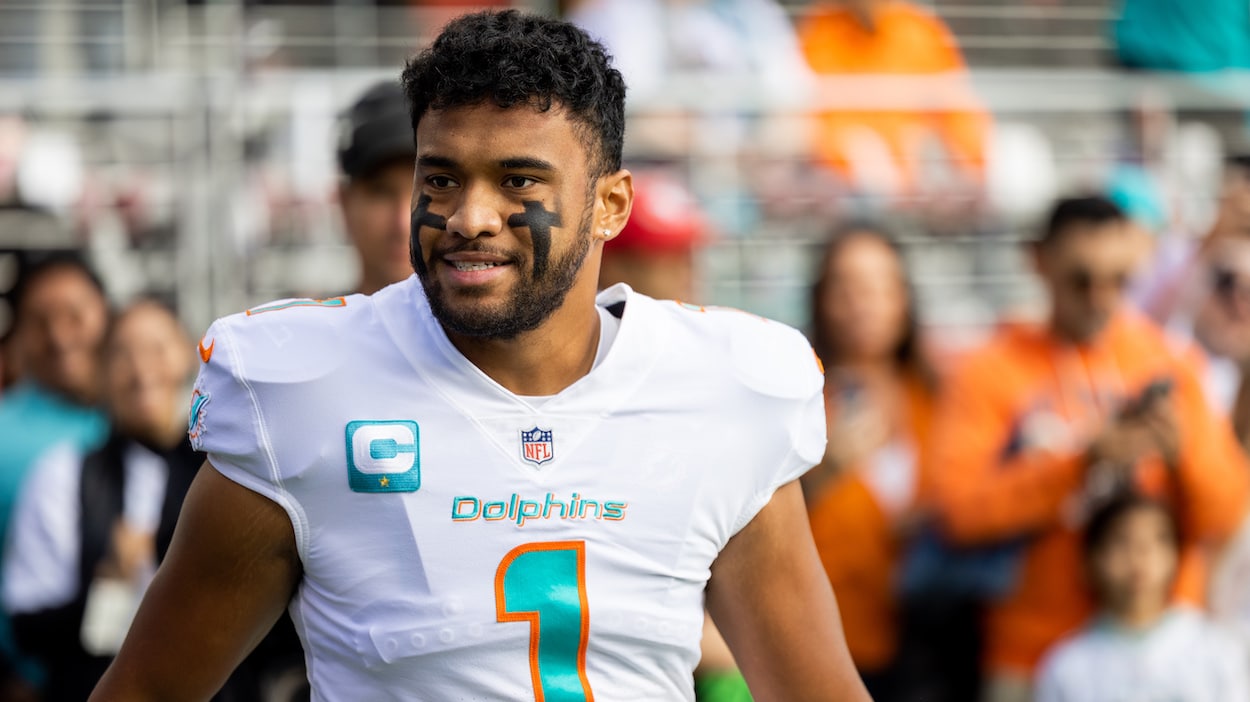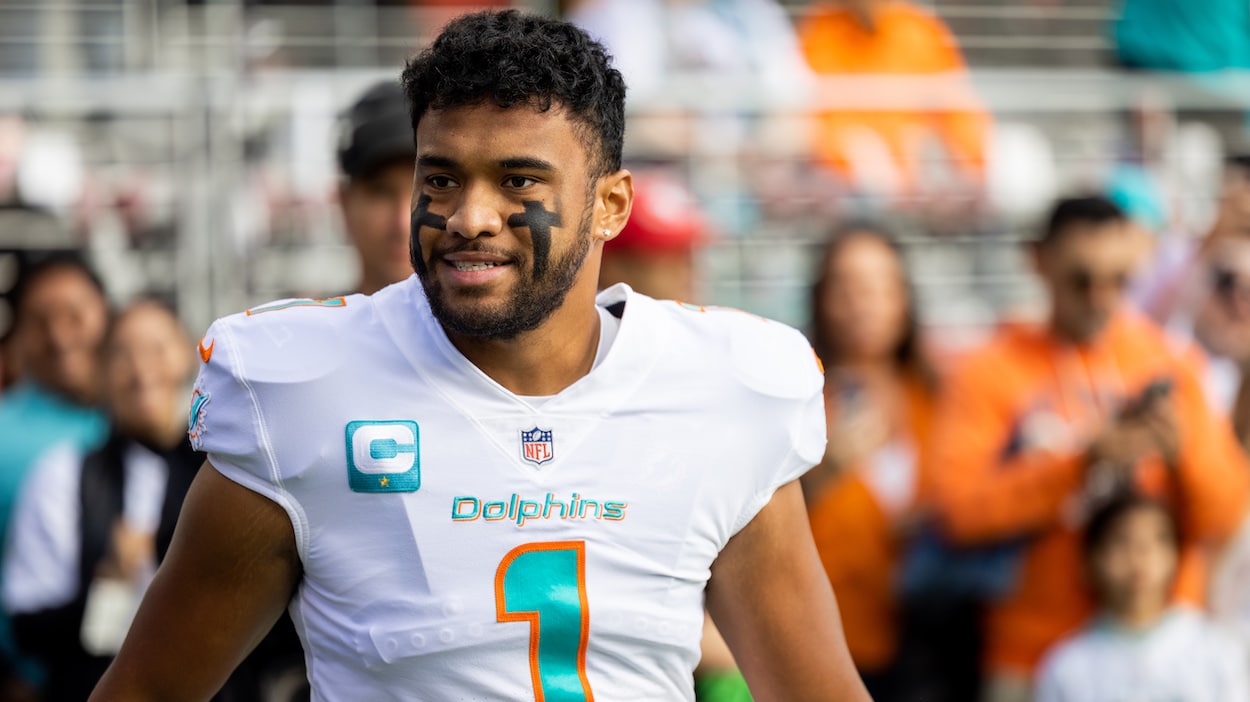 With Tua Tagovailoa playing as well as he is, the first thing the Dolphins will do is pick up his fifth-year option. This allows the team to keep its QB at a predetermined dollar figure based on his playing time and accolades.
Based on being picked No. 5 overall and playing more than 50% of his team's snaps in his first three seasons, Over the Cap estimates Tagovailoa's fifth-year option at $22.6 million for 2024. If he makes the Pro Bowl this season (on the original ballot, not as an alternate), that number will jump $28.04 million.
After that, if the Dolphins can't work out a long-term Tua Tagovailoa contract, they would have the option to franchise him in 2025. For quarterbacks, that franchise tag number will be around $31.4 million in 2023, so by 2025, it will be even higher. The franchise could also, hypothetically, franchise tag the QB again in 2026, but that number would be prohibitively high.
If Tagovailoa keeps up his above-average quarterback play, the most likely outcome is that next offseason (heading into the 2024 season), the team and the QB will work out a Tua contract extension.
The last four first-round QBs to sign major post-rookie contract extensions were:
Kyler Murray (five years, $230.5M, $189.5M guaranteed, average annual value of $46.1M)
Josh Allen (six years, $258M, $150M guaranteed, AAV of $43M)
Patrick Mahomes (10 years, $450M, $141.4M guaranteed, AAV of $45M)
Dak Prescott (four years, $160M, $126M guaranteed, AAV of $40M)
This is the neighborhood a new Tua Tagovailoa contract will live in. If the Tua contract takes some time, the Justin Herbert and Joe Burrow contract extensions from the Dolphins QB's Class of 2020 could have a major impact on the new deal in Miami.
That's why it is so crucial for the Dolphins to win now. Once they have to pay Tagovailoa $40 million a year or more, their ability to bring in players like Hill and Chubb will be severely limited.