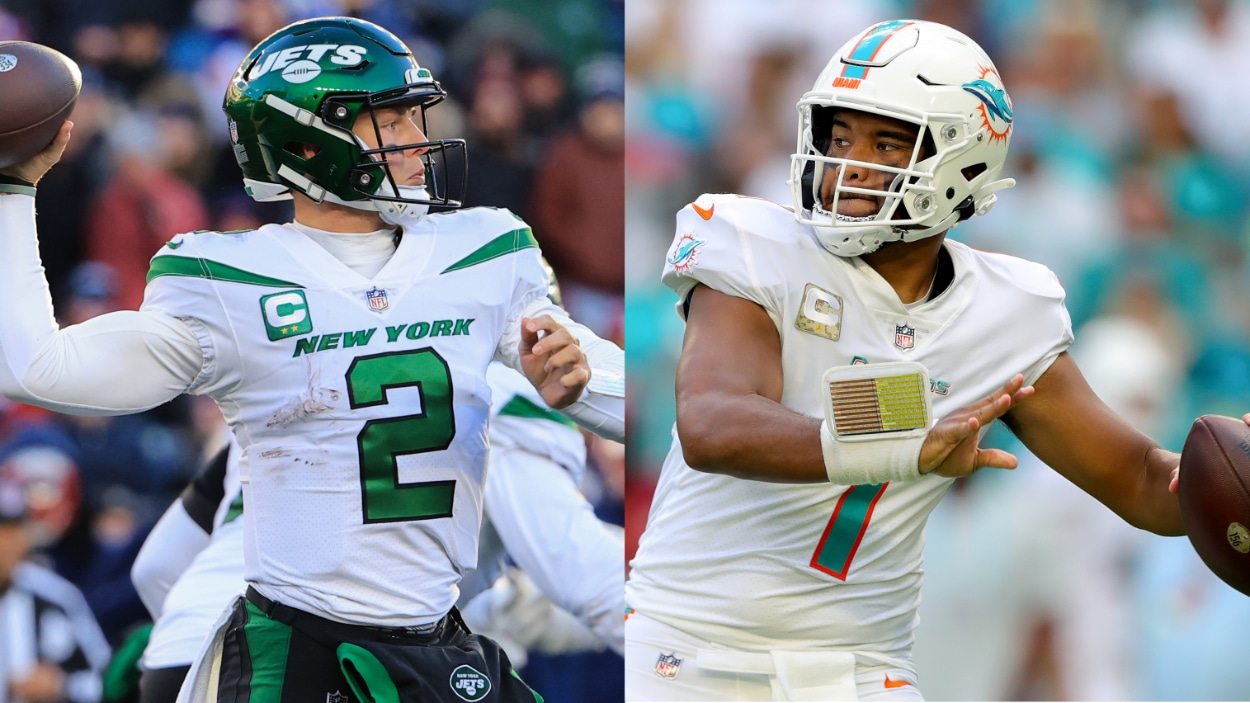 Tua Tagovailoa Could Fall off a Cliff, and He'd Still Be Better Than Zach Wilson
Jets QB Zach Wilson has been bad this season, and comparing his QB Rating to Dolphins QB Tua Tagovailoa's QB Rating shows just how bad.
The New York Jets are a fascinating team heading into Week 12 of the NFL season. The defense has been excellent this season. The offensive skill players have been incredible, too. The coaching, also fantastic. Quarterback Zach Wilson? Well, he's been horrible. To put it in perspective, Miami Dolphins reporter Alain Poupart has some "fun with numbers," comparing Tua Tagovailoa to Wilson, and the stark difference is nothing short of amazing. 
Tua Tagovailoa vs. Zach Wilson
Before the season started, conventional NFL wisdom had the Buffalo Bills' Josh Allen as the No. 1 quarterback in the AFC, followed by New England Patriots signal-caller Mac Jones, and the Dolphins' Tua Tagovailoa and Jets' Zach Wilson were in a virtual tie for last. 
Fast forward 12 weeks, and Allen is injured and struggling, Jones may not be the best QB on his own team, and Tagovailoa leads the league in yards per attempt (9.1), touchdown percentage (7.3%), and QB Rating (118.4). 
Here's how Tua's raw statistics stack up against Wilson's in eight games for the Dolphins QB to seven games for the Jets passer: 
Tua Tagovailoa: 176-of-248 (71.0%), 2,265 yards, 18 TDs, three INTs, 118.4 QB Rating
Zach Wilson: 105-of-189 (55.6%), 1,279 yards, four TDs, five INTs, 72.6 QB Rating
To help understand the difference in that last passer rating stat, Dolphins reporter Alain Poupart tweeted, "Tua Tagovailoa's next 150 passes could all be incompletions, and he'd still have a higher passer rating than Zach Wilson. … Or his next 20 passes could all be INTERCEPTIONS and, yep, still a higher passer rating."
So, averaging 31 pass attempts per game as he is this season, Tua could take every snap and throw it into the ground for the next five games and still have a better statistical rating than Zach Wilson. 
That's an incredible incitement of the Jets quarterback, and is the reason Wilson's own head coach, Robert Saleh, is thinking about sitting him down. 
Is Wilson still the Jets starter?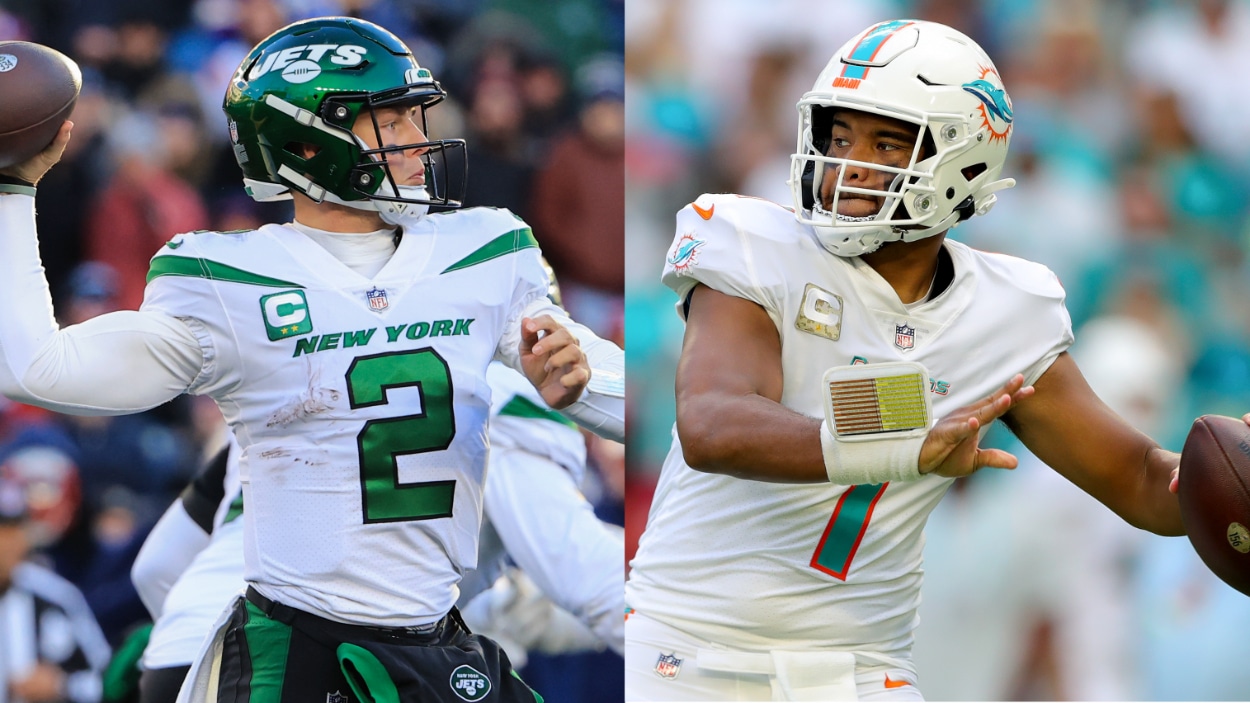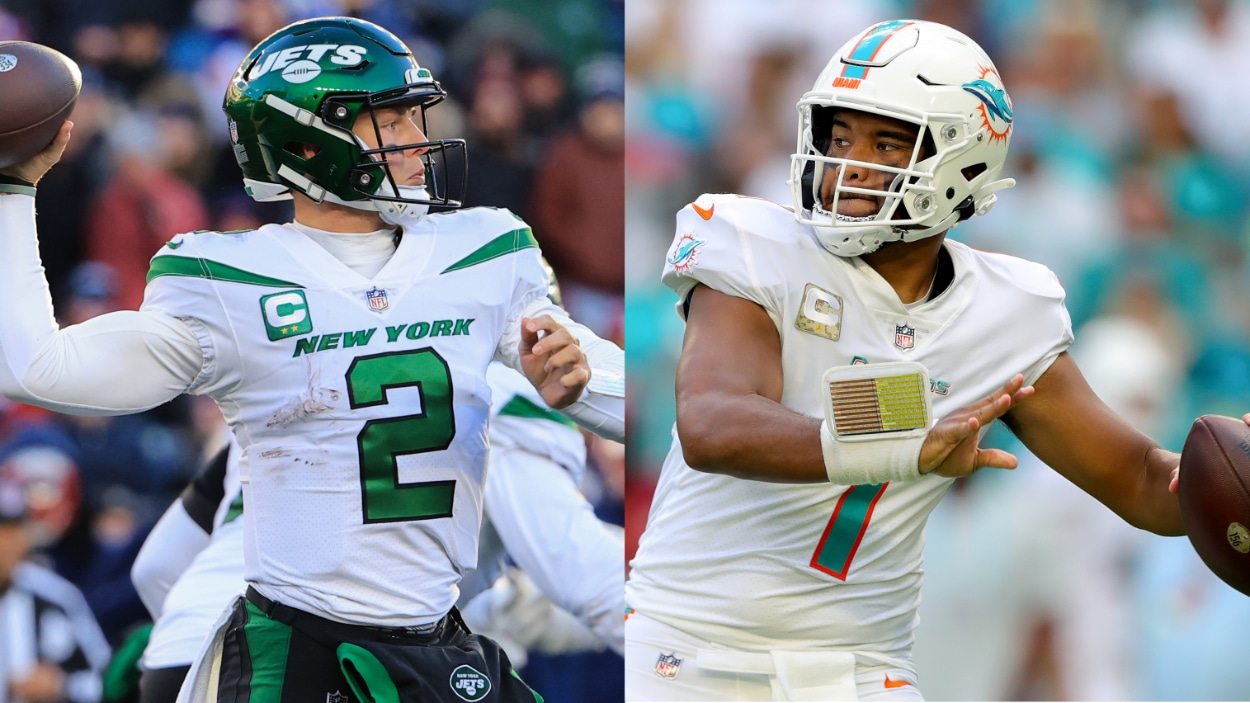 The Jets are firmly in the AFC playoff race at 6-4 despite losing two of their last three games. They have a top-10 defense, an excellent running game, and pass-catchers who can do things with the ball after a grab. 
The only problem (and it's a big one) is Wilson. 
In the Jets' last loss vs. the Patriots, Wilson is 9-of-22 for 77 yards. He's also had games with 110 and 121 passing yards this season, albeit in wins. To make matters worse, after that performance and loss to a division rival, Wilson shirked all responsibility for letting his defense down. 
That's why his head coach won't commit to Wilson starting in Week 12 vs. the Chicago Bears. Robert Saleh told the media after the Pats game (h/t Chicago Tribune), "I'm going to get to the tape and just evaluate everything. I will leave it at that as we are keeping everything on the table over the next couple of days."
The Jets have a real shot at making the playoffs here for the first time since 2010. That's why it makes sense for Saleh to evaluate if Wilson should be the starter. Here's the problem, though. When Wilson began the season injured, Joe Flacco came in for him, and the team went 1-2. 
Sure, the Jets are a young team that has improved since then. However, Flacco standing like a statue in the pocket isn't a recipe for Jets wins. 
What does this all mean? It means there is only one answer to the Jet's QB problems, and it's Mike "F'in" White!