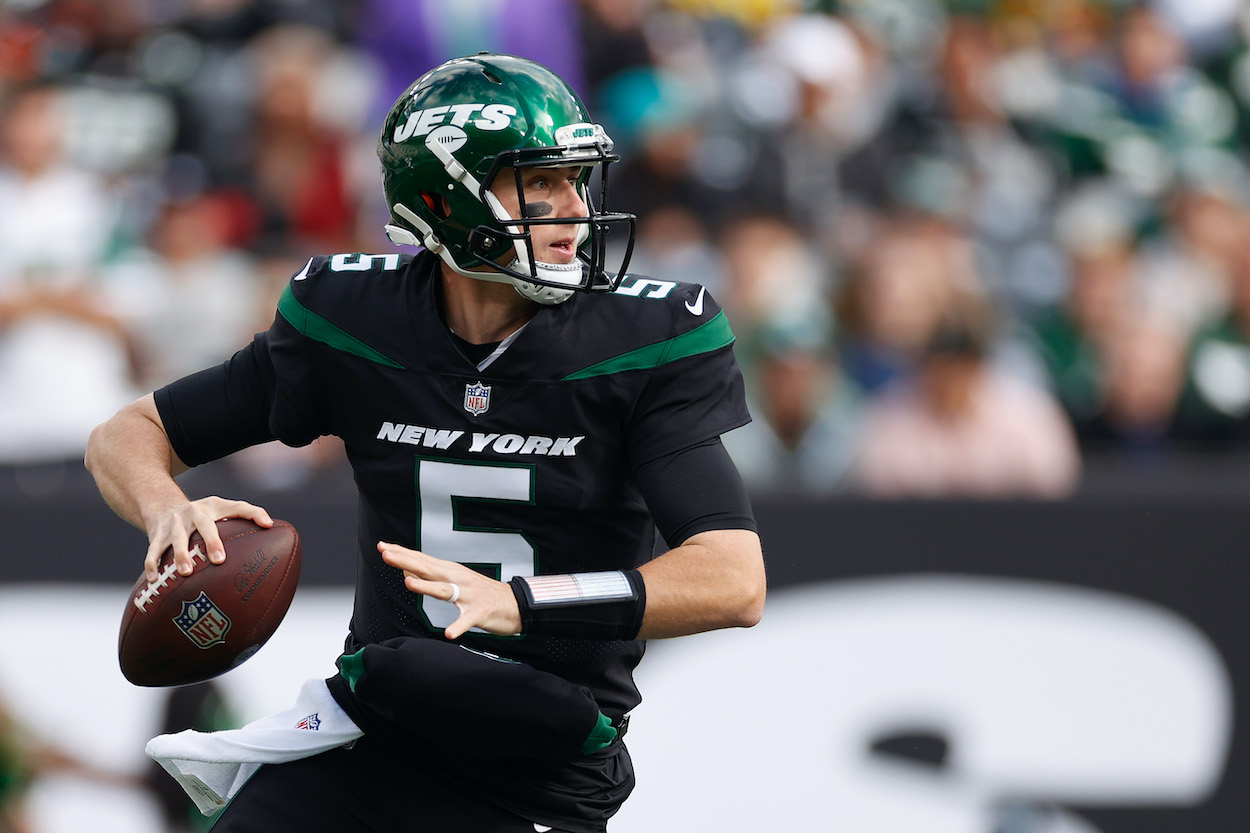 Mike White Gets a New NSFW Nickname From His Running Back After Hall of Fame Performance: 'He's a Savage, He's a Dog, He's an Animal'
New York Jets backup QB Mike White had a historic starting debut Sunday that earned him a win, a spot in the Pro Football Hall of Fame, and an interesting new nickname.
New York Jets quarterback Mike White went from completely unknown backup to the Hall of Fame over the course of one afternoon. Filling in for injured No. 2 overall pick Zach Wilson, White had a debut game the likes of which NFL fans have never seen. That performance earned some of his memorabilia a trip to the Pro Football Hall of Fame and produced an interesting new nickname for the third-year pro.
The jersey and game ball from Mike White's historic performance went straight to Canton 
The Dallas Cowboys drafted Mike White out of Western Kentucky in the fifth round of the 2019 NFL Draft. After a season in Big D, the New York Jets picked him up and, following a training camp battle with James Morgan, he won the Jets' backup job.
The QB threw his first regular-season NFL passes after Zach Wilson got knocked out of the Week 7 game against the New England Patriots. The next week, White got his first start for the then-1-5 Jets vs. the then-NFL darlings, the Cincinnati Bengals.
In a game that was supposed to be the coronation for Joe Burrow and Ja'Marr Chase, White stole the show.
When the dust settled, the Jets took down the Bengals 34-31 for their second win of the season, but White was the story.
The first-time starter had a historic day. He was 37-of-45 for 405 yards and threw three touchdowns. That represents the most-ever completions by a QB in his first start, and he joined Cam Newton (422 yards in 2011) to throw for over 400 yards in his debut.
We don't know whether this incredible performance is an aberration or the first step in a Hall of Fame career. Whether White will ultimately end up in the Pro Football Hall of Fame or not, we do know his jersey and the game ball will spend time in Canton, Ohio.
The game-worn jersey and ball are now on display in the hallowed football halls behind a plaque that reads "Historic First Start on Halloween."
The QB's teammate gave him high praise and an NSFW nickname
When you are a backup quarterback that comes in and puts up a historic performance, you need a name that people will remember. You need a name that captures people's attention.
Although they didn't ball out quite like the Jets QB did, the Dallas Cowboys Cooper Rush and the New Orleans Saints Trevor Siemian did get wins, and they do have strong, memorable names.
When you have a relatively common name like Mike White, you need a nickname that will really stick in the heads of NFL fans around the country. That's where New York Jets running back Ty Johnson comes in and possibly why he christened him with a memorable new nickname:
It's Mike' F'ing' White. He said no cursing, but yeah, it's Mike' F'ing' White, come on. Let's put it to bed. It's Mike' F'ing' White. He's a savage, he's a dog, he's an animal. I said it on Monday. I'm gonna say it again, I'm gonna keep saying it, he's a dog, he's an animal. Let's keep it like that.

Ty Johnson on Mike White
Whether you plan on using White's new nickname or not, you have to admit it adds a little excitement to an otherwise unexciting name.
The former Hilltopper will have a chance to live up to Johnson's nickname — and once again be a savage, a dog, and an animal — right away as the Jets take on the Indianapolis Colts on Week 9's Thursday Night Football game.
Mike 'F'ing' White tries to cement his legacy on 'Thursday Night Football' against the Indianapolis Colts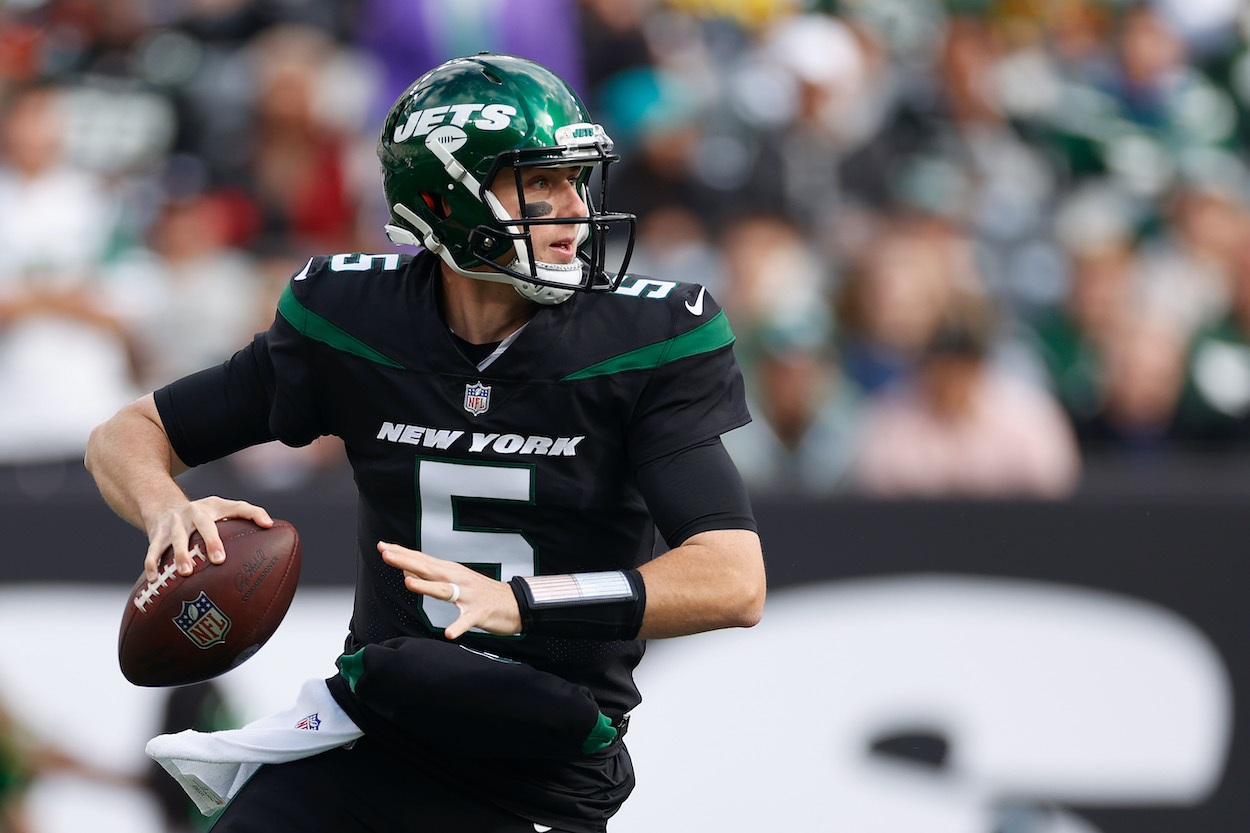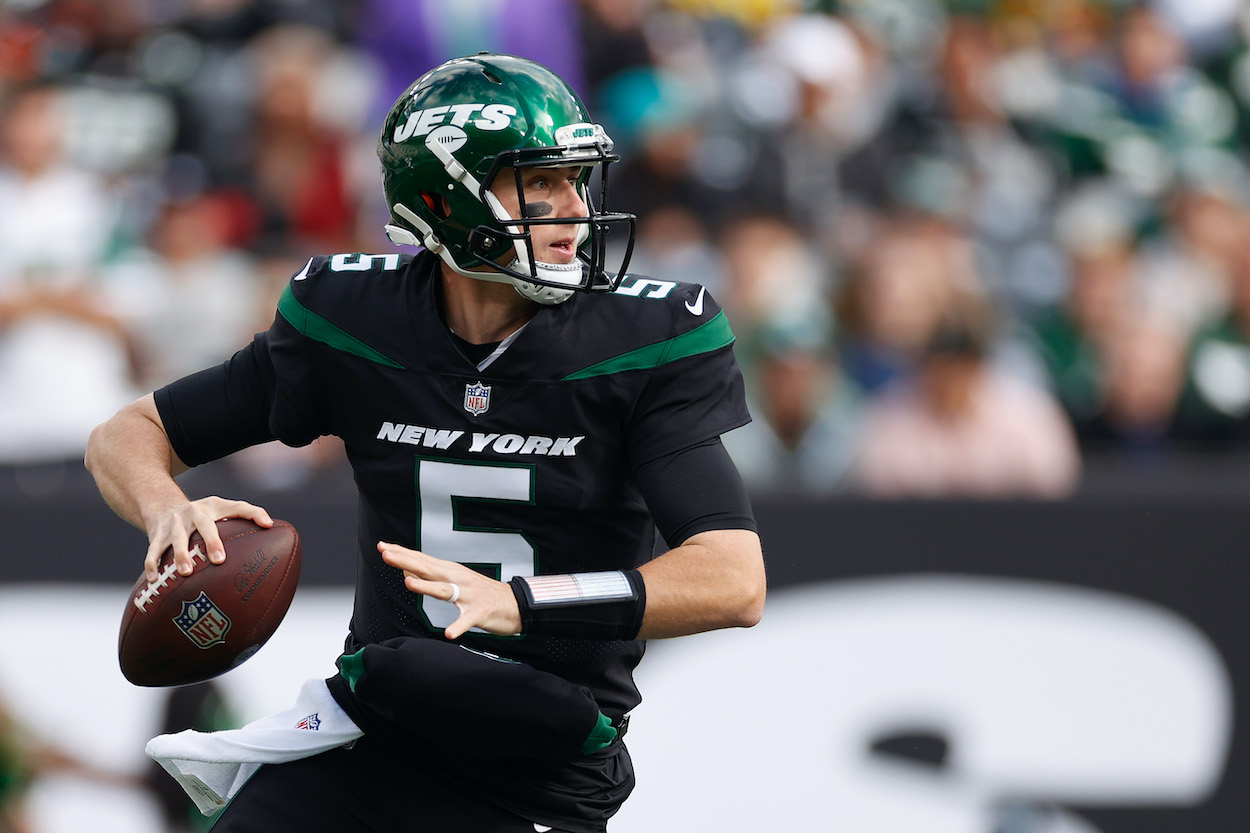 The Legend of Mike "F'in" White continues in primetime this week in a Thursday Night Football matchup with the Colts.
Indy hosts the Jets in the midst of an up and down season, as their 3-5 record suggests. After back-to-back-to-back losses to start the season with an injured Carson Wentz, the team has righted the ship and is 3-2 in their last five, with both losses coming in overtime.
White will face a Colts defense that has allowed 25 or more points in five of their eight games so far and ranks 20th in the league in passing yards allowed and 31st in passing touchdowns allowed.
If the Colts D can bottle White up and make him look like the run-of-the-mill backup QB he was just a week ago, his Week 8 performance, his unique nickname, and his Hall of Fame display will go down as simply a fun NFL footnote.
However, if White shines again, the ramifications will be massive.
Wilson will have to start worrying about losing his job, and the level of excitement from the Jets fans and New York media will be amped up to a level unseen since the days of Broadway Joe.
All because of Mike "F'in" White.
All stats courtesy of Pro Football Reference