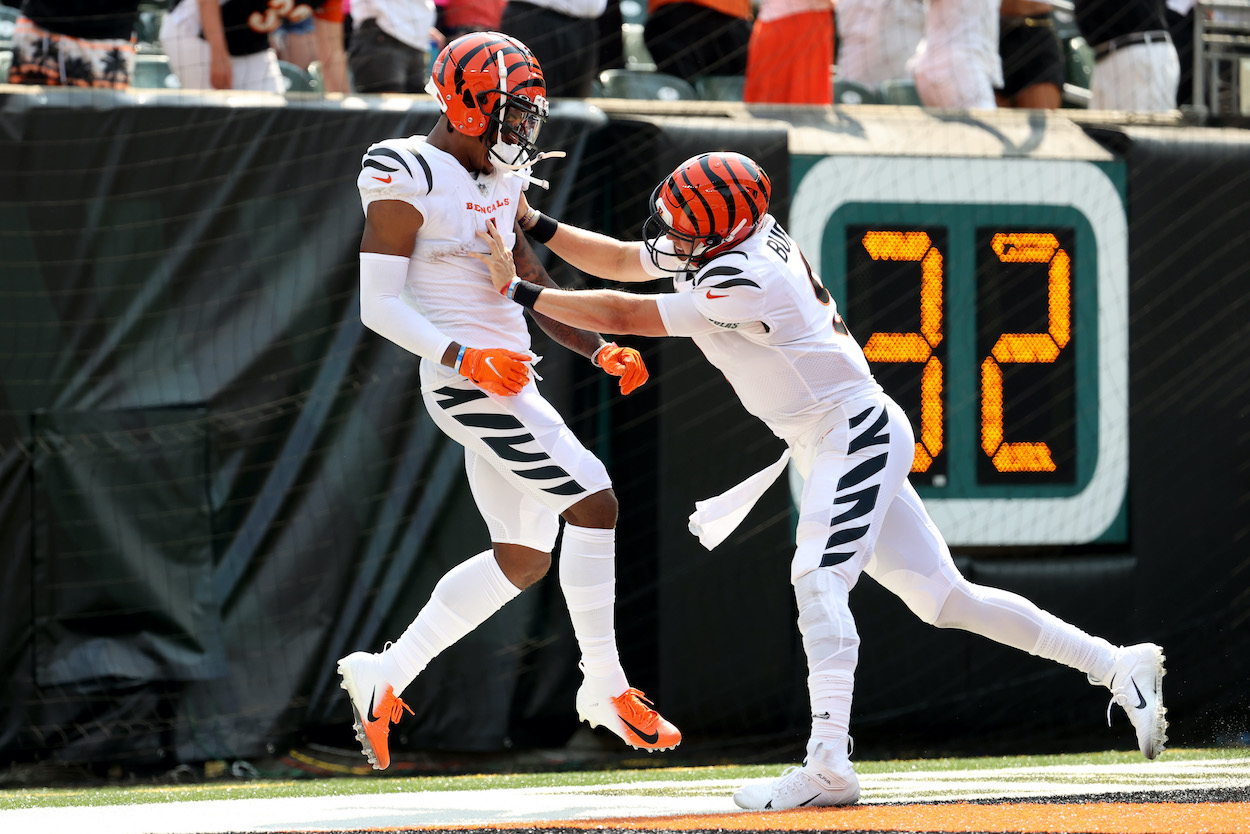 Carson Palmer Warns Joe Burrow That Ja'Marr Chase's Success Might Make Things Harder for Him: 'There Is No Keeping Everyone Happy'
Former Bengals QB Carson Palmer had some advice for current Cincinnati QB Joe Burrow about how to handle his emerging star WR, Ja'Marr Chase.
Former Cincinnati Bengals quarterback Carson Palmer has played with some superstar wide receivers in his day. From the talented and outspoken pass-catcher he managed in Cincy to the skilled and understated star he played with as an Arizona Cardinal, Palmer has seen it all. That's why his advice to the Bengals new dynamic duo, QB Joe Burrow and WR Ja'Marr Chase, carries so much weight.
Carson Palmer knows all about superstar wide receivers
The legend of the Diva Wide Receiver is real. The same player that catches a quick slant from a quarterback and takes it to the house can scream in his QB's face on the sideline a series later if he doesn't get the ball.
No one knows the joy and the pain of playing with a superstar wideout than Carson Palmer.
Palmer's experience with big-time receivers started in his Heisman Trophy-winning senior season at USC. That year, he won the award, in large part, thanks to big-time college pass-catcher and notorious NFL draft bust Mike Williams.
When the Cincinnati Bengals picked Palmer No. 1 overall in the 2004 draft, they paired him up with one of the biggest (and most talented) diva wide receivers of all-time: Chad "Ochocinco" Johnson.
During his seven seasons in Cincy, Palmer walked a tightrope trying to keep Johnson happy and engaged as well as his similarly talented and moody counterpart, T. J. Houshmandzadeh.
In a season and a half in Oakland, Palmer saw the other side of the coin. He had no receivers at all. Then, he made his way to the Arizona Cardinals. There, he teamed up with one of the most even-keeled star receivers in NFL history, Larry Fitzgerald.
All this experience means that Palmer is uniquely qualified to talk about the challenges of a star quarterback working with a big-time No. 1 wide reciver, like Joe Burrow and Ja'Marr Chase.
Palmer has a warning for Joe Burrow about keeping Ja'Marr Chase happy
With the emergence of a new dynamic duo on Carson Palmer's old team, the retired QB joined the Dan Patrick Show to discuss the relationship between the Bengals' second-year QB Joe Burrow and rookie wideout Ja'Marr Chase.
The former Sportscenter anchor asked the former QB what it's like for a signal-caller to have a great receiver who can change a game but also needs to be fed the ball so that they stay happy and engaged. Palmer told Patrick:
When you're a quarterback, and you're Joe Burrow, and you feel like you gotta feed Ja'Marr Chase and get him the ball early, and get him interested in the game, and get the juices flowing for him. It's really difficult to not get zoned in and really force him the ball. You've got to take what the defense gives you. … There is no keeping everyone happy.

Carson Palmer on Joe Burrow and Ja'Marr Chase
So far, the Burrow/Chase reunion in Ohio has been magical. Through seven games in 2022, Chase is setting rookie records all over the place. He already has 35 catches for 754 yards and six touchdowns, with scores from 50-, 70-, and 82-yards out.
As good as the combination has been, Palmer warns that a superstar-in-the-making like Chase could eventually cause problems for Burrow. He even used two current examples to illustrate his point.
The Arizona Cardinals and Kansas City Chiefs demonstrate how and how not to use a superstar receiver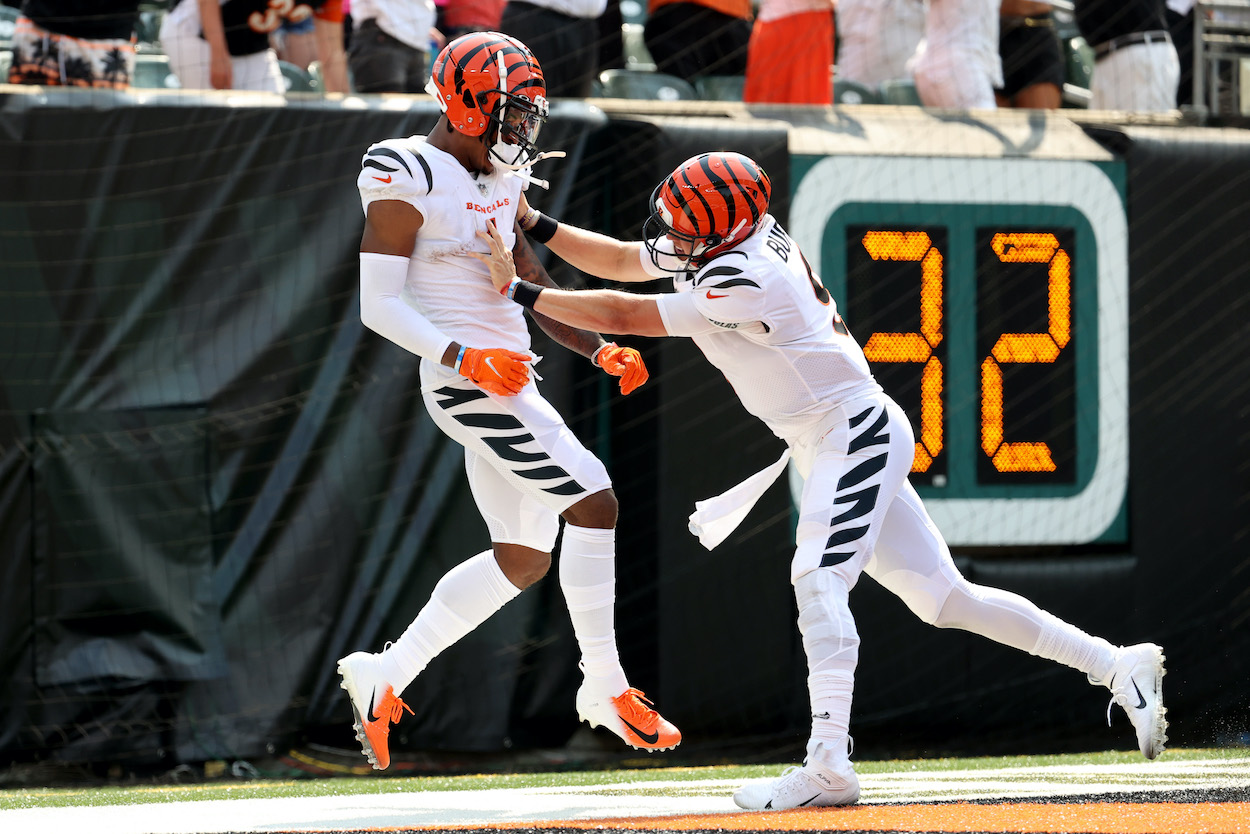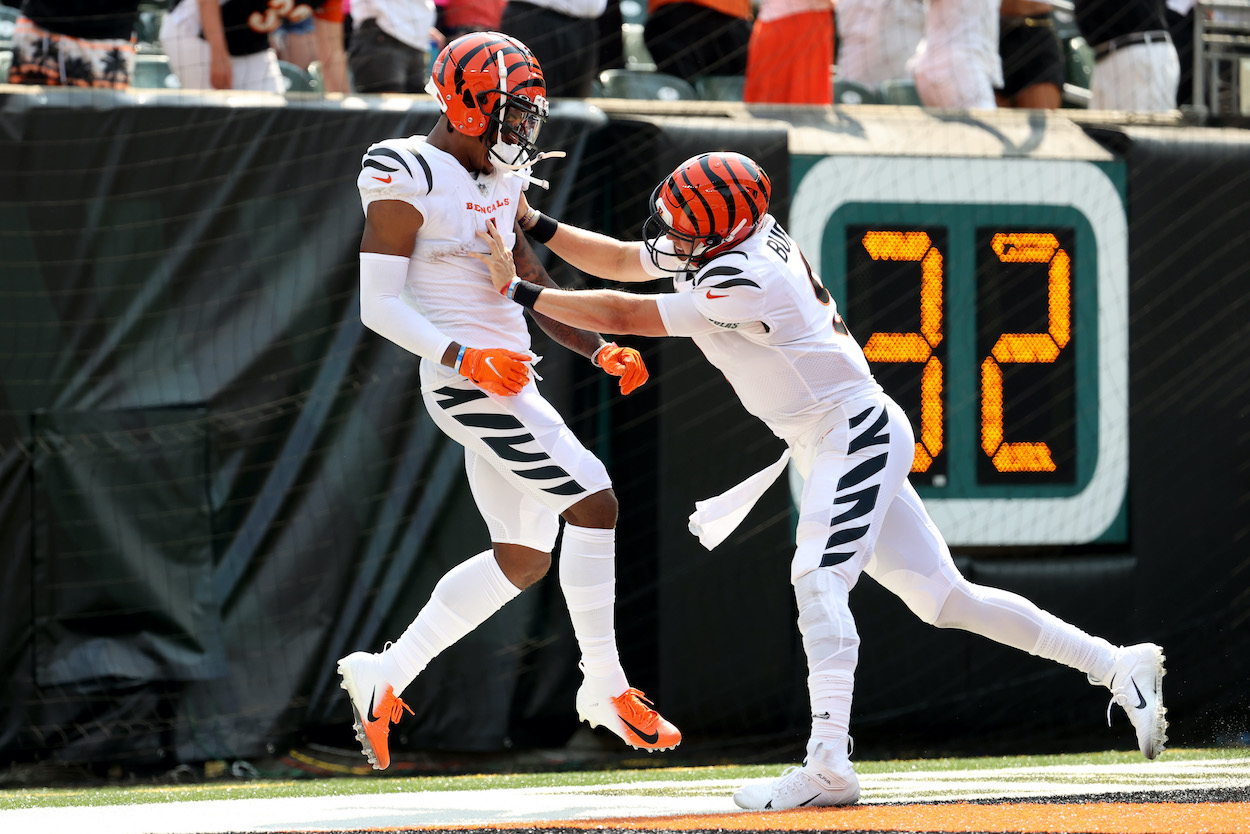 Joe Burrow and Ja'Marr Chase played together at LSU in 2019, so they are not new to each other's personalities and styles. That said, the bright lights of the NFL are different than even the mighty SEC, so that could change.
When warning Burrow about the dangers of focusing too much on a No. 1 wideout, Palmer used examples of the Arizona Cardinals Kyler Murray and DeAndre Hopkins and the Kansas City Chiefs Patrick Mahomes and Tyreek Hill.
The three-time Pro Bowl QB said of the two situations: 
When you get a quarterback get out of his comfort level and make Kyler Murray move around the pocket, avoid a couple guys, he's always naturally going to look for DeAndre [Hopkins]. And until Patrick Mahomes really shows us he's going to take what the defense gives him on every play, on every drive through four quarters, people are going to sit back. They're going to make him throw the ball into bad situations. … There's a certain comfort level with a lot of these —especially young quarterbacks — have with their go-to targets where when things get wild, or things get off course, they're going look for those Ja'Marr Chase's or DeAndre Hopkins'.

Carson Palmer on QBs and their star WRs
His point is that if a quarterback looks for his star WR when it makes sense, or he feels he needs to in order to get himself on track (ala Murray and Hopkins), it can be a great thing. When a QB forces plays to keep a pass-catcher happy or out of impatience (ala Mahomes and Hill), it can be disastrous for an offense.
So far, Burrow and Chase have been great together. The youngsters would be wise to listen to Palmer, though, as he knows how the QB/WR relationship can go sideways if not managed correctly.
All stats courtesy of Pro Football Reference