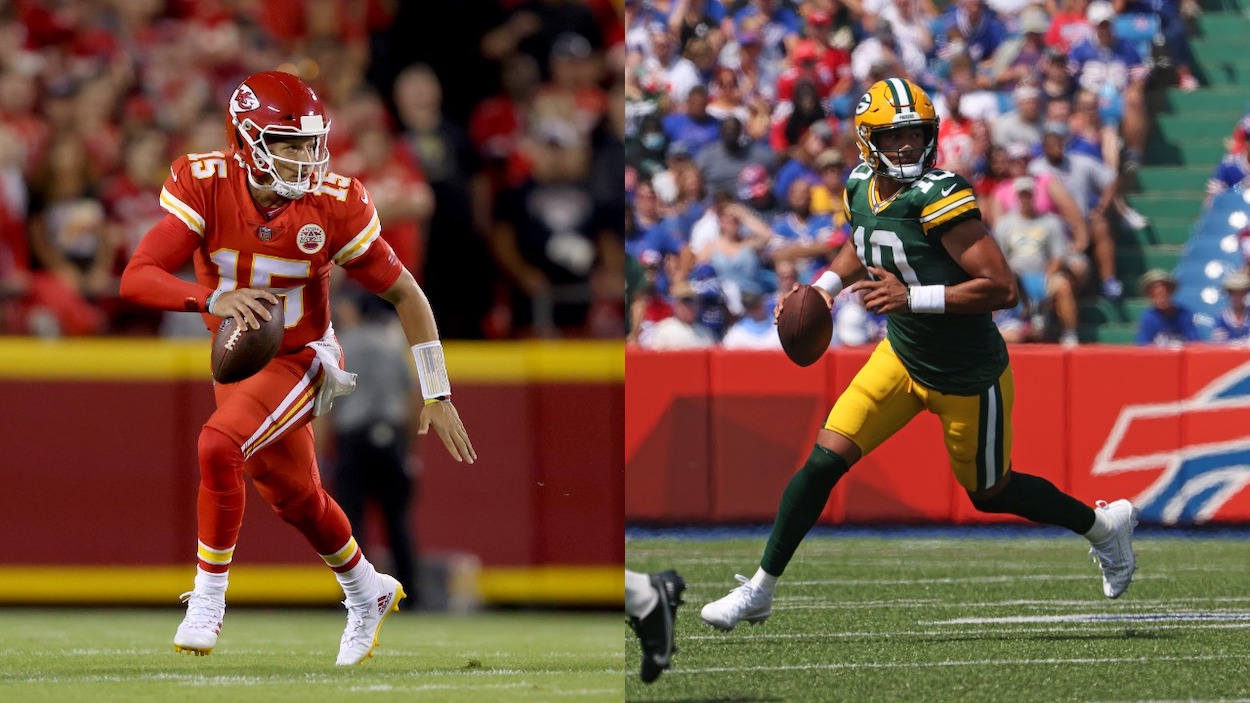 The 3 Most Intriguing Matchups of NFL Week 9: The Return of Adrian Peterson, the State Farm Bowl That Wasn't, and Week 2 of the Mike White Era
The NFL Week 9 schedule is all about the players that won't be on the field, including stars like quarterbacks Aaron Rodgers and Zach Wilson and running back Derrick Henry.
In Week 8, backup quarterbacks dominated the storylines. As we move into the NFL Week 9 slate, the matchups will once again be defined by who is not playing as much, if not more, than who is on the field. 
This week, we won't see the bye week teams: the Detroit Lions, Seattle Seahawks, Tampa Bay Buccaneers, or the Washington Football Team. More importantly, we won't have several key players who should be on the field this week, including Aaron Rodgers, Zach Wilson, and Derrick Henry, which makes these games the three most intriguing matchups of NFL Week 9. 
New York Jets vs. Indianapolis Colts – Thursday, November 4, 8:20 p.m. EST, FOX, NFL Network, Amazon
The Indianapolis Colts are nothing if not fun to watch. Carson Wentz is a one-man highlight reel (both good and bad), Jonathan Taylor is second in the league in rushing yards, and Michael Pittman Jr. is in the midst of a breakout season with five more catches, 95 more yards, and three more touchdowns than his entire rookie year. 
All that said, the reason this NFL Week 9 matchup is so intriguing has nothing to do with the Colts.
This week's Thursday Night Football is all about Mike White. Last week, the New York Jets backup QB had a historic first start in a shocking 34-31 win over the Cincinnati Bengals. 
White's 405-yard, three-touchdown performance in relief of the injured No. 2 overall pick, Zach Wilson, has Jets fans buzzing for the first time in a very long time. Another strong performance or even just another win could send Gang Green supporters (and New York sports talk radio) into an absolute frenzy. 
It could also mean that Wilson needs to start seriously start considering that there could be a clipboard in his future. This adds even more drama to this decidedly strange Jets season and even more intrigue to the NFL Week 9 matchup. 
Green Bay Packers vs. Kansas City Chiefs – Sunday, November 7, 4:25 p.m. EST, FOX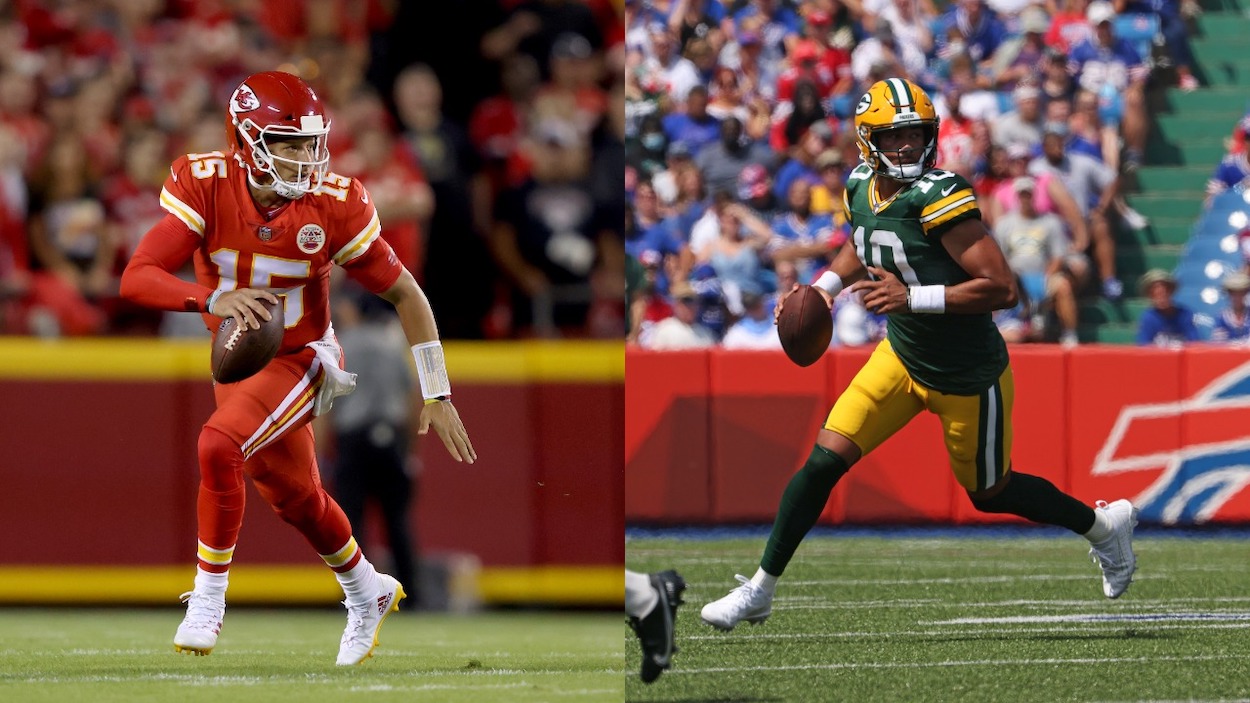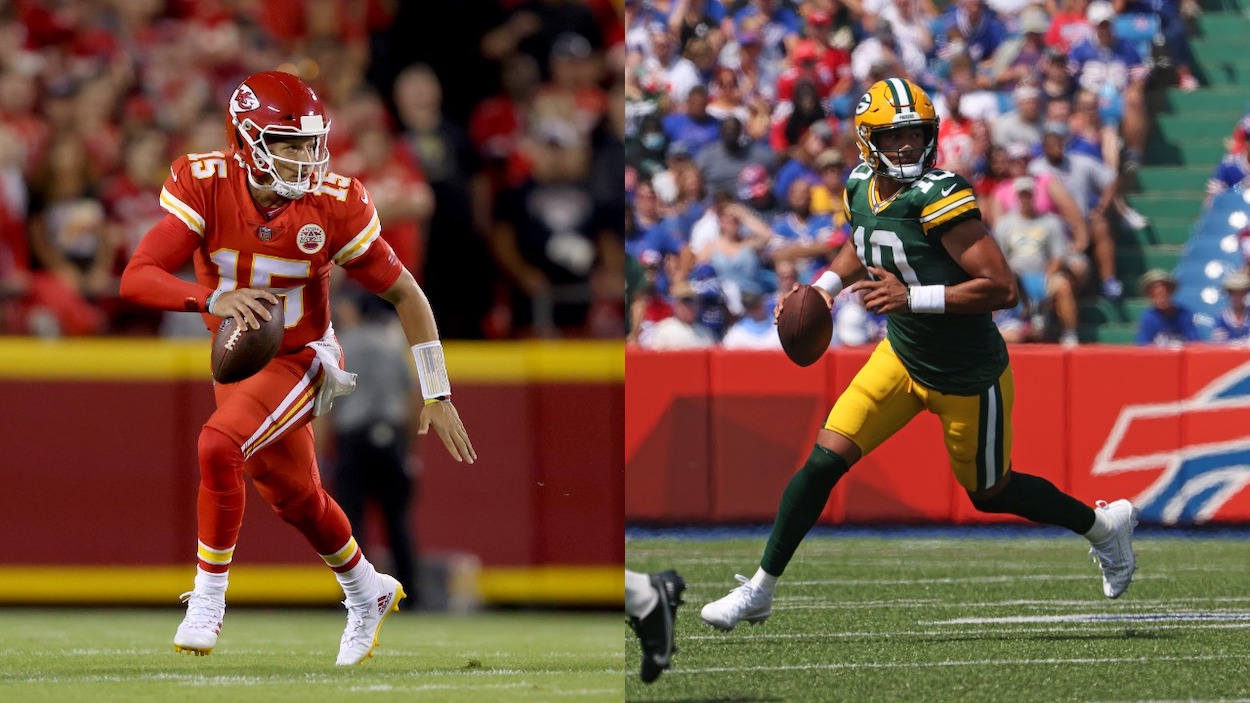 Hey, I'm just your average NFL MVP candidate who lied about his vaccination status then missed one of the biggest games of the season. Do I still get that Rodgers rate? 
This late Sunday afternoon game was supposed to be the State Farm Bowl, a battle between insurance pitchmen who are also two of the best QBs in the league. 
Patrick Mahomes held up his end of the bargain. Even though the Kansas City Chiefs are having a rough season with a .500 record, a Monday night win over the New York Giants may have turned the team around. Now, they have a chance for what could be a much easier win than they imagined against the Green Bay Packers. 
That's because Aaron Rodgers is out with COVID-19 as an unvaccinated player. Vaccinated or not, Rodgers would have likely missed the game. However, his now-infamous "yeah, I've been immunized" line adds a layer of spectacle that wouldn't be there even with a star testing positive. 
To take things to an even more ridiculous level, it will be the NFL starting debut of Green Bay's QB of the future, Jordan Love. Can the young signal-caller follow in Rodgers' footsteps and make the Packers' previous superstar QB obsolete? Love will get a real chance to show this on Sunday with a win over the Chiefs. 
There is so much going on in this NFL Week 9 matchup, it might be the most intriguing game of the season so far. 
Tennessee Titans vs. Los Angeles Rams – Sunday, November 7, 8:20 p.m. EST, NBC
In another major "who's in, who's out?" matchup, the 6-2 Tennessee Titans visit the 7-1 Los Angeles Rams. 
For the Titans, the NFL's leading rusher Derrick Henry is out, and the seven-time Pro Bowler, 4-time All-Pro, three-time rushing champ, and 2012 NFL MVP Adrian Peterson is in. 
Peterson was Henry before Henry, but that was almost a decade ago. The someday Hall of Famer hasn't rushed for 1,000 yards since 2018 and hasn't been a top back since his last Pro Bowl season in 2015. 
Tennessee is a modern football oddity that actually commits to running the ball and features a tremendous offensive line. Is that enough for Peterson to regain his old form (or at least do a passable Henry impersonation)?  
For the Rams, pass-rusher Von Miller is in and almost every meaningful draft pick for the next two years is out. 
The Rams have traded for Matthew Stafford, Sony Michel, and now Miller in the last eight months. They are full-leveraged, and all-in for a 2021 Super Bowl run. That run starts now against the Tennessee Titans. 
If they can win the NFC, earning a bye and home-field advantage, they would be able to go through the entire playoffs and the Super Bowl without ever having to leave LA. That would make a Lombardi Trophy seem more attainable and possibly make mortgaging the future payoff.
The path to a home Super Bowl appearance starts with this fascinating NFL Week 9 matchup. 
All stats courtesy of Pro Football Reference