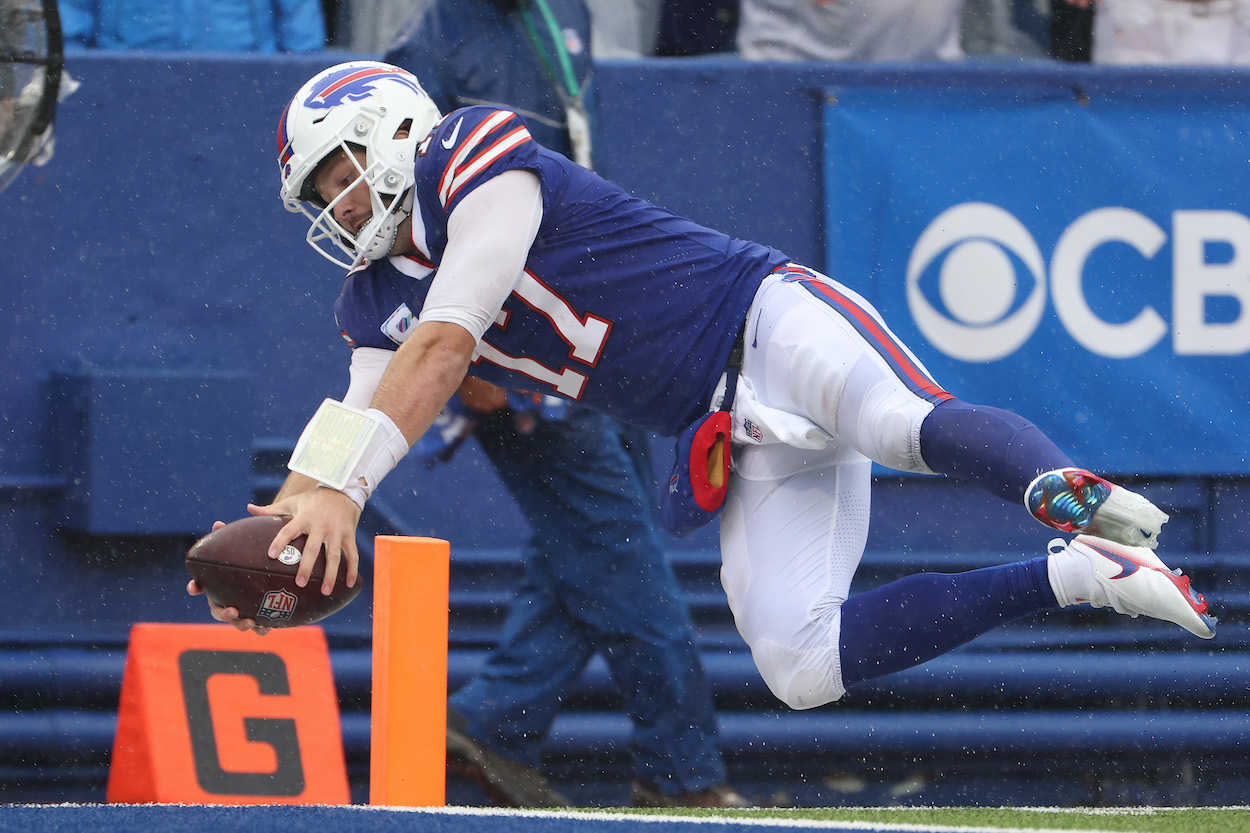 Josh Allen Reveals What It Would Take These Days for Him to Smash a Table in True Bills Mafia Fashion: 'I've Done It for Less, but I Think My Standards are a Little Higher Now'
Buffalo Bills QB Josh Allen told Eli and Peyton Manning on the ManningCast that there is one thing these days that could make him smash a folding table like the Bills Mafia does.
Buffalo Bills quarterback Josh Allen is leading the team in its most promising season since the four-time Super Bowl-losing teams of the early 1990s. During an appearance on the Monday Night Football "ManningCast" with Eli Manning and Peyton Manning, Buffalo's favorite adopted son shared exactly what it would take to get him on board with one of the wildest (and most viral) Bills Mafia traditions after the season.
The Bills Mafia is famous for smashing folding tables
The Bills Mafia is known for many things.
The group of rabid Buffalo Bills fans are outspoken on Twitter (where it all started with #BillsMafia in 2010), outrageous in the Highmark Stadium parking lot (with rituals that include a fan dousing himself in ketchup and mustard), and incredibly charitable (having donated over $1 million to the Andy Dalton Foundation and Oishei Children's Hospital in memory of Josh Allen's late grandmother, Patricia Allen).
To many outside observers, however, Bills Mafia is known for one thing above all else: jumping through folding tables.
It's unclear exactly when the tradition started. But for several years now, Bills fans have been jumping on and smashing folding tables WWE-style. What began as a wild tailgating trend is now commonplace on social media, where you'll see table-smashing from Bills Mafia during gender reveals, at weddings, and even after beating cancer.
The Buffalo Bills organization, in conjunction with the Erie County Sheriffs office, has officially banned the practice before games at the stadium.
Even as such, Bills Mafia still persists in their table-smashing ways. And now, the team's QB Josh Allen says there is one way he'd get involved.
Josh Allen says he would smash a table under the right conditions
In 2020, Buffalo Bills QB Josh Allen told B/R Gridiron's Adam Lefkoe says he has smashed a table Bills Mafia-style before when he was in college.
On Monday night, Allen joined Eli and Peyton Manning for ESPN2's MNF alternate "ManningCast" broadcast and discussed, among other things, smashing tables with the Bills Mafia.
"What would it take to get you to bodyslam a table?" Eli asked Allen. "Do you think that's like winning a Super Bowl, or if a fan just came up to you and just asked very nicely?
Allen replied:
I mean, I've done it for less, but I think my standards are a little higher now. It's gotta be a Super Bowl appearance, a Super Bowl win. I think as long as we get to that parade, maybe I'll go off the top rope of whatever bus I'm on.

Josh Allen on smashing tables like Bills Mafia
While the idea of the franchise QB throwing himself off a bus and onto a folding table has to terrify Bills Mafia in one regard. However, the thought of him doing it during a Super Bowl parade down Chippewa Street would be a sight most long-suffering Bills fans would be happy to see.
Will the Bills make the Super Bowl?
The Buffalo Bills franchise is no stranger to Super Bowls — with back-to-back-to-back-to-back appearances from 1990-1993 — although they're among the small handful of NFL teams that have never won one.
The 2021 incarnation of the team represents the organization's best chance to return to the Big Game since Jim Kelly, Thurman Thomas, Ander Reed, and Bruce Smith retired.
Josh Allen and Buffalo are currently 5-2, atop the AFC East. The Bills are currently first in scoring offense and scoring defense (among teams that have had their bye). The squad ranks No. 1 in ESPN's Football Power Index, which gives the Bills a 95.1% chance to win their division and a 51.5% chance to make the Super Bowl, the highest percentage of any NFL team.
The FPI also gives Buffalo the best chance of winning the Super Bowl at 29.3%.
Numbers or power rankings do not win the Lombardi Trophy, though. You can only win that golden football on the field, and Allen and the Bills still have a lot to prove there.
The team lost to the best team it's played so far in the Tennessee Titans. And they've let bad teams hang around too long. That penchant resulted in a Week 1 loss to the Pittsburgh Steelers. It showed up last week as well. Although they ultimately prevailed 26-11 against the Miami Dolphins, the score was 3-3 at halftime.
If the Bills D can keep up their league-leading ways, the offense can get off to faster starts, and Allen can stay healthy and avoid questionable decisions, there's a real chance Allen will have to make good on his promise to the Manning brothers and Bills Mafia.
All stats courtesy of Pro Football Reference