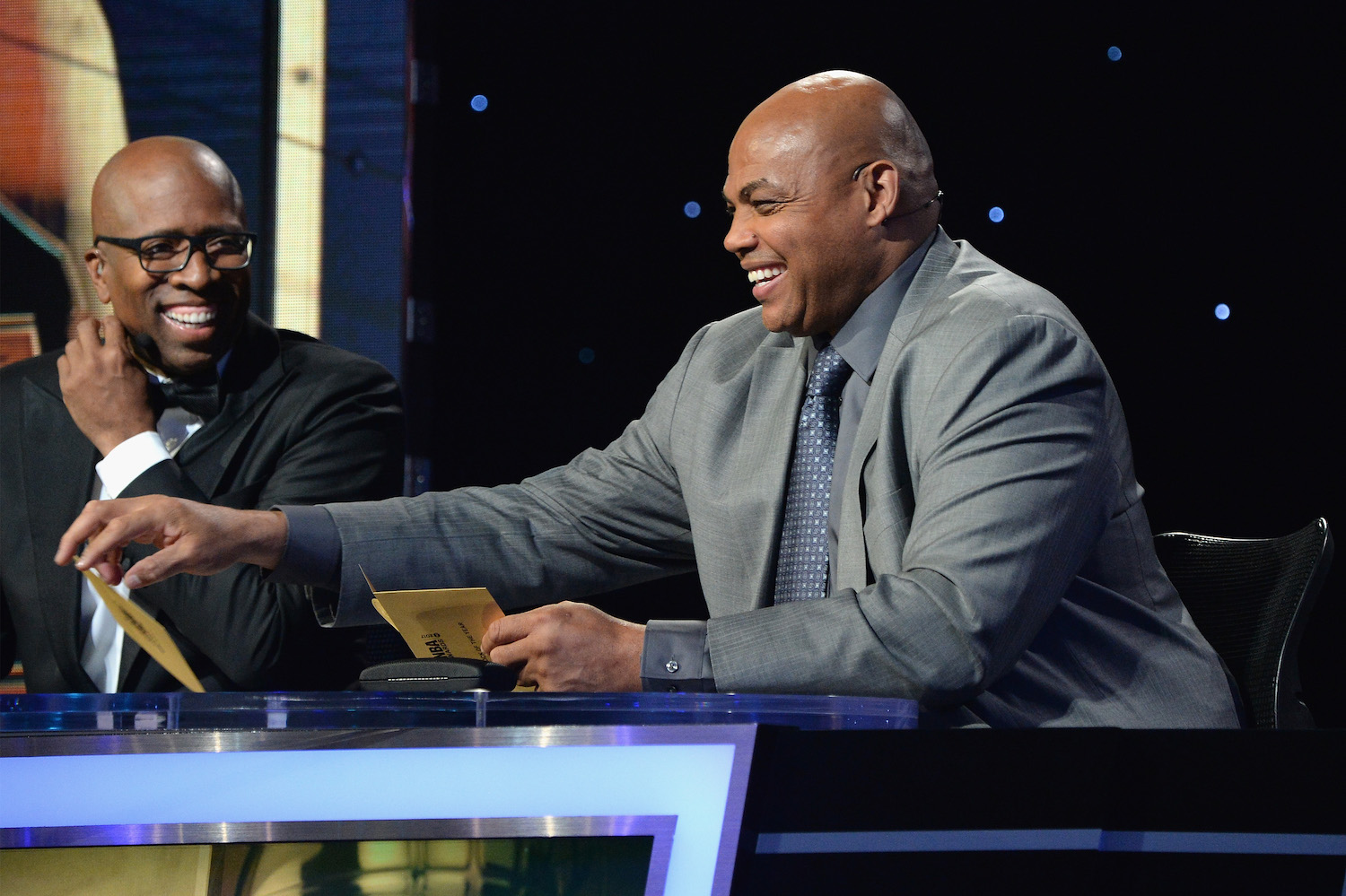 Charles Barkley Awkwardly Goes Out of His Way to Gently Criticize Anthony Davis, Trying to Avoid Being Called a Hater
Charles Barkley doesn't like being called a hater. At least that's the way it appeared on Thursday night when he gently criticized Anthony Davis while showering him with compliments.
Shaquille O'Neal and Charles Barkley have been the target of a lot of criticism in recent weeks for their analysis and comments on current players in the NBA. Even though it's the Hall of Famers' jobs to analyze and sometimes critique as part of the Inside the NBA crew on TNT, some of the game's biggest names like LeBron James and Kevin Durant have taken exception to their remarks recently. 
On Thursday night's broadcast, Charles Barkley offered his thoughts on Lakers superstar Anthony Davis, but it wasn't the same Barkley from the past. He was very measured in what he said, sprinkling in a positive comment every time he said something critical of the Lakers star. 
Charles Barkley has never shied away from criticizing anyone
When you go to YouTube and search "Charles Barkley criticizes," the autofill results list is long. It includes Michael Jordan, Joel Embiid, and numerous other names. In fairness to Barkley, he gets paid to analyze NBA games broadcast on TNT. Sometimes that includes criticism, while other times he lauds a player, coach, or team. 
One of the more recent critiques levied by Barkley occurred in late January when the Hall of Famer teamed up with fellow Hall of Famer and Inside the NBA broadcast partner Shaquille O'Neal. The pair set their sights on Donovan Mitchell and questioned whether or not the Utah guard was a superstar and had what it takes to elevate the Jazz to a legitimate title contender. 
After O'Neal suggested Mitchell should be the third option, and Kenny Smith said the fourth-year player could score at will and overpower his opponent, Barkley chimed in. 
"That's not what a superstar is. A superstar's a guy who can win the game multiple ways," Barkley said. "A lot of guys are great offensive players, but a superstar's a guy who can win a game; if he's having a bad shooting night, he can get a lot of rebounds or he can play defense… When guys try to explain this type stuff, it seems like it's old guys hating. It's not old guys hating. It's like, 'OK, he's a great scorer.' I will give you that, but he makes zero impact on the rest of the game."
LeBron James and Kevin Durant defend Donovan Mitchell
In the post-game interview that same night, Shaquille O'Neal told Donovan Mitchell what he and Barkley had discussed. It was an extremely awkward and contentious moment that made headlines. Numerous players came to Mitchell's defense, including two of the NBA's biggest names in LeBron James and Kevin Durant.
"There's a difference between constructive criticism and soft hating though. I've seen it both ways come my way, mostly the hate. You can hear it in their delivery," James said on Instagram.
Kevin Durant, who has had his own awkward exchanges with Barkley and O'Neal in the past, chimed in as well.
"Them old heads need to go enjoy retirement," Durant said in an Instagram post. "These boys have coaches they work with everyday lol."
Charles Barkley criticizes Anthony Davis with kid gloves
In the first half of the LA Lakers-Denver Nuggets contest, Anthony Davis had gone 2-of-4 from the floor, with four points, four rebounds, and three fouls. When Charles Barkley talked about AD's first-half performance, he was very measured in his comments and even admitted as much.    
"Anthony Davis, to me, is kind of, he's a great player, but he's not that natural born killer dude," Barkley started his cadence of a compliment included with each criticism. "He's great because he's talented, but he doesn't have that thing where he just wants to go out there like a Kobe, a Michael, guys like that who just want to kill you every night. He's a great player, but I don't think he has that dog in him where he just wants to dominate. His numbers are way down overall. But like I said, he's a great player. I'm not hating on him. But man, he's so frustrating at times because sometimes he just goes through the motions."
It's been less than 24 hours since Charles Barkley made his remarks. LeBron James and Kevin Durant are on the clock.  
Like Sportscasting on Facebook. Follow us on Twitter @sportscasting19.