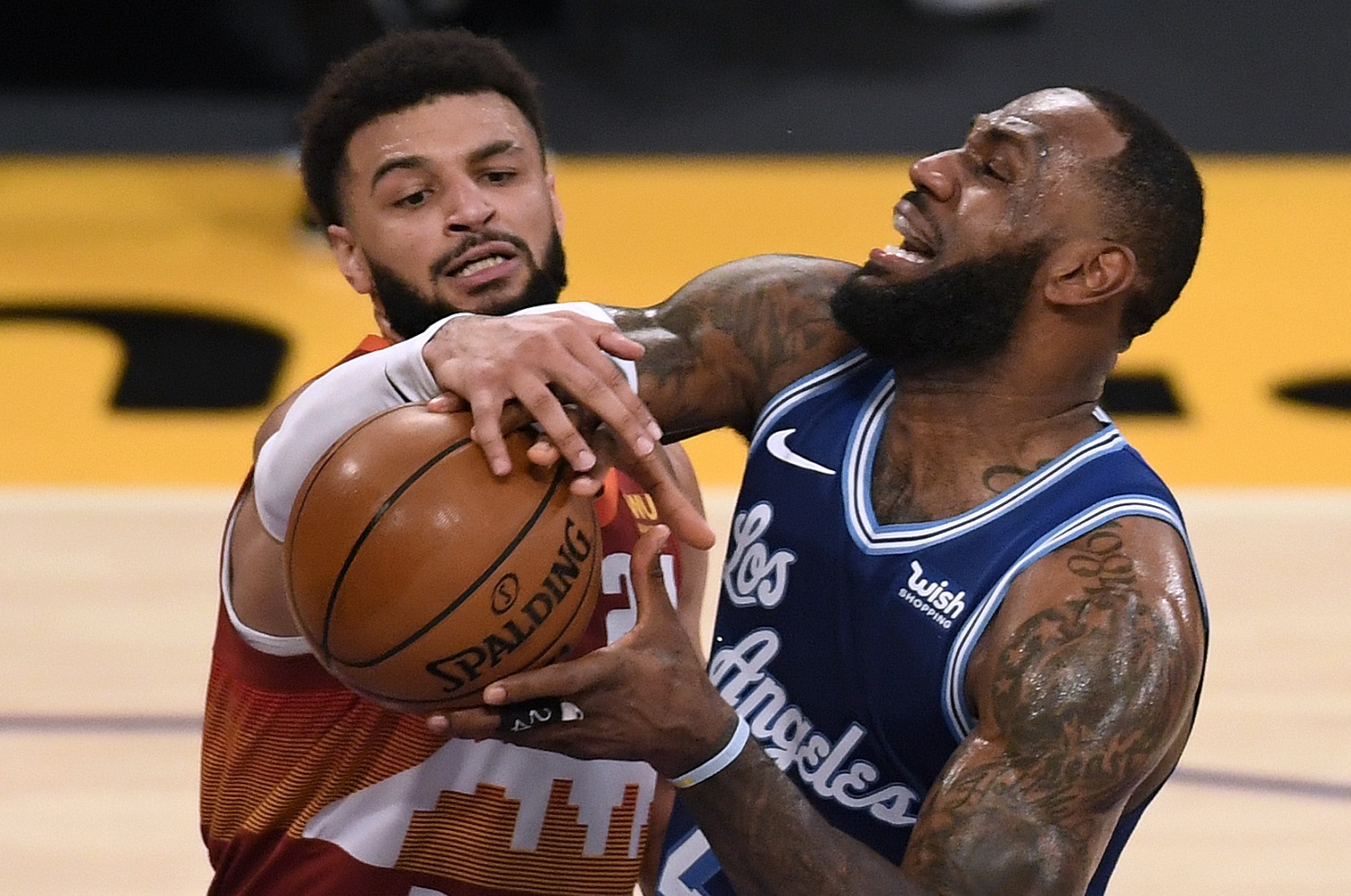 LeBron James Just Added Real Muscle To Fellow Stars' Beef With Adam Silver and NBA Owners
Joel Embiid and De'Aaron Fox expressed their reservations first, and now LeBron James is adding muscle to the question of whether there should be a 2021 NBA All-Star Game.
Los Angeles Lakers great LeBron James has appeared in every NBA All-Star Game since 2005. This time around, however, he sounds as though he'd be happy to have the weekend off.
James isn't the only NBA standout who has concerns, but he's the biggest name to question why the league is going full steam ahead in planning for a game that is meaningless in every way except the effect on the bottom line. By adding his voice to concerns already expressed by Joel Embiid and De'Aaron Fox, James has turned up the heat on commissioner Adam Silver and NBA owners.
LeBron James had a key role in the 2020 NBA All-Star Game
The first NBA All-Star Game was played on March 2, 1951, at Boston Garden. It was the culmination of discussions between commissioner Maurice Podoloff, Boston Celtics owner Walter Brown, and others in the league. Major League Baseball had been playing in-season all-star games since 1933, and basketball executives sought to gauge fan interest in a similar contest for their sport.
The game attracted more than 10,000 fans, and they saw Celtics star Ed Macauley score 20 points on his way to earning MVP honors. Joe Fulks chipped in with 19 points as the East posted a 111-94 victory over the West, which got 17 points from Alex Groza.
The exhibition game has been played every year since, including on Feb. 16, 2020, a month before the NBA had to shut down due to the pandemic. In that game at the United Center in Chicago, stars Giannis Antetolounmpo and LeBron James served as captains, with the two drafting rosters from across the league. Team LeBron edged Team Giannis, 157-155. Kawhi Leonard was selected the MVP following a 30-point performance.
The 2021 NBA All-Star Game had been in limbo
The NBA announced in November 2020 that it was postponing its 2021 All-Star Game, which was scheduled to be held Feb. 14 at Bankers Life Fieldhouse in Indianapolis. Commissioner Adam Silver's office cited uncertainty surrounding the regular-season schedule, which had been pushed back because of the delayed finish to the 2019-20 season.
The situation has been fluid since, and ESPN reported that the league and the NBA Players Association are now moving toward a deal to play the All-Star Game on March 7 at State Farm Arena in Atlanta. One of the major considerations in discussions between the sides has been the logistics of getting players to Atlanta and back to their respective teams safely in the COVID-19 era.
Under their collective bargaining agreement, NBA owners and players share basketball-related income nearly evenly. The union splits its money from the game, a lucrative piece of the TV contract, approximately 500 ways among players based on their salaries. On the other hand, owners only have to split their share 30 ways, giving them greater incentive to push forward.
LeBron James is the biggest name to voice concern
Los Angeles Lakers great LeBron James has thrown cold water on the idea of holding a 2021 NBA All-Star Game, though he seems resigned to the contest being played.
"I have zero energy and zero excitement about an All-Star game this year," James said after Thursday's victory over the Denver Nuggets. "I don't even understand why we're having an All-Star Game."
There is a huge difference between James sharing that sentiment and the 10th man on an also-ran's roster saying the same thing. Still, other big names in the league have been expressing concern but made mere ripples before James unleased a comparative tidal wave.
Philadelphia 76ers center Joel Embiid, off to a monster start with averages of 29.1 points and 10.8 rebounds a game, gave a tepid "we'll see" when asked whether he'll play in the All-Star Game if selected.
Sacramento Kings point guard De'Aaron Fox was more direct.
"I'm going to be brutally honest, I think it's stupid," Fox told The Athletic. "If we have to wear masks and do all this for a regular game, what's the point of bringing the All-Star Game back?"
With James suddenly at the forefront of the issue, it will be interesting to see how many other NBA stars line up behind him.
Like Sportscasting on Facebook. Follow us on Twitter @sportscasting19.