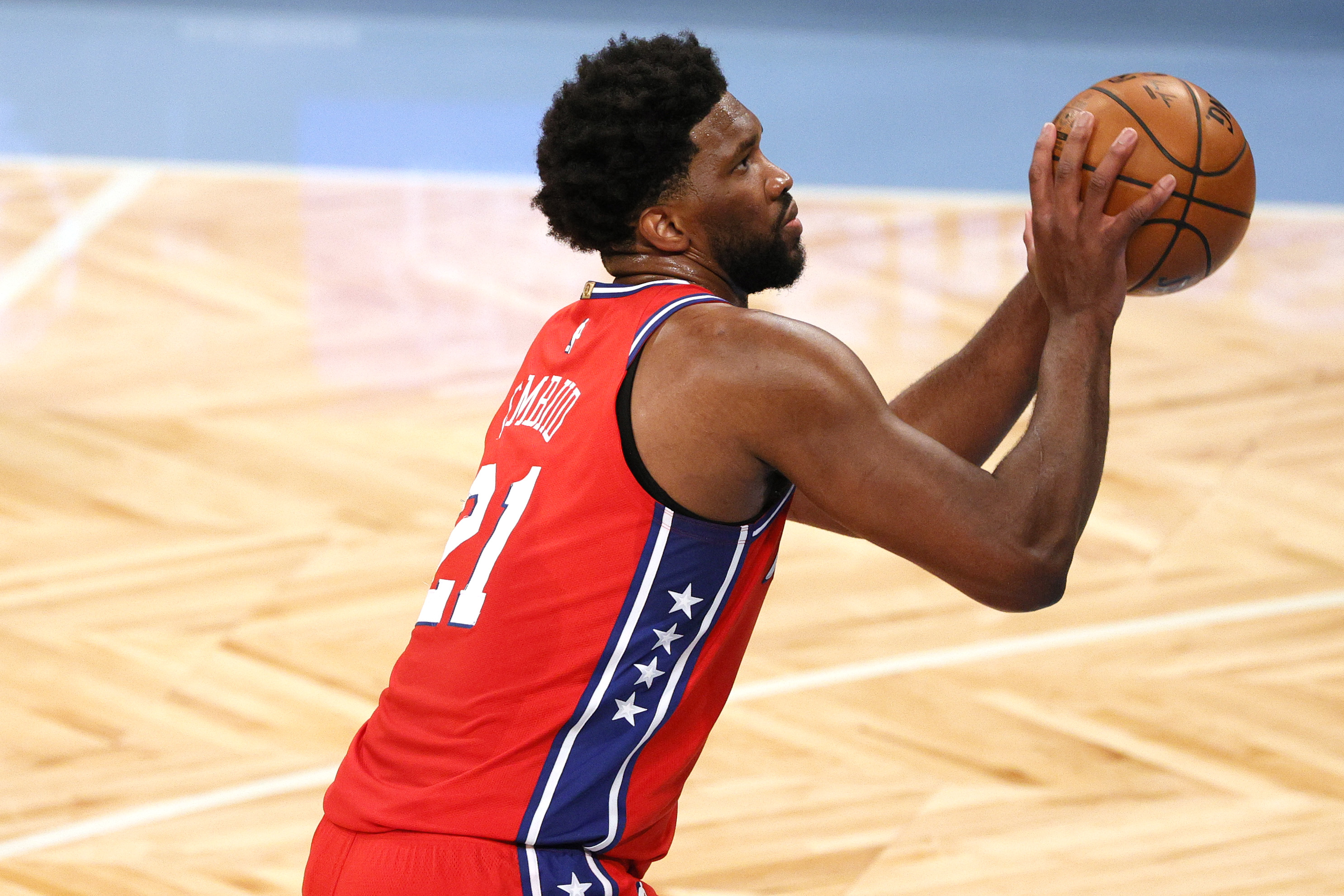 Joel Embiid Reacts to NBA's Handling of COVID-19
Philadelphia 76ers center Joel Embiid didn't appear too happy after the NBA postponed Sunday's game between the Celtics and Heat.
Joel Embiid is not happy. Embiid and his Philadelphia 76ers were decimated by injury on Saturday and were forced to play Saturday night's game against the Denver Nuggets with seven available players. The Boston Celtics and Miami Heat were scheduled to face each other Sunday and both teams were also depleted by injuries and the effects of the coronavirus (COVID-19). Their game was postponed. Embiid didn't appear to be a happy camper after that announcement.
The NBA has already been hit hard by COVID-19
There's no NBA bubble this season. When the second half of the season resumed last year, all games were played in Orlando, Florida, limiting travel in hopes of preventing the spread of COVID-19. Although there are very few fans, if any, at most NBA games this season, teams are traveling from city to city.
Teams have already been affected by the virus. On Dec. 23, the Houston Rockets game against the Oklahoma City Thunder was postponed. The Rockets had three players that either test positive for COVID-19 or had inconclusive tests. After contact tracing, four others had to be quarantined.
Sunday's Boston Celtics vs. Miami Heat game was also postponed. The Celtics were set to play with the minimum eight players after nine were ruled out either by injury or league protocols. Because of ongoing contact tracing, the Heat did not have the required eight players available.
The Sixers have also been hit hard
On Saturday, the Philadelphia 76ers played the Denver Nuggets with only seven available players. According to ESPN, 76ers forward Mike Scott, who has been dealing with a knee injury, needed to be listed as active in order to have the required eight players. Head coach Doc Rivers even said before the game he wouldn't play Scott.
Rivers believed the game should not have been played. He acknowledged that before the game. "I don't think we should (play), but it's not for me to express that," Rivers said. "I do worry about our player health on the floor."
The Sixers lost 115-103. Seth Curry had tested positive on Thursday. Several players had to follow league protocol after contact tracing, while others like Joel Embiid and Ben Simmons were dealing with minor injuries. "Ben, in the Brooklyn game, had some knee stiffness, and so we almost probably knew after the game that he wouldn't play (Saturday)," Rivers said. "And then Joel started complaining about his back over the last — at the start of yesterday. We didn't know if he was playing or not. But honestly, with the minutes we would have to ask, it would be insane to play him tonight."
Joel Embiid's cryptic tweet implies he's not happy with the NBA
Less than an hour after the NBA made an announcement that Sunday's game between the Boston Celtics and the Miami Heat was postponed, Philadelphia 76ers star center Joel Embiid took to Twitter. He apparently was venting about how his team had to play the night before with seven healthy players, while the Celtics and Heat were able to get their game postponed.
"They hate the process," wrote Embiid. Embiid has been a "trust the process" believer since he came into the NBA as the third overall pick in the 2014 NBA draft. He's even taken on the nickname 'The Process."
Embiid clearly has a right to be upset. The Sixers being forced to play with seven healthy players is just wrong, especially when a game was postponed the following night. As of now, the league said there are no plans to shut down play for any length of time.