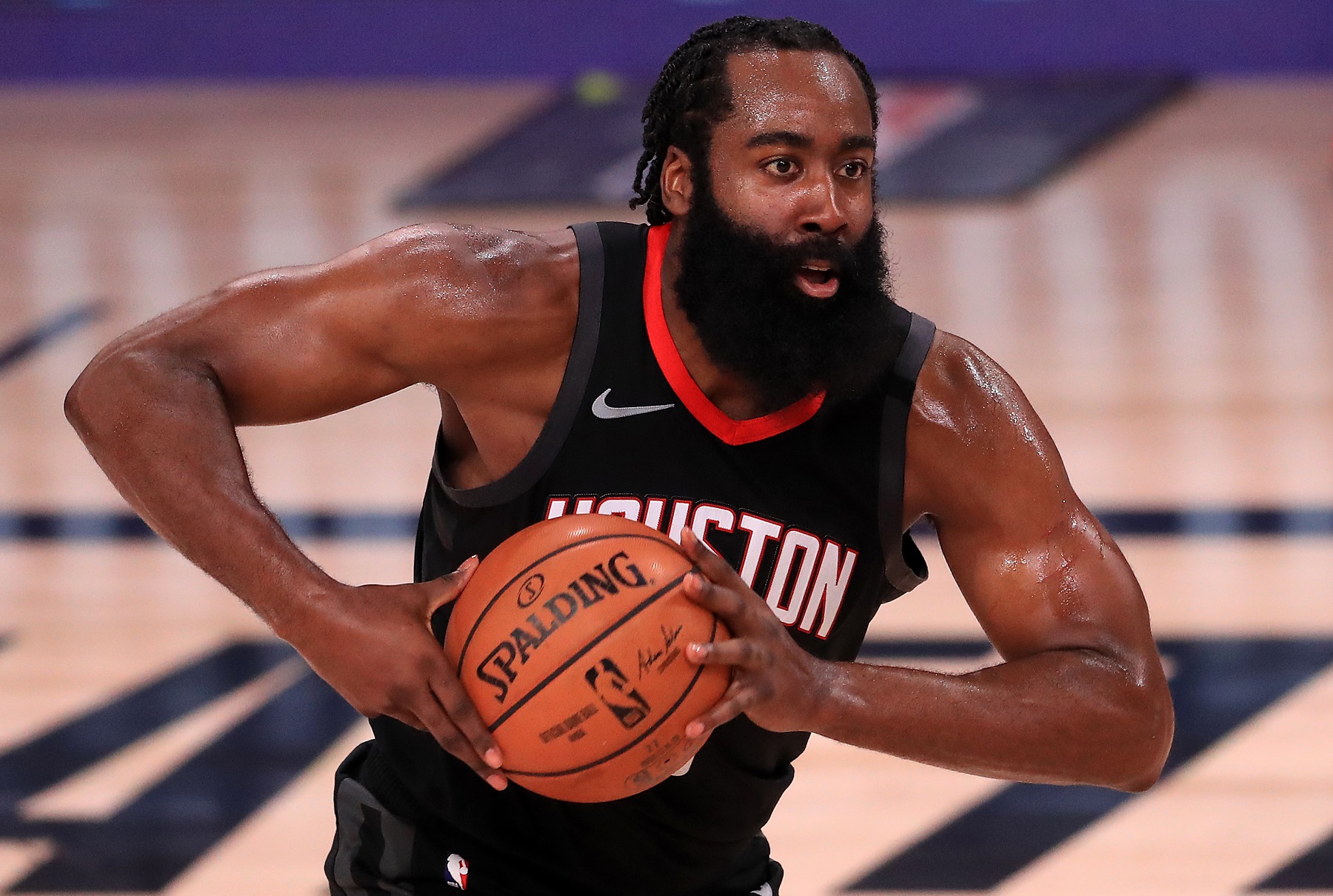 James Harden and the Houston Rockets Are in a Toxic Relationship
The Houston Rockets and star player James Harden are in a toxic relationship with the NBA season about to start.
There's an old country music song called "How Can I Miss You When You Won't Go Away?" The Houston Rockets might have a different question for disgruntled star James Harden: How can we get rid of you if you won't show up?
Harden is disgruntled and wants out of Houston. The Rockets already made one major move by shipping out Russell Westbrook in exchange for John Wall, which qualifies as a net loss. Even if they're inclined to accommodate Harden, the Rockets can't get fair value while he's throwing a tantrum.
The Houston Rockets have been making changes
James Harden and Russell Westbrook both reportedly had reservations about where the team was heading as the Rockets moved on from coach Mike D'Antoni and general manager Daryl Morey this fall. The star players had been offensive options 1-A and 1-B last season, chucking up a combined 45 shots a game.
One of them had to go if the Rockets were going to become less predictable and take a step forward from their third Western Conference semifinals elimination in four years. However, the possibility exists that Harden will be gone by the start of the season, too. At least that's what he seems to be angling for this month.
Reports around the league said Harden sought a trade to the Brooklyn Nets to play alongside Kevin Durant, which whom he spent three seasons in Oklahoma City, and Kyrie Irving. Understandably, the Rockets aren't interested in being told who the trading partner should be.
Sports Illustrated reported that that standoff had a source close to Harden referring to the Rockets as the Knicks of the South and terming the culture around the team as "toxic."
James Harden's credentials are impressive
Whatever the outcome of the dust-up that is keeping James Harden from practicing with the Houston Rockets, someone will have him in their lineup in the season that's due to start in just over two weeks. And they'll have an outstanding player.
The former Arizona State star is one of the hardest to stop on the offensive end of the floor, winning the past three NBA scoring championships. The 2018 league MVP and eight-time All-Star has played 11 seasons and averaged at least 25.4 points a game the past eight years. His averages in the past three seasons were 30.4, 36.1, and 34.3 points a game.
Even assuming that the Rockets decide to part with Harden, they must find a team that can absorb his contract, which calls for $40.8 million this season and $43.8 million next year. He has a player option for $46.8 million in the 2022-23 season.
James Harden is trying to force the issue
James Harden missed the Houston Rockets' opening team practice on Dec. 6 after attending an out-of-town birthday bash for Lil' Baby. One unsubstantiated report had Harden presenting the rapper with $100,000 cash and a $200,000 watch. Other celebrities, including Meek Mill, were also on hand. Presumably, none of them missed work to be there.
The league's COVID-19 protocol would have kept Harden from practicing with his teammates when he was due back Dec. 6. First-year coach Stephen Silas was expecting Harden, 31, to arrive for an individual workout, but that didn't happen either, according to ESPN's Tim MacMahon.
Newly acquired guard John Wall expressed confidence that Harden was committed to remaining with the Rockets. Though no disciplinary action has been taken yet, Silas referred to Harden's absence as a holdout during Monday's session with the media.
"It is a setback," he said. "You want your best player to be here."
Like Sportscasting on Facebook. Follow us on Twitter @sportscasting19.