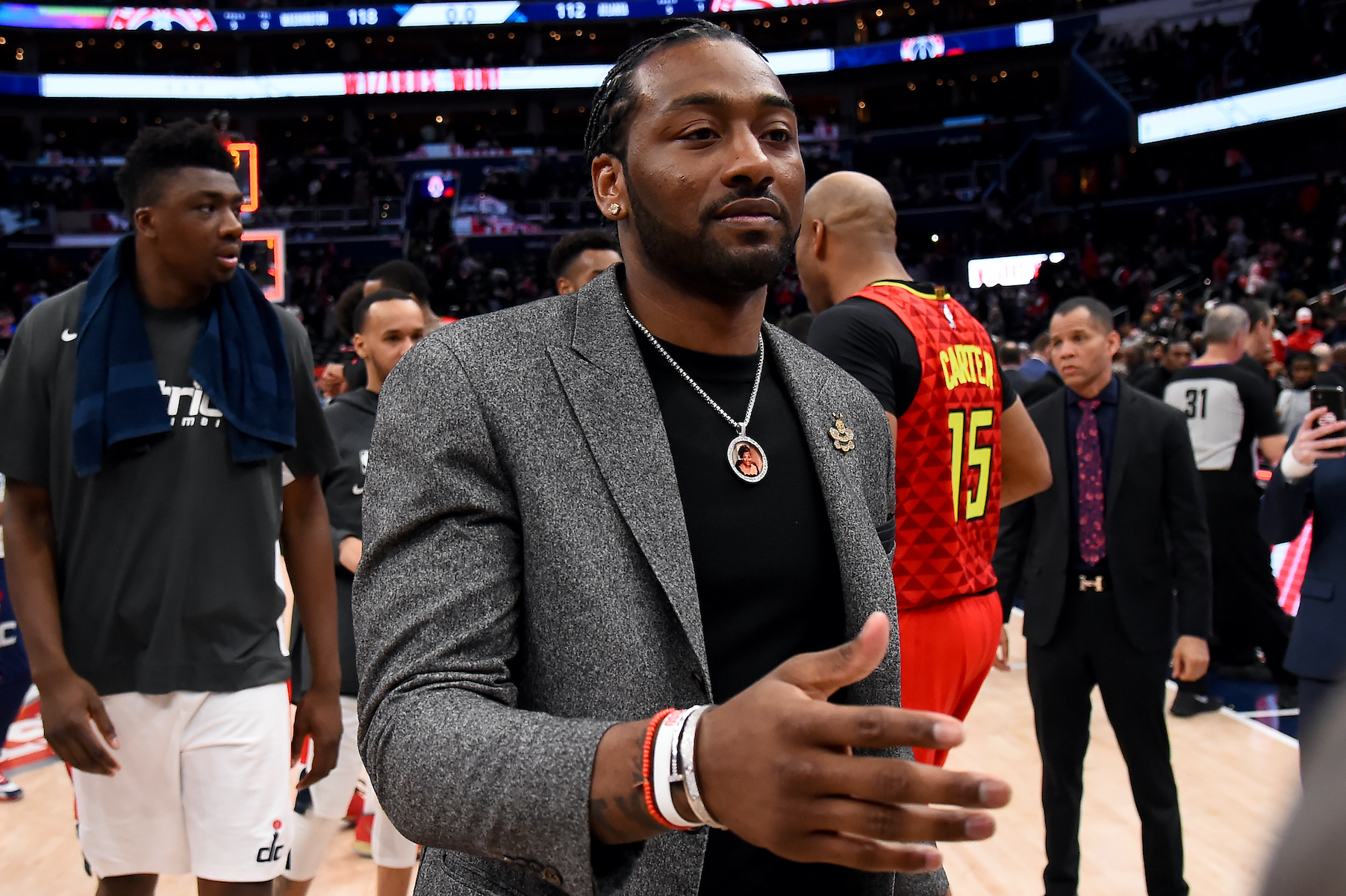 John Wall Says He's More Than Ready to Return to the NBA
Most NBA pundits expected John Wall to return from rehabbing from his torn Achilles a long time ago. Now he might be ready.
Most NBA pundits expected John Wall to return from rehabbing from his torn Achilles a long time ago. The Wizards guard is one of the top players in the game when healthy. But he's been out of the lineup since the 2018 season and hopes to return for 2020.
He was recently asked about the upcoming season. Let's look at his comments, his career, and what we can expect from him next season.
John Wall comments on his return
Speaking to the media on a video call, ESPN reports, Wall had this to say about his rehab: "I'm 110% … I'm healthy". This could spell good things for Washington, as coming back from an Achilles injury is always tricky when a player needs to get into game shape.
He also stated: "I'm just focused on getting back out there and watching how Brad has developed, how our team has developed … how we have made changes in the organization to prepare ourselves for next season and see what we can do."
Should Wall return?
With the league restarting in a limited format on July 31st, should Wall come back if the Wizards are included in the play-in tournament? We think that would be very risky for a number of reasons. 
The first is Washington is currently 24-40, sitting at 11th in the East. The team also ranks dead last in defensive efficiency, and bringing him back so late in the season would be a waste if a playoff spot isn't secured.
The second is the risk of re-injury. Wall had to have follow-up surgery in March of 2019 when he re-injured his Achilles. Why would the team risk him losing even more explosiveness to re-injury or another injury altogether?
The most recent case for that scenario was Kevin Durant during his final season with the Golden State Warriors. After injuring his quad in the first round against Sacramento, Durant came back (possibly) a little prematurely, and tore his Achilles in Game 5 of the NBA Finals against Toronto. 
Keeping him on the shelf until the 2020-21 campaign starts would be the smartest move.
Can he regain his All-Star form?
Before he tore his Achilles, Wall was arguably a top-five point guard in the NBA. He posted five consecutive All-Star appearances, including three straight seasons average over 10 assists per game. He turned in the best season of his career in 2016-17, making the All-NBA third team after averaging career highs in points (23.1) and assists (10.7).
This will be a very tough task coming off of a torn Achilles, with nearly two years of in-game rust under his belt. Most players returning from the injury lose a lot of speed and explosiveness, so for Wall to say he is at 110% then he must be confident that he hasn't lost a step.
What can we expect from John Wall in 2020?
As we mentioned earlier the league is restarting on July 31st, so there's no timetable for the 2020-21 season yet. It's almost certain the new season won't start until December at the earliest, and we think a shorter season between 28 and 56 games would be easier to manage for the players and coaches, in order to have 2021-22 be a full 82-game slate.
We think it will be easier to see him averaging between 15 and 17 points per game in the 2020-21 campaign, with six to eight assists as well.