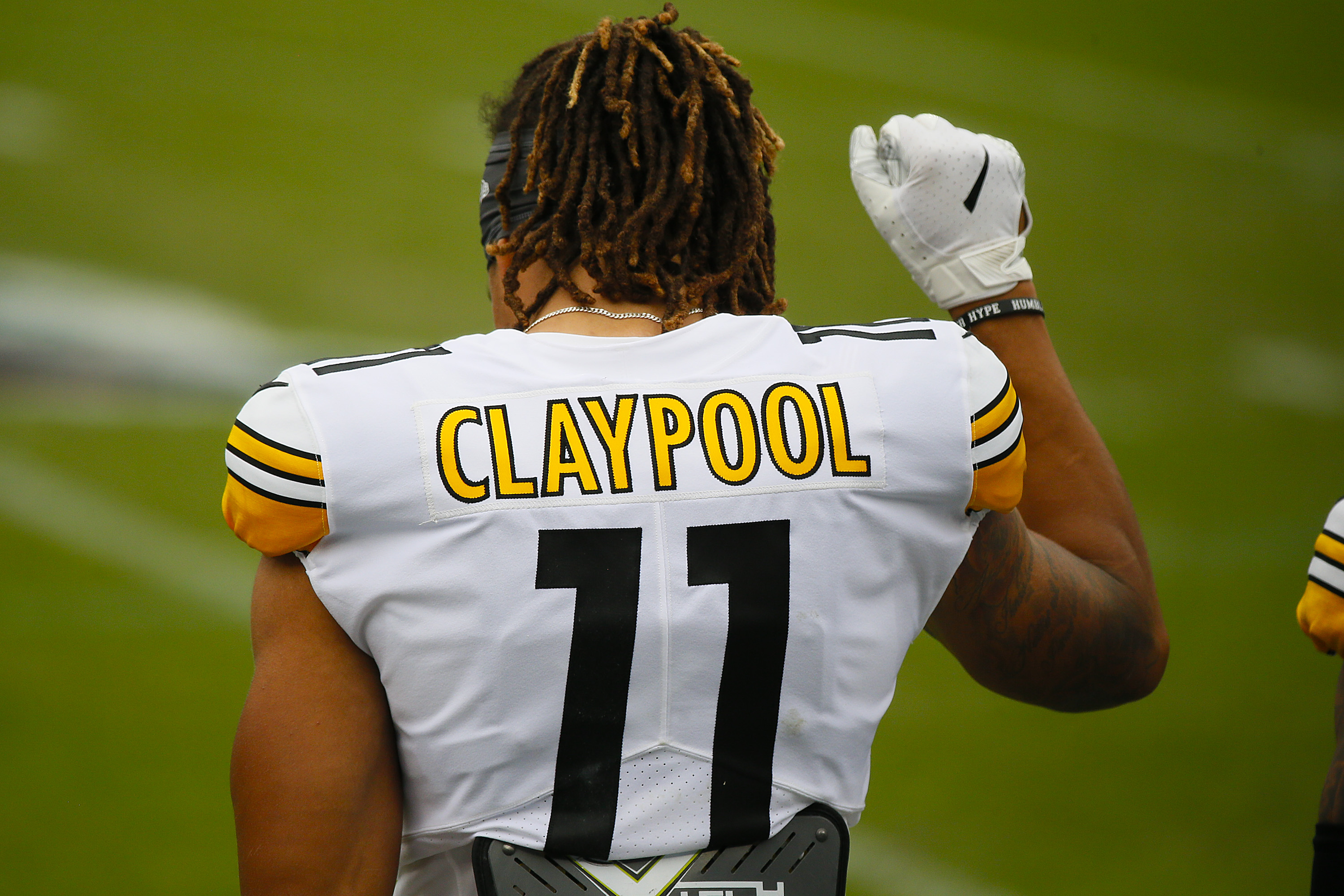 Chase Claypool's Heartwarming Gesture to Pittsburgh Steelers Fan With Dementia
Pittsburgh Steelers rookie wide receiver Chase Claypool made a nice off-the-field gesture to a Steelers fan diagnosed with dementia.
Pittsburgh Steelers rookie wide receiver Chase Claypool has caught much of the NFL by surprise. He's got four touchdown receptions and two rushing touchdowns under his belt and is a big part of why the Steelers are the lone undefeated team in the NFL. Claypool has also shined off the field, judging by his heartwarming gesture to a Pittsburgh Steelers fan diagnosed with dementia.
Who is Chase Claypool?
Chase Claypool played his college football at Notre Dame. The 6-foot-4 wide receiver was a second-round pick in the 2020 NFL draft. The Pittsburgh Steelers selected Claypool with the 49th overall pick.
Claypool grew up in Abbotsford, British Columbia, where he was more of a basketball star in high school than a football one. His first love, however, was football, but he was getting more attention for his basketball skills. Claypool had to market himself via social media to draw attention to himself for his football skills.
He got his first football offer from Nevada and the offers began rolling in. Claypool wound up playing four years at Notre Dame. In his senior year, Claypool finished with 66 catches and 1,037 receiving yards. He also collected 13 touchdowns.
Claypool's big NFL game
Chase Claypool wasn't expected to be one of the brightest shining stars on a team full of them, especially in his first year in the NFL. Claypool definitely shined the brightest during a Week 5 game against the Philadelphia Eagles. He finished the game with four touchdowns in a 38-29 victory.
During that Eagles game, Claypool was targeted 11 times by quarterback Ben Roethlisberger. Claypool finished the game with seven catches and went over the 100-yard mark for the first time in his career with 110 receiving yards. For good measure, Claypool added three rushes for six yards and a touchdown.
Claypool also had a 42-yard touchdown reception called back on an offensive pass interference call. Claypool's performance certainly caught the eye of Roethlisberger. "He has some God-given abilities that not many people in this world have," Roethlisberger said to the Pittsburgh Post-Gazette. "He's big, fast and strong and he's very, very smart."
Claypool's off-the-field gesture
While Chase Claypool used Facebook to help get himself noticed by colleges, he's still making good use of social media. Claypool recently dueted a TikTok video from the son of a die-hard Pittsburgh Steelers fan who was just diagnosed with dementia. The video shows Claypool on the left side, listening to the son's story.
The son says, "This is my daddy. He is 76 years old and has just been diagnosed with dementia. He is my best friend in the whole world and he is the biggest Pittsburgh Steelers fan in the world. Dad is from Pittsburgh and hasn't been home in forever. We've watched almost every game together since I was a little boy." He went on to ask if some of the players on the team could send him some Steelers gear.
As Claypool was listening to the video, he pulled out one of his jerseys and signed it. In the video, Claypool wrote, "I hope this jersey can create a long-lasting memory for you and your father." The video ended with Claypool arriving at the FedEx office to ship it.