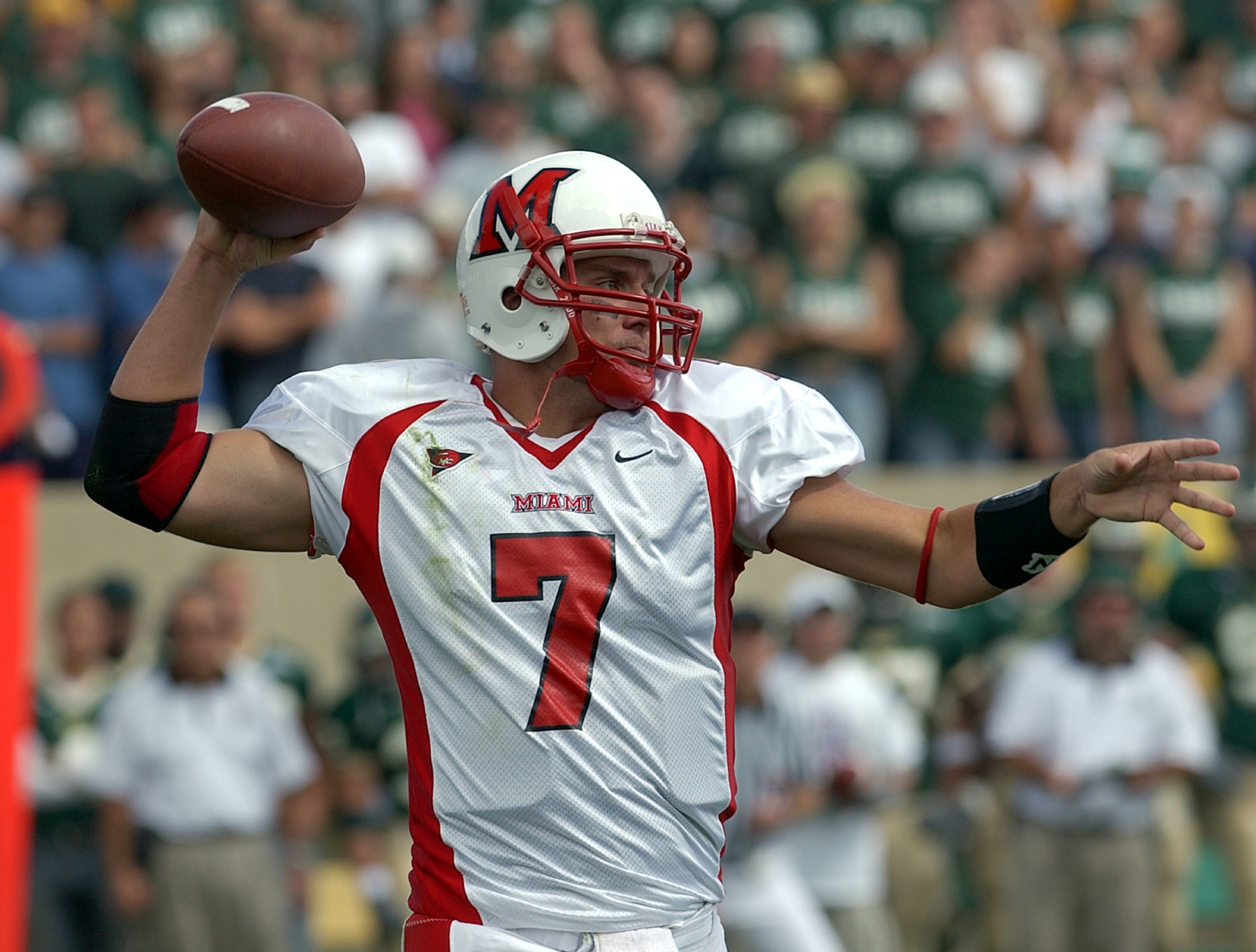 How Good Was Ben Roethlisberger in College at Miami?
Ben Roethlisberger has had an incredible career with the Pittsburgh Steelers. How good of a quarterback was he in college, though?
Ben Roethlisberger has been the starting quarterback for the Pittsburgh Steelers ever since 2004. He has ultimately led the franchise to a ton of success too and has a strong claim for a Hall of Fame induction once his career is over. However, before becoming the Steelers' franchise quarterback, Roethlisberger was an absolute star in college for the Miami (Ohio) RedHawks.
Ben Roethlisberger has led the Pittsburgh Steelers to a lot of success
The Pittsburgh Steelers selected Roethlisberger with the No. 11 overall pick in the 2004 NFL draft and he was a star immediately. He earned the 2004 AP Offensive Rookie of the Year award as he threw for 2,621 yards, 17 touchdowns, and 11 interceptions in 13 starts. He also went 13-0 in those starts.
Roethlisberger then had success during the regular season in 2005, but the postseason is where he ultimately became a legend. Roethlisberger led the Steelers to a Super Bowl win that season, and he played really well as he threw for 803 yards, seven touchdowns, and three interceptions in four playoff games that year.
During the 2006 season, Roethlisberger struggled as he led the NFL with 23 interceptions. However, he had a breakout season in 2007. Roethlisberger threw for 3,154 yards, 32 touchdowns, and only 11 interceptions that year, and he ultimately earned Pro Bowl honors.
Roethlisberger then won his second Super Bowl with the Steelers the next season in 2008, adding on to an already impressive legacy. He threw for 692 yards, three touchdowns, and one interception in their three playoff games that year.
Since winning his second Super Bowl, Roethlisberger has continued to prove that he is an all-time great quarterback. He has earned five Pro Bowl selections since then and has led the NFL in passing yards twice, throwing for as many as 5,129 yards in 2018.
In total, Roethlisberger has thrown for 56,545 yards (eighth all-time) in his career to go with 363 touchdowns (ninth all-time) and 191 interceptions. He has also earned six total Pro Bowls.
He was a star for the Miami RedHawks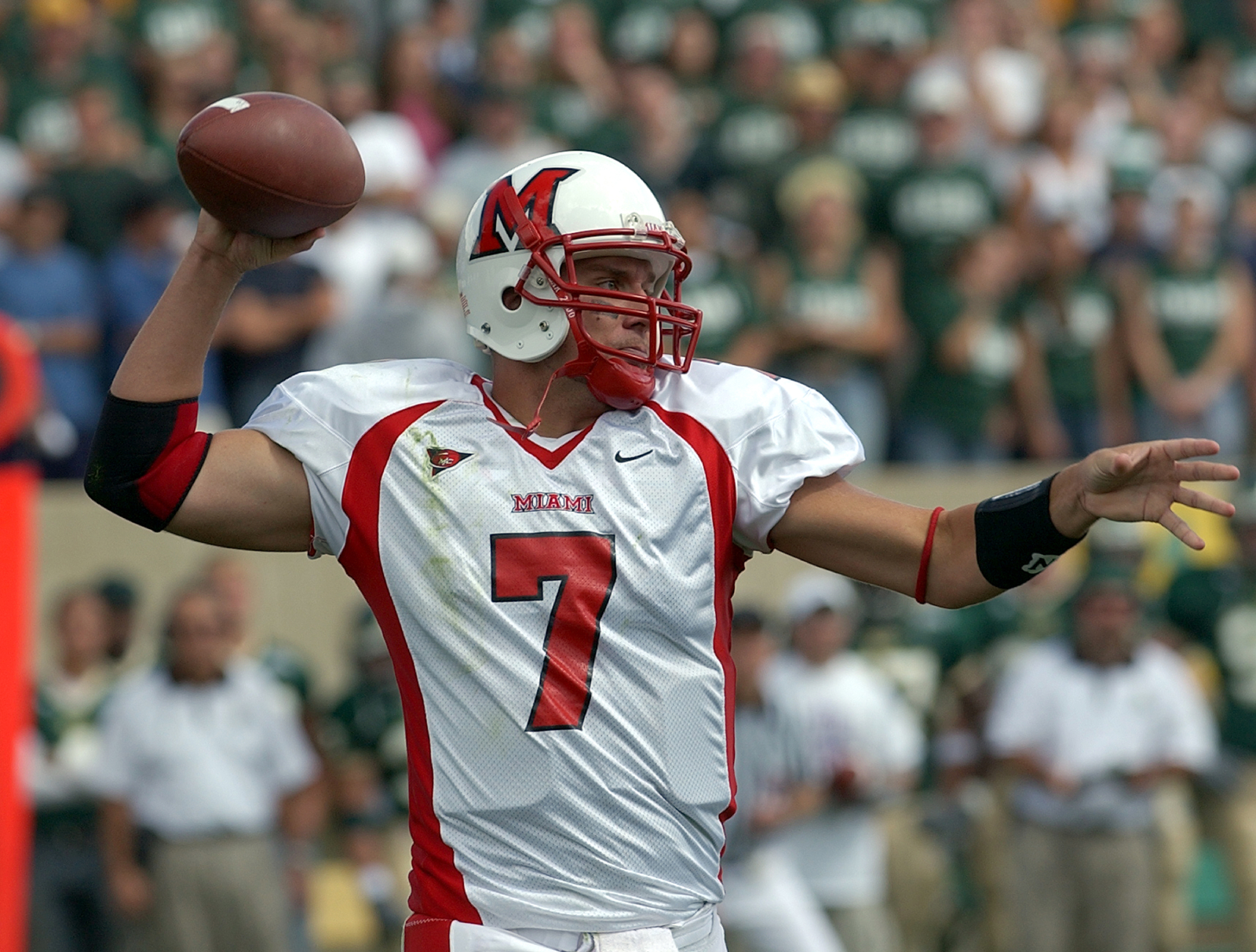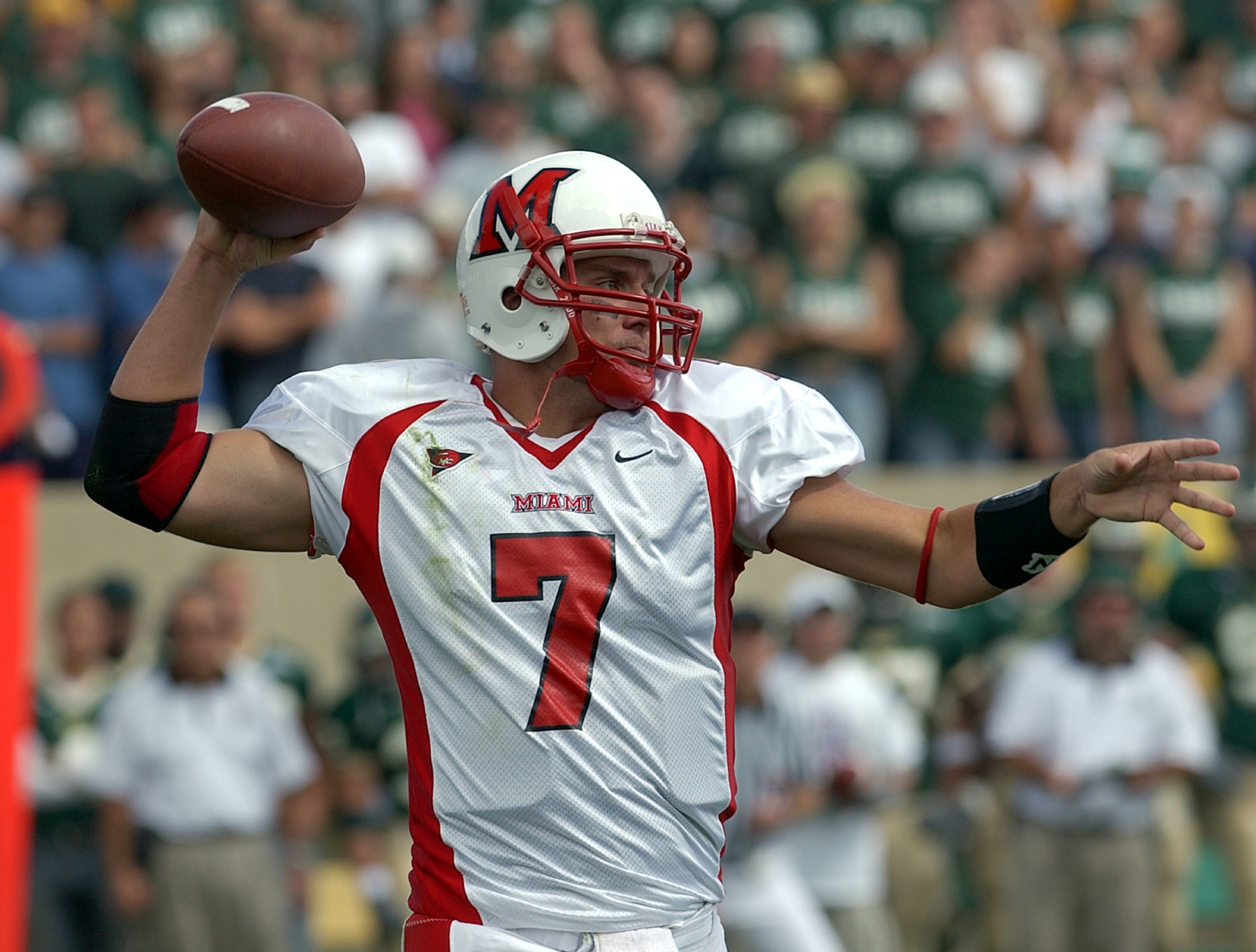 While many star football players from Ohio go to Ohio State, Roethlisberger chose to play for the Miami RedHawks. It ended up being an excellent decision for him too, as he was a star each season he was there.
In 2001, Roethlisberger threw for 3,105 yards, 25 touchdowns, and 13 interceptions. He then built on that success in his next season as he threw for 3,238 yards, 22 touchdowns, and 11 interceptions.
However, Miami only went 7-5 in each of those seasons. The team also continued its streak of not playing in a bowl game as their last trip to a bowl game had been in 1986 at that point.
In 2003, though, Roethlisberger helped Miami become one of the best teams in the entire country. Behind his remarkable 4,486 passing yards, 37 touchdowns, and 10 interceptions, Roethlisberger led Miami to a 13-1, and they ranked No. 10 in the final AP poll of the season.
The No. 10 final ranking matched Miami's best final ranking in program history, and it was the first time that the program had ranked in the AP poll since 1976. Miami also won its bowl game that season as the RedHawks defeated Louisville in the GMAC Bowl. It was the program's first bowl game win since the 1975 season.
Roethlisberger ultimately led Miami to heights that the program had never seen before. It hasn't seen it since then either.
Miami has not been that good since then
Since Roethlisberger starred at Miami, the RedHawks have been slightly more successful than they were in the years before he played for them. However, nothing has matched the success that they had with Roethlisberger.
The RedHawks have not ranked in the AP poll since that 2003 season. Additionally, the most wins they have recorded in a season since then were just 10 in 2010. The RedHawks have made some bowl games since Roethlisberger played for them, but they have only made four and have gone 1-3 in those games.
They just haven't had someone quite like Roethlisberger to take the program to the next level competitively.
Ben Roethlisberger has had an excellent NFL career, and he has accomplished a lot. However, what he was able to do at Miami was maybe even more spectacular.
Stats courtesy of Pro Football Reference and Sports Reference