Chase Elliott Pulls Off Stunning Late-Race Move to Win at Nitro Rallycross Only to Realize Moments Later That He's Not in NASCAR and Receives Major Penalty Instead of Preferential Treatment
Chase Elliott has followed his Hendrick Motorsports teammate Kyle Larson into the world of dirt racing in recent weeks with minimal success. The 2020 Cup Series champion tried his hand on a hybrid of dirt and asphalt with the Nitro Rallycross on Saturday in Florida and fared much better when he pulled off a stunning late-race move to defeat a former world champion, only to realize moments later that he wasn't on NASCAR turf and received a costly penalty instead of preferential treatment.
Chase Elliott follows former world champion Tanner Foust for first couple laps
Chase Elliott didn't enter his Nitro Rallycross Bracket Battle race against heavy favorite Tanner Foust with many expectations.
Foust is a veteran driver with multiple rallycross championships to his credit. Conversely, the NASCAR champion jumped his first car during an early-December practice and showed his inexperience, sailing the car past the optimal landing zone, which resulted in the nose digging deep into the red dirt and a rough landing. 
Elliott got off to a solid start in the one-on-one race, running side-by-side and taking the outside line on the first couple of turns before following Foust on the joker lap. After completing the initial lap, the 26-year-old found himself a respectable four car lengths behind.
On the second lap, Elliott cleared the big jump much better than his practice the day before and stayed within striking distance of Foust. As the pair made it to one of the last turns on the dirt, the NASCAR driver slid to the inside of Foust and tapped his left rear but was unable to make the pass. It was a precursor of things to come.
Pulls off stunning late-race move to win
On the race's final lap, Elliott stayed close to Foust and his bumper. Each time the veteran pulled in front by a few car lengths, the first-time driver closed the gap on the subsequent braking zone. When the two cars dropped off the asphalt into the final section of dirt, Elliott positioned himself on the left-rear of Foust, preparing to make a similar move to the one he had done the lap before. 
However, this time, instead of peaking to Foust's inside, Elliott dove hard below with the nose of his car hitting the door of his competition. Both cars slid sideways into the turn, and then Elliott shockingly surged ahead into the lead over the final dirt jump and crossed the finish line six car lengths ahead to the roar of the packed crowd in the stands. 
Moments after the race, one of the commentators asked whether Elliott's move was clean racing. The other confidently said, "100%." 
Chase Elliott doesn't get preferential treatment, gets penalized, but still has a lot of fun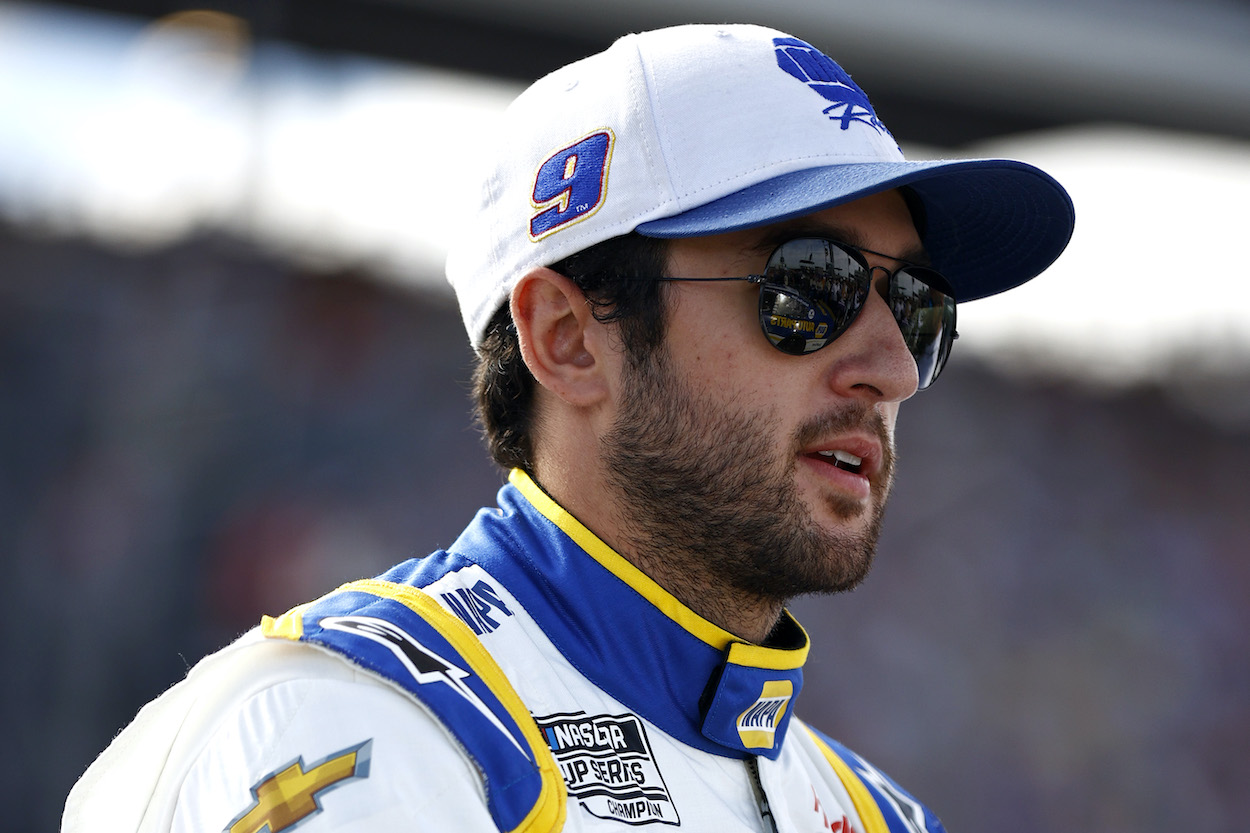 Unfortunately for Elliott, this isn't NASCAR, and he didn't receive any preferential treatment like many NASCAR fans claim often happens with the sport's most popular driver. Instead, the race stewards assessed him a time penalty, taking away the Bracket Battle victory. Despite that ruling, the main attraction for the weekend in Florida enjoyed himself.
"So much fun, first off," Elliott said. "Feel like I had an opportunity and I was trying to slide myself in there more-so than door him as hard as I did. Tanner and I just sat over there and talked for like 10 minutes before the race and then I used him up. So hopefully he's not mad at me, but I think it was a great show. I hope everybody enjoyed watching. I had a blast driving. 
"I felt like that was my only opportunity. That was really the only section that I felt like I gained enough on him to make a move. Yeah. Just got aggressive and tried to slide it in there and just didn't quite have my angle. I think if I had had it a little more turned, I think it probably would have been OK. But just a little too straight. Regardless, a lot of fun and excited for whatever tomorrow brings."  
Just days after winning NASCAR's Most Popular Driver Award for a fourth consecutive year, Elliott showed why so many fans like him because of his aggressive driving style and his willingness to make a move and then accept responsibility when he gets it wrong.  
Like Sportscasting on Facebook. Follow us on Twitter @sportscasting19.