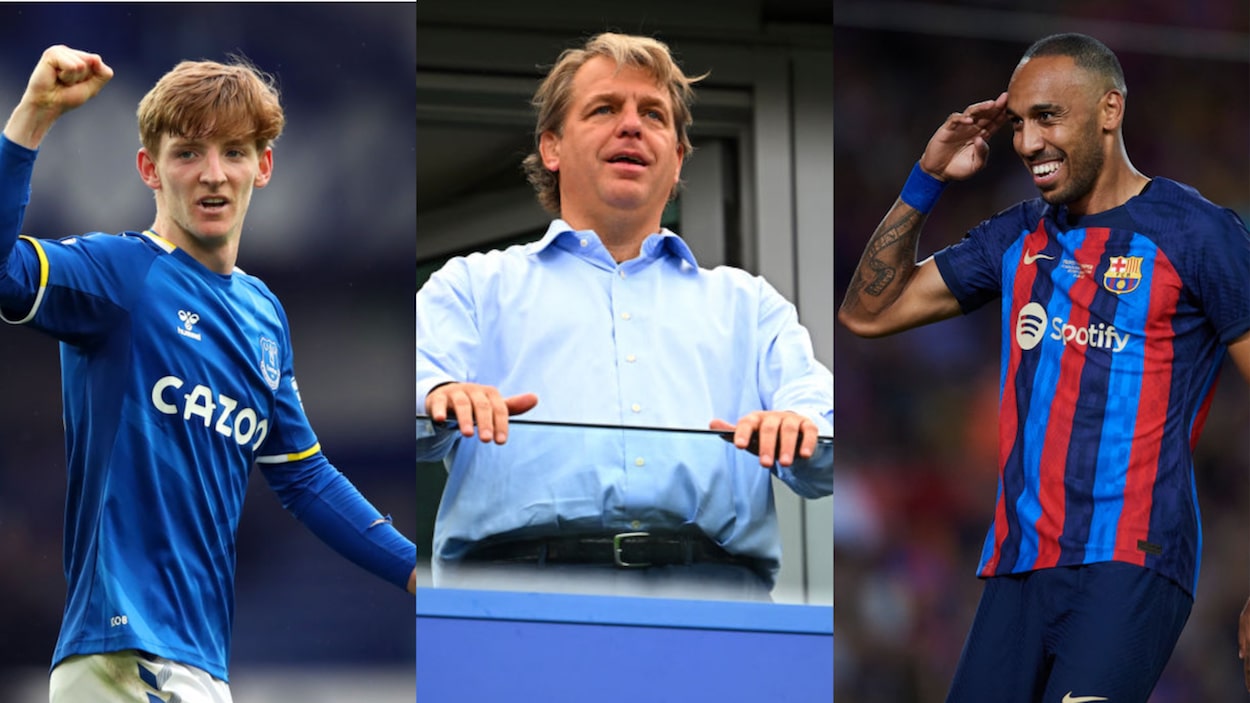 Chelsea Transfer Rumors: Todd Bohley Could Create a $77 Million-Plus Nightmare for His Future Sporting Director
Todd Boehly is spending plenty of money, but that might create more problems for Chelsea than it solves.
For most soccer fans, the transfer window is a time of optimism and excitement. In theory, your favorite team could bring in any player, provided the finances work out. Chelsea owner Todd Boehly seems to be testing the idea that you can throw money at a problem.
Despite spending plenty of cash this summer, the Blues are currently linked to two attackers, Anthony Gordon and Pierre-Emerick Aubameyang, with the reported price tag of those deals totaling to at least $88 million. While that may seem like a cause for optimism — who doesn't want to see their favorite bring in new players — it could also complicate Chelsea's future.
Chelsea could be spending big money on the duo of Anthony Gordon and Pierre-Emerick Aubameyang
During the summer transfer window, Chelsea allowed both Romelu Lukaku and Timo Werner to leave Stamford Bridge. While Raheem Sterling moved down from Manchester to provide some more juice in attack, the Blues seem to need a bit more punch up front. That reality apparently isn't lost on Todd Boehly.
Throughout the window, the club has been linked to Pierre-Emerick Aubameyang, the former Arsenal striker who's currently plying his trade at Barcelona. While there are still some question marks surrounding the deal — the Gabonese forward struggled at the end of his time in the Premier League — the positives seem to be clear. Thomas Tuchel and Aubayemang have worked together in the past, and the striker should slot right into Chelsea's line-up.
According to Sky Sports, that deal will cost somewhere in the neighborhood of $17-$30 million. That might not be the end of Chelsea's spending, though.
The club is also reportedly interested in Everton's Anthony Gordon and seems willing to meet the exorbitant asking price. As reported by David Orenstein of The Athletic, Chelsea have made it known that they're ready to cut a check for just under $60 million, with roughly $12 million more in add-ons.
Chelsea's future sporting director is going to have their work cut out for them
As we already noted, spending money seems like a positive development. Chelsea, as they're currently constructed, are probably somewhere between the third and fifth-best team in England. While that's nothing to sneeze at, the Blues will need to make some changes to make a title charge or a serious run in the Champions League.
With all of that being said, though, Boehly's spending probably isn't ideal, especially when you continue some of the surrounding contexts.
First of all, Chelsea theoretically wants to become a more self-sufficient club. Boehly has plenty of wealth, but he (theoretically) won't be bankrolling the club like Roman Abramovich did. Secondly, Boehly is acting as the interim sporting director following the departure of Marina Granovskaia.
That second part, especially the word "interim," is key. That means someone will be arriving at Stamford Bridge and having to work around whatever deals Boehly made.
Should the Gordon and Aubameyang deals go through, that sporting director will be facing a variety of issues. First, they'll be dealing with two big-money attacking pieces that don't exactly fit together. Gordon has plenty of potential, but has a great deal of growth left both in terms of nailing down an ideal position and adding more goals and assists to his game. Aubameyang, if he's at something near his best, is a pure scorer who doesn't add much in build-up.
How do those pieces, one a longer-term project and the other an immediate stop-gap, fit together with Raheem Sterling, Kai Havertz, and Mason Mount? Your guess is as good as mine, but, by that point, the money will be spent. (The same can also be said for players like Marc Cucurella, who overlaps with Ben Chilwell and seems dependent on having a manager who can play with three at the back, but that's a different discussion.)
And on the subject of money, that sporting director will be faced with some tricky fiscal realities. Chelsea don't have a small wage bill, and if two more attackers arrive at Stamford Bridge, things will only get more bloated. In recent years, the club has struggled to move on players from the previous regime; it's tough to see that changing. Let's pretend that Tuchel doesn't make it past the end of the current season, and the new boss wants to move Aubameyang to accommodate a more complete striker. Will that even be possible without buying out his contract ala Arsenal?
At this point in his Chelsea tenure, it honestly feels like Todd Boehly is having some fun and throwing his money around. The Blues' current transfer window, however, doesn't exactly bode well for the future. The sporting director will ultimately be tasked with cleaning up the current mess, but when push comes to shove, it's all Boehly's problem.
If things come crumbling down, he'll only have to look in the mirror.
Financials converted to USD on 8/23/2022.