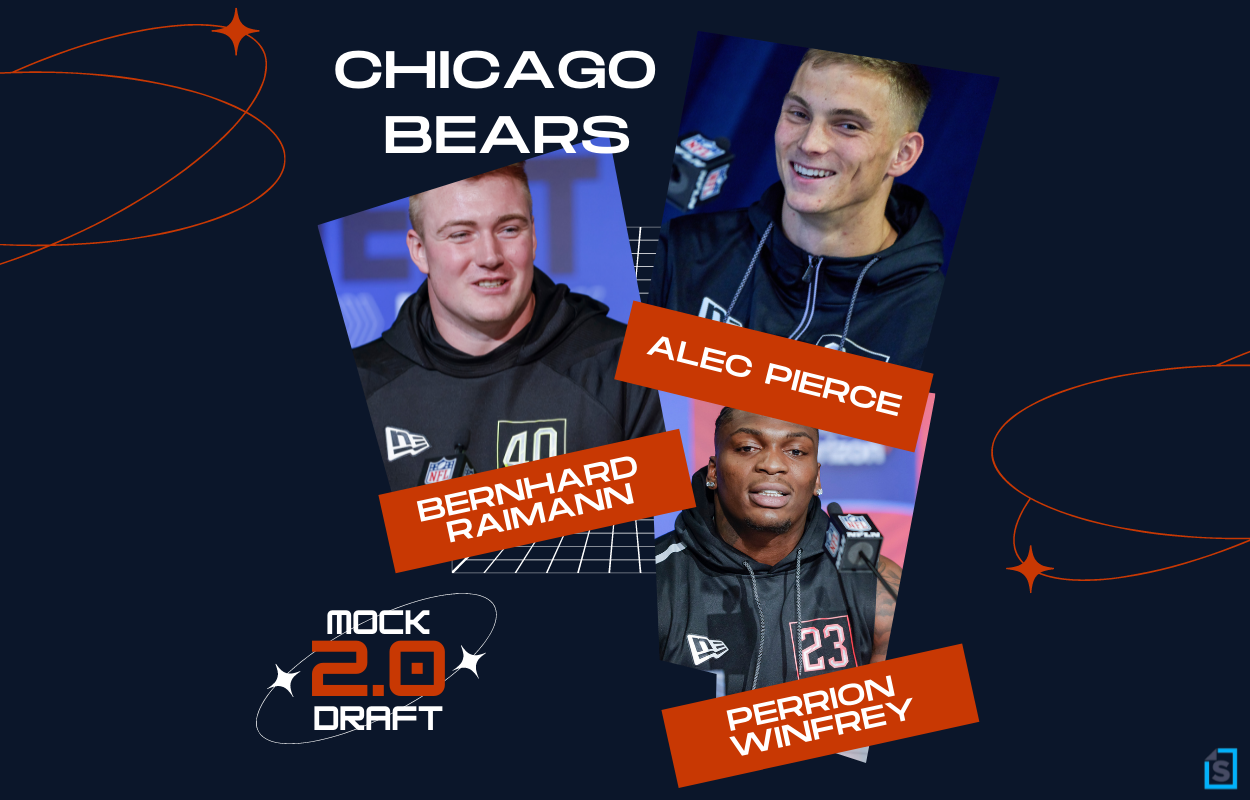 Chicago Bears 3-Round Mock Draft 2.0
In this Chicago Bears mock draft 2.0, the franchise takes an Austrian and two prospects who grew up a within a half-hour from Soldier Field.
The NFL draft is just days away for most teams. However, Chicago Bears fans will have to wait one day longer to see their favorite team make a selection. Just because the Bears don't have their first-round pick after last year's Justin Fields trade, it doesn't mean the franchise can't get some impact players with two second-rounders and one third. Here is the three-round Chicago Bears mock draft 2.0. 
Chicago Bears Mock Draft 1.0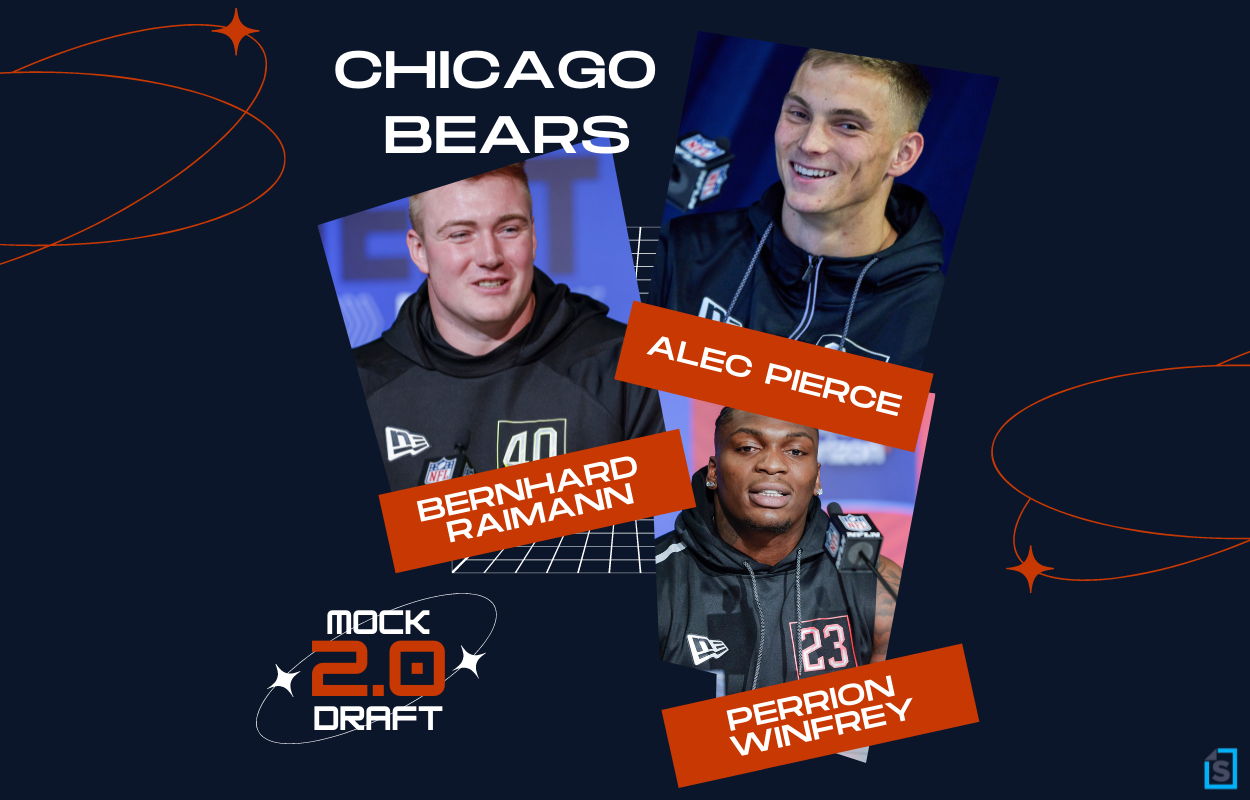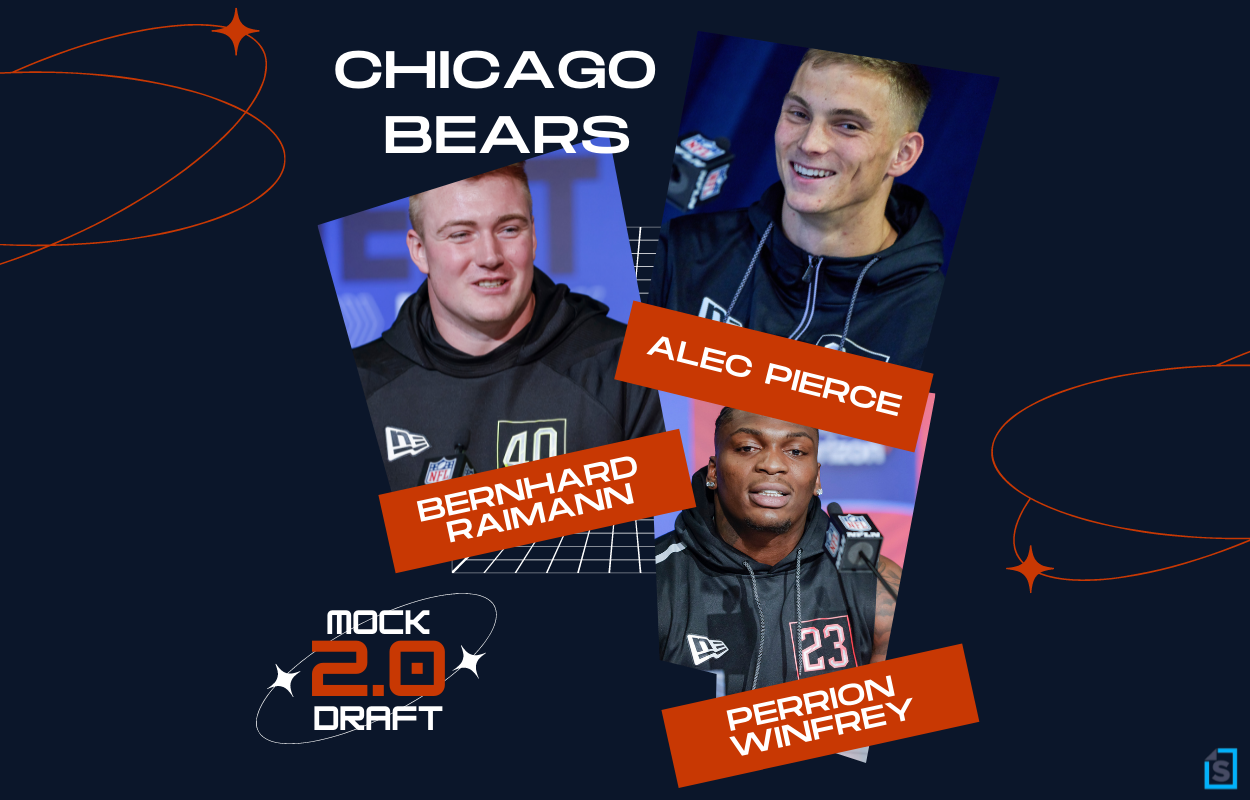 In the last Sportscasting.com three-round Chicago Bears mock draft, they went heavy on offense and Georgia Bulldogs while also adding a small-school standout. That mock draft looked like this:  
Round 2, No. 39 overall: George Pickens, WR, Georgia
Round 2, No. 48 overall: Chad Muma, LB, Wyoming
Round 3, No. 71 overall: Jamaree Salyer, OL, Georgia
As draft boards start to solidify around the NFL, players change, although the Bears' needs stay the same. Chicago still needs help for Justin Fields, so offensive line and wide receiver are still top priorities. As far as defense goes, with the team switching to new head coach Matt Eberflus' system, defensive line becomes more important in this Chicago Bears mock draft. 
Round 2, No. 39 overall: Bernhard Raimann, OT, Central Michigan
When a team doesn't have a first-round pick, it has to jump all over any first-round talent that slides to the second round. That's why, in this Chicago Bears mock draft, general manager Ryan Poles takes Central Michigan tackle Bernhard Raimann at No 39. 
The 6-foot-6, 303-pound offensive lineman is incredibly athletic, as he started his college football career as a tight end. He's raw and has a fascinating story. Raimann grew up playing American football in Austria before coming to the states in high school as a foreign exchange student.  
Raimann could take some time to develop, but the Bears' rebuild is a long-term one. The tackle's ceiling is among the highest in the draft at OL. Taking a talent like him in the second round could pay off for the next decade and help Justin Fields stay safe and healthy. 
Round 2, No. 48 overall: Alec Pierce, WR, Cincinnati
After losing Allen Robinson II, the Bears are in dire need of talented wide receivers and need to use one of their second-round picks to get one. Georgia's George Pickens is still a good choice, but if the team jumps on Bernhard Raimann like they do in this Chicago Bears mock draft, he'll likely be gone by No. 48. 
That's not horrible, though, as the second-round WR class this year is incredibly deep. At No. 48, the Bears should be able to pick up a pass-catcher rising late in draft rankings, Cincinnati's Alec Pierce. 
Pierce is 6-foot-3, 211-pounds, and can go get the ball deep. He ran a 4.41-second 40-yard dash at the combine. However, he's not just a speedster. Pierce has excellent hands and knows how to use his body as a possession receiver, too. He caught 52 balls for 884 yards and eight touchdowns last season for the Bearcats. 
As a bonus for Bears fans, Pierce is a hometown guy as well. He grew up in Glen Ellyn, Illinois, only about 30 miles west of Soldier Field. 
Round 3, No. 71 overall: Perrion Winfrey, DT, Oklahoma
As the vaunted Bears defense shifts from a 3-4 to Matt Eberflus' 4-3 defense, there are a few positions that the team needs on that side of the ball that it doesn't have on the roster. One of those is a three-technique pass-rusher on the defensive line. 
The 6-foot-4, 290-pound DT — who grew up even closer to the Bears' home field than Pierce in Maywood, Illinois — would be an excellent fit in the middle of Eberflus' line. Perrion isn't much of a runs-stuffer, but that's OK. The Bears will ask him to push the pocket into the quarterback's lap, and Winfrey can do just that. 
He had 5.5 sacks from his DT spot last season and showed off a violent bull rush at Senior Bowl practices that left scouts and coaches impressed. If Winfrey shows that same toughness and effort in the NFL, he can be a DeForest Buckner-like presence (who led Eberflus' Colts in sacks last season) for the Bears. 
Fun note if this Chicago Bears mock draft turn out to be correct: Watch the look Winfrey's (possible) future teammate Bernhard Raimann gives the DT as he destroys his opponent at the Senior Bowl in the Twitter clip above. 
All stats courtesy of Sports Reference