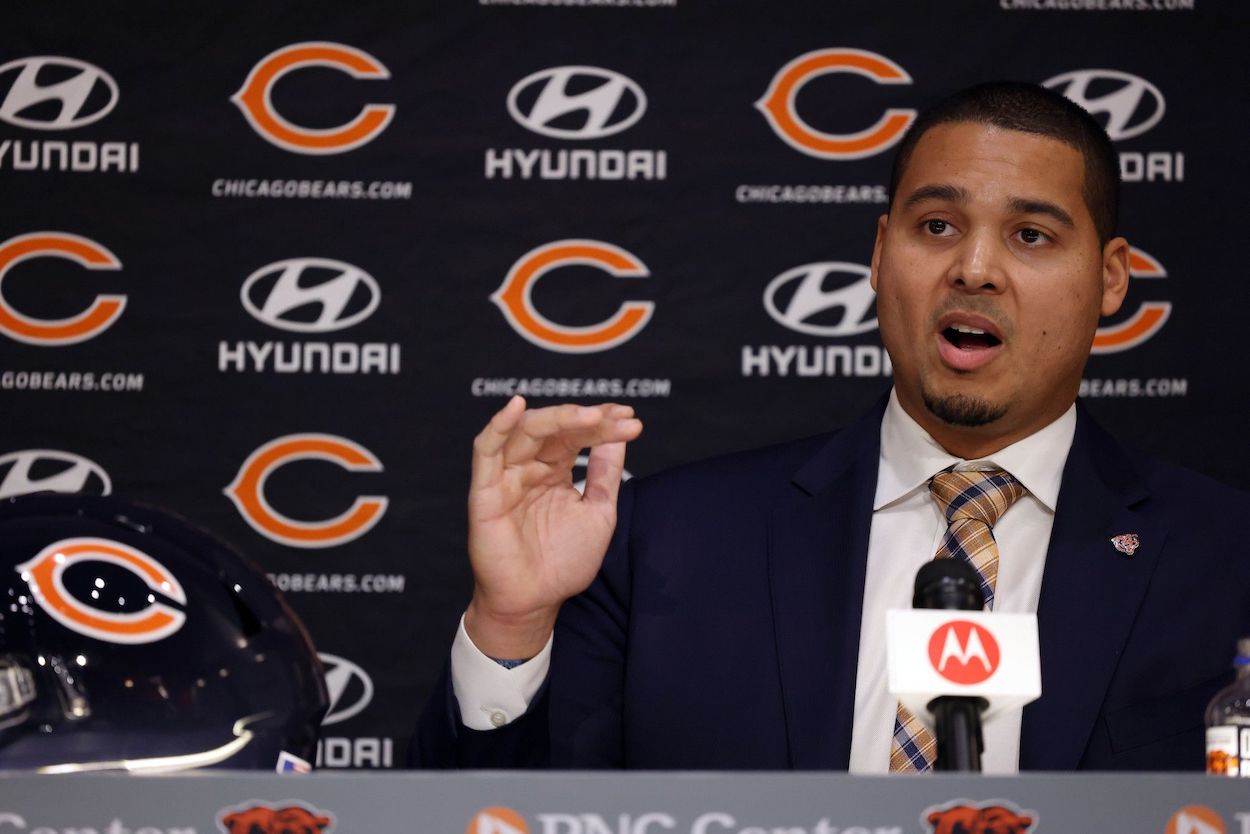 NFL Draft: Todd McShay Predicts the Chicago Bears Finally Make a Smart Draft Decision
After years of bad decisions by the franchise in the NFL Draft, ESPN's Todd McShay thinks new Chicago Bears GM Ryan Poles will finally makes better ones.
The NFL draft is a numbers game. It's an imprecise science where getting ore bites of the apple generally pays off better than going all-in on one player your team's fallen in love with. That's why trading up rarely turns out well in the draft, as Chicago Bears fans know well.
The Windy City franchise has made two high-profile trade-ups in the last five years. The first one was a disaster, and, regardless of how Justin Fields turns out, the second one is already looking problematic. Luckily for Bears fans, ESPN draft guru Todd McShay predicts that this year, the Bears will actually do something smart to make up for some of these sins of the past.
The Chicago Bears traded up for quarterbacks twice in five years
Former Chicago Bears general manager Ryan Pace was never afraid to mortgage the franchise's future to go after what he wanted in the NFL draft. That's a big reason he now gets the word "former" before his title.
In 2017, Pace — the youngest GM in the league at the time — fell in love with North Carolina quarterback Mitchell Trubisky. The young executive was so enamored with Trubisky, the San Francisco 49ers were able to fleece him into trading a 2017 third (No. 67) and fourth (No. 111) and a 2018 third (No. 70) for the privilege of moving up one spot to draft the QB No. 2 overall.
The trade backfired massively.
Trubisky was good but not a franchise QB and was out in Chicago after just four seasons. What's worse is, while the 2017 picks didn't amount to much, the 49ers used the 2018 selection to take All-Pro linebacker Fred Warner. And, the two QBs Pace would have had to "settle" for if some mystery team did jump up to grab Trubisky were Patrick Mahomes and Deshaun Watson.
Not one to learn his lesson the hard way, Pace was at it again in 2021.
Sitting at No. 20 in the 2021 NFL Draft, the Bears sent the New York Giants their first and fifth (No. 164) in 2021 and their first (No. 7) and fourth (No. 112) in 2022 for the right to jump up to No. 11 and take Ohio State signal-caller Justin Fields.
It's too soon to tell what Fields will ultimately be. And, in fairness, giving away seven draft picks in five years means there isn't as much talent around the former Buckeye as there should be.
The good news for Bears fans is that if Todd McShay is correct, the organization might finally break this cycle in 2022.
Todd McShay predicts the Bears will trade down in the 2022 NFL Draft
All the wheeling and dealing at the NFL draft was a root cause of Ryan Pace's failure with the Chicago Bears. The franchise finally realized this in the 2022 offseason and let him go. Now, the team is led by new GM Ryan Poles, who's spent the last decade-plus with the well-run Kansas City Chiefs organization.
In his latest ESPN mock draft, Todd McShay predicts that Poles' first NFL draft move as the man in charge will be to do the opposite of what his predecessor was known for.
This year, the Bears have an extra second-round pick thanks to trading Khalil Mack to the Los Angeles Chargers. McShay predicts the team holds tight with its own No. 39 pick and selects Tulsa offensive tackle Tyler Smith. However, at No. 48, McShay writes:
The Bears have only six 2022 picks and lack a first-rounder. So if Atlanta calls and offers a third-rounder (No. 82) to move up from No. 58 to No. 48, new GM Ryan Poles will be intrigued. Chicago needs a receiver, but the Day 2 pool of pass-catchers is deep.

Todd McShay on the Chicago Bears
That would finally represent a wise draft-day decision by a Chicago Bears GM after years of bad ones. If this happens, the Soldier Field faithful should be ecstatic.
Late second-round WRs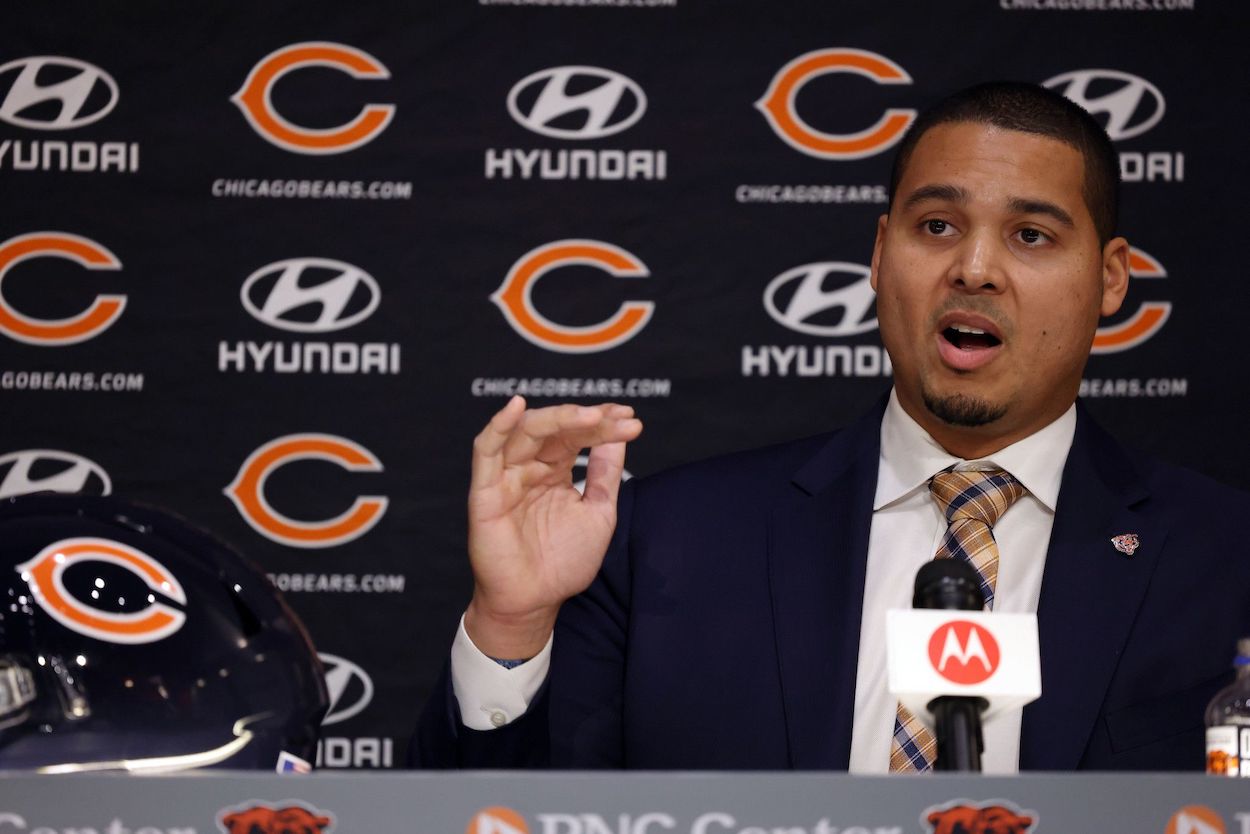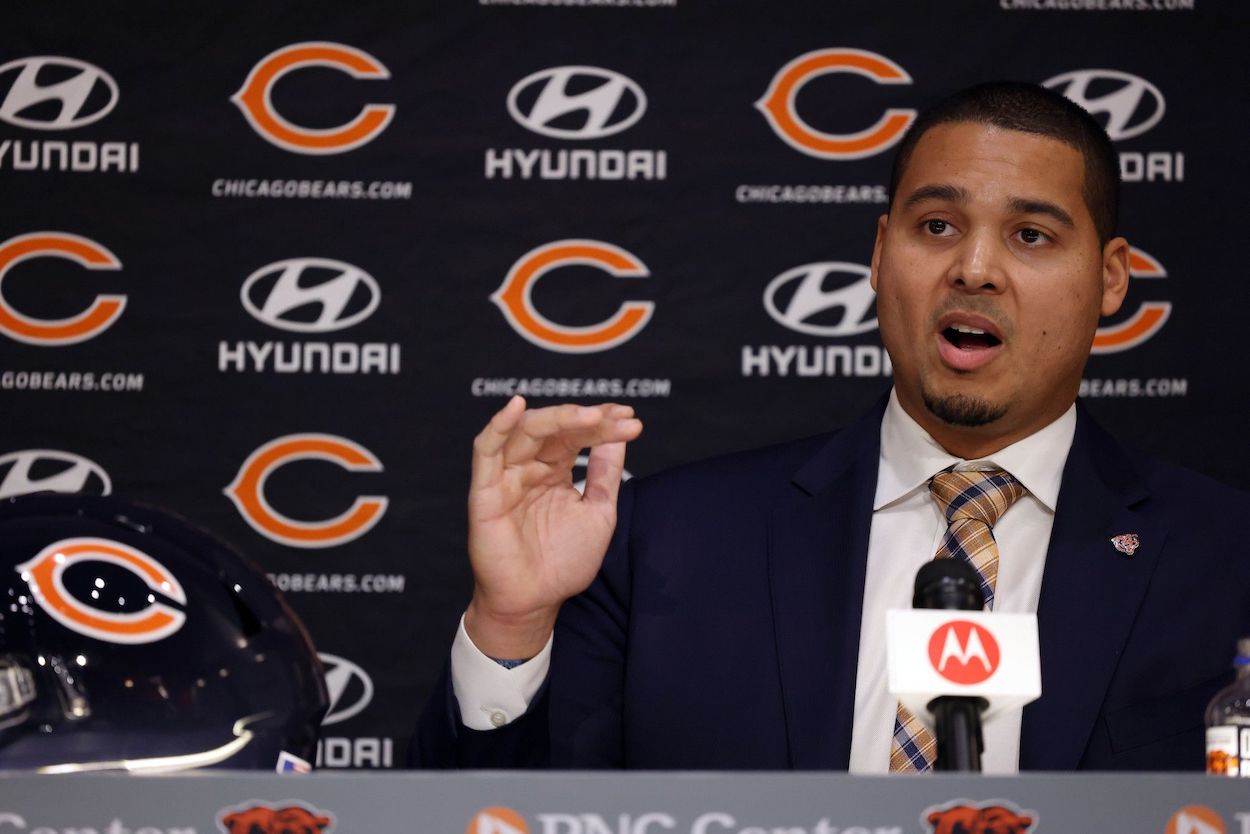 As Todd McShay mentioned, the Chicago Bears desperately need a wide receiver to help Justin Fields' development. The team has promising young wideout Darnell Mooney but lost out on Allen Robinson II during free agency.
McShay has Ryan Poles and the Bears taking South Alabama's Jalen Tolbert at No. 58. The draft expert explains picking the 6-foot-1, 194-pound WR, writing, "Tolbert is smooth with the speed to make vertical plays and produce after the catch. His NFL route tree will take some time to develop, but he would be a high-upside pick."
Tolbert would be a solid pick at that spot, but the Bears could go in several directions at that spot (while also benefitting from the extra draft capital).
Wide receivers likely still available at that spot includes 5-foot-8 speedsters Calvin Austin III from Memphis and Wan'Dale Robinson from Kentucky, Boise State's gritty 6-foot slot receiver Khalil Shakir, Purdue's 6-foot-1 possession receiver David Bell, and Clemson's 6-foot-4 red zone target Justyn Ross who falls due to a 2020 back surgery.
Any of these players are solid Day 2 picks and give the Bears more bites of the apple on Day 3, which is something the franchise didn't often have during the previous regime.  
Like Sportscasting on Facebook. Follow us on Twitter @sportscasting19.