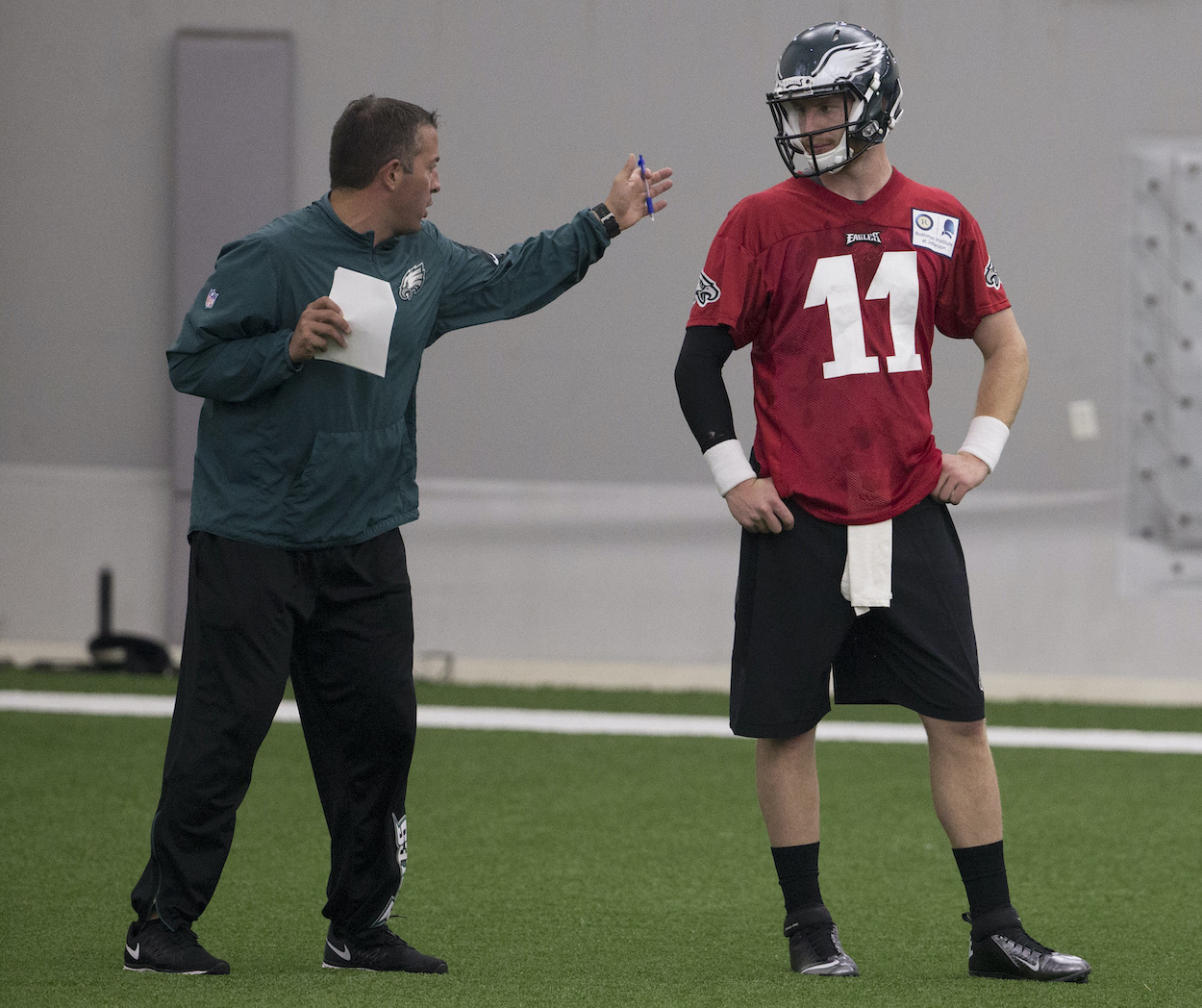 The Chicago Bears May Have Just Hinted at an Impending Carson Wentz Trade With Their Curious Coaching Decision
A Carson Wentz trade seems to be on the horizon soon, and the Chicago Bears may have just hinted at an impending deal.
The Carson Wentz era in Philadelphia is nearing a disastrous end. After leading the Eagles to the playoffs in three straight seasons, Wentz took a major step back in 2020 and the locker room crumpled around him.
Now Doug Pederson is out the door, Jalen Hurts has all but taken Wentz's starting job, and the Eagles are actively shopping Wentz to the highest bidder. The Chicago Bears, who are among the top contenders to land the former Pro Bowler, may have just hinted at an impending deal by promoting one of Wentz's old friends.
Carson Wentz trade rumors are heating up
Philadelphia Eagles fans are sitting on pins and needles waiting for the breaking news bar to pop up on their phones or television screens saying Carson Wentz has been traded. As it stands now, Wentz is still the quarterback of the Eagles, but all signs point to a deal going down as soon as today.
General manager Howie Roseman has been listening to offers for his franchise quarterback all offseason. The Bears, Indianapolis Colts, San Francisco 49ers, and New England Patriots have all been rumored to be interested in the North Dakota State product.
Despite Wentz's struggles last season, the Eagles are searching for a "Matthew Stafford package" in return for the QB, according to Adam Schefter of ESPN. Stafford was dealt to the Los Angeles Rams last week for two future first-round picks, a third-round pick, and Jared Goff.
The Eagles have evidently not been offered a trade package that has piqued their interest quite yet, but a deal should be completed in the coming days.
The Chicago Bears are interested in Carson Wentz
The Eagles might have a quarterback disaster manifesting in their locker room, but the Bears also have a QB conundrum themselves. Nick Foles struggled as the starter last season, and Mitch Trubisky hasn't lived up to the hype of a No. 2 overall pick.
Bears GM Ryan Pace is done waiting for Trubisky to make the leap to a quality starter. The team's window of contention is closing fast, as its dominant defense is quickly aging, and star wide receiver Allen Robinson might be wanting out of town to join forces with a competent quarterback for once.
Rumors of a Wentz trade involving Foles and a draft pick have surfaced over the past few days. Foles led the Eagles to their first Super Bowl victory in 2017, and he has clearly played the best football of his career in midnight green.
The Bears could pounce on a Wentz deal at any moment, and their latest coaching decision might be saying that deal is coming soon.
The Bears may have hinted at an impending Carson Wentz trade with their latest coaching decision
On Monday, the Bears announced they promoted John DeFilippo to pass game coordinator along with his quarterbacks coach label. Normally, that would be a minor shuffling of the coaching staff that wouldn't dominate any headlines, but that's not the case here.
DeFilippo just so happened to be the quarterbacks coach in Philadelphia for Wentz's lone Pro Bowl season in 2017. Wentz hasn't been the same player since DeFilippo left for the Minnesota Vikings that offseason. He has slowly regressed each year since DeFilippo's departure, and he was one of, if not the worst, QB in the NFL in 2020.
Could the curious coaching promotion be hinting at an impending Wentz deal? We'll find out soon.