If Carson Wentz Is Traded by the Eagles, There's an Emerging Potential Landing Spot That Would Create Quite the Hilarious Scenario
With Doug Pederson now gone as the head coach of the Philadelphia Eagles, the future of Carson Wentz with the franchise seems to look a little better than it did a couple of weeks ago, at least that's what most seem to think. However, there are still quite a few factors in play here and there's certainly still a chance that Philly decides to part ways with the former Pro Bowler, which would certainly be an expensive move but one Jeff Lurie might still be willing to make.
Now, if the Eagles do decide to trade Carson Wentz, most seem to think that he'd end up with the Indianapolis Colts, which actually does make the most sense given his history with Frank Reich. And while just about every sportsbook in the country lists Indy as the top potential landing spot, the Chicago Bears have emerged as one of the new favorites given their issues at the quarterback position.
But wouldn't it be a little hilarious if Carson Wentz ended up with the Bears? You know, because Nick Foles, the guy who filled in for him and won the Eagles a Super Bowl, will likely still be there for at least the next year or two.
The future of Carson Wentz with the Philadelphia Eagles isn't 100% secure just because Doug Pederson got fired
With Philadelphia Eagles owner Jeff Lurie deciding on Monday to part ways with Doug Pederson, the only Super Bowl-winning coach in franchise history (crazy to think that win was less than three years ago), it seems that most people are under the impression that Carson Wentz's future with the team is a bit more secure. And that may be true.
Wentz, who was benched during the 2020 season for Jalen Hurts, signed a four-year/$128 million extension ahead of the 2019 season, a deal that technically hasn't even started yet and runs through the 2024 season if completed. Now, if the Eagles release Wentz, they'll have about $59.2 million in dead money but only if they release him before March 19. If they release him after that, that number jumps to more than $74 million. So this definitely isn't happening.
If Philly trades Carson Wentz, they'd take the biggest dead-cap hit in NFL history at more than $33 million so this isn't the most appealing option either. But that doesn't mean Jeff Lurie won't do it. When he addressed the media on Monday, he said a lot of nice things about Wentz but also called him "an asset," a term normally reserved for trade pieces in NFL front offices.
He also threw out terms like "his heart is in the right place" and talked about the difference in his vision as opposed to Doug Pederson's, which seems more tailored to a younger quarterback, you know, like Jalen Hurts. It just doesn't seem that he's fully on board with Carson Wentz for the future of the franchise, despite the money he'd be losing by getting rid of him.
The Chicago Bears have quarterback troubles of their own
As the Philadelphia Eagles have quarterback troubles with Carson Wentz and Jalen Hurts, the Chicago Bears certainly have QB issues of their own. Their issues, however, just don't involve as much money. They declined to exercise Mitchell Trubisky's fifth-year option ahead of the 2020 season and could decide to bring him back on a cheap deal as Trubisky likely won't get any big-money offers in free agency.
Sure, it seemed that he played better down the stretch but that was very deceiving as the Bears played a very weak schedule to close out the year, outside of the Packers on the final day of the regular season anyway.
Then there's the matter of Nick Foles. Thankfully for the Bears, they were able to restructure the big contract he signed with the Jaguars when they traded a fourth-round pick to Jacksonville to get him. But he certainly didn't play well this season but as of right now, he would be Chicago's starting quarterback in 2021 as he's the only player at that position under contract. Sure, the Bears could draft a quarterback but they've never really been good in that department, have they?
So could the Chicago Bears actually take a chance on (or afford) Carson Wentz?
Could (or should) the Chicago Bears try to trade for Carson Wentz?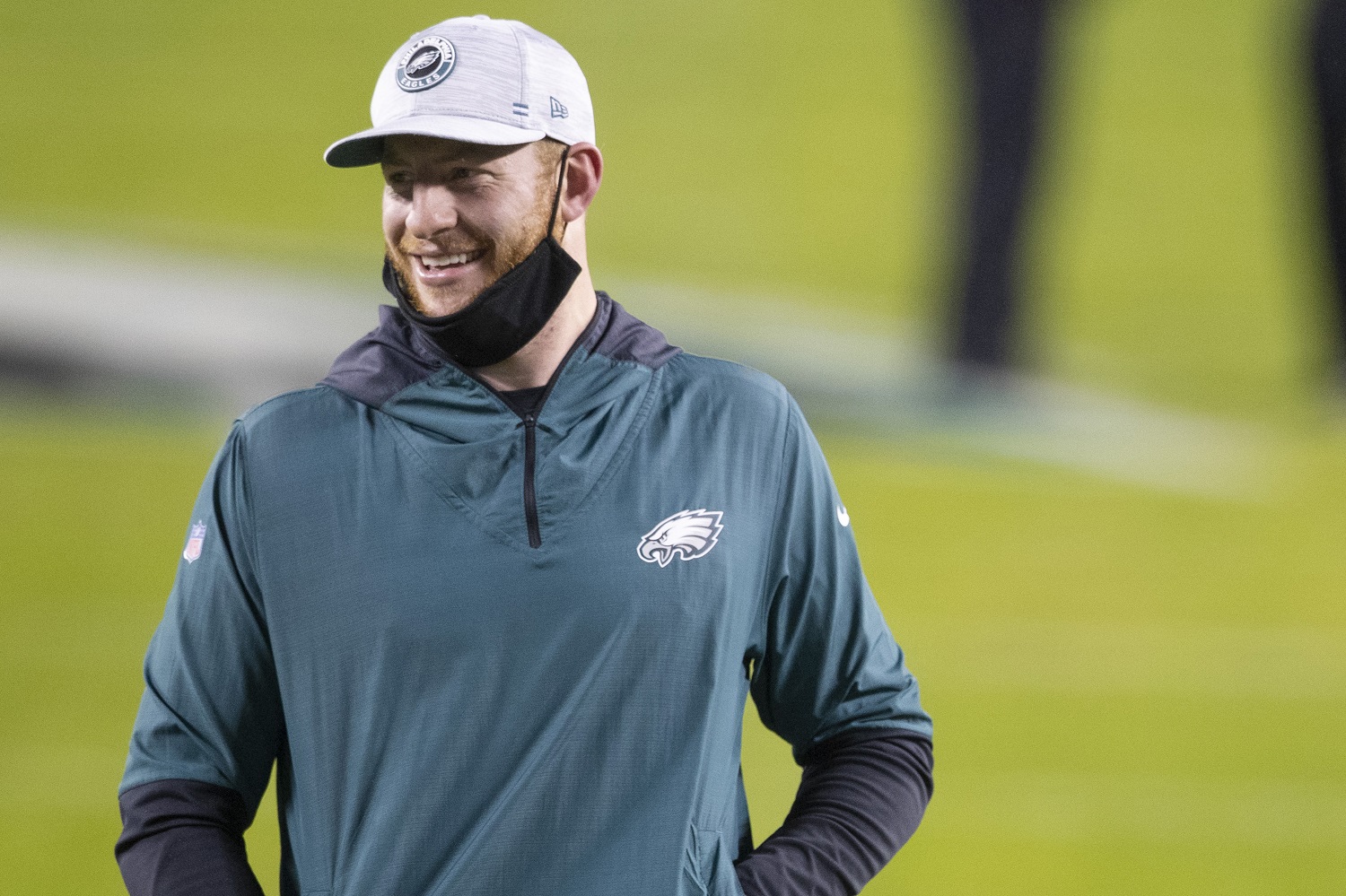 According to NBC Sports by way of PointsBet, the Chicago Bears have the second-best odds of landing Carson Wentz if the Philadelphia Eagles decide to trade him at +200. The Indianapolis Colts are the current favorites at +155.
Now, while this scenario would be absolutely hilarious as it would reunite Carson Wentz and Nick Foles, does the move actually make sense for the Bears? Logic says absolutely not.
For one, the Bears would have to restructure a lot of key deals, likely including those of Khalil Mack, Kyle Fuller, and others just to create the necessary cap space to bring Wentz into the mix. And is Wentz just the more expensive version of Nick Foles anyway given their respective levels of production this past season?
However, assuming Matt Nagy keeps his job, Wentz would actually fit quite well in the Bears' offensive scheme. He's still very athletic and can get out of the pocket, which would keep his efficiency a little higher. But how much would the Bears have to give up to bring him in if they are willing to pay his big salary? It's likely that Jeff Lurie would be looking for quite a trade package if he's going to take that big of a hit and Chicago probably wouldn't want to give up as much as Philly will be asking for.
So, again, while the scenario would be absolutely hilarious, it doesn't seem likely.
Contract information via Spotrac