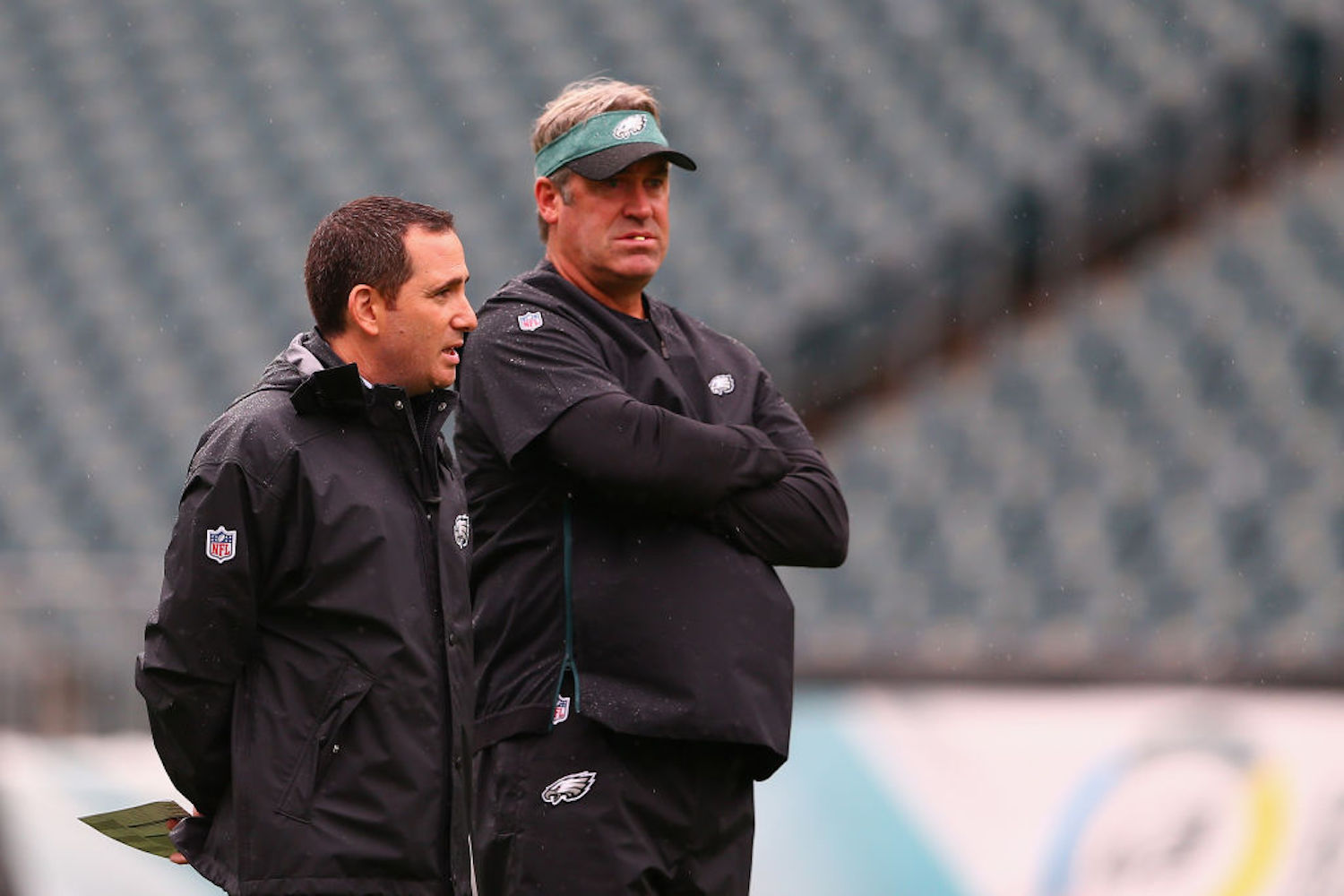 Firing Doug Pederson Still Doesn't Fix the Eagles' Biggest Problem
Doug Pederson is out as the head coach of the Philadelphia Eagles, but the team's biggest problem still resides in the front office.
After five seasons as the head coach of the Philadelphia Eagles, Doug Pederson has been relieved of his duties. The Eagles fired Pederson on Monday following a disappointing 4-11-1 season that ended with a bizarre benching and a fractured locker room.
Three seasons after bringing the city of Philadelphia its first Super Bowl title, Pederson finds himself unemployed, but the surprising move still doesn't fix the Eagles' biggest problem.
Doug Pederson is out as the Eagles head coach
Three years and one month ago, Doug Pederson was lifting the Lombardi Trophy over his head as confetti rained down upon him. At that very moment, he was the most beloved man in Philadelphia.
But this is a city that can never be fully satisfied. Philly's attitude is the epitome of 'what have you done for me lately?' and lately, Pederson has looked like a spineless head coach who's lost his locker room. His relationship with Carson Wentz has gone down the toilet, he disagrees with management about the future of the franchise, and he's lost that magic that brought the Eagles their first Super Bowl title.
On Monday afternoon, the Eagles fired the only head coach that has ever brought them a world championship.
"I have known Doug and his family for more than 20 years and they will always be family to me," Eagles Chairman and CEO Jeffrey Lurie wrote in a Twitter statement. "I have a tremendous amount of respect for him and everything we have accomplished together over the last five seasons. Everyone in the organization understands the type of man and coach that he is, and how much he means to all of us as well as the City of Philadelphia. We all look forward to the day he will be inducted into the Eagles Hall of Fame as a Super Bowl-winning head coach, and we are confident he will have success with his next team."
Firing Doug Pederson doesn't solve the Eagles' biggest problem
After the Eagles limped to a 4-11-1 season, Jeffrey Lurie knew he needed to make a drastic change. Either Doug Pederson could stay on as the head coach for one last chance, or general manager Howie Roseman could remain in his position and build a winning team for a new head coach. There was no middle ground.
On Monday, Lurie officially chose Roseman over Pederson, which will turn out to be a franchise-altering mistake.
Roseman constructed a championship-winning roster in 2017. There's no denying that. But his track record in the 11 years he's been with the Eagles is overwhelmingly disappointing. Just look at some of his recent draft decisions, for instance. Last offseason, Roseman tried to be the smartest man in the room by drafting Jalen Reagor 21st overall. Justin Jefferson went off the board one pick later. Yes, that Justin Jefferson. The one who just set an NFL rookie record for receiving yards in a season (1,400) and was named to the All-Pro second team in his first year as a pro. Reagor finished his rookie campaign with 396 yards and one touchdown.
A year before that, Roseman drafted JJ Arcega-Whiteside in the second round of the 2019 NFL draft. DK Metcalf went to the Seahawks a few picks later. Whoops!
It's not just a few misses here and there, either. This has become a pattern for the Eagles' GM. Roseman has only drafted one Pro Bowler since 2013 — Carson Wentz. You know, the quarterback Roseman later sabotaged by failing to give him competent offensive weapons and drafting Jalen Hurts a few months after giving Wentz a $128 million contract.
Roseman drafted 39 players from 2013-2019. Only 13 of them remained on the active roster in 2020. But let's blame Pederson for not turning garbage into gold. Pederson became the scapegoat for Roseman's recent failures as a GM, but Roseman is the one who kept his job.
Who could the Eagles target to replace Doug Pederson?
Immediately after the news of Pederson's firing surfaced, speculation began about who could be in line to replace him as the Eagles head coach. Ian Rapoport of the NFL Network reported Chiefs QB coach Mike Kafka, who played briefly with the Eagles in 2011, could be a possible candidate.
Offensive-minded coaches such as Chiefs OC Eric Bienemy, Bills OC Brian Daboll, and Oklahoma head coach Lincoln Riley are all hot head coaching candidates heading into the offseason. It would be criminal for the Eagles not to interview at least two of them.