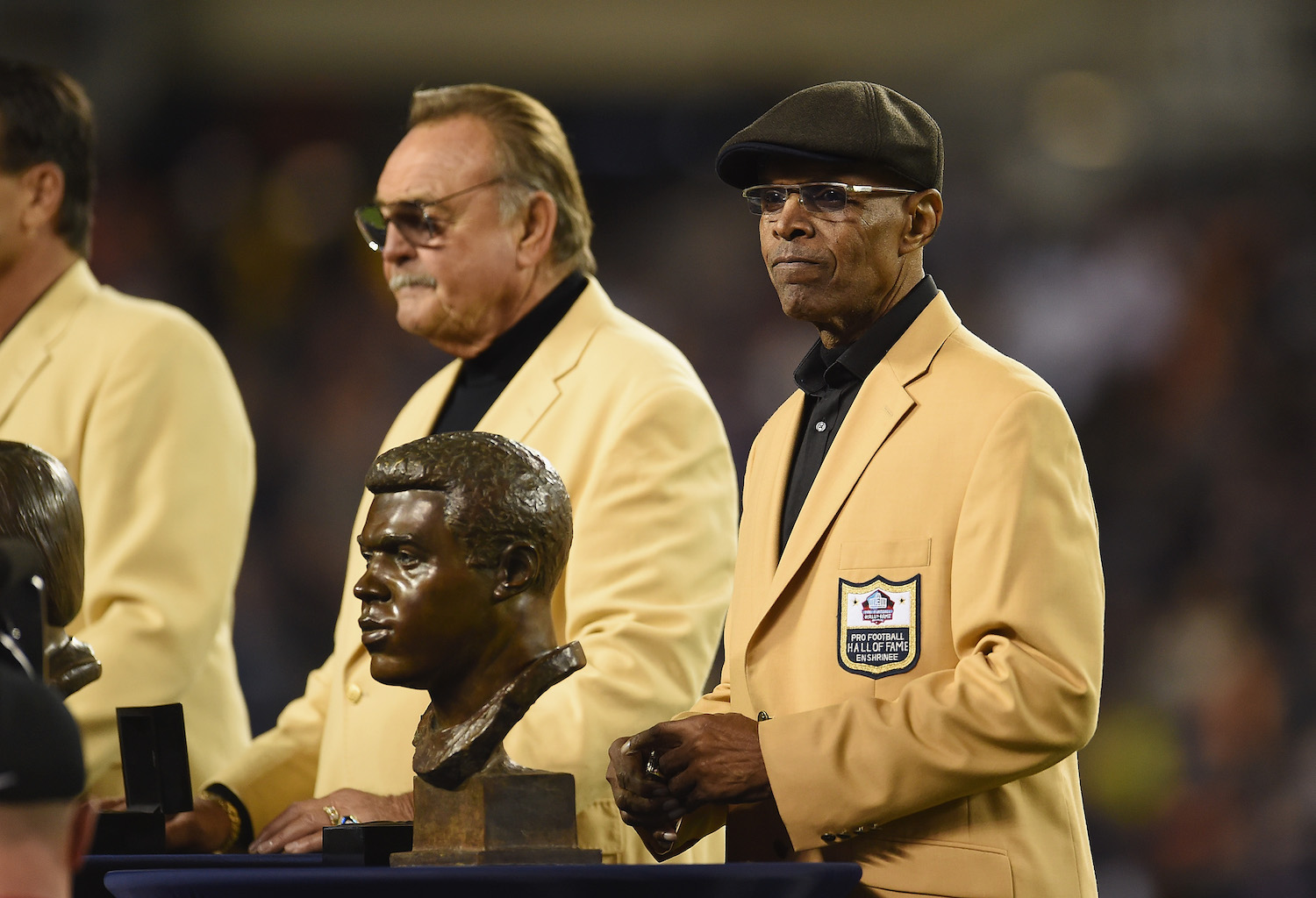 Chicago Bears Legend Gale Sayers is Battling the Toughest Opponent of His Life
Gale Sayers is one of the greatest NFL players of all time, but he's been battling dementia since his diagnosis in 2017.
Gale Sayers fought through a ton of adversity during his NFL career. Despite being regarded as one of the greatest running backs of his time, Sayers was forced into early retirement because of a multitude of injuries. The Chicago Bears legend was still one of the best of all time at his position, but his career is clouded by what could have been. Injuries were undoubtedly Sayers' biggest obstacle during his time in the NFL, but he's facing the toughest opponent of his life today at age 77.
Gale Sayers' legendary NFL career with the Chicago Bears
If you've never seen Gale Sayers run the football, there's no better person to describe it than the man himself.
"Give me 18 inches of daylight. That's all I need."
That iconic quote from the Bears legend perfectly summed up the effortless way in which he dominated the late 1960s. Sayers could cut on a dime like Saquon Barkley. He had breakaway speed like Chris Johnson. Combine that with elite vision as a runner and you get one of the all-time greats.
Sayers came into the NFL in 1965 and put up one of the best rookie seasons in NFL history. He rushed for 867 yards and scored 22 total touchdowns as a rookie. He followed that up with a career-high 1,231 rushing yards and 12 total touchdowns in 1966.
Sayers was named a First-Team All-Pro in each of the first five seasons of his career. He was on pace to become the greatest running back in NFL history, but injuries piled up and ended his career far too early.
Injuries forced Gale Sayers to retire from football at 28
In 1968, Gale Sayers was on pace for over 1,300 rushing yards. He averaged a career-high 6.2 yards per carry through nine games, but a devastating knee injury cut his dominant season short.
Sayers tore multiple ligaments in his right knee and missed the rest of the 1968 season. Incredibly, Sayers returned the following season and led the NFL in rushing again with 1,032 yards.
But tragedy struck again in the 1970 preseason. Sayers suffered another major injury, this time to his left knee. He played just two games in 1970 and two more in 1971. Sayers retired at the young age of 28.
Sayers was inducted into the Pro Football Hall of Fame in 1977. At 35, he was the youngest NFL player ever to be voted in.
Gale Sayers is battling dementia at the age of 77
Knee injuries were Sayers' biggest challenge as a player in the 1960s, but he's now facing his toughest opponent at the age of 77. Sayers has been battling dementia for seven years.
From 2013-2018, Sayers lost 30 pounds due to the disease. He has trouble recognizing old friends and communicating effectively, but he's still the "Kansas Comet" Bears fans know and love.
Last year Sayers attended the Bears100 celebration in a wheelchair, and he received the biggest standing ovation of any Chicago legend in attendance. Sayers was even emotional on stage, so the event must've brought back some old memories for the Hall of Famer.
Despite injuries derailing his legendary career and a crippling disease altering his life in the past decade, Sayers will always be remembered for his transcendent talent and bright personality.
All stats courtesy of Pro Football Reference