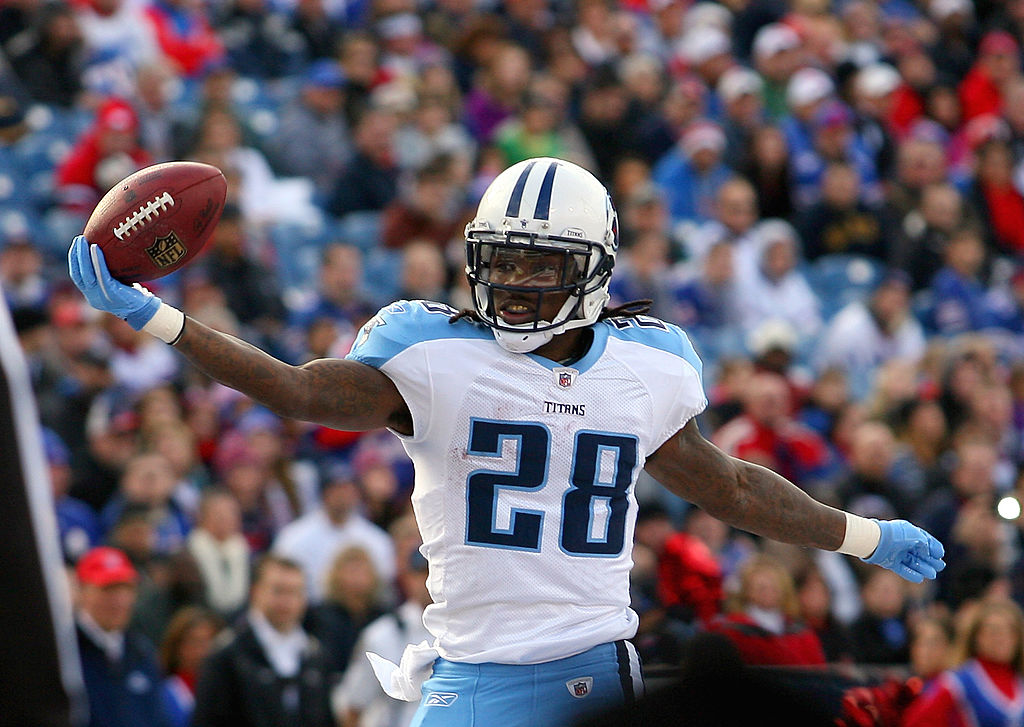 Chris Johnson Regrets Both Signing With the New York Jets and Being a Running Back
Former 2,000-yard rusher Chris Johnson says he wishes he never signed with the New York Jets as a free agent back in 2014.
Chris Johnson is one of seven running backs to rush for more than 2,000 yards in a season. In 2009, he put together one of the best seasons ever in just his second year in the NFL. Johnson spent his first six seasons in the NFL with the Tennessee Titans before becoming a free agent. Johnson had a few teams to choose from and he recently admitted he made the wrong decision.
Chris Johnson's career with the Tennessee Titans
Chris Johnson was a first-round pick of the Tennessee Titans in the 2008 NFL draft after a stellar collegiate career at East Carolina. Johnson had a very impressive rookie season, playing all but one game and making the Pro Bowl. He rushed for 1,228 yards and nine touchdowns.
Johnson followed up his rookie season with one of the best seasons ever by a running back. Johnson, a 5-foot-11 back known for his speed and elusiveness, racked up 2,006 yards in his sophomore season and included 14 rushing touchdowns and a pair of receiving TDs. He averaged better than 125 yards per game.
Johnson never quite duplicated that season, but rushed for better than 1,300 yards in his third season and then had 1,000-plus seasons in the final three years with the Titans before becoming a free agent. In six seasons with the Titans, Johnson ran for 7,965 yards and 50 touchdowns.
Johnson wishes he had picked the Ravens instead of the Jets
In a tweet on Tuesday, Chris Johnson, who spent six very productive years with the Tennessee Titans, said he regretted his free-agent decision of picking the New York Jets over the Baltimore Ravens in 2014. Johnson tweeted, "Just thinking to myself how did I pick going to Jets over Baltimore Ravens in 2014."
Johnson signed a three-year deal for $9 million with the New York Jets which did turn out to be a bad move. He ran for 663 yards and one touchdown in his first and only season with the Jets. He only started six games for them. Johnson was released with two years remaining on his deal.
White responding to fans from his Twitter post, Johnson said it was nothing against the Jets. He said they were already set at the position with Chris Ivory and Bilal Powell. He said it was just a bad decision on his part. Johnson then went on to play three uneventful seasons with the Arizona Cardinals.
Johnson said he also wished he played cornerback instead of RB
Back in October, Chris Johnson spoke about his career and said he wished he took the advice of former coaches who suggested he not play running back and give wide receiver or cornerback a shot.
"If I could do it all over again, when that coach came to me and told me, 'You should switch your position to receiver or cornerback,' I would have did it," Johnson said. He felt he would've made more money playing another position as he felt running backs are not as valuable in the NFL's passing league.
"I really believe in my head, if I played receiver or cornerback, I would still be playing in the league to this day and still making $15, $16 million a year at those positions," he said. Johnson also said he would make sure his twin sons wouldn't play running back either should they choose to follow their father's footsteps.