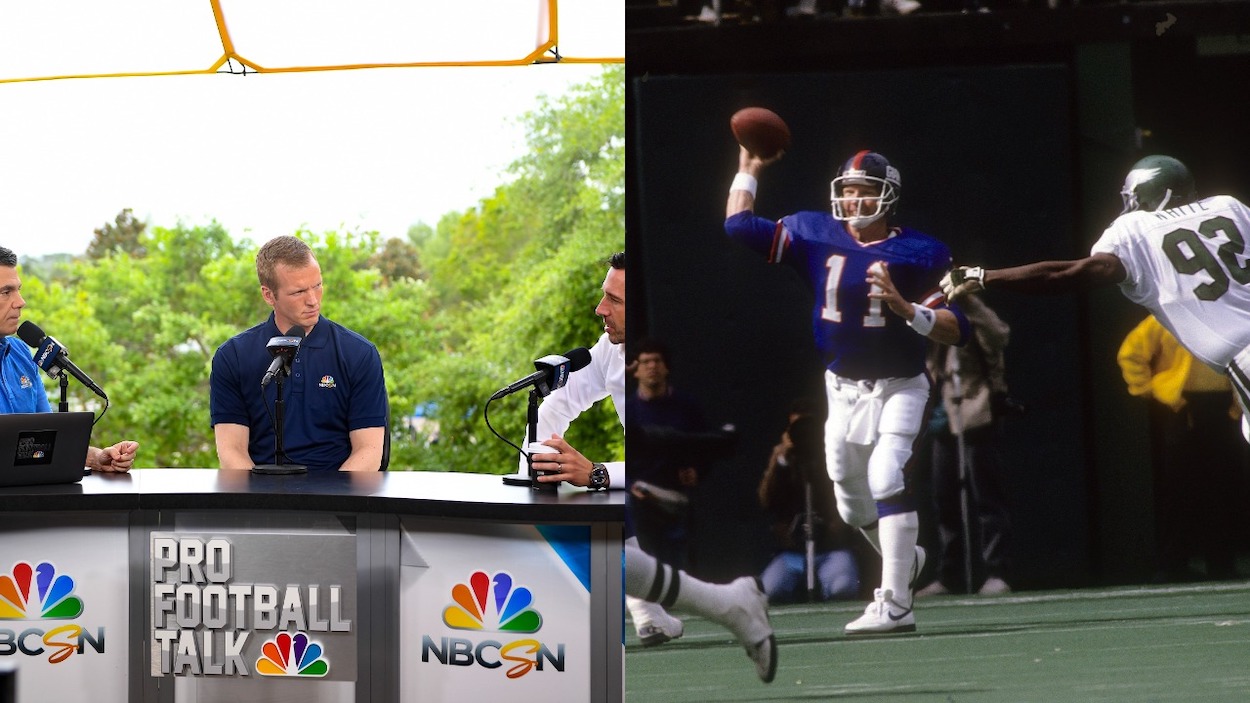 Chris Simms Says Today's QBs are 'Cheating' With New Safety Rules: 'Reggie White Used to Pick My Dad up and Just Drop His Weight on Him'
Chris Simms is sick of how QBs are protected in football today by rules that weren't there when his dad, Phil Simms, played in the league in the 1980s.
Plenty of NFL announcers complain about how referees protect the quarterback in football these days. However, most of these sports media types didn't play the position and don't have the family history that former NFL QB and current analyst Chris Simms does. His personal experience and football linage give his opinion on protecting QBs a little more weight. 
Chris Simms says the new QB safety rules have "gone overboard"
In the ACC Championship Game, Pittsburgh Panthers QB and top NFL prospect Kenny Pickett scored the opening touchdown on a 58-yard rushing touchdown. What made the run more noteworthy was that the college signal-caller used a fake slide to freeze defenders and break away for the end zone. 
Many lauded the play as a clever bit of deception by a crafty QB. Others, though, thought it took advantage of football's safety rules that protect the quarterback at all costs. 
NFL analyst Chris Simms falls in the latter category. 
Dan Patrick asked Simms what he thought about the play and responded: 
It makes me want to puke! I'm sick of it. I'm sick of all this protecting the quarterback crap. I mean, that's like cheating right there. It's cheating. It really is. I'm not mad at [Pickett]. Don't hate the player. Hate the game. I understand that. But to me, this is another just little snippet of information that we have that protecting the quarterback has gone just overboard.

Chris Simms on rules protecting QBs
The NFL — and football in general — making life on quarterbacks too easy is a common refrain, especially from ex-players. However, you don't often hear it from former signal-callers like Simms. 
Simms' opinion on QB safety rules may come from watching what his father dealt with in the 1980s. 
The former NFL QB also says the new rules are the key to today's longevity at the position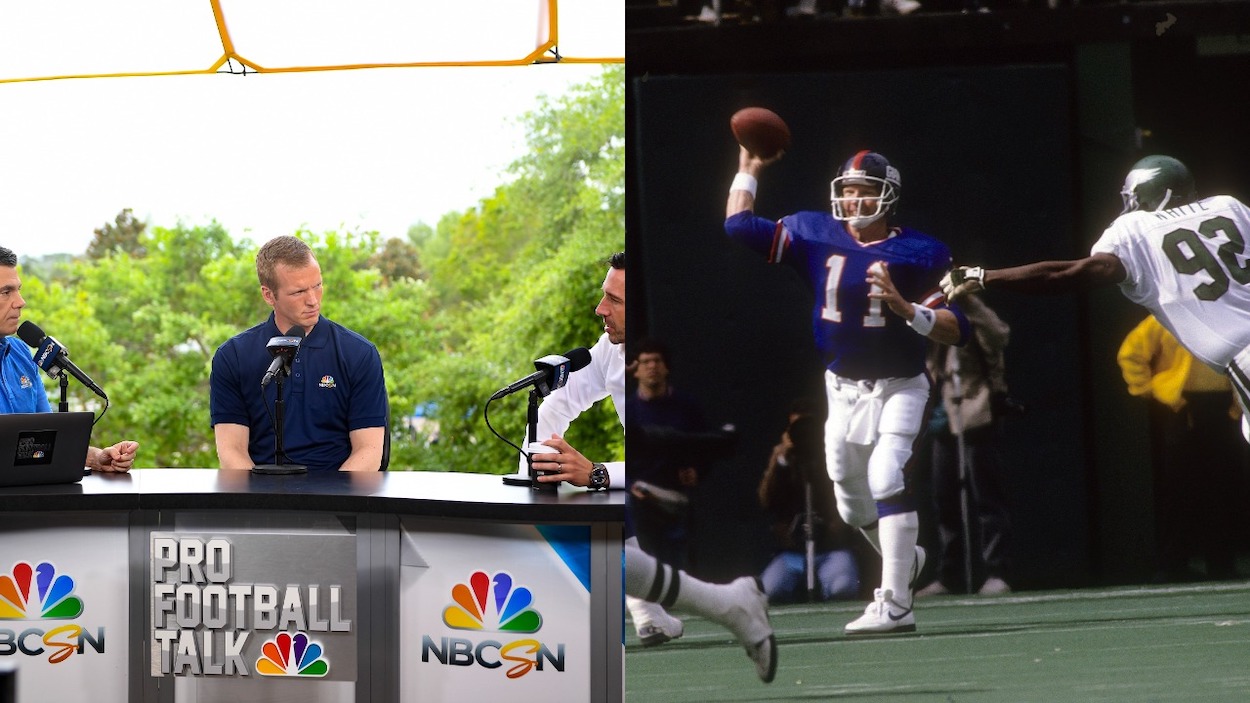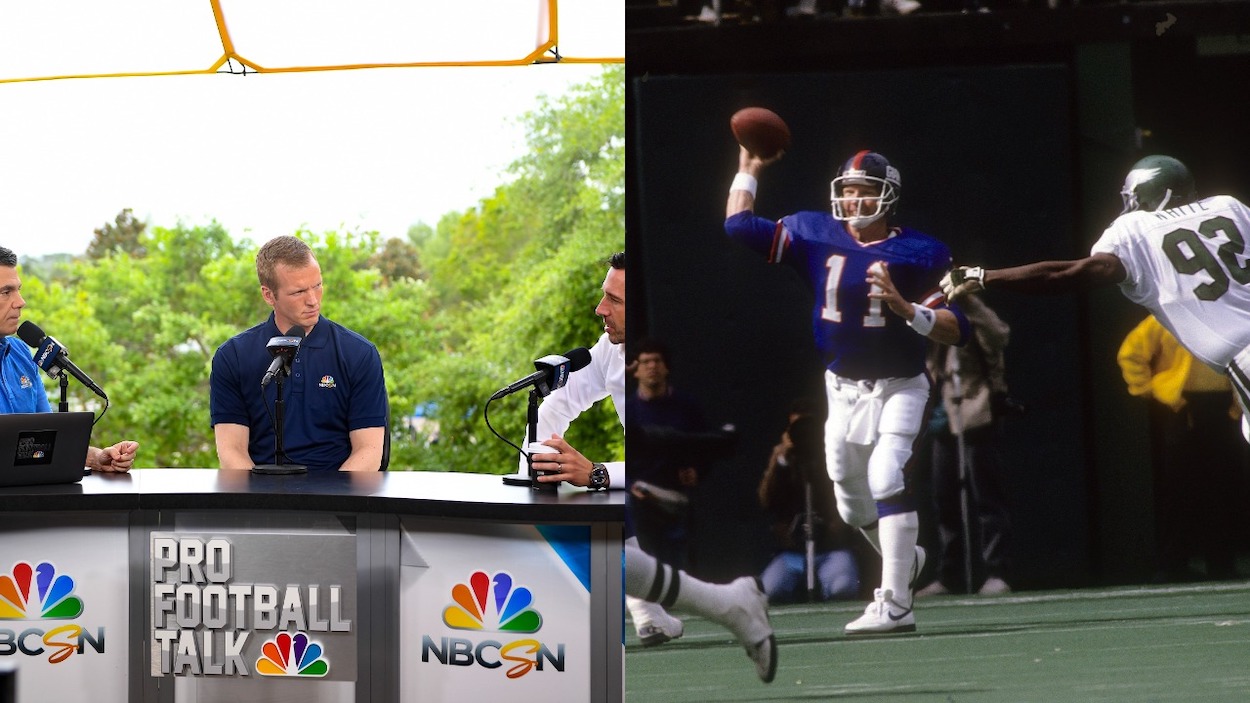 Chris Simms' father, Phil Simms, is a two-time Pro Bowl and two-time Super Bowl-winning quarterback who played his entire 14-season career with the New York Giants. 
Dan Patrick asked Chris if he thinks Tom Brady would still be playing at the age of 44 if the seven-time Super Bowl winner played in the NFL of the '70s before these new QB-centric safety rules came to be: 
No way! Or the '80s. Right! I would have a hard time thinking so. Just watching my dad, Dan Marino, John Elway, Troy Aikman, the beating they took. The deadweight rule — Reggie White used to pick my dad up and just drop his weight on him, and body slam him. And my dad's shoulders are still paying the price for that. He would have a little more cartilage. Might be able to throw the ball overhand to his grandkids, but he can't do that.  

Chris Simms on Phil Simms' NFL era
While it certainly sounds like Chris Simms has some family-related sour grapes, he's not entirely wrong. 
The game is much better with healthier quarterbacks, both from a product quality perspective and a human perspective. Having giant men take borderline cheap shots at the scrawniest (yet most important) players on the field is something that is good to get out of the game.
That said, some of the ticky-tack fouls called on QBs these days are getting out of hand. And, when you factor in that star signal-callers and pocket passers seem to get more calls than lesser players or running QBs, these calls need to be reined in a bit.
For Chris Simms, playing QB is the family business
The Simms family know quarterbacking. 
Dad Phil Simms grew up in Kentucky and attended Morehead State, not exactly a football powerhouse. Still, his 5,545 passing yards and 32 touchdowns in college, per MSUEagles.com, made him the No. 7 overall pick of the 1979 NFL Draft. 
Phil rewarded the New York Giants for taking a chance on a small school QB. In his 14 seasons in New Jersey, Simms threw for 33,462 yards and 199 touchdowns. He made the Pro Bowl in 1993 and 1985 and won Super Bowl trophies with Big Blue in 1986 and 1990 (although backup Jeff Hostetler won in '90 thanks to Phil's foot injury). 
Phil is not the only QB in his family, though. His son Chris took a much higher-profile path in college, attending the University of Texas. As a Longhorn, he appeared in 41 games and threw for 7,097 yards and 58 TDs. 
The Tampa Bay Buccaneers selected Chris in the third round of the 2003 draft, and he played five seasons as a backup in the NFL with the Bucs and Denver Broncos. 
Younger brother Matt played QB too at both Louisville and then Tennessee. In his two seasons in Knoxville, Matt threw for 1,779 yards and eight TDs in 18 games. The Simms name on the back of his jersey meant the NFL would give Matt a chance. 
He spent two seasons as an undrafted free agent with his dad's crosstown (or cross-stadium) rival New York Jets as well as with the Buffalo Bills and Atlanta Falcons practice squad. 
All stats courtesy of Pro Football Reference and Sports Reference