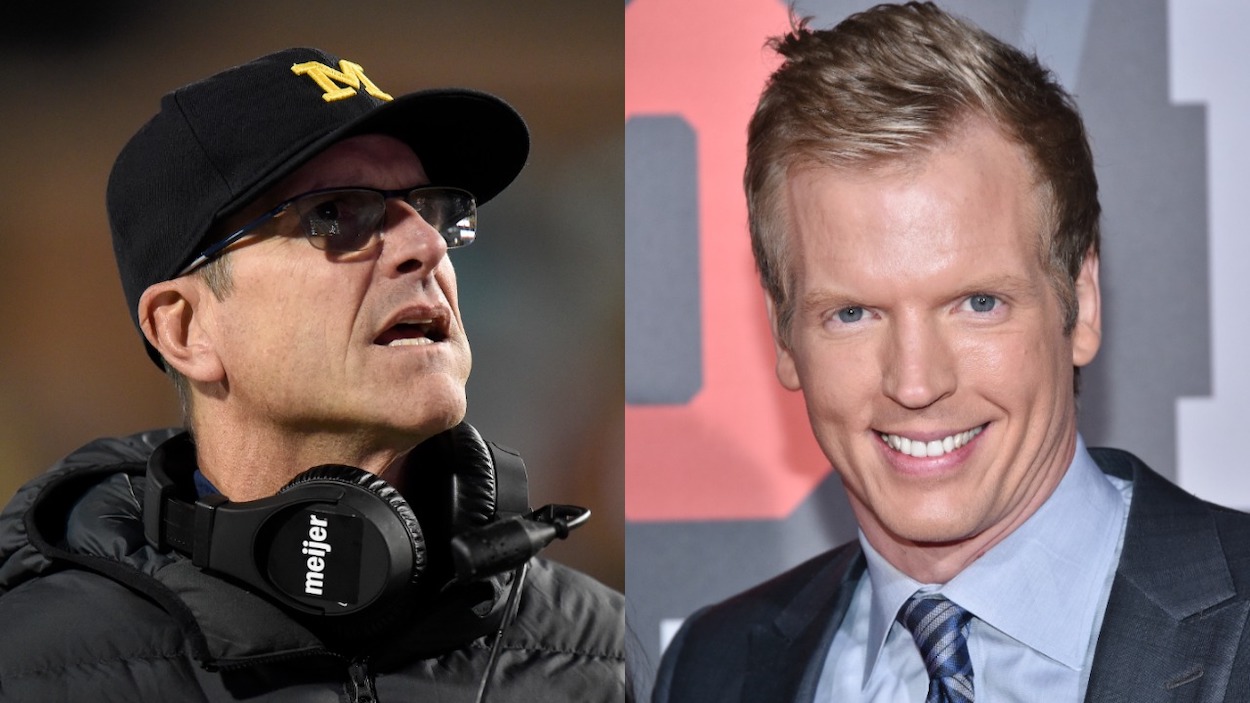 Chris Simms Shares Stories About Jim Harbaugh Being 'Such a Jerk' and Accuses the Michigan Coach of 'Fishing' for NFL Jobs
Former NFL QB and current analyst Chris Simms is not a fan of Michigan coach Jim Harbaugh and went off on him during an appearance on the 'Dan Patrick Show.'
Michigan coach Jim Harbaugh's name was connected to several NFL head coaching jobs at the beginning of the 2022 offseason. However, former NFL quarterback and current sports media member Chris Simms said he thinks those rumors came from Harbaugh and not NFL teams.
What's more, Simms also crushed the former San Francisco 49ers' head man, calling him a "jerk" on the Dan Patrick Show.
Jim Harbaugh's personality cost him in his last NFL stint
Jim Harbaugh's time as head coach of the San Francisco 49ers was hugely successful on the field. In his four seasons at the helm, he posted a 44-19-1 record. His team made the playoffs in three of his four seasons. The Niners twice lost in the NFC Championship Game and once in the Super Bowl.
Despite this success, Harbaugh's tenure ended following an 8-8 season in 2014.
Immediately following the last game of that season (a 20-17 win over the Arizona Cardinals, 49ers CEO Jed York announced that "Jim and I have come to the conclusion that it is in our mutual best interest to move in different directions."
The narrative surrounding Harbaugh's departure was that his intense personality rubbed nearly everyone in the organization the wrong way. Most of all, Harbaugh couldn't get along with York and general manager Trent Baalke.
For his part, Harbaugh accused the pair of "micromanaging" the franchise, per Sports Illustrated's Michael Rosenberg in 2017. He also admitted on Tim Kawakami's The TK Show podcast that the parting of ways came from the 49ers and was not mutual.
In 2022, rumors swirled that Harbaugh was in line for several NFL jobs. Most notably, the Las Vegas Raiders gig.
However, former NFL QB and current NBC analyst Chris Simms shared that he didn't think the Jim Harbaugh market was as hot as many believed. What Simms did believe, based on personal experience, was that Harbaugh is a "jerk."
Chris Simms crushed Harbaugh 'fishing' for NFL jobs 
Appearing on the Dan Patrick Show, former NFL QB/analyst/son of an NFL legend Chris Simms shared his thoughts on Jim Harbaugh personally and on the Michigan coach's name being connected to pro football head coaching jobs.
"I think he just wants to be in the NFL," Simms said. "He looks at the NFL and goes, 'That maybe suits me better.'"
Simms said he believes Harbaugh's "lifelong dream" is a Super Bowl more than a national championship. However, Simms also said he wasn't sure if there was really a lot of interest coming from the pro side. He posited that Harbaugh was the one pushing the narrative that he might head to the pros:
I don't hear anything from the people I know in football — and you know I know some people — that there's legitimate interest for Jim Harbaugh. To me, I think he's putting this out there. He's fishing. He would like to leave Michigan. I guess to go back to the NFL and just have that lifestyle.

Chris Simms on the NFL's interest in Jim Harbaugh
Additionally, it doesn't sound like Simms believes Harbaugh would be a good fit anywhere with his prickly personality.
Simms also branded the Michigan coach a 'jerk'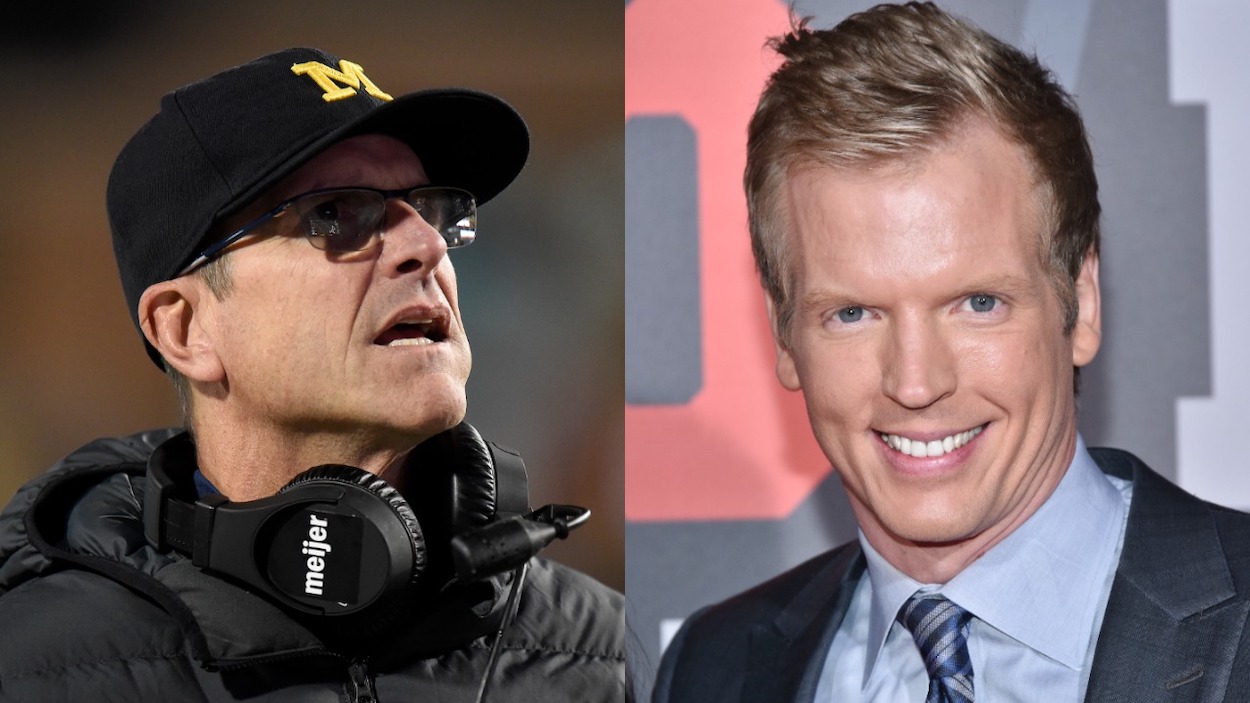 More damning than Jim Harbaugh's potential 'fishing' for NFL jobs was what Chris Simms shared about the coach personally.
The former Tampa Bay Buccaneers, Tennessee Titans, and Denver Broncos signal-caller said of the former Chicago Bears, Indianapolis Colts, Baltimore Ravens, and San Diego Chargers QB that one of the main reasons Harbaugh wanted to leave college is he didn't "have to talk and be weird in recruiting kids or parents because [he's] weird socially anyway."
Simms didn't stop there with his assessment of Harbaugh's personality.
"After three years, everyone gets sick of him," Simms continued. "He treats people not the greatest at times. He didn't treat me good. I don't like him. I root against him all the time. I don't like Jim Harbaugh."
After that diatribe, host Dan Patrick asked, "Wait, what did Harbaugh do to you?" Simms responded by sharing a story about his first media interaction with Harbaugh:
Oh, he was such a jerk. One of my first interviews I ever had with Bleacher Report, he stopped the interview after my third question because I asked him about Colin Kaepernick's contract situation. And he took off his mic and said, 'I'm done with this and tell your dad I said hi,' and that was it. So, from that point on, I root for Ohio State always and against Jim Harbaugh. Screw him.

Chris Simms on his personal experience with Jim Harbaugh
The son of New York Giants legend Phil Simms also said he knows "too many stories" from his former coaches to root for Harbaugh.
In true Dan Patrick fashion, the host asked Chris if he could "take" Harbaugh in a fight.
"Yes, I can," replied the Harbaugh-hating analyst. "He's a scary SOB, and he's weird, and he's tough, there's no doubt. But he's not taking me now at my age."
Whether he takes an NFL head coaching job in the future, let's hope that a Jim Harbaugh vs. Chris Simms pay-per-view bout comes to fruition anyway.
All stats courtesy of Pro Football Reference