Chris Streveler: 3 Things to Know About Jets Fans' New Favorite Folk Hero
A profile of New York Jets quarterback Chris Streveler.
New York Jets fans haven't had much to get excited about in a long time. It's been more than 50 years since the franchise won its lone Super Bowl. And since that Joe Namath-led squad shocked the world, the franchise hasn't been back.
They've taken four trips to the AFC Championship Game and have lost all of them, all but one by double digits, the exception being a five-point loss to the Pittsburgh Steelers following the 2010 season.
But that 2010 season didn't just mark the last time the Jets reached the AFC Championship Game but also the last time they reached the playoffs overall. They've had just one season over .500 since then, going 10-6 in 2015, so Jets fans have had to look for something to bring them a little joy in that time.
Over the last couple of years, backup quarterbacks seem to be that thing. In 2021, it was Mike White. But just one year later, White has been replaced by a new folk hero in journeyman Chris Streveler, who's dazzled in the preseason.
Streveler likely won't make the 53-man roster but could be signed to the practice squad as the fourth-string Jets QB behind Zach Wilson, Joe Flacco, and White. But you never know. He's given other teams a lot of good tape to watch, so maybe he lands elsewhere.
Once the regular season starts, we may not see Streveler take a single snap. But Jets fans — and football fans, in general — are enjoying what we're getting now. His path to the NFL certainly wasn't the typical journey but was fascinating nonetheless.
For those unfamiliar, here are a few things you may not know about Chris Streveler.
Chris Streveler played in the Big Ten before dropping down to the FCS
Upon graduating from Marian Central Catholic High School in Woodstock, Illinois, Streveler took his talents to the University of Minnesota, where he played both quarterback and wide receiver.
He appeared in five games as a redshirt freshman in 2014, completing four of 11 passes for 37 yards with a touchdown and an interception while adding 235 yards and a score on the ground. Streveler didn't attempt a single pass as a sophomore as he moved to receiver full-time during the season. He only appeared in three games in 2015, catching one pass for four yards.
Not getting a lot of opportunities with the Golden Gophers, Streveler dropped to the FCS and transferred to the University of South Dakota, where he finally got a chance to showcase his talents.
In 2016, he was voted Missouri Valley Conference Newcomer of the Year as he was the league's fourth-leading rusher and the sixth-leading passer in yards per game. The following season, the 6-foot-1, 210-pounder was named FCS Offensive Player of the Year and runner-up for the Walter Payton Award.
Streveler set 20 school records and five conference marks, including single-season passing yards (4,134) and total offensive yards (4,854). He threw 32 touchdown passes and scored an additional 11 on the ground.
Streveler led the Winnipeg Blue Bombers of the CFL to a Grey Cup title
After going unselected in the 2018 NFL Draft, Streveler signed with the Winnipeg Blue Bombers of the CFL.
He was initially set to be the team's third-string quarterback but moved up to QB2 when the backup abruptly retired. And when the starter went down in training camp, Streveler opened the 2018 campaign as QB1, although he dropped back down a few weeks later when the starter's injury healed.
But it's not as if he didn't still see the field. As I'm sure you've gathered, Streveler can run and was used as a rusher and a rotational passer.
When the starter went down the following season, Streveler again took the reins as QB1. This time, he held onto the job but sustained an injury of his own just ahead of the regular-season finale. But he returned in the postseason and played well, helping the Blue Bombers to a Grey Cup title, the team's first championship in 29 years.
In two seasons in the CFL, Streveler threw for 2,698 yards with 19 touchdowns and 19 interceptions, adding 1,167 yards and 22 scores on the ground.
The Jets are his fourth NFL team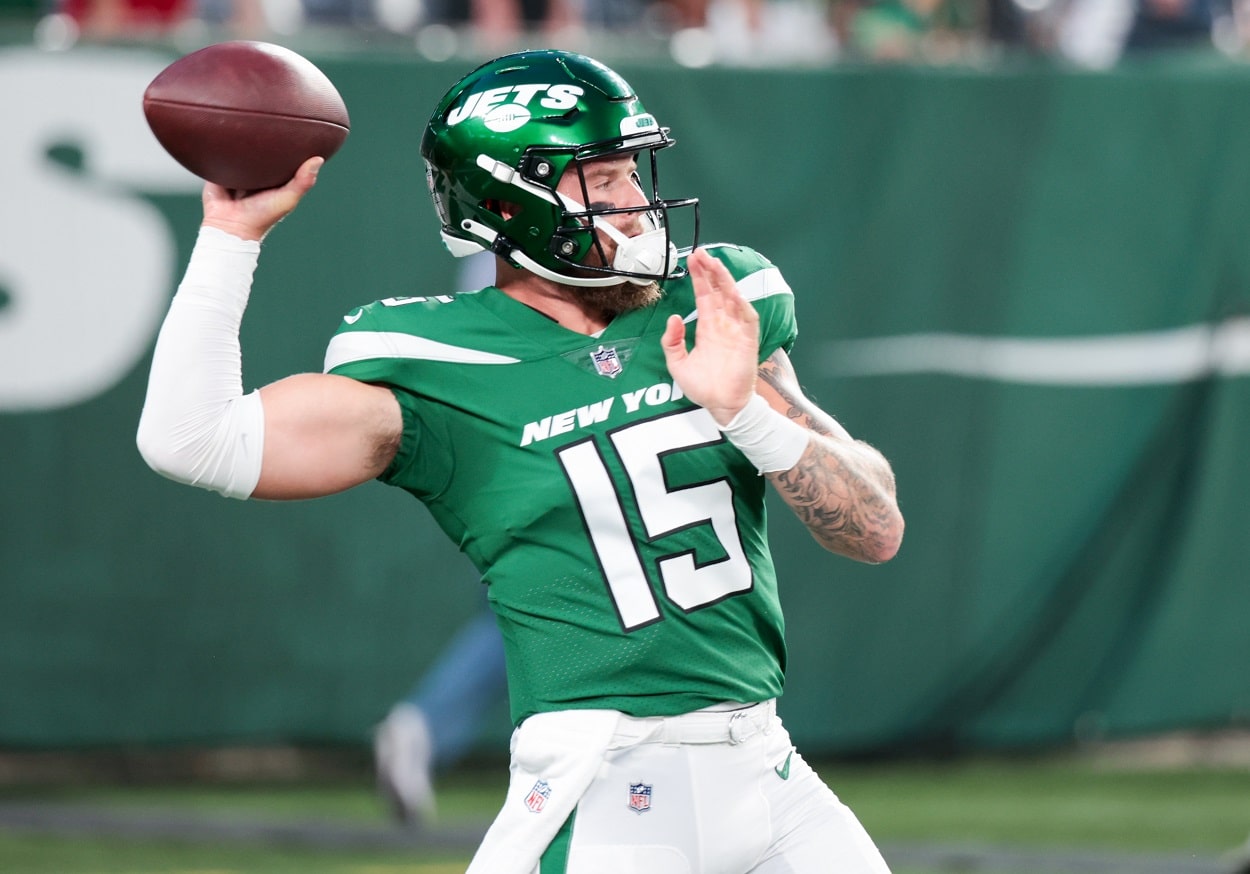 Streveler was released from his CFL contract on February 3, 2020, so he could pursue NFL opportunities and was signed the next day by the Arizona Cardinals.
Backing up Kyler Murray, he appeared in five games for the Cardinals during the 2020 campaign, completing 11 of 16 passes for 105 yards with one touchdown and one interception.
He came into the 2021 season as Arizona's third-string QB behind Murray and Colt McCoy. Streveler completed six of nine passes for 36 yards in two appearances but was waived midway through the year.
He wasn't unemployed long as he was signed to the Baltimore Ravens practice squad a week later. In February of this year, the Miami Dolphins signed him, but Streveler didn't even make it to training camp as he was waived in mid-May.
Just over two months later, the Jets picked him up, and Streveler has made the most of his opportunity with Gang Green, completing 70% of his passes in the preseason for 181 yards with three touchdowns against one interception, earning a 116.9 QBR, the highest of any Jets signal-caller.
He's also shown off those rushing skills, running for 64 yards on just eight carries.
Chris Streveler will know what his future with the Jets is in a few short days, but he's relishing the moment. Whether in New York or not, his NFL future will likely continue beyond this next week.
Stats courtesy of Sports Reference and CFL.ca
Like Sportscasting on Facebook. Follow us on Twitter @sportscasting19 and subscribe to our YouTube channel.