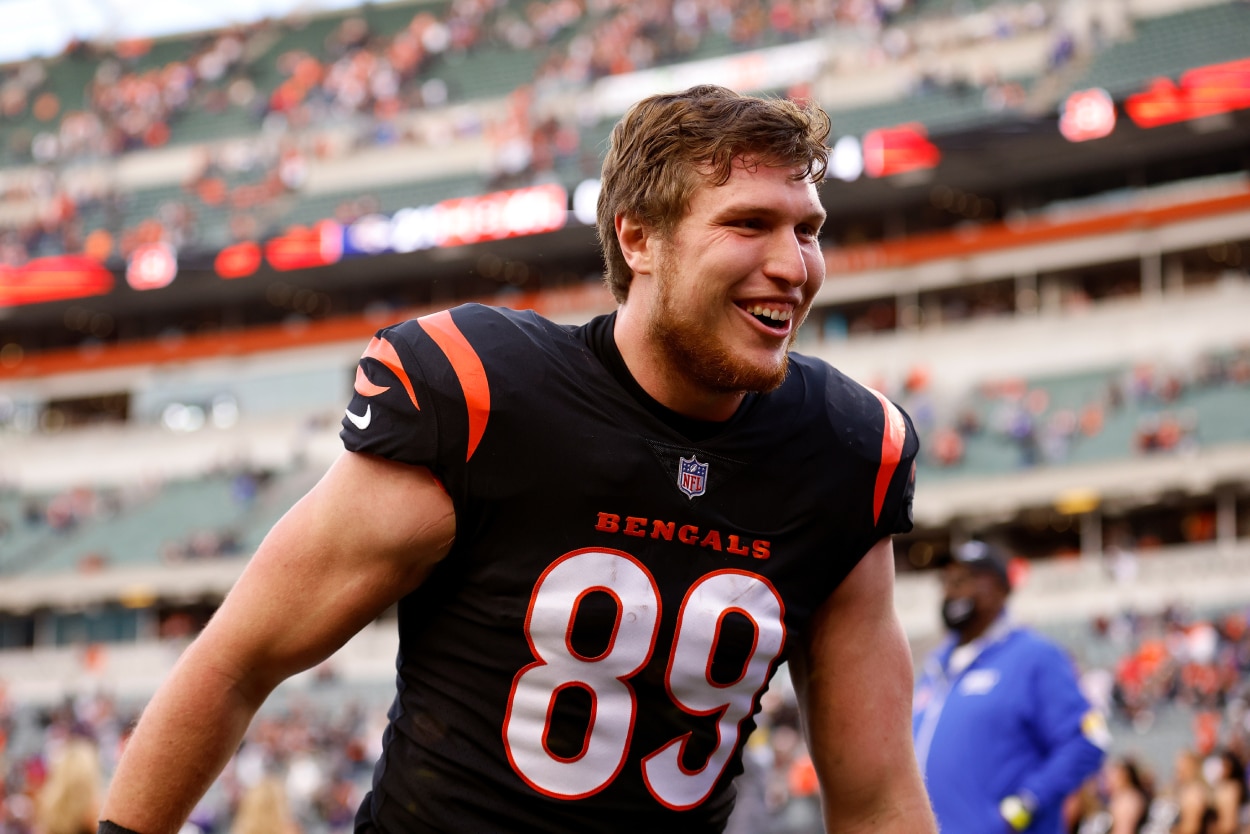 Cincinnati Bengals TE Drew Sample Looks to Help Cincy Finish the Job After Stunning Run to Super Bowl
Drew Sample and the Cincinnati Bengals are coming off a stunning run to the Super Bowl. However, they didn't finish the job. They now look to become Super Bowl champions.
The Cincinnati Bengals were not supposed to play in Super Bowl 56. I mean, did you predict them to go that far at the beginning of the 2021 NFL season? If you say yes, you're probably lying.
But now, after a crushing 23-20 loss to the Los Angeles Rams in which Cincy had the lead with under two minutes left, the team is looking forward to the upcoming year.
The Bengals want to finish what they set out to do.
"The job's not done," Cincinnati tight end Drew Sample said in a recent interview with Sportscasting. "The goal is to go back and hopefully win it because I'm jealous of those guys that were able to win it. A bunch of my college teammates are on the Rams, so the plan is to go back and win it this year."
Going from the bottom of the NFL to the top
Those college teams Drew Sample played for prior to his NFL tenure were pretty darn good. Not including his redshirt year, Sample's Washington Huskies went a combined 39-15 between 2015 and 2018. They even reached the College Football Playoff during the 2016 season but lost to the Alabama Crimson Tide in the semifinals.
However, wins didn't come as easily once Sample went to the Bengals in the second round of the 2019 NFL Draft. Cincinnati went 2-14 in 2019 and 4-11-1 in 2020.
But sometimes, losing can help a team hit the jackpot.
Cincy received the No. 1 overall pick in the 2020 NFL Draft, and it selected LSU quarterback Joe Burrow. The 2019 Heisman Trophy winner had an injury-shortened rookie campaign (resulting in the four wins), but Sample says the culture started changing as soon as Joe Shiesty moved to the Queen City.
"Ever since Joe got there, that was kind of the big turning point, where he came in and had that confidence about him and had that mentality," Sample said. "And we were able to sign a bunch of guys in free agency, and we've drafted really well. And [head coach Zac Taylor has] done a good job of getting the right guys in the locker room. I think we have a super connected team. It feels like a college team, where everyone knows each other, everyone's very connected. And I think that allows us to play better on the field."
That certainly seemed to be the case for the Bengals in 2021.
Of course, adding stars like wide receiver Ja'Marr Chase and pass rusher Trey Hendrickson also helped. The combination of it all resulted in an AFC North title and a run to the Super Bowl, something Cincinnati hadn't seen in decades. Prior to last season, the Bengals hadn't won a playoff game since the 1990 campaign, and their last Super Bowl appearance had come just two years before that.
"For us to be able to then go out and win that playoff game, to go to the Super Bowl, to have the city truly buzzing has been incredible," he said. "People come up all the time, 'Who Dey.' It's awesome to see. It just makes you feel so connected to the fan base."
Still, Cincy has never tasted a Super Bowl victory, but this could be the team to finally bring the Vince Lombardi Trophy home.
"I think this is the group that can do it," Sample added. 
Drew Sample and the Bengals are looking to have a big 2022 season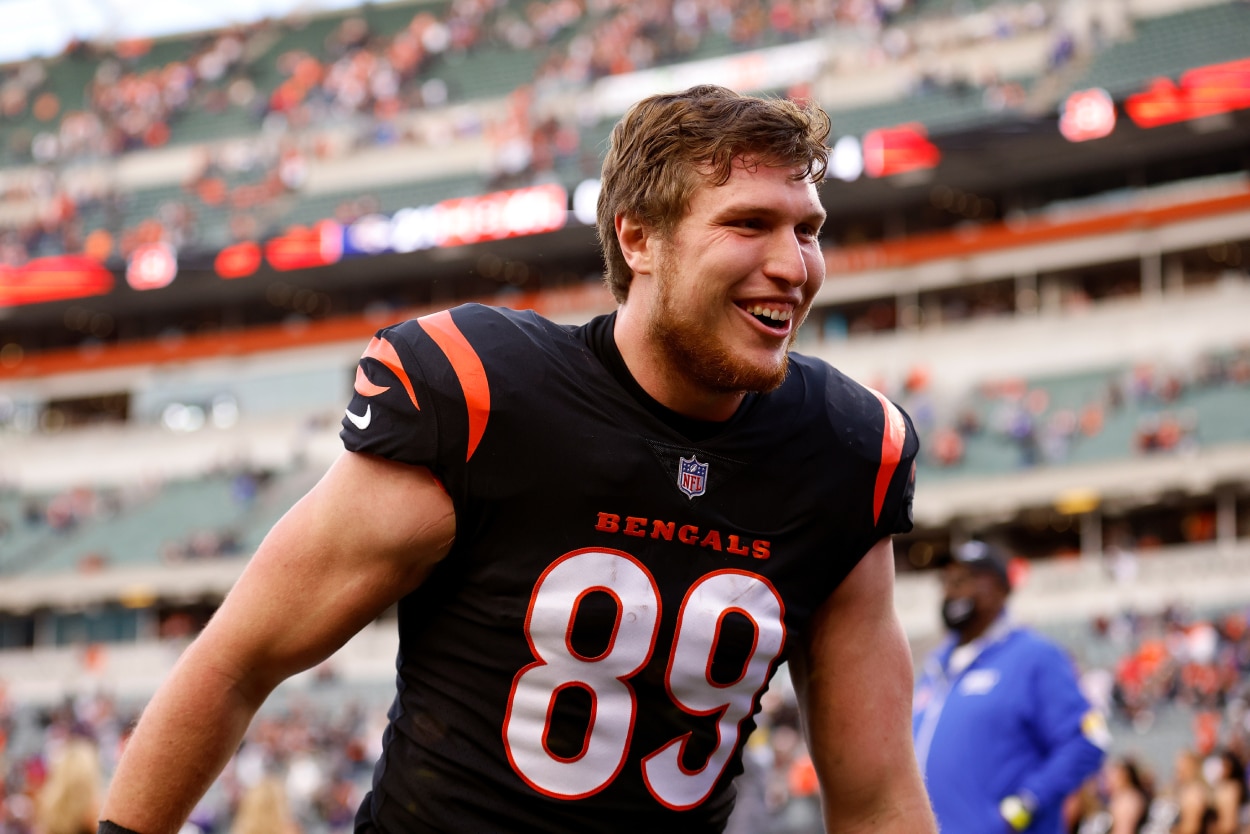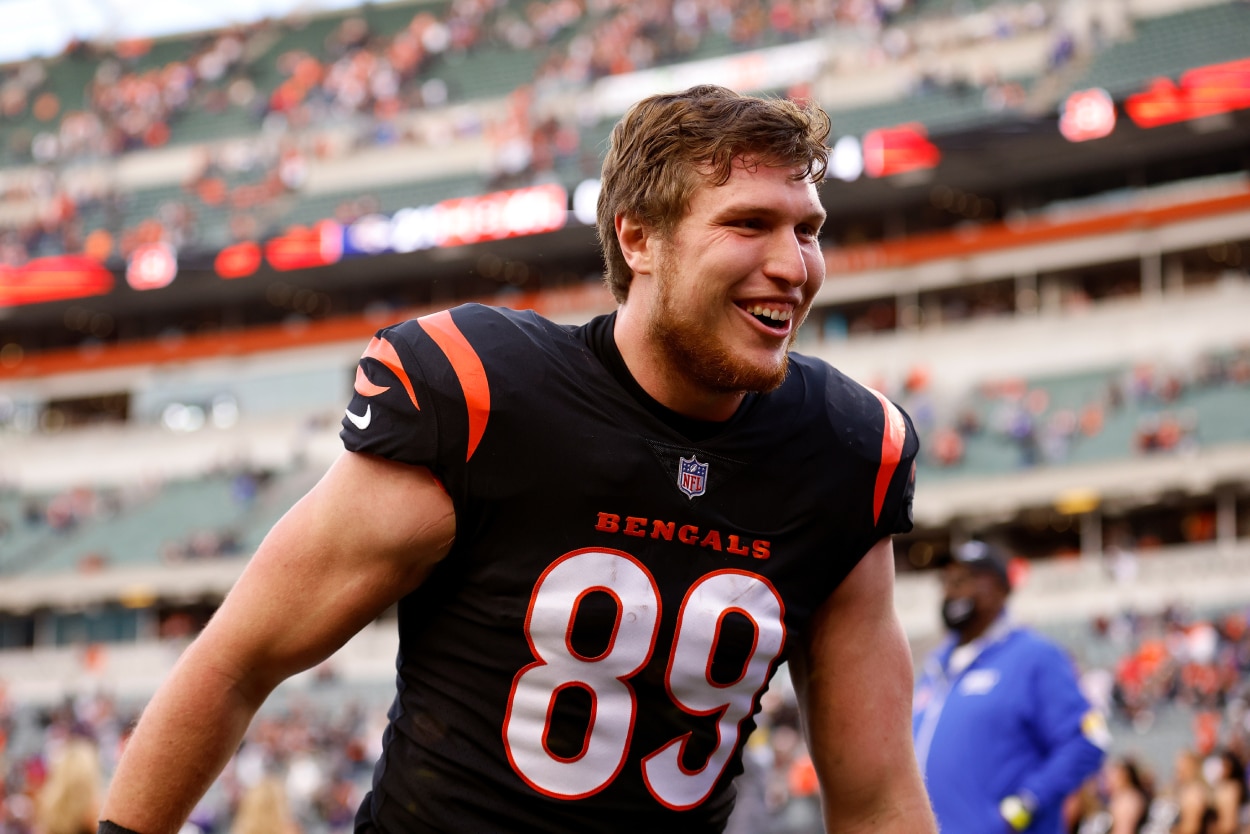 Last year, the Bengals were the NFL's Cinderella Story. Now, the team enters the 2022 season with a massive target on its back.
However, it should be able to weather any storm.
The front office has added several pieces this offseason to make sure of that, including multiple proven offensive linemen like La'el Collins, Alex Cappa, Ted Karras, and tight end Hayden Hurst.
"We know we're gonna get everyone's best shot, and we welcome that," Sample said. "… I think guys understand, it was great what we did last year, but this year it's a clean slate."
Individually, things may look a little different for Sample this year. His tight end room lost C.J. Uzomah but added Hurst. And he himself is trying to further prove that he can do everything at his position.
"I pride myself in being an all-around tight end, be able to go make the blocks versus the premier pass rushers in the run game and pass game, and go catch passes down the field," Sample said. "So, continuing to develop all parts of my game and really helping our offense however we can."
And how is he doing that with training camp and the season right around the corner? Sample is working with a nutrition company called NOW Foods.
"On top of what I do for football specifically, I've always been interested in the fitness world, in that realm," he said. "As a brand for me, I don't like to promote things that I don't use, or I don't truly believe in, so that's why this partnership has been so great so far, because it's really easy for me to talk about."
Sports dietitian Chris Mohr says NOW is different from other brands because of all the testing it conducts on its products.
"Over 16,000 tests per month, which is unheard of in the supplement industry," Mohr said. "… What's on the label is in the product. You're not going to get any unique ingredients that you don't plan to put in your body."
It's clear Sample will be ready once training camp arrives, and so will his Bengals teammates. It's time to finish what they set out to do last season.
"I think guys are excited to get back out there," Sample said, "get in that grind, trying to get better day to day before the season. And just take it game by game with the end goal being we want to get back to the Super Bowl and we want to win it."
Like Sportscasting on Facebook. Follow us on Twitter @sportscasting19 and subscribe to our YouTube channel.