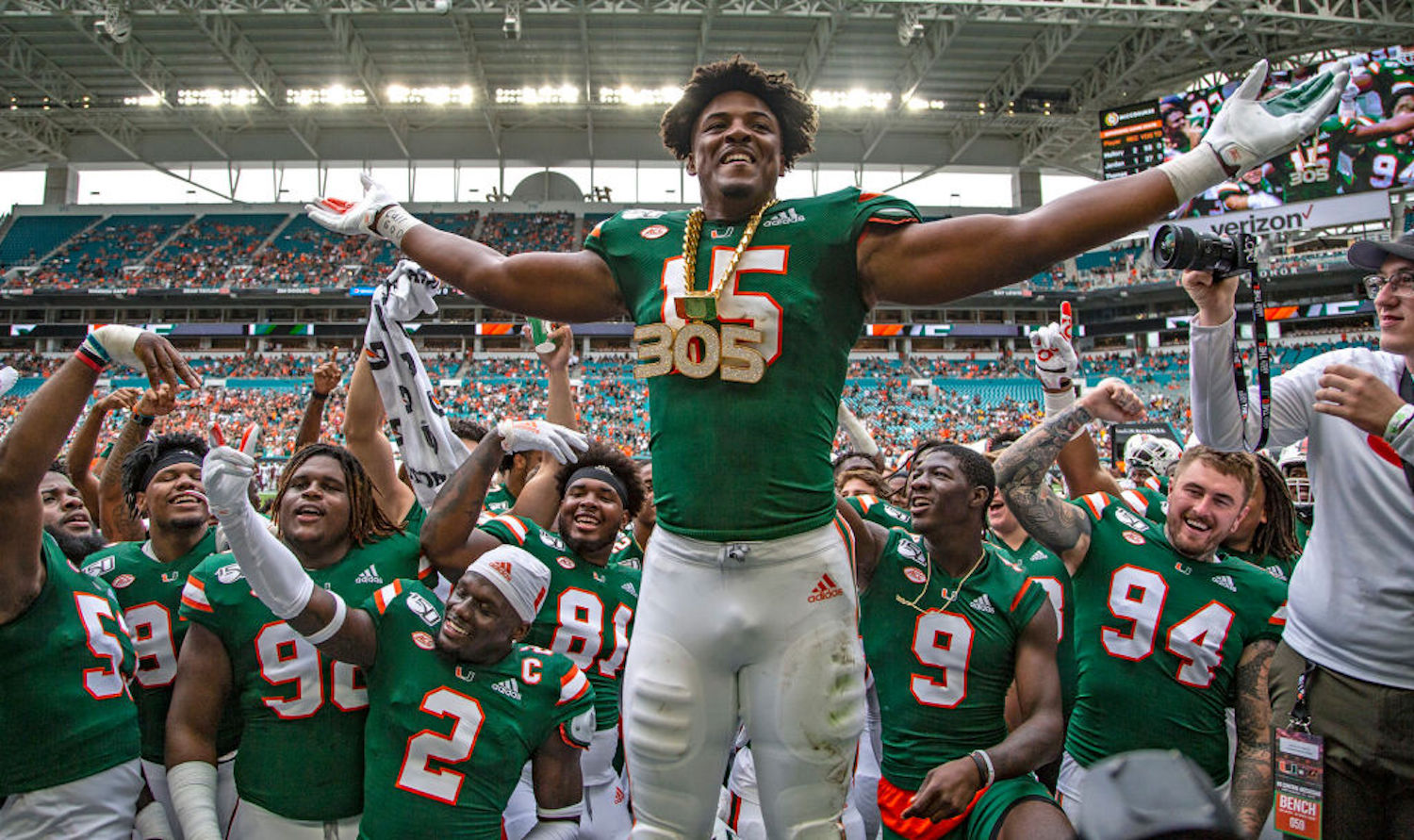 Clemson Finally Has a Worthy ACC Challenger It Should Be Afraid Of
Clemson has dominated the Atlantic Coast Conference for years, but the Tigers finally have an ACC foe they should be scared of.
Clemson has held a stranglehold on the Atlantic Coast Conference for half a decade. The Tigers have won five straight ACC title games under head coach Dabo Swinney, and the last three weren't particularly close.
Clemson has basically been given a free ticket to the College Football Playoff five years in a row because of the lack of competition in the ACC. No team has really come close to challenging Clemson for the conference title as of late, but that might change in 2020.
Clemson has dominated the ACC in recent years
There hasn't been a more dominant team in any conference than Clemson has been in the ACC over the last five years. The Tigers have only lost five total games during that span, and they haven't lost in the regular season in their last 31 games.
Clemson has reached the ACC Championship game in each of the last five years. In those games, the Tigers outscored their opponents by a combined 229-104. They're only getting more dominant as each season passes, too.
In the last three title games, Clemson outscored their opponents 142-30. Swinney's group trounced Virginia, 62-17, in last year's championship game.
The ACC has offered little resistance with Florida State and other historically successful programs struggling of late, but one team has established itself as a real contender this season.
Miami has looked impressive so far this season
There are a lot of unknowns surrounding the 2020 college football season, but one thing is clear through the first few weeks — Miami is back.
'The U' has been underwhelming in the last few seasons, but they look like a real CFP contender so far this year. Miami grabbed the most coveted transfer in Houston's D'Eriq King in the offseason, and he's been everything the Hurricanes expected and more.
King has led Miami to a 3-0 start to the season, including a 52-10 romp of Florida State on Saturday. The Hurricanes are historically a defense-first team, but this group is winning with an explosive offense. They've put up 52, 47, and 31 points in their first three games.
King has been stellar so far, throwing for 733 yards and six touchdowns with no interceptions. Running back Cam'ron Harris has also been a pleasant surprise, as he's rushed for 311 yards and five touchdowns in 2020.
Miami is Clemson's biggest threat to the ACC crown
Clemson has dominated the ACC for so long partly because no teams in the conference can keep up with their elite offense. Swinney and company have averaged 45.8 points in conference title games over the last five years. Not many teams in the country can keep up with that level of scoring, let alone ACC teams.
But this year, Miami might finally have the offensive firepower to hang with Clemson. The Hurricanes have a real chance to knock off the five-time champs, and they'll get their shot in the regular season.
Miami is scheduled to play Clemson on Oct. 10. The team will have two weeks to prepare for the Tigers, so you can't ask for a better opportunity to knock off No. 1.
All stats courtesy of Sports Reference