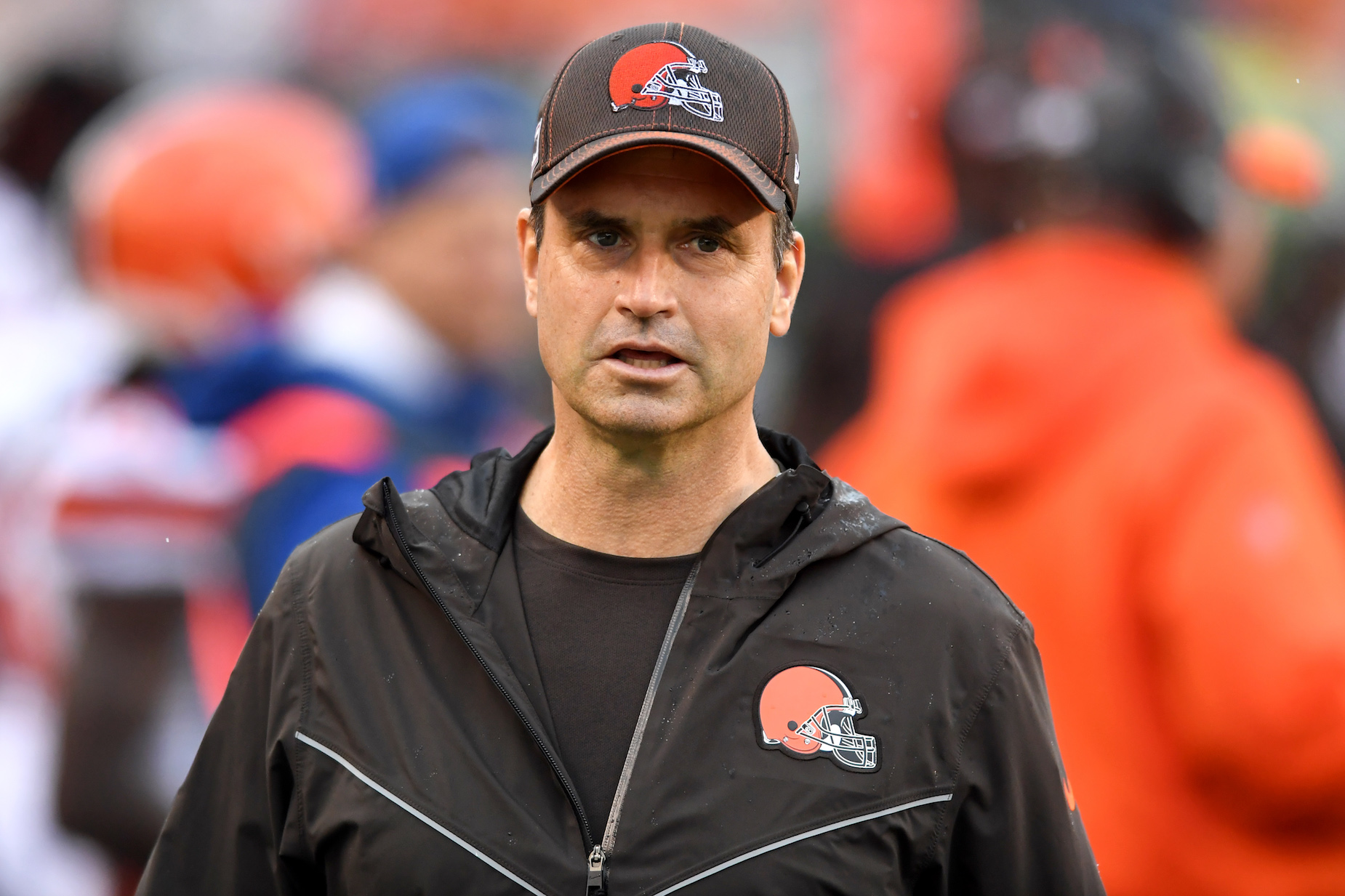 Cleveland Browns Acting Head Coach Mike Priefer Reportedly Made Hateful, Homophobic Comments at His Previous Job
Cleveland Browns acting head coach Mike Priefer made hateful, homophobic comments during his time with the Minnesota Vikings.
Sunday, January 10, will be a big day for the Cleveland Browns. For the first time in what feels like an eternity, the team will be taking the field during the NFL playoffs, facing the Pittsburgh Steelers on Wild-Card Weekend. Thanks to COVID-19, though, they'll be without head coach Kevin Stefanski; Mike Priefer will be running the show in his place.
While Mike Priefer has never officially been a head coach before, this is far from his first rodeo. All of that experience, however, does come with a catch. During his time with the Minnesota Vikings, he made hateful, homophobic comments and was even suspended for three games for his actions.
Mike Priefer joined the Cleveland Browns with plenty of NFL experience
While teams have become a bit more receptive to fresh ideas in recent years, NFL coaching is still, by and large, an old boys club with teams generally preferring to hire experienced candidates who have already worked in the league. By the time he joined the Cleveland Browns, Mike Priefer had plenty of professional experience.
Priefer attended the United States Naval Academy and got his start as a graduate assistant for the Midshipmen. After two seasons in Annapolis, he took jobs with Youngstown State, VMI, and Northern Illinois before getting a shot in the NFL coaching ranks.
In 2002, Priefer joined the Jacksonville Jaguars as an assistant special teams coach. While he only lasted one season in Florida, he landed on his feet and took the same role with the New York Giants.
After his time in New York came to an end, Priefer took the next step up the ladder. He then headed to Kansas City to become the Chiefs' special teams coordinator; the coach also led the unit for the Denver Broncos and Minnesota Vikings. In 2019, he joined the Cleveland Browns in the same position.
Taking charge of the Cleveland Browns with Kevin Stefanski out
Based on that career, it's safe to assume that Mike Priefer has dealt with plenty of NFL situations during his time on the sidelines. Come Sunday, however, he'll be facing a new one: serving as acting head coach during a playoff game.
Kevin Stefanski, who normally takes charge of the Cleveland Browns, tested positive for COVID-19, rule him out for Wild-Card Weekend. That means Priefer, who stepped in as head coach for one game during his time with the Vikings when Mike Zimmer underwent eye surgery, will be the acting head coach on Sunday.
For the most part, though, Priefer plans to run things as Stefanski normally would. While he will give a pregame speech, things should follow a standard script after kickoff.
"I'm going to try to be an extension of Kevin," Priefer explained, according to Tony Zarella of 19 News. "You guys know my background with him. I understand situational football, so that part won't change, but I'm going to try to do exactly what Kevin would want in those situations."
Mike Priefer made homophobic comments during his time with the Minnesota Vikings
Purely from a football perspective, Mike Priefer has a pretty solid resume. During his time in Minnesota, however, there were apparently some issues away from the field.
In a Deadspin essay, former Vikings punter Chris Kluwe explained that he felt he was fired for his outspoken support of same-sex marriage. Within that piece, he detailed how Priefer and other members of the Vikings staff acted behind the scenes.
"Throughout the months of September, October, and November, Minnesota Vikings special-teams coordinator Mike Priefer would use homophobic language in my presence," Kluwe wrote. "He would ask me if I had written any letters defending 'the gays' recently and denounce as disgusting the idea that two men would kiss, and he would constantly belittle or demean any idea of acceptance or tolerance. … Mike Priefer also said on multiple occasions that I would wind up burning in hell with the gays, and that the only truth was Jesus Christ and the Bible."
The worst comment, though, apparently came during a specialist meeting.
"As we sat down in our chairs, Mike Priefer, in one of the meanest voices I can ever recall hearing, said: 'We should round up all the gays, send them to an island, and then nuke it until it glows," Kluwe recounted. "The room grew intensely quiet, and none of the players said a word for the rest of the meeting. The atmosphere was decidedly tense."
The coordinator was punished for his homophobic comment
Kluwe's piece was published in January 2014; in July, the Vikings announced that Priefer had been suspended and would be required to complete "specialized workplace training that will include an emphasis on the managing of diversity and sexual orientation."
"The Minnesota Vikings have suspended special teams coordinator Mike Priefer for three games after an independent investigation of the organization into claims by former punter Chris Kluwe showed that Priefer made a homophobic remark during the 2012 season," an ESPN report at the time explained. The coach initially denied making the 'nuke' comments but, eventually said he "was not going to disagree" with long-snapper Cullen Loeffler's report about the incident.
When the Cleveland Browns take the field on Sunday, there will surely be plenty of talk about Mike Priefer stepping up, acting like a leader, and other coaching cliches. His actions with the Minnesota Vikings, however, tell a different story.