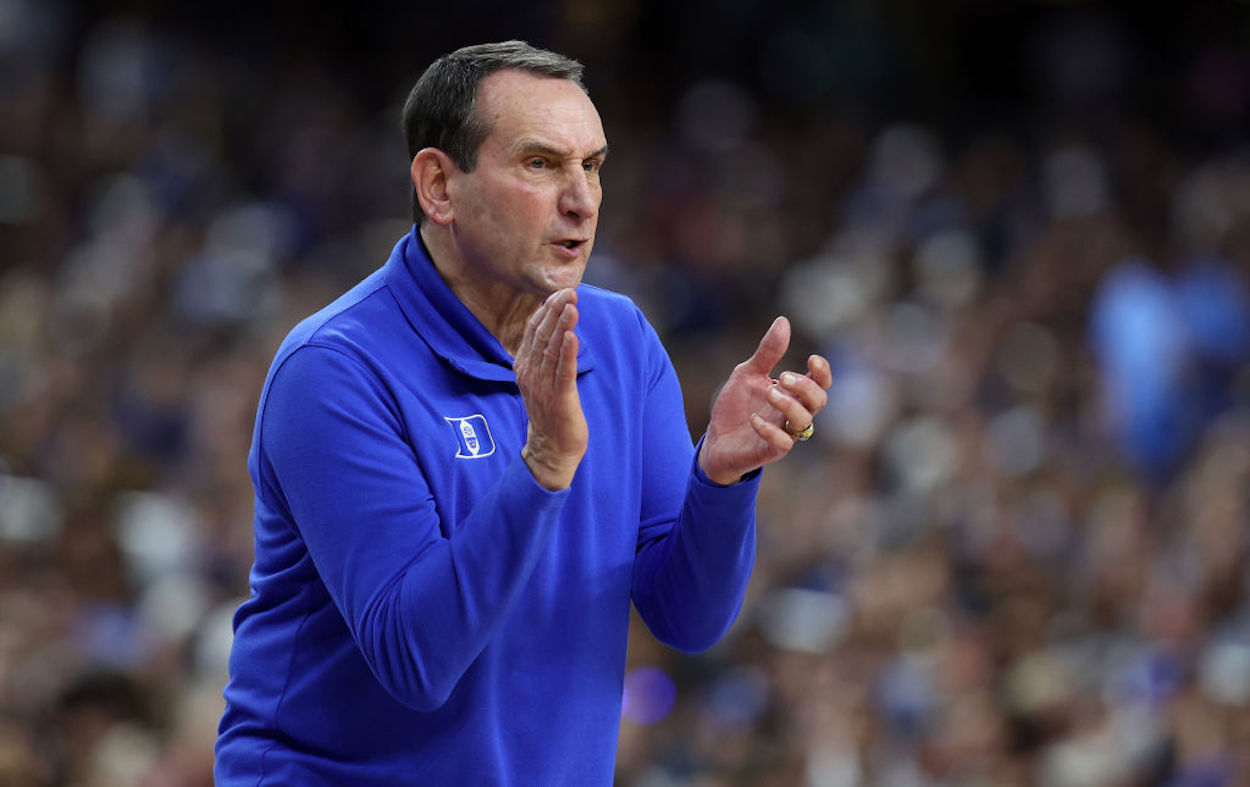 Coach K May Have Revealed the Key to a (Relatively) Successful 2021-22 Duke Season
While Mike Krzyzewski's final season at Duke didn't have a fairy tale ending, it still highlights an important lesson about leadership.
While the fairy tale ending didn't quite materialize, Coach K had a pretty successful final season. The Duke Blue Devils went 32-7, winning the ACC regular-season title. They also reached the championship game of the ACC Tournament and, during March Madness, made it as far as the Final Four. Losing to North Carolina may sting, but, on the whole, it's hard to complain about the campaign.
In a recent interview, Mike Krzyzewski revealed what could have been the key to his final outing as Duke head coach. For a man who has seen and done it all, delegating made all the difference.
Coach K reaped the rewards of handing over some control during his final season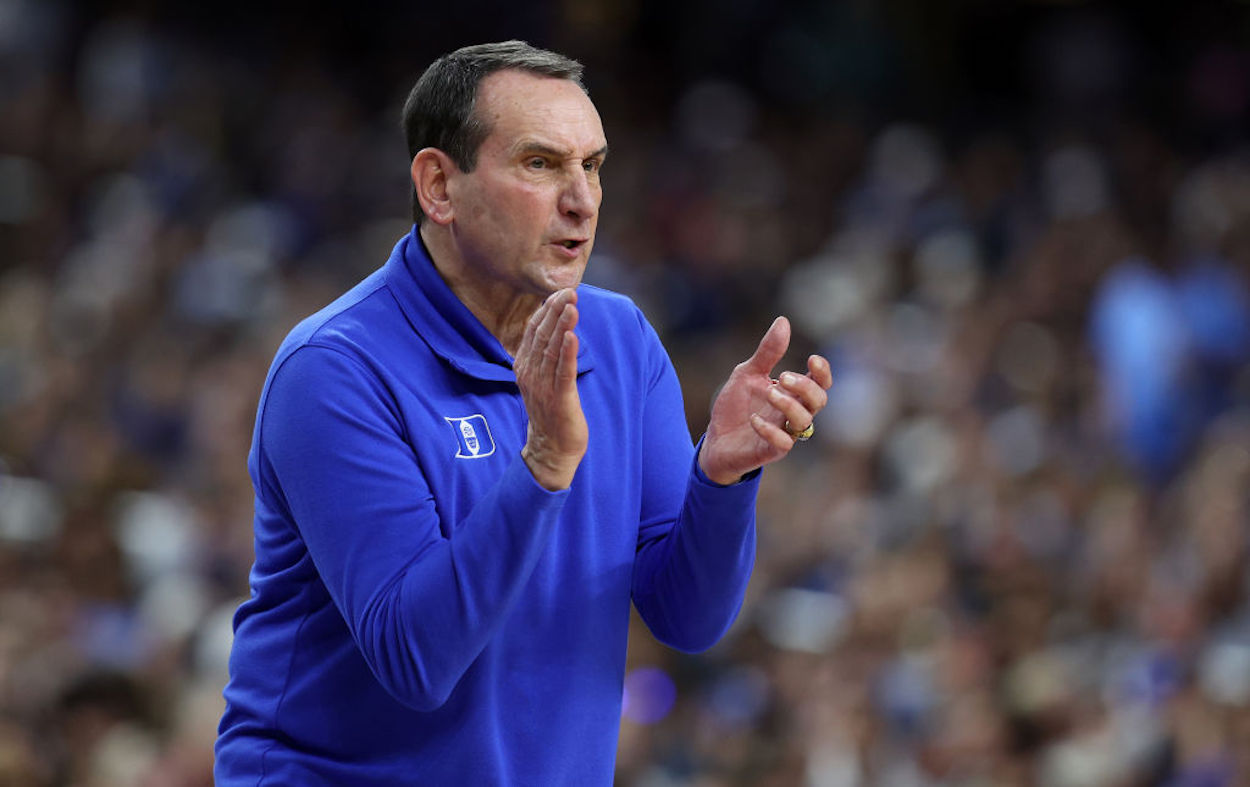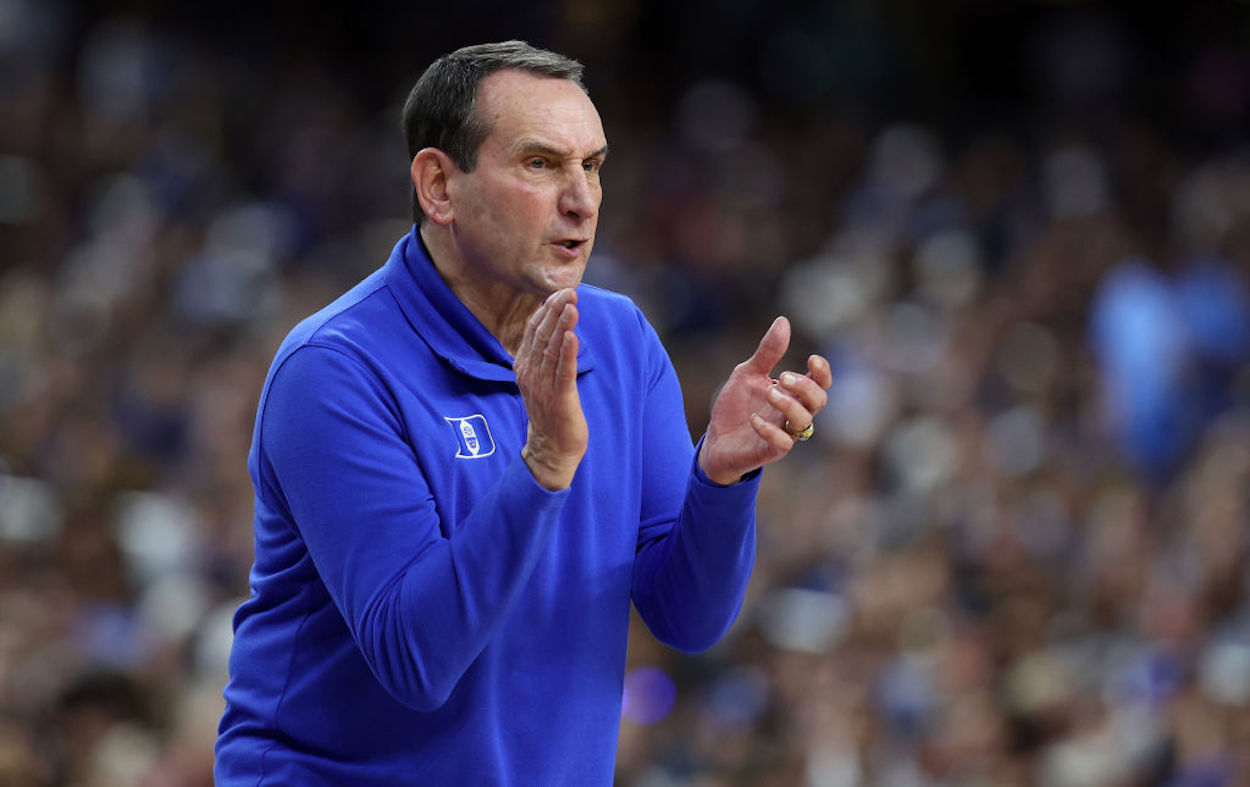 Based on everything we know of Krzyzewski and his marathon film sessions, the head coach isn't ever one to slack off. During his final season, however, he was able to hand off some responsibilities.
Since Jon Scheyer was already confirmed as Duke's next head coach, he took charge of the recruiting; it simply didn't make sense for Coach K to be hands-on when he wouldn't be involved beyond this season. While that presumably felt strange — 40-plus years of doing anything surely forms some pretty strong habits — it allowed the living legend to focus his efforts elsewhere.
"Krzyzewski, who coached his last game two weeks ago, won 139 games in his seventies. Part of the reason, he said, was because he expanded authority for his coaching staff," Peter King wrote in his NBC Sports column. "This year, for instance, he gave recruiting authority almost entirely to the coach who would replace him, Jon Scheyer. That kept Krzyzewski fresh and allowed him more time to prepare for games than in any season he remembered."
While you could argue that extra effort didn't mean much during two games against North Carolina, it is worth noting that Duke's team was rather young. It's possible that Krzyzewski's extra prep time helped mitigate some of that inexperience, especially as his freshman grew into their roles.
Coach K also provided some insight into how, as he gained more experience, he was able to back off and allow others to step up. It's not clear if he was specifically speaking about the 2021-22 campaign, but the answer does seem to dovetail with the idea of allowing Scheyer to take some responsibilities off his plate.
"As I got older," he explained, "I allowed more input of expression of teaching from my staff, from the people around me. I was able to see and feel their hunger. I allowed them more opportunity, but the person who got more was me. Because I got more of them. … Their ownership of what you're doing is deepened. The best way to get ownership is to use someone's ideas or give them the ability, the responsibility. Like in talking to my team and how you, before a game, set up a scout. As I got older, I allowed more and more, more and more. I learned more. It's a different music, a little bit different music that occurs."
While that can sound like somewhat of a PR answer, we do have at least one instance when Krzyzewski followed his own advice. During Duke's NCAA Tournament date with Texas Tech, the Blue Devils dropped into a zone. When the game was on the line, though, Coach K listened to his players' request to return to man-to-man. They, of course, won that evening to keep the season alive.
Coach K's perspective is something worth remembering, especially in modern sports
As I mentioned above, it's easy to read Krzyzewski's comments rather cynically. As someone who's built his entire brand around being a good leader, he couldn't come out and say that he always knows best. If you take him at face value, though, his comments provide a good reminder about both sports and life.
On the athletic side of things, modern sports have become incredibly star-driven. In the NBA, it's impossible to compete for a championship without at least one top-tier talent on your roster. On the NFL side of things, just consider the AFC; there's no way you're making it out of that conference without a star quarterback, if not an entirely stacked roster.
Both from a roster-building perspective and a fan's perspective, it's easy to get caught up in that. The team is always one star away. When you have that star, all they need to do is snap their fingers, and everything will be OK. Right?
That, of course, isn't always the case. While talent is an important factor, it's not always enough to overcome match-ups, tactical wrinkles, and, if nothing else, the ebb and flow of fate. Sometimes a star simply can't do it by themself.
At the risk of getting a bit more tangential, we can probably all stand to remember Krzyzewski's perspective. It's easy to assume that we know better or simply have the answers. That, however, eliminates the possibility of collaboration, learning from others' perspectives, and, when push comes to shove, potentially achieving the best possible result.
To take it back to sports, let's revisit that huddle at the end of Duke's Sweet 16 game. Did Coach K have the authority and, at least in theory, the knowledge to dictate how his Blue Devils should see out the game? Of course. But rather than ruling with an iron fist, he trusted his players and listened to their perspective. That allowed him to make the best possible decision and get the W.
At the end of the day, that's something that every sports fan can understand. Even if delegating and collaborating may feel a bit fluffy, think of it as doing whatever it takes to keep chasing a metaphorical championship.