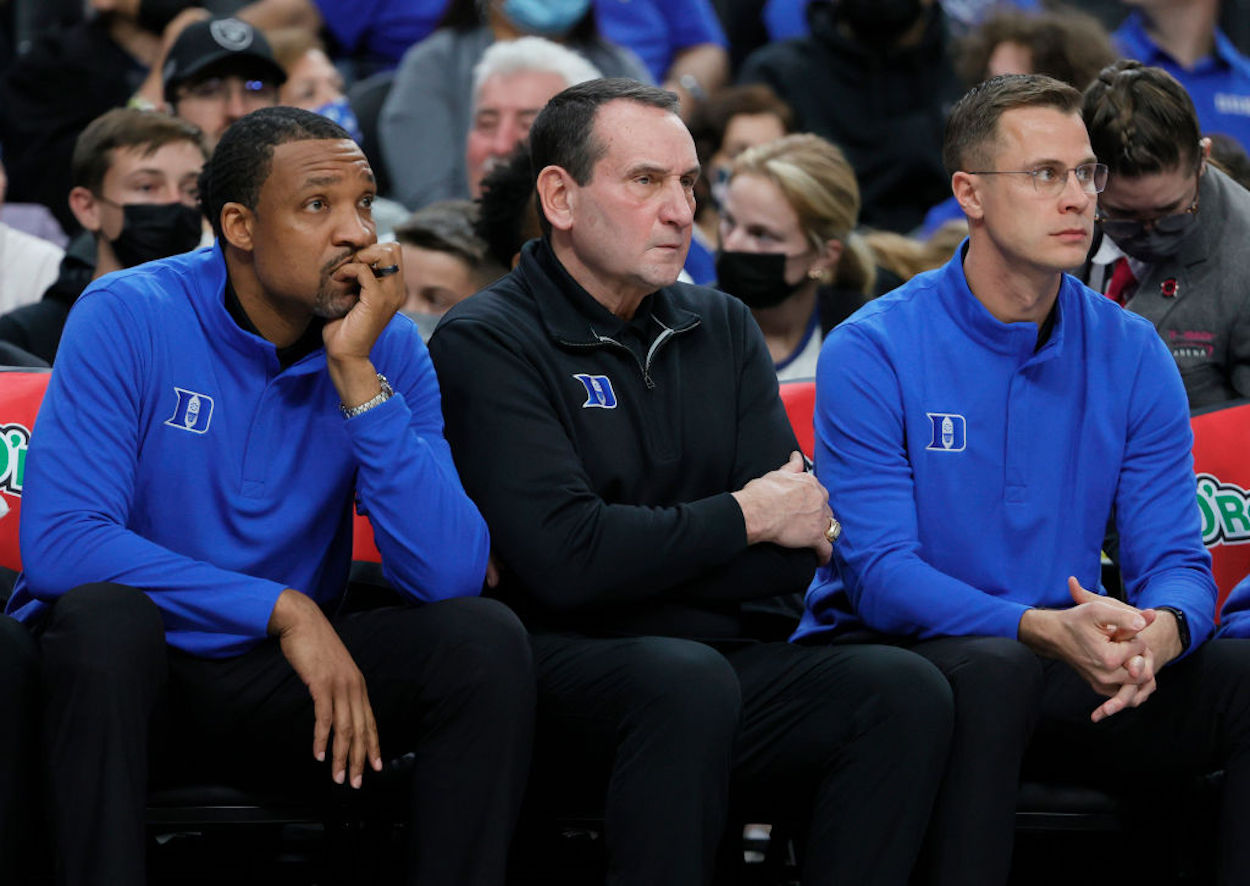 Coach K's Assistants Reveal How the Living Legend Prepares for a Duke Game
Coach K hasn't won more than 1,000 Duke basketball games by accident. As you might expect, a great deal of work goes in behind the scenes.
From afar, coaching can look like a pretty sweet gig. While there's some work to be done behind the scenes, it's not exactly digging ditches. You run a few practices, draw up a handful plays, and, on game day, pace up and down the sidelines, looking angry for two hours. Right?
Wrong.
Just look at legendary Duke Blue Devils coach Mike Krzyzewski. If anyone has license to slack off, it's the 75-year-old. He has five NCAA titles to his name and, in a matter of days, is due to retire. Ahead of the Final Four, though, you can safely assume that Coach K is burning the midnight oil. But what's actually going on behind the scenes as game day approaches?
Matt Norlander of CBS Sports tracked down some of Krzyzewski's former and current assistants to get a fuller picture of that reality. Let's just say that it's not for the faint of heart.
Coach K has found success on the back of marathon film sessions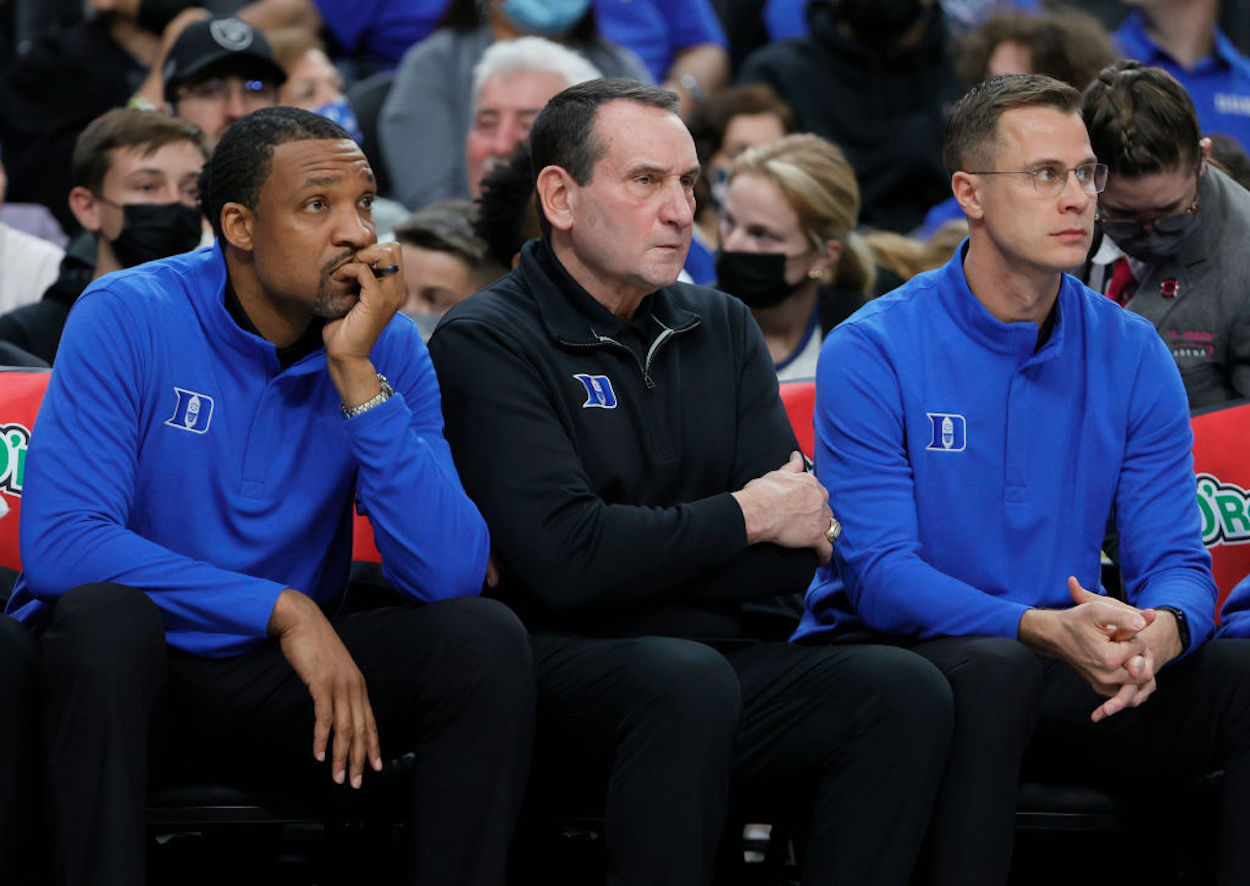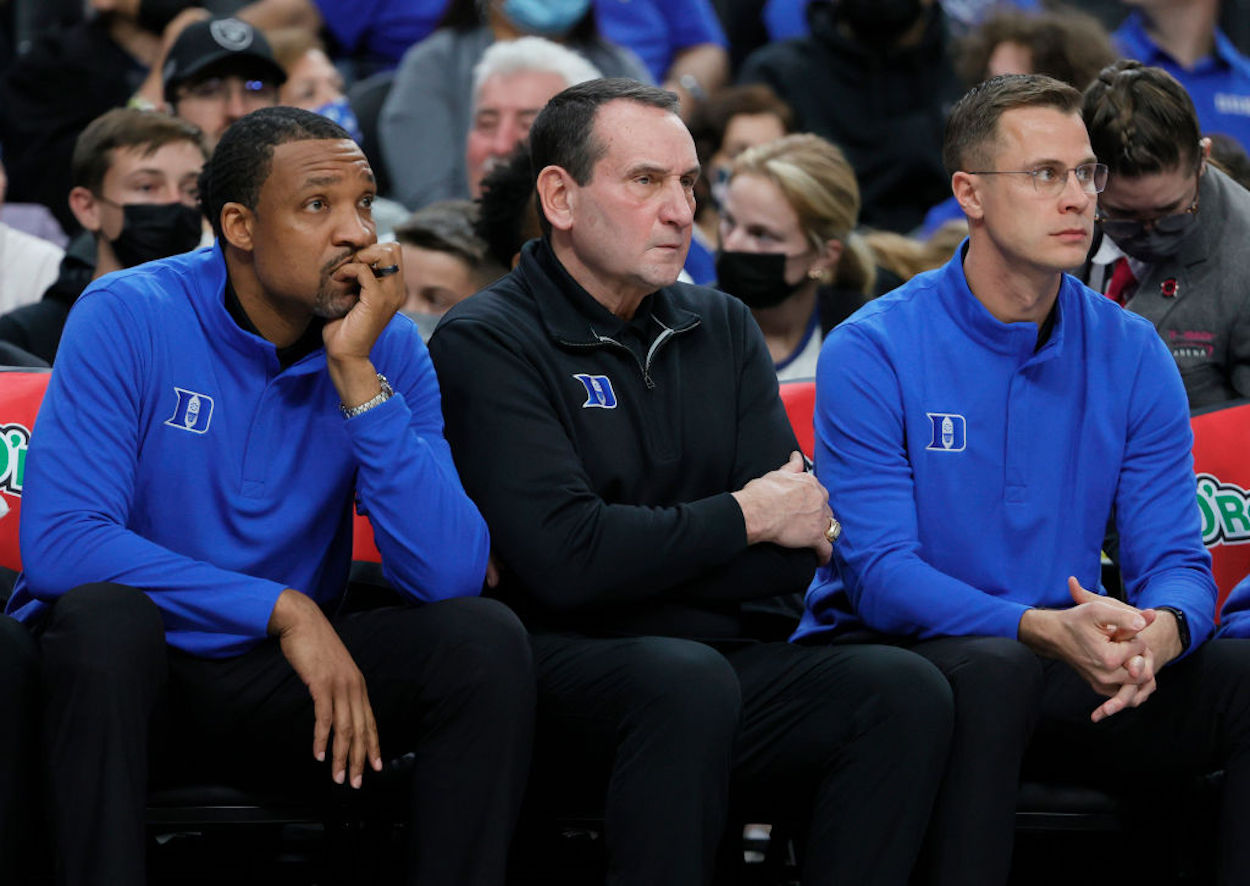 When you hear the term "film study," it's easy to imagine the entire team getting together in a room, watching a few notable moments from the previous game, and moving on. Coach K, however, takes things much further.
As explained in the aforementioned CBS story, Krzyzewski still watches film using the same methods he learned at West Point. Once he finishes coaching a game, he immediately watches it back; sometimes, he'll even roll the same tape three times. He'll then move on to watching Duke's upcoming opponents, trying to glean even the smallest nugget of future insight before calling it a night.
"The discipline to prepare the same way every game is, when I say it, I mean, we've watched, we've scouted exhibition games before," Jon Scheyer, the man who's set to succeed Coach K, explained. "First game of the year, last game of the year, he prepares the same way. He has his method of writing notes and rewriting notes. After the game of watching film of our next opponent. We're gonna watch the next game that they played. At times you're thinking, 'All right, 2:30 in the morning, he's ready to go to sleep.' Nope. 'We're going to watch Virginia-Virginia Tech from last week together.' It's, I would like to say, for the most part — there's probably been a couple of times where like, 'Alright, I'm sure we could get some rest here' — but I've enjoyed it in a weird way." 
Others shared similar versions of the same story. Mike Brey, now the main man at Notre Dame, recalled passing the already-delivered morning paper when leaving Krzyzewski's house. Chris Collins, who headed to Northwestern in 2013, remembered the exhaustion of finishing a film session in the wee hours of the morning before reporting to the office at 9 a.m. Within a program like Duke's, there's no time to rest on your laurels.
That's not to say that everything is deathly serious, though. The former assistants noted that most of the meetings could still be fun. While there was obviously work to be done, the staff could eat some pizza, decompress, and talk about basketball and life. The CBS piece even included a detail about how, in the late 1980s, Krzyzewski would sometimes watch Late Night with David Letterman while eating some ice cream to take a break from the grind.
While that may seem unthinkable, the story made sure to specify that those breaks didn't equate to slacking.
"We'd always watch our upcoming opponent and then watch one or two games of theirs," Jay Bilas explained. "We watched everything to the bitter end, even if you won by 30."  
Practice plans are equally detailed at Duke
Coach K's efforts don't end with film study, though. Once he's identified some areas of focus, it's time to take things to the practice court. Unsurprisingly, he's incredibly meticulous there, too.
As Norlander explained, Krzyzewski runs each practice off a pre-prepared plan. That doesn't mean a shoddily copied PDF or some loose ideas in his head, though. The living legend uses an 8×11 piece of paper, noting the time allotted for each drill and the description of what needs to occur. Everything is handwritten, including a brief scouting report, and Coach K doesn't delegate. Assistants receive completed photocopies, making it clear who's writing the script.
And, thanks to the combined lessons he learned from his parents and his time at West Point, everything has to be done to the highest of standards.
"It's in his distinct handwriting, never typed out, that comes from some of his military background and learning how to have a daily regimen," former assistant Steve Wojciechowski said. "For all these years, and he did it with the Olympics as well. I don't think the casual observer realizes that can be so tedious, and it's not a computer thing with delete-delete-delete. If you screw up on a handwritten practice plan, Coach isn't the type to cross it out and write it [in] a different-colored ink. It's, 'Man, I gotta start over.'"
Coach K will need to use all of his experience against UNC
No matter which version you prefer, there are plenty of cliches that explain how preparation directly sets the stage for success. Coach K and Duke fans everywhere will be hoping that proves to be true when the Blue Devils hit the hardwood at the Final Four.
As just about everyone in the sports world knows, Duke will face North Carolina on Saturday, April 2. That game could quite possibly be the biggest moment of Krzyzewski's iconic career. Beyond the rivalry — whoever wins will never let the opposing school forget it — both a trip to the championship game and Coach K's career are on the line. There is no second chance.
While Duke will need to make some tactical tweaks, primarily to the end goal of keeping Armando Bacot off the glass, Krzyzewski will also have to do plenty of work on a less tangible level. This isn't a game that requires any extra motivation or a fiery speech. Instead, it's about keeping things in perspective and not being overwhelmed by the occasion.
The Blue Devils have matured during the NCAA Tournament, but their roster is still quite young. Think back to Coach K's final home game, when the Tar Heels stormed back to stun Cameron Indoor Stadium. On that night, Duke looked inexperienced and like they had the weight of the world on their shoulders. The pressure will be even higher in New Orleans, meaning it's essential that Coach K gets his squad in the right frame of mind.
At this point, it's impossible to know if he'll be able to do that. Perhaps there will be another tactical wrinkle, like dropping into a zone. One thing, however, is guaranteed: Krzyzewski and his Duke Blue Devils won't be underprepared for the biggest moment of their season.