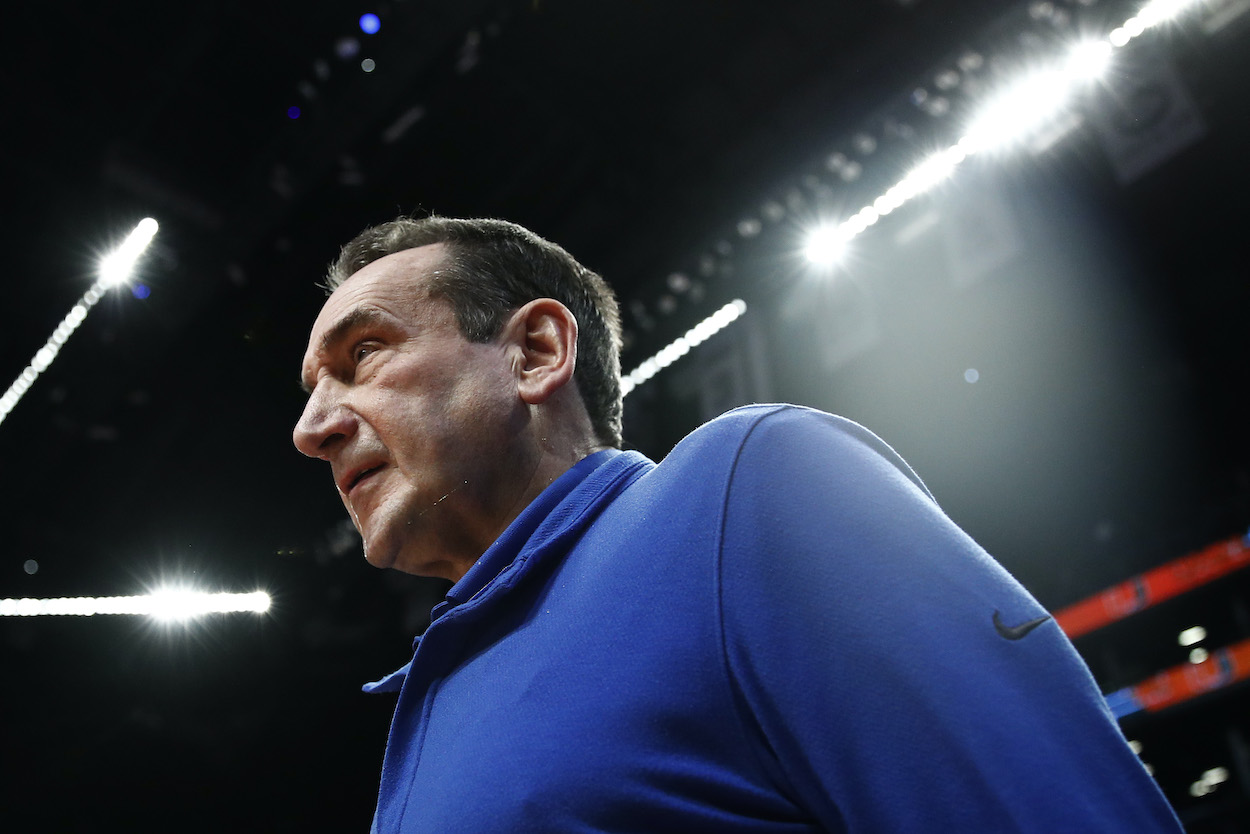 Coach K Turned Down 'Generational Wealth' From the Lakers in 2004 to Stay at Duke
Mike Krzyzewski's career would've been much different if he accepted $40 million from the Lakers in 2004.
Mike Krzyzewski is to Duke what salt is to pepper. When you think of one, it's impossible not to think of the other.
Coach K is about to finish up his 42nd and final season as the head coach of the Blue Devils, and he'll enter retirement as the winningest coach in college basketball history. Only, Krzyzewski's career would look much different today had he accepted a $40 million offer from the Los Angeles Lakers in 2004 to become their head coach.
Mike Krzyzewski entertained two NBA offers in his career
Many of you reading this probably aren't as old as Krzyzewski's college basketball coaching career. He's been patrolling the NCAA sidelines since 1975 when he took the head coaching job at Army, his alma mater. In 1980, he accepted the Duke job and has been there ever since.
Over the years, Coach K had plenty of opportunities to explore a coaching career in the NBA, but he never decided to make the jump. In a 2020 appearance on JJ Redick's The Old Man and the Three podcast, Krzyzewski admitted he did consider giving the NBA a try a while back.
"Really in-depth, I've only entertained two NBA offers," he said. "One in '90 when Dave Gavitt was in control of the — I love Dave Gavitt. He's one of the great men ever — and he took over the Celtics. I grew up with the Lakers and Celtics, the two brands. I didn't take it, and then we won two national championships the next two years."
Boston's offer was a $2.5 million contract over five years, but Coach K considered a much more lucrative deal from the Lakers years later.
Coach K nearly accepted $40 million offer from the Lakers in 2004
In 2004, Phil Jackson walked away from the Lakers after leading the team to its fourth NBA Finals appearance in five years. The Lakers wanted to swing for the fences with their next hire, so they went after Krzyzewski.
Los Angeles offered Coach K a whopping five-year, $40 million contract to replace Jackson. Krzyzewski was making only $1.2 million per year with Duke at the time, and he told Redick the Lakers' offer was the closest he came to leaving Durham for the NBA.
"With the Lakers, you know, I was 57, and I said, 'Is there something more? I love what I'm doing. I love Duke, but is there something more? And I'm not going to be doing this forever,'" he explained. "They were at my house. They offered a lot of money. We were building the Emily Krzyzewski Center at the time, and they offered to do the rest of the building of that. So when they left the house, this is like generational wealth. You gotta consider it."
Coach K said he nearly accepted the offer, but he eventually decided to stay at Duke.
Still no regrets today
The thought of $40 million and the chance to coach Kobe Bryant must've been tough for Krzyzewski to pass up, but he hasn't regretted his decision to stay at Duke for a second.
"I just couldn't do it," he said. "I love Duke, and I love this. … I'm really, really pleased that I did not do that."
And he should be. Coach K is now the winningest coach in NCAA Division I history, and his five national championships are behind only John Wooden's 10 on the all-time list. He's arguably the greatest college basketball coach to ever live, and that wouldn't be the case today if he had followed the money in 2004.
Like Sportscasting on Facebook. Follow us on Twitter @sportscasting19.