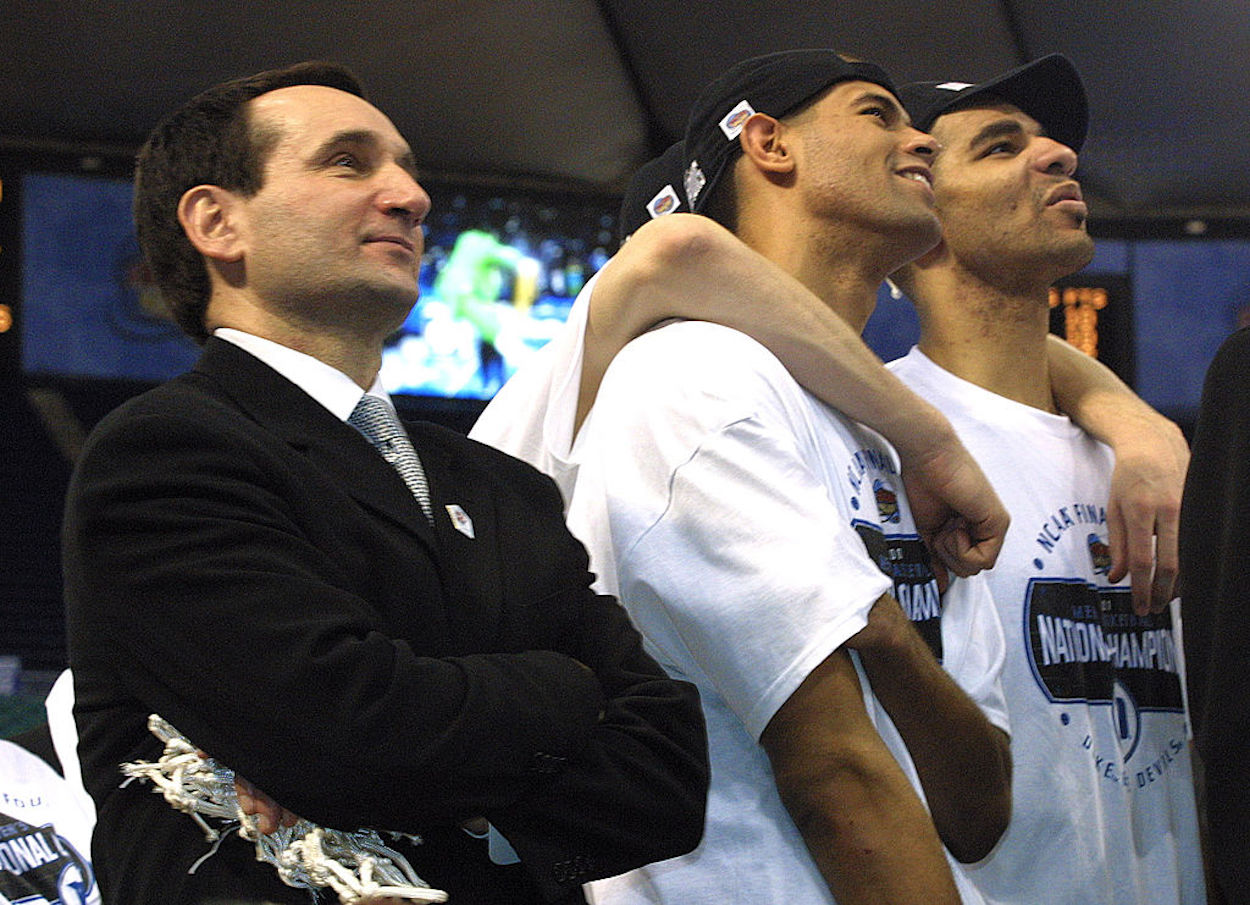 Duke Basketball: Carlos Boozer 'Could Definitely See' Coach K Refusing to Retire if the NCAA Tournament Ends in Disaster
While Coach K's retirement seems eminent, Carlos Boozer said that he could see the Duke legend calling an audible and returning to the sidelines.
With the 2022 NCAA Men's Basketball Tournament about to get underway, Coach K is inching closer and closer to the end. Even if his Duke Blue Devils make a run to the title, he'll only have six more games on the sidelines. Should the team stumble at any point before that, though, there won't be any second chances for Krzyzewski. Or will there?
During a recent radio interview, Carlos Boozer gave his endorsement to a new theory. In that scenario, Duke falls at the first hurdle, losing to Cal State Fullerton on Friday, and Coach K refuses to retire.
Carlos Boozer didn't shoot down a theory about Coach K returning to Duke
As a former Blue Devil, it will probably be pretty strange for Carlos Boozer to turn on a Duke game and see someone other than Coach K standing on the sidelines. In his mind, though, it's possible that the NCAA legend could get another season at the helm.
Recently, the former forward appeared on CBS Sports' Maggie and Perloff to discuss Duke ahead of March Madness. After talking about Coach K's final game in Cameron Indoor Stadium — Boozer argued that defeat could help the Blue Devils during the Big Dance — Maggie Gray floated an idea his way.
"I've got a theory," she said. "If Duke loses to Cal State Fullerton, Coach K is coming back. He's not going out like that, Carlos. And, the other thing, too, is [that] these faux retirements are very much in vogue. Aaron Rodgers. Brady just did it. Tell me I'm wrong. I'm right about this. If they lose, he's coming back."
While it's not clear if Gray legitimately believes that or is simply throwing ideas out there for the sake of the show, Boozer didn't shoot her down. In fact, he seemed on board with the idea.
"That's a great point," he responded. "Ultimately, if they have to lose on Friday, I can definitely see Coach saying, 'You know what, guys? I need 12 more months.' You know what I mean? 'I need one more year.' Tom Brady goes home to Giselle and the kids for two months. 'Nah, I can't do it yet,' and comes back on the field. You've got a great point."
In fairness to Boozer, he did raise a valid point about the personal challenges of retirement. With that being said, though, Duke fans probably shouldn't hold their breath.
Coach K is a legendary competitor, but expecting him to mount a surprise comeback is simply unrealistic
Given his inner fire — you don't coach for literal decades and win more than 1,000 games without a competitive edge — you might think there's a chance that Coach K will refuse to retire. With all due respect to Gray and Boozer, though, that just doesn't seem realistic at this point.
First, there's the logistical hurdle of losing to Cal State Fullerton. Upsets are a major part of March Madness, and Duke has crashed out in the early rounds before, but that's the exception rather than the norm. Even with their recent struggles, the Blue Devils should survive their date with the Titans.
Looking beyond that, there are other complicating factors.While it's impossible to truly know Krzyzewski from afar, the coach has been in the public eye for long enough that basketball fans have a decent idea of his values. Staying in the job seems like it would clash with just about all of them.
When Coach K announced that he'd be leaving and Jon Scheyer would be taking over the program, he spoke about military succession and the idea that, even though he was still at Duke, he was preparing the next leader to take over. Given his emphasis on continuity — Krzyzewski explicitly said that "The implementation of the decision has a lot to do with succession" (h/t SI.com) — and calling a sudden audible would throw off that timeline.
Furthermore, we know that the NCAA legend deeply cares about his players. Take, for example, his reaction to the report that he essentially vetoed Tommy Amaker's chance of getting the Duke job. While you could argue that Coach K was the architect of his own problems, his reaction focused more on the fear that he hurt one of his own. Writing for ESPN, Wright Thompson provided an inside look at that evening.
On the day the story became public, Krzyzewski worried that he'd hurt a member of the tribe. "He 100 percent has that guilt," [his daughter and Assistant Director of Ahletics Debbie Savarino] says. "'Did I do something that caused any harm that would bother Tommy? I love Tommy. He's one of my boys. I don't ever want anything to hurt my guys.'"

Sitting in his office, emotional and raw, he looked at his daughter.

"I just want to take care of everybody," he said.

Wright Thompson
If that was his response to a story contained within an unauthorized, albeit trustworthy, book, imagine how bad Coach K would look if he suddenly pulled the rug out from under Jon Scheyer. It's almost impossible to the patriarch of the modern Duke Blue Devils placing himself in that position.
Lastly, and on a similar note, it would simply be a public relations nightmare for Krzyzewski. By announcing his retirement ahead of time, he's received a season's worth of praise, recognition, and gifts. Recruits committed to Duke thinking they'd work with Scheyer. Fans spent thousands of dollars to see the legendary coach one final time. Even if he doesn't care about how he's perceived by the larger basketball world — and the Amaker situation suggests he does — you don't spend decades in the spotlight without understanding how your behavior will come across. If nothing else, Coach K won't be naive about that side of the game.
As much as Duke fans would like to cling to the dream, it just doesn't seem possible for Coach K to pull a Tom Brady and stay on for another season. With that in mind, make sure you're tuning in on Friday night and beyond; every game could be the living legend's last.