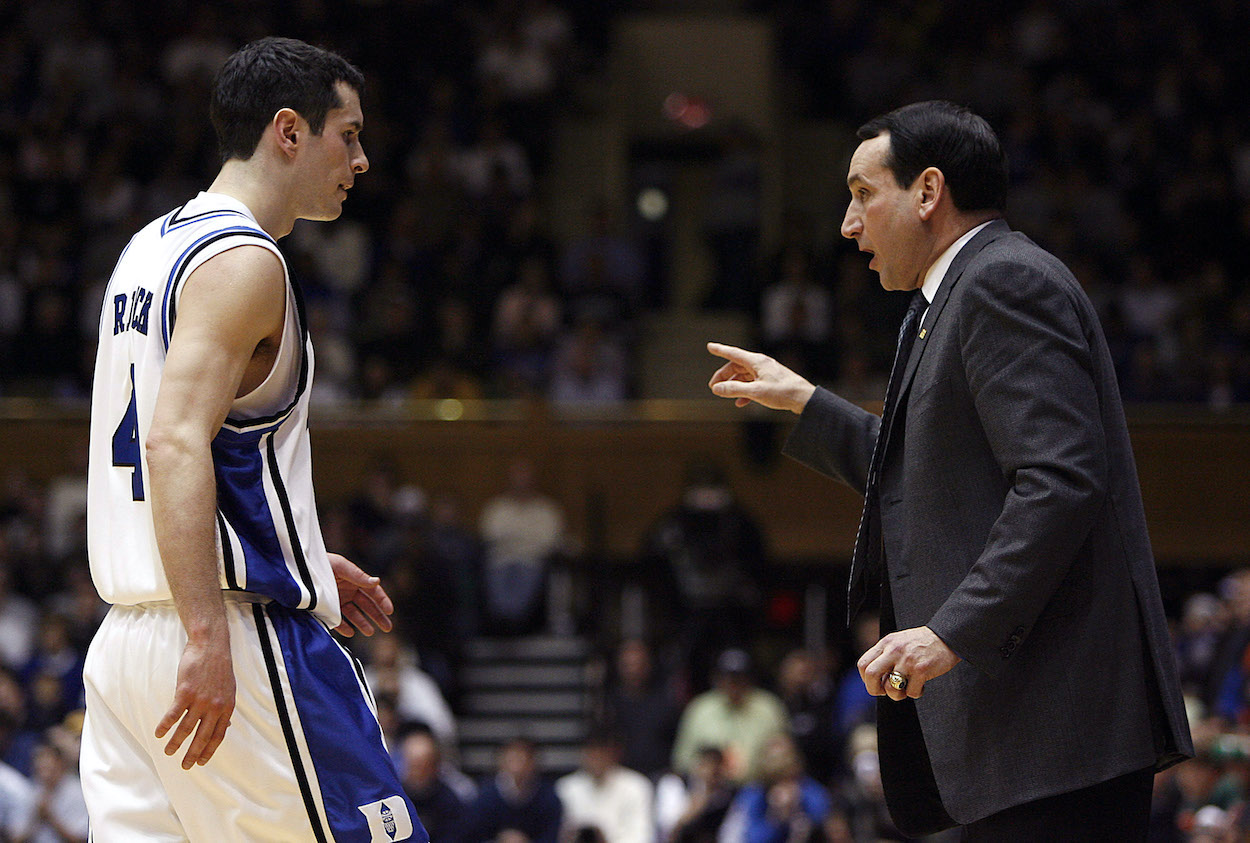 JJ Redick 'Betrayed' Duke and Didn't Realize Until the 'Meanest' Comment From Coach K
JJ Redick still holds a major regret from his time playing for Mike Krzyzewski at Duke.
By all accounts, JJ Redick is one of the most successful players to ever don a Duke Blue Devils uniform. The feisty guard scored more points than anyone in program history, was a two-time consensus All-American, and won the John R. Wooden Award for the nation's most outstanding player.
But the one thing missing from his sparkling college resume is a national championship.
To this day, Redick still regrets not being able to win a title for Mike Krzyzewski, and he feels he "betrayed" Duke with his behavior throughout his sophomore season specifically.
JJ Redick says Mike Krzyzewski is his all-time favorite coach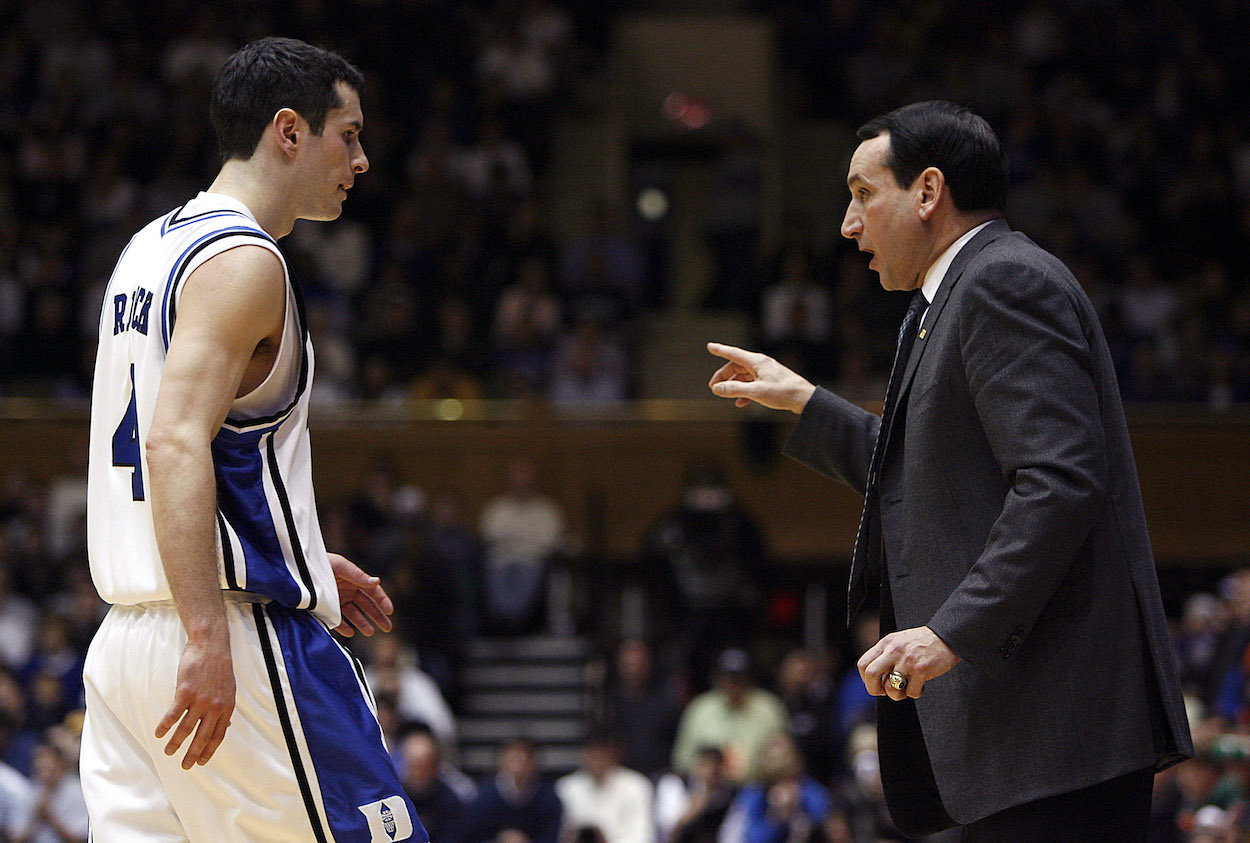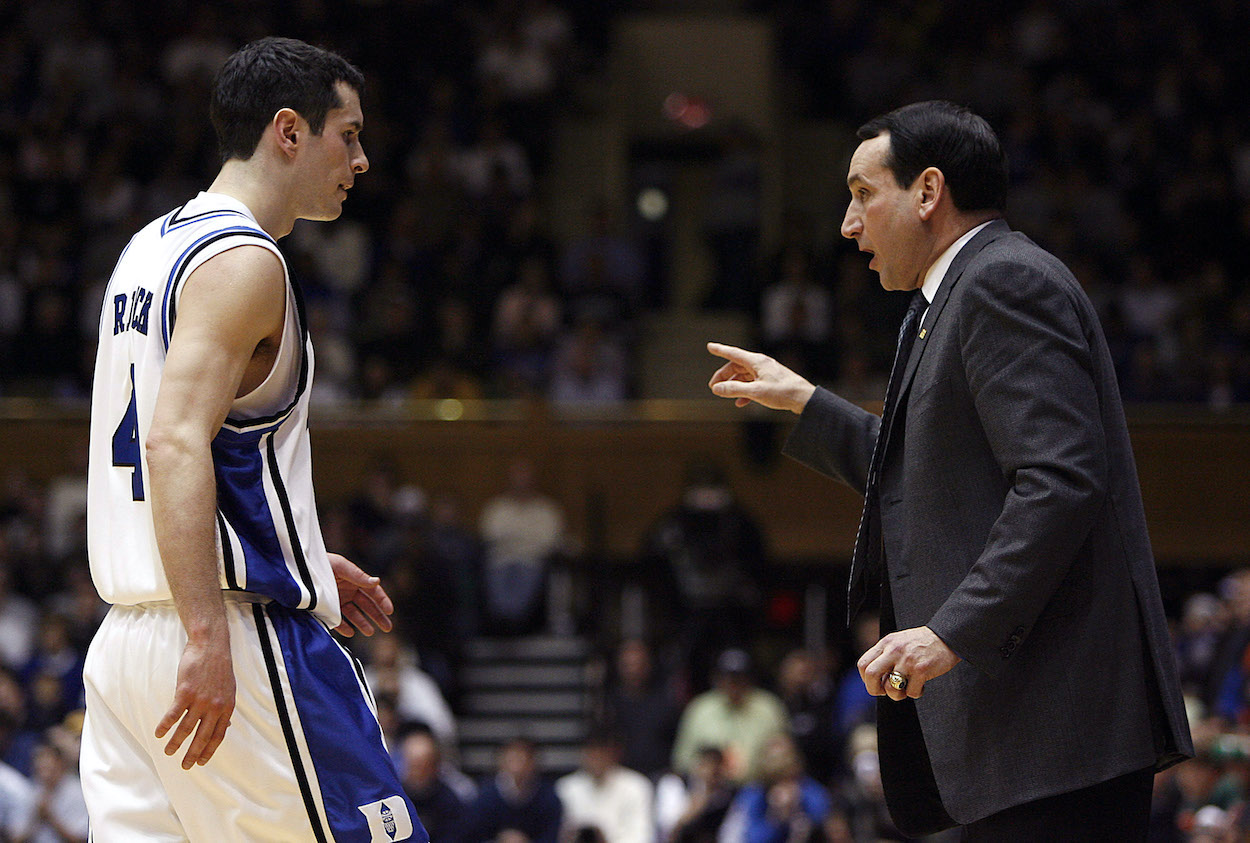 Redick played for legendary coaches and championship-winners during his lengthy NBA career, but none of them lived up to Krzyzewski. In a recent interview with Barstool Sports' Pardon My Take podcast, the retired shooting guard said Coach K is still his all-time favorite head coach.
"He's the best coach I ever played for," Redick said. "High school, AAU, college, six coaches in the pros, I think. Yeah, he was the best coach I played for."
Redick was widely hated by non-Duke fans throughout his college career, but he doesn't regret a second of his time in Durham.
"I made that decision to go to Duke at 16 years old. It was the best decision I ever made in my life, and I feel so lucky that I got to be part of the program," he said. "I got to be part of Duke when Duke was Duke, prior to the one-and-done era."
But Redick still does hold one regret from his four years as a Blue Devil.
The "meanest" comment from Coach K changed Redick's life
In 2004, Redick's sophomore season as Duke, he led the Blue Devils to a 31-6 record and a Final Four appearance. Duke fell to UConn in the national semifinal game by one point, and Redick struggled with just 15 points on 4-of-12 shooting. After the season ended, Coach K hit Redick with a harsh reality check.
"The meanest thing coach ever said to me was after my sophomore year," Redick explained. "I had a terrible — I mean, I was third-team All-American, second-team All-ACC, I was our leading scorer on a Final Four team, but I had a terrible season, and I was a jackass the whole year. I was out in the streets, I was living the life as a frat kid. I was not committed, I was very overweight. We had a series of meetings in April after the Final Four that year. He would make me come in every Saturday morning at 8 a.m., and in one of those meetings he said to me, 'We didn't win a national championship because you weren't worthy to be a champion.'"
Jeez.
That kind of comment can cripple a 19-year-old's confidence for the rest of his career, but Redick used it as fuel to change his ways.
"I betrayed the program"
It's been 16 years since Redick played his final game at Duke, but he still regrets how he acted throughout his sophomore season. Reflecting on it now, he's thankful Krzyzewski was brutally honest with him that day.
"I still think about that. It hurt so bad," Redick said. "And truthfully, I made sure the rest of my career that a coach couldn't say that about me. He was 100% correct. As a 19-year-old kid to hear that, though, man, it was so devastating."
Redick even went as far as to say he betrayed both Coach K and the Duke program as a whole.
"Maybe some of it is like a feeling of betrayal. I know that sounds weird, and looking back, I probably — I did — I betrayed him my sophomore year. I betrayed the program my sophomore year."
Redick clearly feels as if he let Coach K and Blue Devils nation down, but championships don't define a four-year career. He'll always be one of the best players in Duke history.
Like Sportscasting on Facebook. Follow us on Twitter @sportscasting19.