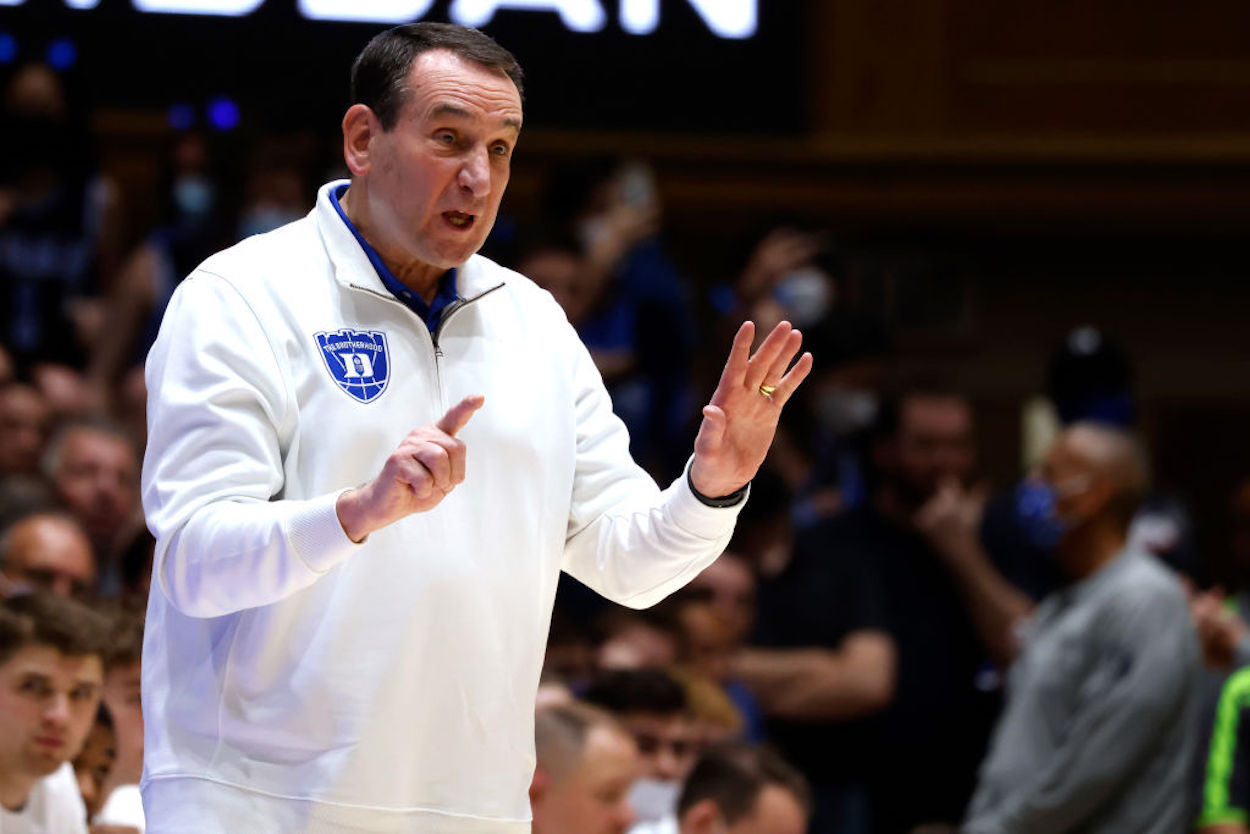 Coach K's Salary Matches His Legendary Duke Career, Even if We Don't Know the Exact Number
As you're probably expect given his impressive NCAA resume, Coach K takes home a sizable salary at Duke.
While their regular season ended on a sour note, it's theoretically Duke basketball's time to shine. The Blue Devils will head to Brooklyn as a favorite to win the ACC Tournament. Barring any disaster there, they should enter March Madness as no lower than a No. 2 seed. Although anything can happen in a single-elimination bracket, things could be shaping up for Coach K to ride off into the sunset with a sixth championship under his belt.
Even if things go south, though, Krzyzewski will still be in pretty good shape. Money might not erase the sting of (potential) defeat, but, if nothing else, we know that the legendary coach has commanded a sizable salary over the years.
Coach K reportedly made more than $7 million in 2018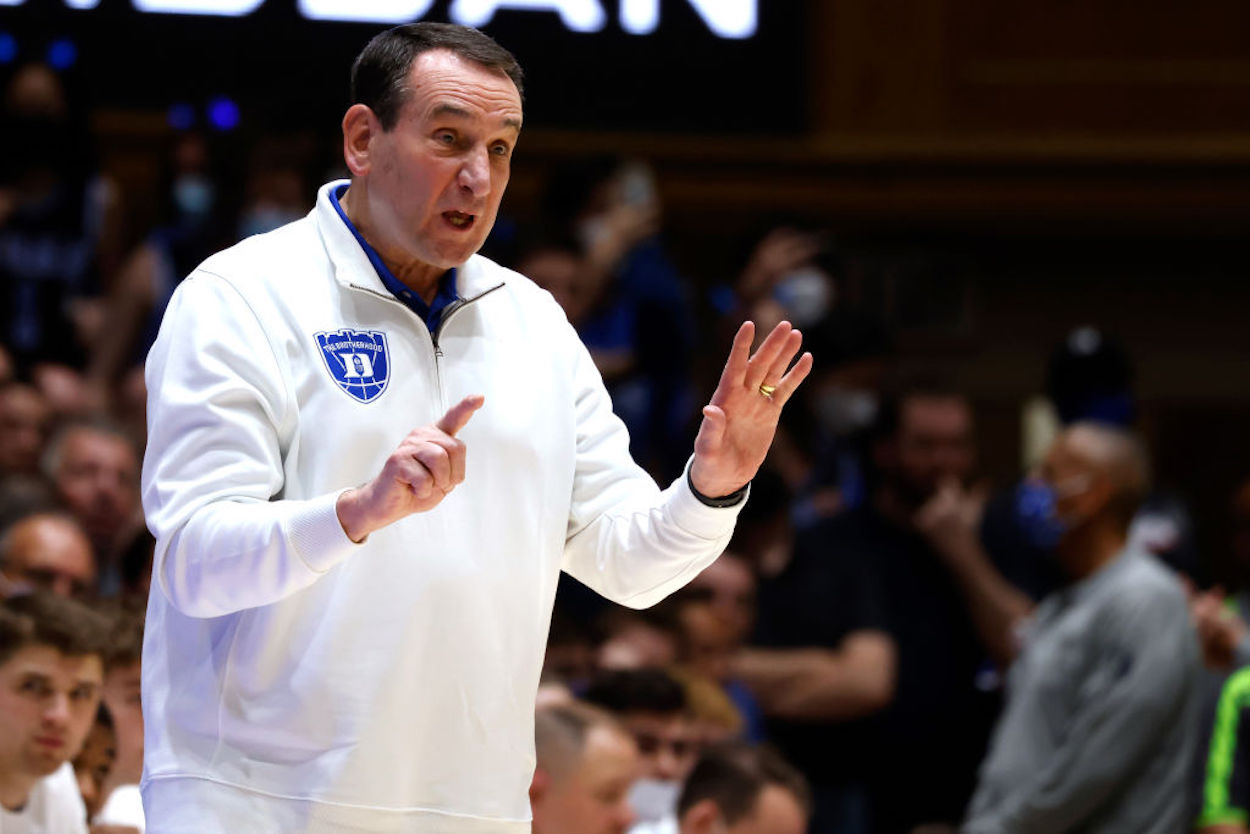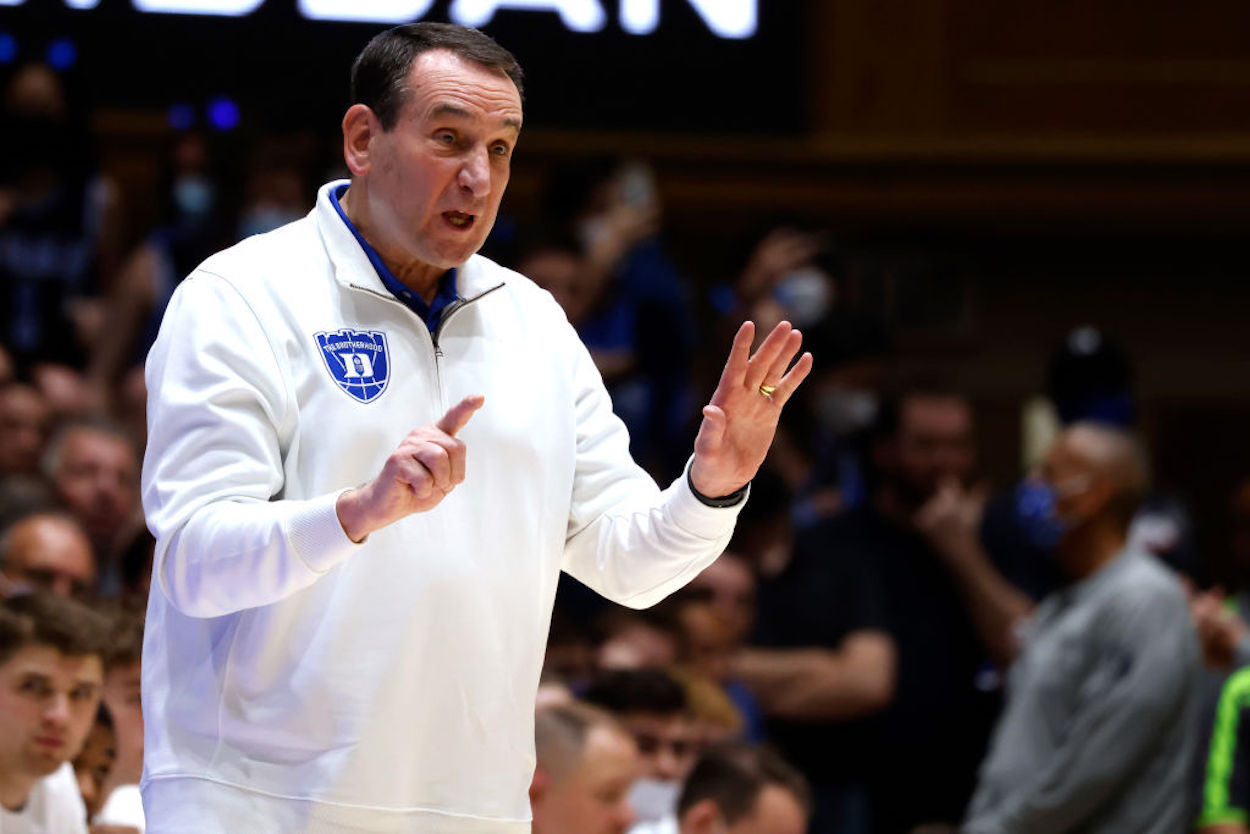 At this point, the finer details of Coach K's legendary career have been covered by just about every outlet imaginable. His salary information, however, is a bit harder to uncover than any biographical details.
A quick search pulls in a variety of numbers. Stadium, for example, listed Krzyzewski's salary at $8,980,000 in October 2019; they source that figure from a 247 Sports piece from earlier in the year, but it's not clear where that number originated from. A 2021 Yahoo Money list pegs Coach K's salary at $7,256,924, but, again, it's hard to identify where they obtained that total.
The problem stems from the fact that Duke is a private institution rather than a public school. That means the basketball program's financials aren't as accessible, like they would be at a tax-funded school like the University of North Carolina's would be. While the school is proud to trumpet Krzyzewski's five national titles, 15 ACC Tournament crowns, and other accolades, solid information about his salary is harder to find.
In that context, the firmest salary number we have stems from a 2020 USA Today story. According to tax documents obtained by the publication, Coach K "was credited with just over $7 million in total compensation for the 2018 calendar year." The report also said that some of that sum included "deferred pay on prior years' returns, meaning his net compensation for the year was about $5.8 million." His base salary for the year in question was also roughly $3.1 million, with a shade under $3 million more coming in bonus pay.
While those figures involve some degree of guesswork — what payments were deferred, for example — and are somewhat out of date, they do answer some of the questions around Coach K's salary. It's safe to assume that the NCAA legend hasn't taken a pay cut between 2018 and now. We might not know the exact amount of cash he'll retire with, but, given his lengthy career and decorated resume, Krzyzewski won't be looking for pennies in the couch anytime soon.
Coaching salaries are always a bit touchy in college sports, though
In isolation, it's "easy" to justify Coach K's salary, at least within a sporting context. He's transformed Duke into one of college basketball's best programs, piled up silverware along the way, and been there for literal decades; if anyone is (theoretically) entitled to the money, it's him. In reality, though, things get a bit more complicated.
While name and likeness rules have allowed NCAA athletes to begin to make some money, the majority of Coach K's career has been spent working with "amateur" players. Had Mark Alarie, Jay Bilas, Johnny Dawkins, and David Henderson, for example, not played at Duke for free (barring scholarships), would Krzyzewski have even been in a position avoid getting fired, let alone pile up more than 1,000 wins and command a massive salary? Probably not.
NCAA salaries can also seem a bit hypocritical given the cost of a modern college education. When Duke is charging nearly $60,000 per semester in raw tuition, it's tough to avoid wondering why a coach needs to be making millions of dollars per year.
All of those objections, however, are likely to become a moot point now that it's March. For the remainder of the season, college basketball will be king, and all eyes will be firmly planted on Coach K. And, knowing what we do about his competitive drive, he'd probably trade all of this year's earnings for one final chance to cut down the net.