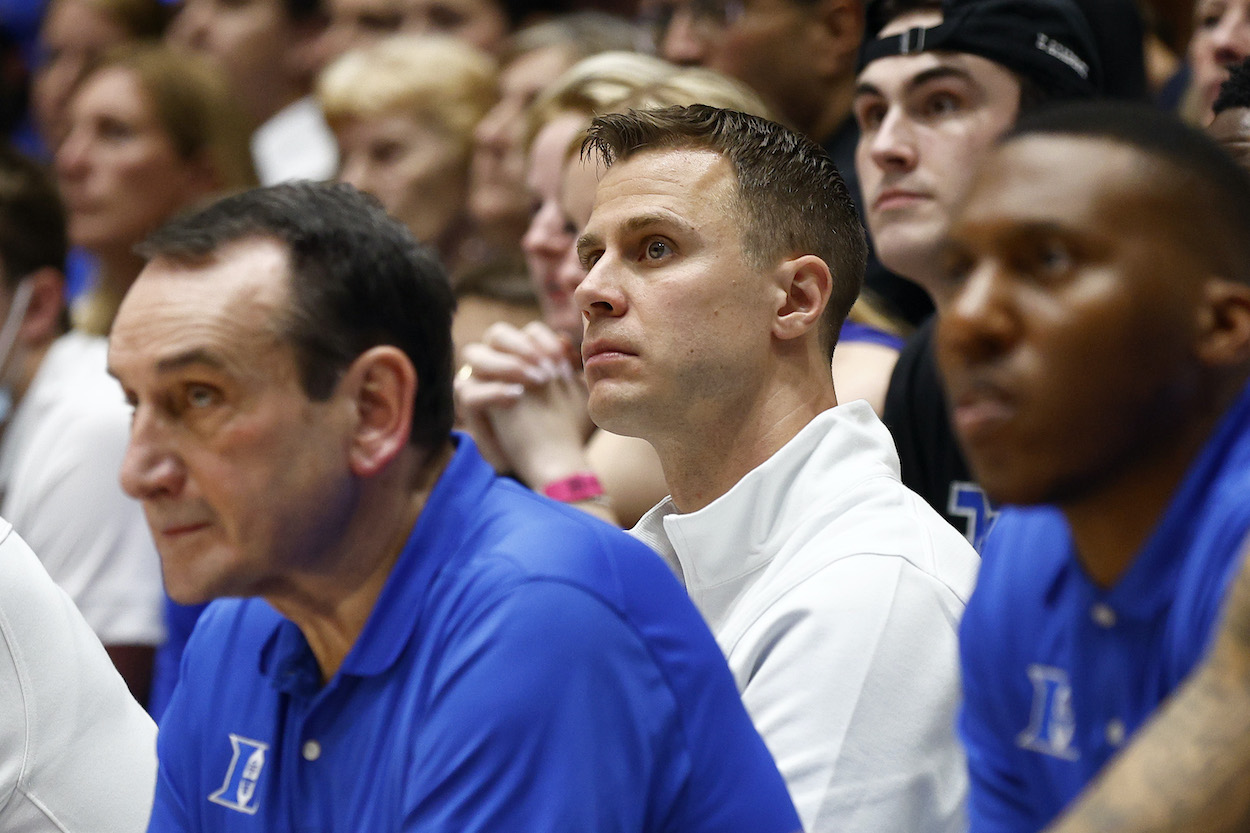 Duke Basketball: Everything You Need to Know About Coach K's Replacement, Jon Scheyer
Who exactly is Jon Scheyer, and will he be able to have success at Duke once Coach K retires?
Mike Krzyzewski's time as the head coach of the Duke Blue Devils is finally coming to an end. After 42 seasons in Durham, North Carolina, Coach K will be hanging up the clipboard after the 2022 NCAA Tournament.
Waiting in the wings is former Duke guard Jon Scheyer, who played for Krzyzewski in the late-2000s and has served as an assistant coach on the team since 2014. Scheyer will take over for Coach K starting next season, so what do we know about the heir to the Duke throne?
Jon Scheyer won a championship with Duke as a player
Scheyer was an exceptional high school player in the state of Illinois. He led Glenbrook North High School to a state championship in 2005, and he was named Illinois Mr. Basketball as a senior in 2006. The five-star recruit could've gone anywhere in the country to play in college, but he decided to play for Coach K at Duke.
Scheyer played four years under Coach K and was the captain of the 2010 squad that went 35-5 and won a national championship. He led the 2010 team in points per game (18.2), assists per game (4.9), and free-throw percentage (87.8%), and he was named a second-team All-American as a senior. Throughout the Blue Devils' NCAA Tournament run, he averaged 16 points and four assists per game.
After finishing up his college career, Scheyer entered the NBA draft but didn't hear his name called. He played briefly with the Miami Heat in the 2010 Summer League, but he suffered a scary eye injury that required surgery and essentially ended his NBA career before it started.
Not only was Scheyer one of the most accomplished guards in Duke history, but he was one of the best leaders Krzyzewski ever coached. Coach K loved him so much he brought him on as an assistant coach in 2014, which is where he's been ever since.
Scheyer has already been named Duke's next head coach
When Krzyzewski announced the 2022 season would be his last on the sidelines for Duke, he already knew the man who would replace him. Scheyer was named the next Blue Devils head coach before the season even started despite having no prior head coaching experience.
Back in November, Scheyer spoke to USA TODAY and explained how he found his passion for coaching.
"Once I felt like playing wasn't in my heart the same, and after talking it over with coach (Krzyzewski), I knew coaching was the natural transition, the natural fit," he said. "(Coach K) always taught me how to (live) for others' dreams as well as my own. I'll always be a player at heart, but you sort of have to get over yourself. Then you realize what you're meant to give to players you're coaching."
Duke will never be the same without Coach K at the helm, but Blue Devils nation is confident Scheyer is the right choice to continue his legacy.
Already proving to be a worthy replacement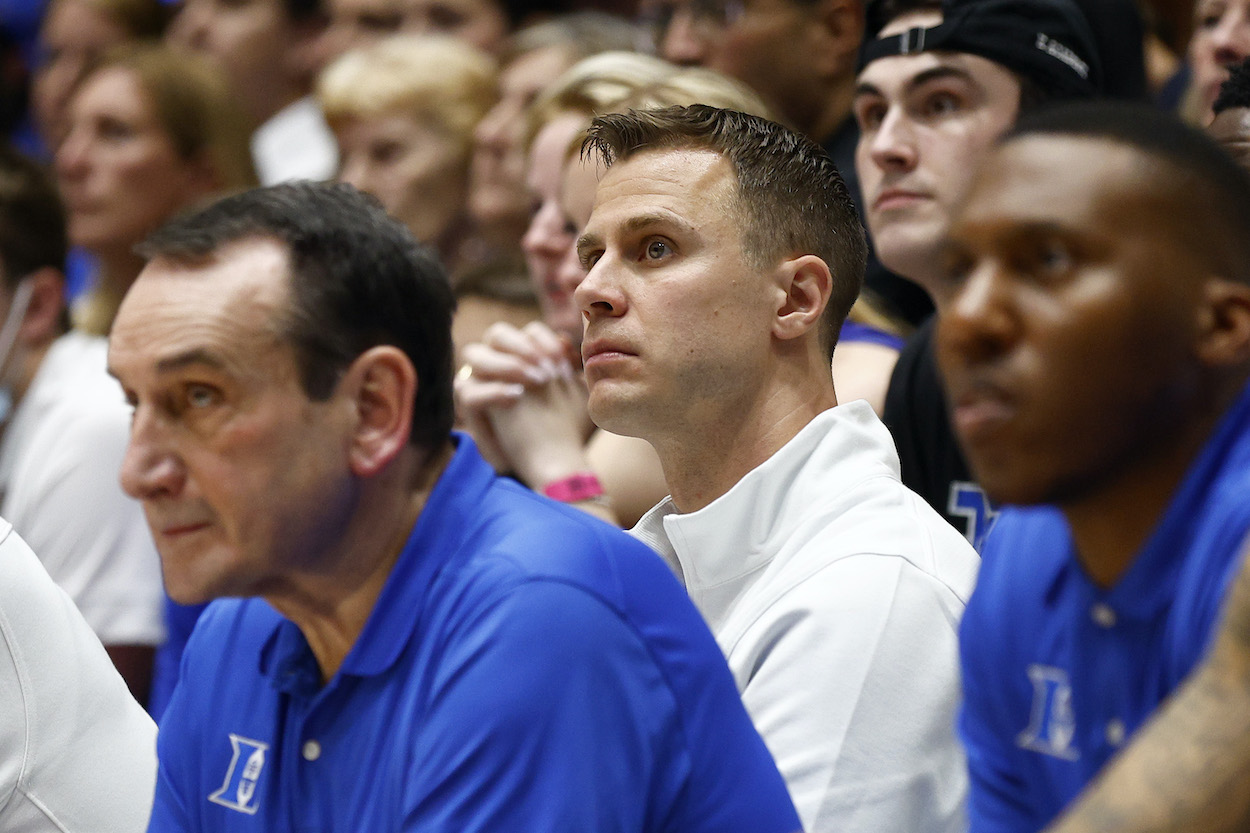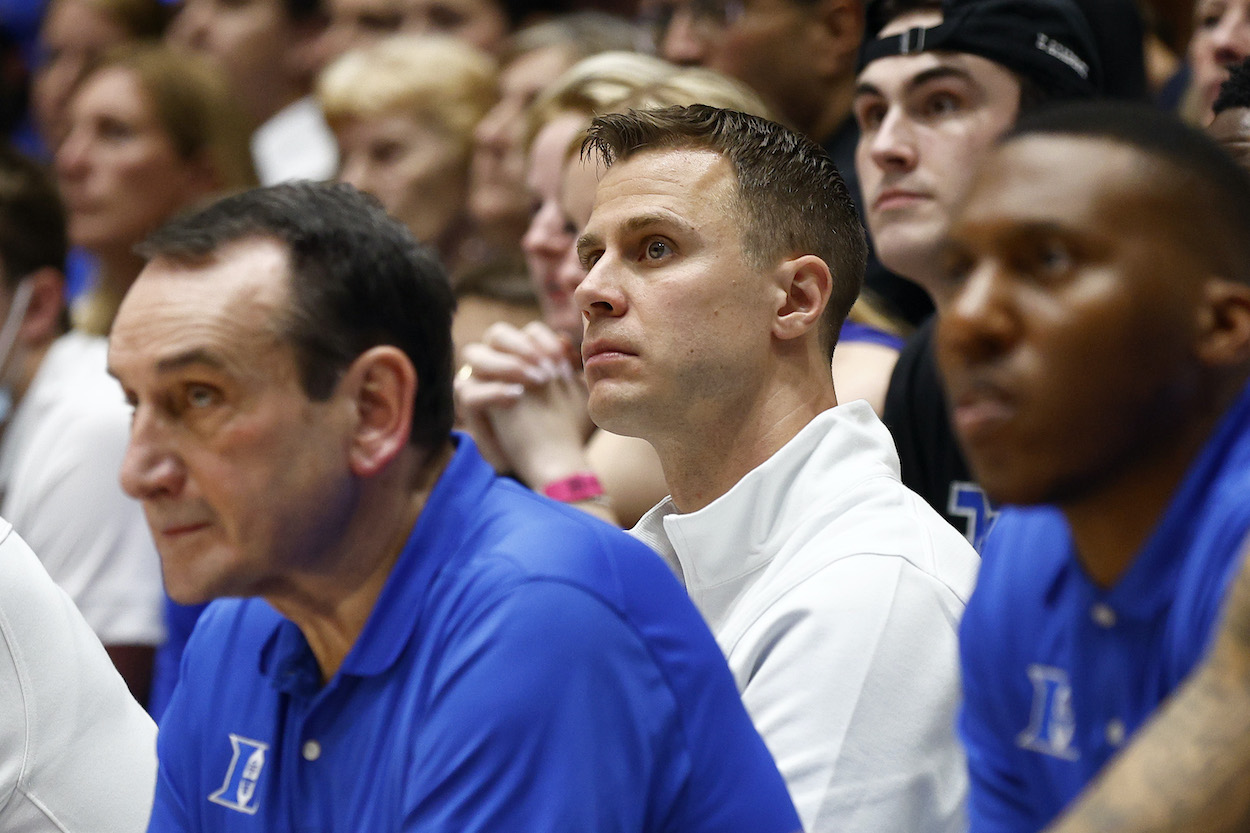 Scheyer took over the majority of recruiting after Krzyzewski announced he would be retiring in 2022, and there's been no drop off in talent coming to Durham. As of March, Duke has the No. 1 recruiting class in the country, according to 247 Sports. That just proves the top high school talents trust Scheyer and will still want to play at Duke without Coach K on the sidelines.
Blue Devils nation is also behind Scheyer 100%. Former Duke forward and current ESPN commentator, Jay Bilas, recently spoke to Sportscasting and said Scheyer is absolutely the right man for the job.
"Jon is not only ready for this; he is fully prepared," Bilas said. "He's a super competitive, super smart young coach, and I think he'll knock it out of the park."
It's one thing to succeed on the recruiting trail, but Scheyer will have to keep Duke in the national title conversation for years to come if he wants to live up to the sky-high expectations set for him.
Like Sportscasting on Facebook. Follow us on Twitter @sportscasting19.