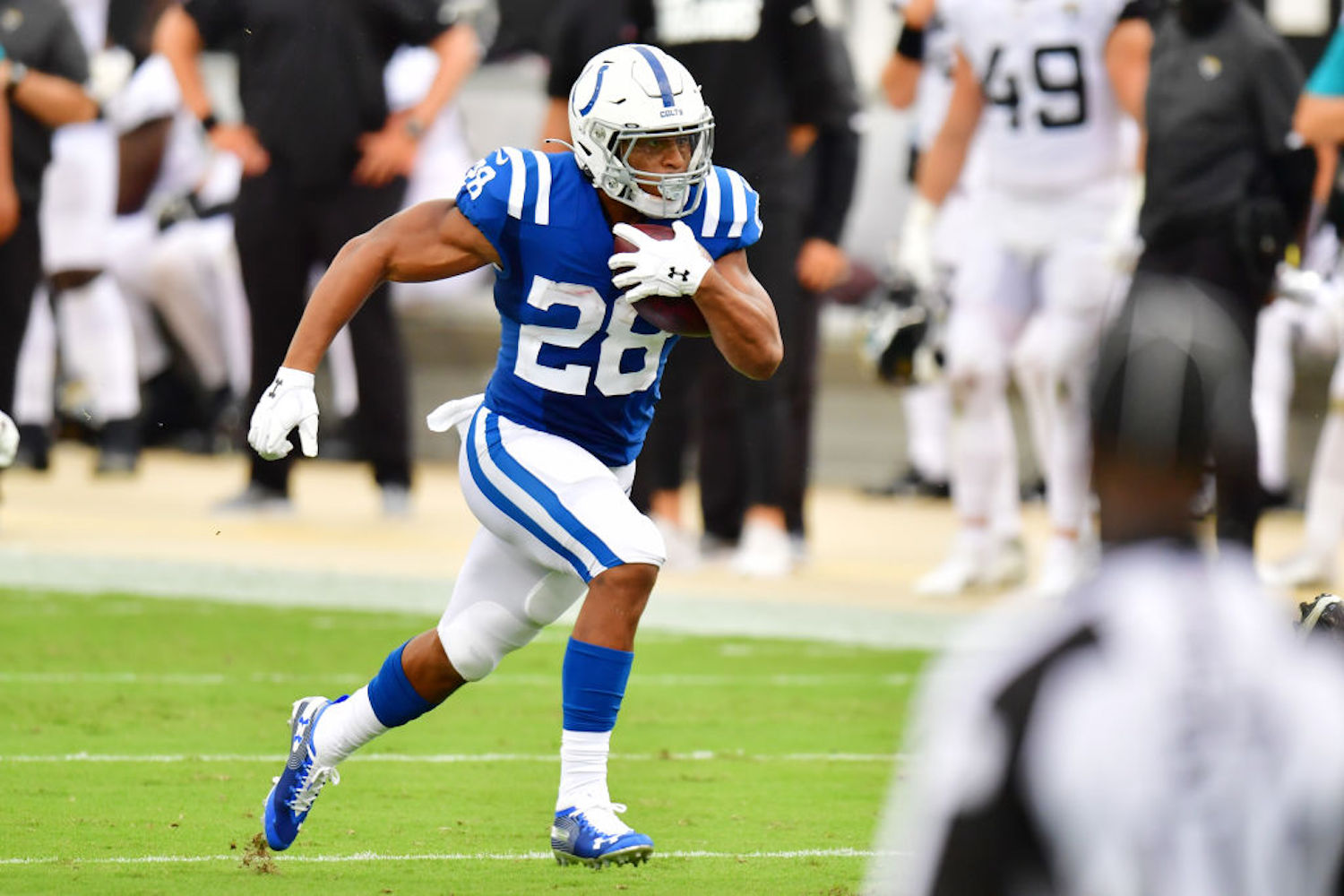 Colts RB Jonathan Taylor Just Turned Into a League Winner in Fantasy Football This Season
Colts starting RB Marlon Mack is out for the season with a torn achilles, which opens to door for Jonathan Taylor to become a fantasy star.
The Indianapolis Colts offense is about to look a whole lot different.
The franchise has already gone through some major shakeups in recent years with Andrew Luck retiring and Philip Rivers joining the team prior to the 2020-21 season, and now it'll have a new face patrolling its backfield. Rookie running back Jonathan Taylor will jump into the starting role after Marlon Mack suffered a torn Achilles that ended his season.
As unfortunate as it is for Mack, Taylor gets a huge upgrade in terms of fantasy football. With his new workload, Taylor could turn out to be a league winner this year.
Marlon Mack is out for the season with a torn Achilles
Mack has been the starting RB in Indianapolis for the last two seasons. Despite the team drafting Taylor in the second round of the 2020 NFL draft, Mack still entered the year as the starter, but that didn't last long.
After just four carries in the Colts' first game of 2020, Mack went down with what looked to be an ankle injury. He didn't return to the game, and it was later revealed that Mack tore his Achilles. He's officially out for the season.
The Colts had a sturdy trio of runners in Mack, Taylor, and Nyheim Hines coming into the season, but now they'll be scrambling to find a replacement for Mack. Until then, Taylor will take over as the workhorse back for Indy.
Jonathan Taylor was a dominant running back at Wisconsin
Taylor entered the 2020 NFL draft as arguably the best runner in the class. When he fell to the second round, the Colts jumped at the opportunity to add one of the most dominant college running backs of the last decade.
In three seasons at Wisconsin, Taylor rushed for 6,174 yards and scored 55 total touchdowns in just 41 games. He averaged 6.7 yards per carry throughout his career with the Badgers.
The Colts drafted Taylor to split time with Mack in year one before overtaking him as the starting back in the near future. Well, now they have no choice but to upgrade the rookie to a starting spot with Mack out for the year.
Taylor could be a league winner in fantasy football this season
After Mack's injury, Taylor was officially named the starting running back in Indianapolis. Nyheim Hines will still play a role as a pass-catcher and change-of-pace back, but Taylor should get the majority of the RB touches from week to week.
Taylor got a team-high nine carries against the Jaguars on Sunday, and he even added six catches for 67 yards. He scored 14.9 PPR fantasy points in his first career game, which was the second-most on the Colts Sunday.
Now thrust into a starting role, Taylor will only see more usage going forward. He proved he could be a bell cow RB in college, and he could easily do the same for the Colts in 2020.
If you lucked into Taylor in your fantasy draft, you should be thanking your lucky stars. If he's still available in your league, you better hope you have the No. 1 waiver wire position after week one. Taylor could become a league winner as a starting RB this season.
All stats courtesy of Sports Reference