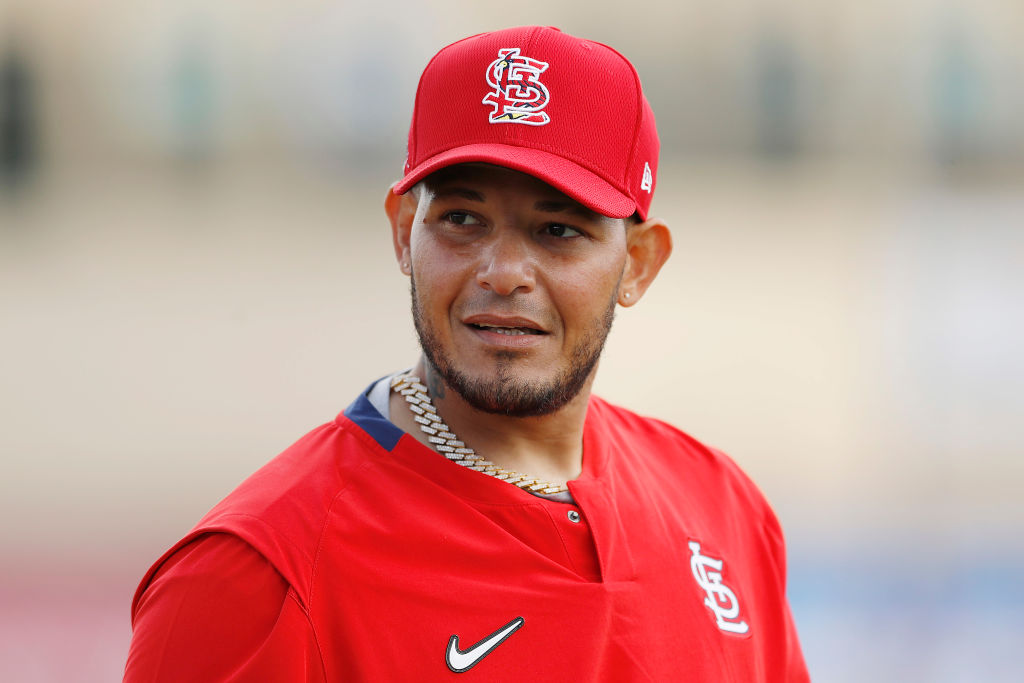 Could 2020 Be the Last Season for Yadier Molina?
The contract of St. Louis Cardinals catcher Yadier Molina expires after the 2020 season? Could this be it for the future Hall of Famer?
Yadier Molina is a future Hall of Famer. There's certainly no denying that.
What could be up in the air, however, is when the St. Louis Cardinals catcher becomes eligible for induction. The 16-year veteran is entering the final year of a three-year/$60 million deal and assuming there is baseball at some point this year, Molina will be 38 years old with a lot of miles on him at the end of the 2020 Major League Baseball season.
Is the end of the line for Yadier Molina?
Yadier Molina hasn't ruled out playing beyond 2020, but there's a catch
When his current contract began in 2018 (he signed the extension prior to the 2017 season), Yadier Molina said that he would likely retire following the 2020 season. Now in the final year of that deal, the future Hall of Famer isn't so sure. However, there is a catch (pardon the pun…you know, he's a catcher). Molina would consider playing beyond the 2020 campaign, but only if he's in a St. Louis Cardinals uniform.
"I also said [two years ago] that if the Cardinals want me, that's the only team I want to play for. So it's still like that, too, if they want me. But if they don't, if they want to move apart, that's it for me."

Yadier Molina
Yadier Molina has played his entire 16-year career with the Cardinals, the team that drafted him in the fourth round of the 2000 MLB amateur draft. Debuting in the majors on June 3, 2004, Molina is the longest-tenured active player in Major League Baseball. He currently sits just seven games behind Ozzie Smith on the Cardinals' all-time games played list.
What keeps Yadier Molina motivated?
After 16 years, Yadier Molina still has the fire to play baseball and it shows on the field each and every day. While he did spend some time on the disabled list in 2019, Molina has been extremely durable throughout his big-league career. Molina has played in 110 games or more every year he's been in the league, outside of 2004 when he was called up midway through the season.
In 2019, Molina hit .270 with 10 home runs and 57 runs batted in while playing in 113 games. While statistically not his best season, he still produced at a solid level and helped the St. Louis Cardinals to the National League Central crown and their first postseason berth since 2015. The Redbirds fell short of the World Series, getting swept by the eventual champion Washington Nationals, but the thought of adding a third World Series ring to his trophy case has Yadier Molina motivated for 2020.
"To have another ring. That's the goal for me and for all my teammates and for the city. Try to prove people wrong, like always. It's easy to see a 37-year-old catcher and you think he's going to have a bad year because he's 37 years old. I have that in my mind, and I'll try to prove the people wrong."

Yadier Molina
The St. Louis Cardinals, along with every other team in Major League Baseball, were scheduled to begin the 2020 season on March 26. Due to the novel coronavirus, spring training was shut down on March 12 and no official return date has been set.
Yadi is a lock for the Hall of Fame
Whenever Yadier Molina does decide to stop playing, he'll have a spot waiting for him in the Hall of Fame five years later.
Over the course of 16 years, Molina has nine MLB All-Star appearances to go along with nine Gold Glove awards. He's also won four Platinum Glove awards, an MLB record, which is given annually to the best overall fielder in each league, not just by position. He holds the record for most games caught with one team, passing Gabby Hartnett in 2019.
Molina also holds the National League record for the most postseason games played with 98. He's won two World Series titles with the Cardinals, in 2006 and 2011.
If this is the last season for Yadier Molina, it's been a great ride.