Could the Lakers Legitimately Trade Anthony Davis?
The NBA trade deadline is a little more than five weeks away. The Los Angeles Lakers are back at .500 after gutting out a tough win over the short-handed Minnesota Timberwolves on Jan. 2. LeBron James is scoring at a record pace despite his age. But the Lakers didn't overhaul their roster last summer to be back in the mix for another play-in berth. LA has needs to address before the deadline. But could an Anthony Davis trade be on the table?
In July 2019, the Lakers surrendered seven players, three draft picks (including two first-rounders), swap rights for a third selection in the first round), and $1 million to land Davis. The payoff was immediate; LA won its first championship in a decade, roaring through the bubble playoffs in Orlando with just five losses. But injuries to James and Davis derailed the repeat bid, which flamed out in a first-round loss to the Phoenix Suns. Could the key to saving this season be moving on from Davis?
Without an injured Anthony Davis, the Lakers are stumbling
Anthony Davis hasn't played since spraining the medial collateral ligament in his left knee in a blowout loss at Minnesota on Dec. 18. While the Lakers also dealt with a coronavirus (COVID-19) breakout since Davis' injury, LA is just 3–5 since their four-time All-NBA big man went down.
With James getting significant minutes at the center spot, the Lakers have won their last two games after dropping five of six following the Davis injury.
But injuries have always been part of the equation with the No. 1 overall pick in the 2012 NBA Draft. He's never played more than 75 games in a season and has missed at least 10 games eight times in 10 NBA campaigns, including this year.
While Davis had developed at least a nod to a stretch-big repertoire a couple of years ago, his 3-point touch faded dramatically since 2019–20. He missed half of last season with various ailments, and his deep shooting suffered. Davis fell from an acceptable 33.0% rate from long range in 2019–20 to 26.0% last season.
Davis has made an alarmingly bad 17.9% on 2.1 3-point tries a game this season. It's the worst he's shot the deep ball since adding it to his arsenal in 2015–16.
On the plus side, he's still a strong rim protector and a solid rebounder, though not at the level of his days with the New Orleans Pelicans.
Davis brings a lot to the Lakers. But that always comes with a caveat — when healthy. If one subscribes to the theory that a player's most important ability is availability, maybe general manager Rob Pelinka could be tempted to trade Davis if the price was right.
Is there anything to the Anthony Davis trade rumors?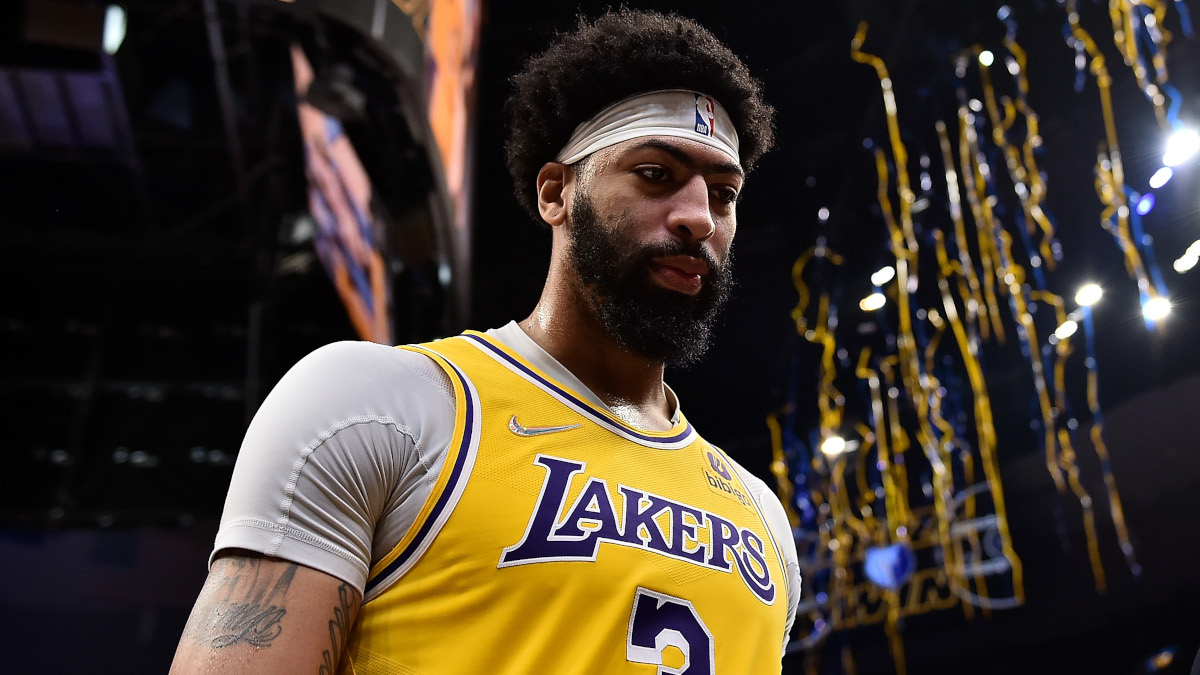 The Lakers are 19–19 as of this writing. They have a bottom-10 offense, scoring 107.3 points per 100 possessions, while their defense has improved to the middle of the pack. LA is 14th in defensive rating, allowing 108.4 points per 100 possessions.
A minus-1.1 net rating is unexpected for a team with former MVPs James and Russell Westbrook, four members of the NBA 75th-anniversary team (James, Davis, Westbrook, and Carmelo Anthony), and a fifth player in Dwight Howard who will have a strong case for the Hall of Fame.
But aside from Davis, all those players are on the wrong side of 30. And because of the roster's makeup, trades might be easier said than done. Westbrook, James, and Davis are all on max contracts. Bringing in another star-caliber player is virtually impossible without including one of them in a trade.
While Ben Simmons of the Philadelphia 76ers is a big name in the trade rumor mill, the reality of acquiring him is unlikely for the Lakers. They would either have to part with one of their big three or gut the roster. Otherwise, making the money work on a Simmons trade would entail moving young Talen Horton-Tucker and Kendrick Nunn along with at least seven of their minimum-contract veterans.
Then LA would have to add more players at the veteran's minimum rate to meet minimum roster size requirements.
Westbrook's uneven play leaves him with virtually zero trade value. James isn't going anywhere. That leaves Davis.
Is it possible? Sure, in the philosophical construct of anything is possible. Is a Davis trade likely? About that.
The Lakers aren't trading Anthony Davis
Throughout their history, the Lakers swung big to acquire star players. After all, LA is a franchise that traded for Wilt Chamberlain, Kareem Abdul-Jabbar, Kobe Bryant, and Pau Gasol, turning those deals into Larry O'Brien trophies (or their earlier equivalent).
But LA also swung and missed wildly on Howard and Steve Nash in 2012, setting the stage for the worst stretch in franchise history from 2013–18.
The Laker mortgaged a massive chunk of the future to get Anthony Davis. Besides the first-round picks, they also gave up a pair of high lottery choices in Lonzo Ball and Brandon Ingram. While Davis might net a substantial return in a potential trade, LA would be selling low in such a scenario.
There isn't a great chance the Lakers would net anything close to what they gave up acquiring Davis. At least not in January or February. A team seeing Davis as the missing piece won't want to gut its depth to get him. LA would require that; having James on the roster puts a franchise in a default win-now position.
It might be a fun topic to kick around with friends or experiment with on various trade simulators. But the reality is that the Lakers have far too much invested in Anthony Davis to trade him at this point. Such a scenario likely creates more problems than it might solve.
Statistics courtesy of Basketball Reference and NBA.com. Contract information courtesy of Spotrac.
Like Sportscasting on Facebook. Follow us on Twitter @sportscasting19.