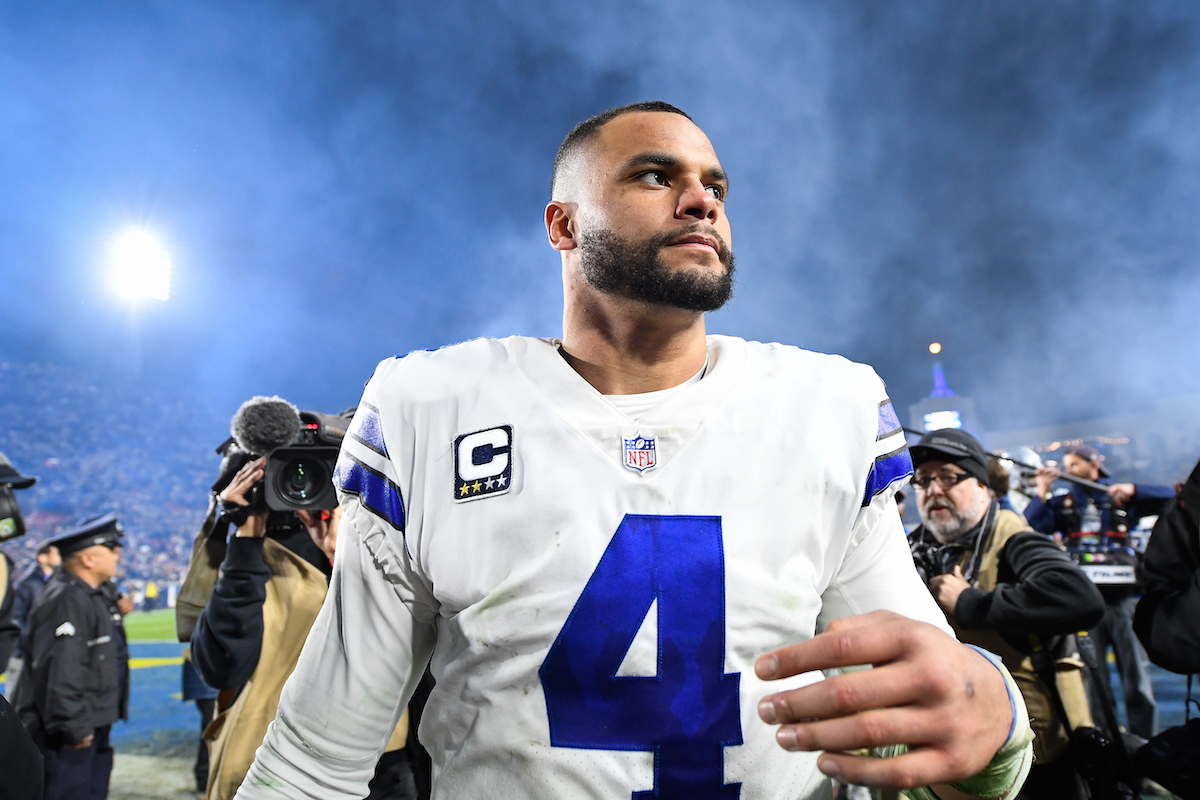 Dak Prescott's 60-Yard Advantage in His Quest to Become an MVP Quarterback
Thanks to all the eyes on him, Dak Prescott recently switched up his practice routine. Instead of using an NFL facility, he trains on his private backyard football field.
Dak Prescott has quickly become one of the Dallas Cowboys' best assets since signing with the team in 2016. With even the likes of Tom Brady praising him, it's hard to deny the young quarterback's impressive talents.
And thanks to all the eyes on him, Prescott recently switched up his practice routine. Instead of using an NFL facility, he prefers to train privately.
Dak Prescott owns a huge estate tucked away in Texas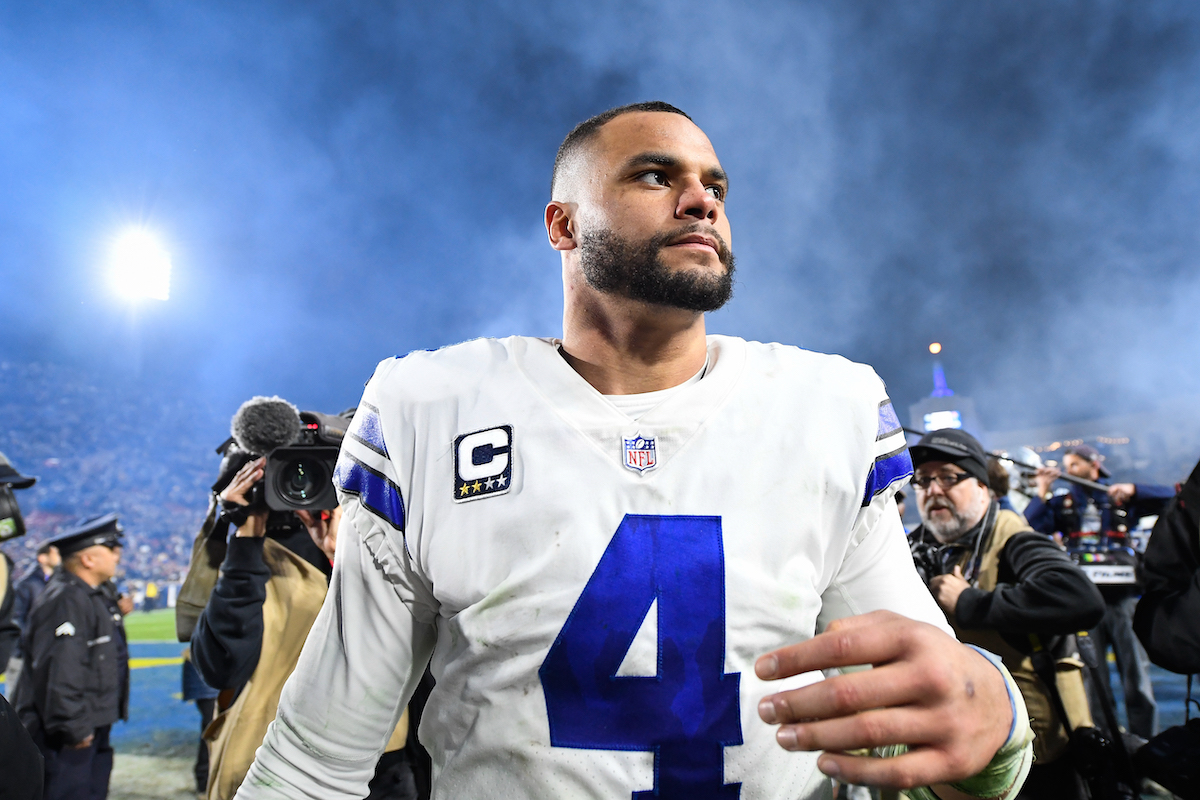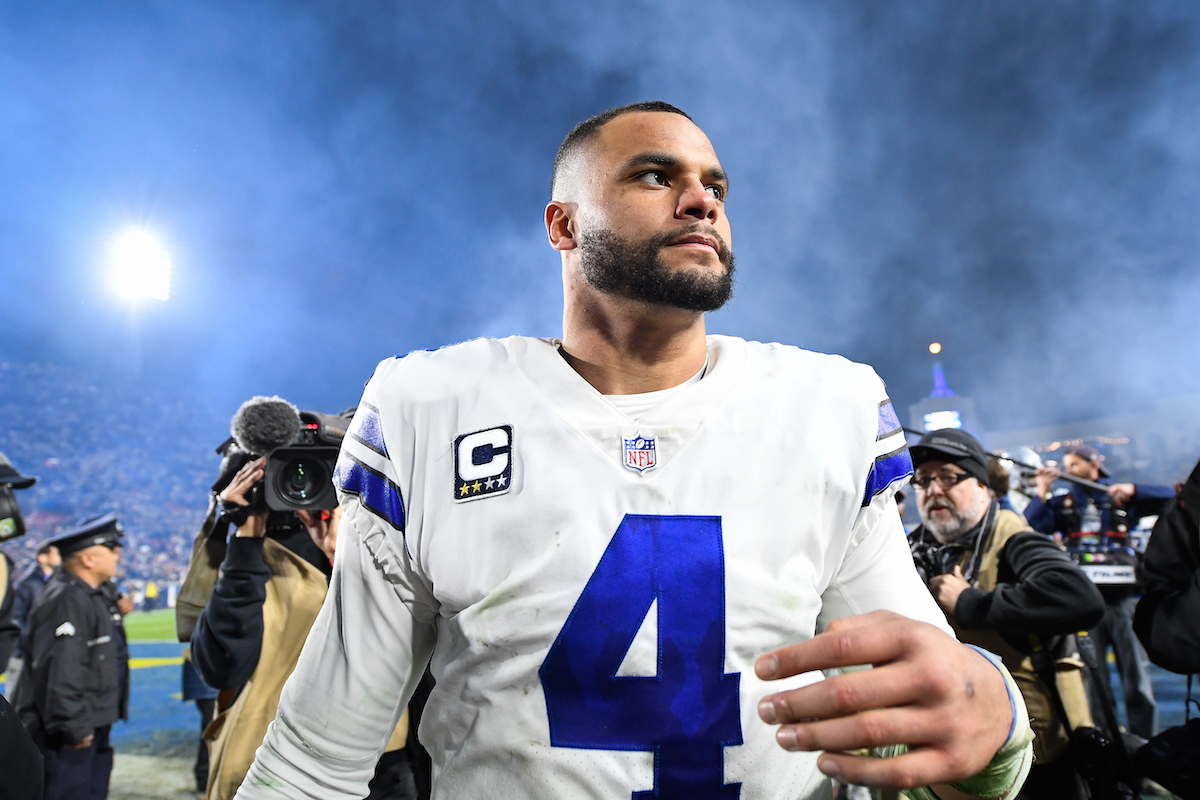 Since 2019, Prescott has lived in a 9,000-square-foot home in Prosper, Texas. Valued at $3.3 million when he purchased it, the estate sits not far from the team's headquarters at the Star and the rest of the Dallas-Fort Worth area. That's probably a good thing because he seemingly lives alone in all of that space.
As for the house itself, it's a gorgeous sight to behold. Exposed wood ceilings, expansive glass doors and windows, a game room, and more make it feel homey and inviting. Earthy, neutral tones give off a warm glow, and the many outdoor features, such as a pool, spa, and fire pit, make it a fun place to hang out. It's a classier investment than some homes at a similar price point.
The crown jewel of Prescott's impressive estate is his training field. Built by the company that constructed the Cowboys' AT&T Stadium and the Star, Prescott's 60-yard gridiron is shorter than regulation size. It has artificial turf and 10 yards of endzone, making it feel like a scaled-down version of a full field. But it's large enough for practice with teammates, USA Today reports.
In the middle of the field is Prescott's signature D4K logo stenciled in Cowboys blue. The endzone bears "faith" in all caps, with the "a" replaced by an image of the QB pointing to Heaven. It's a tribute to his mother, Peggy, who died of cancer in 2013.
According to Sports Illustrated, he built the field to avoid the paparazzi and other prying eyes during the pandemic. He said he "likes to work in the dark," meaning away from others. As a result, he and teammates continue to practice in his backyard, with many praising the field and the sense of camaraderie they get from training there.
Dak Prescott's net worth affords him such luxuries
A backyard football field isn't a luxury many can afford. That said, most people aren't multimillionaires. According to Celebrity Net Worth, Prescott is worth is an estimated $40 million. His net worth makes sense given his numerous awards as a rookie and incredible pro career so far.
Though a serious injury almost jeopardized that, he has gotten better and is back in the game this season. Since recovering, he's signed on for four more years with the Cowboys at an annual salary of $42 million, making him one of the highest-paid athletes. That's what we'd call second-football-field money if we've ever seen it.